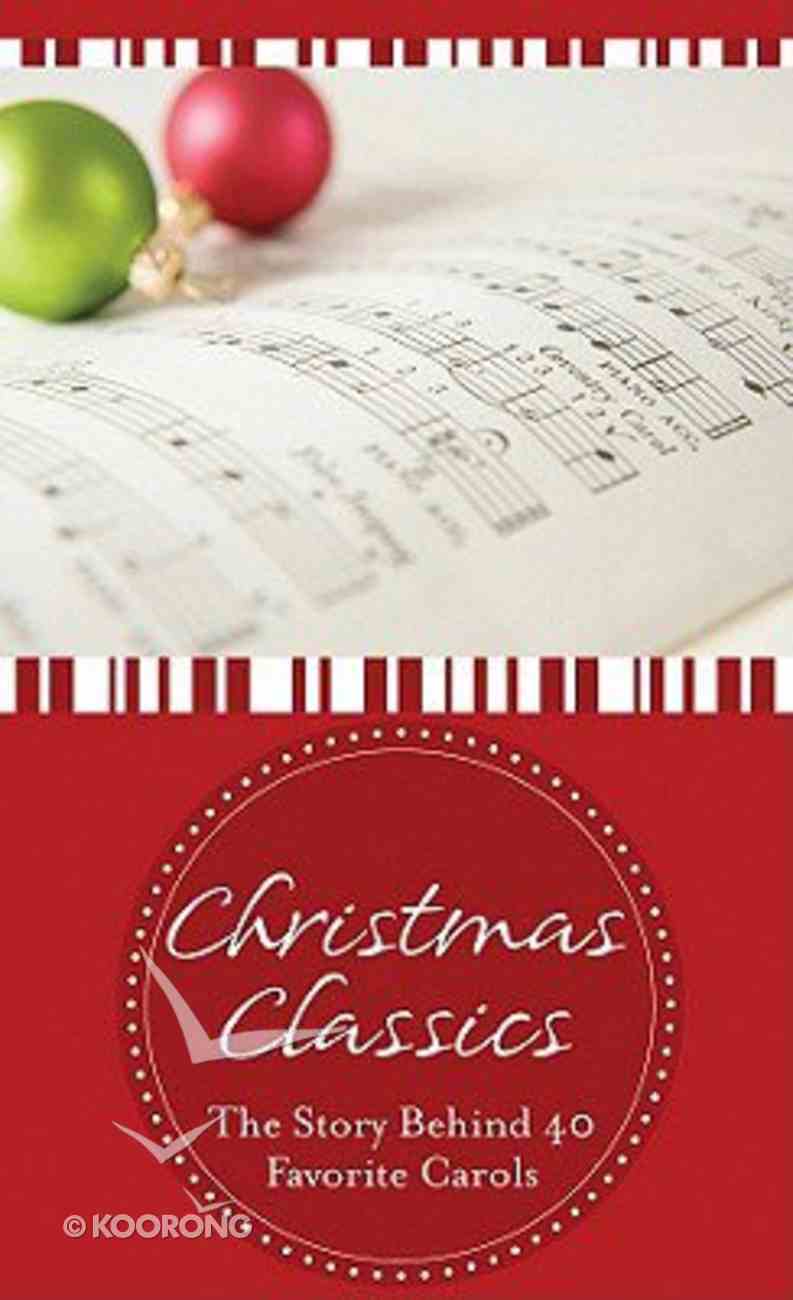 Christmas Classics (Value Book Series)
Christmas carols form the soundtrack of the holiday season--and this book considers the "story behind the story" for 40 favorite holiday songs. Even the most familiar carols have a little-known history or some deeper meaning that makes them worthy of...
Unavailable. Out of Print. Only available while stock lasts.
Out of Print
---
Free Shipping
for orders over $99.
Christmas carols form the soundtrack of the holiday season--and this book considers the "story behind the story" for 40 favorite holiday songs. Even the most familiar carols have a little-known history or some deeper meaning that makes them worthy of contemplation. "Christmas Classics--The Story Behind 40 Favorite Carols" provides that intriguing information for songs like "Silent Night," "Joy to the World," "Hark The Herald Angels Sing" and more than three dozen others.
-Publisher
<div> <p Style="margin: 0in 0in 0pt; Mso-pagination: None; Mso-layout-grid-align: None" Class=msonormal>thou Didst Leave Thy Throne</p> <p Style="margin: 0in 0in 0pt; Mso-pagination: None; Mso-layout-grid-align: None" Class=msonormal>infant Holy, Infant Lowly</p> <p Style="margin: 0in 0in 0pt; Mso-pagination: None; Mso-layout-grid-align: None" Class=msonormal>there&#8217;s A Song In The Air</p> <p Style="margin: 0in 0in 0pt; Mso-pagination: None; Mso-layout-grid-align: None" Class=msonormal>love Came Down At Christmas</p> <p Style="margin: 0in 0in 0pt; Mso-pagination: None; Mso-layout-grid-align: None" Class=msonormal>here We Come A-wassailing</p> <p Style="margin: 0in 0in 0pt; Mso-pagination: None; Mso-layout-grid-align: None" Class=msonormal>bring A Torch, Jeanette, Isabella</p> <p Style="margin: 0in 0in 0pt; Mso-pagination: None; Mso-layout-grid-align: None" Class=msonormal>good Christian Men, Rejoice</p> <p Style="margin: 0in 0in 0pt; Mso-pagination: None; Mso-layout-grid-align: None" Class=msonormal>o Come, O Come, Emmanuel</p> <p Style="margin: 0in 0in 0pt; Mso-pagination: None; Mso-layout-grid-align: None" Class=msonormal>the Virgin Mary Had A Baby Boy</p> <p Style="margin: 0in 0in 0pt; Mso-pagination: None; Mso-layout-grid-align: None" Class=msonormal>still, Still, Still</p> <p Style="margin: 0in 0in 0pt; Mso-pagination: None; Mso-layout-grid-align: None" Class=msonormal>the Coventry Carol</p> <p Style="margin: 0in 0in 0pt; Mso-pagination: None; Mso-layout-grid-align: None" Class=msonormal>i Saw Three Ships</p> <p Style="margin: 0in 0in 0pt; Mso-pagination: None; Mso-layout-grid-align: None" Class=msonormal>he Is Born, The Divine Christ Child</p> <p Style="margin: 0in 0in 0pt; Mso-pagination: None; Mso-layout-grid-align: None" Class=msonormal>good King Wenceslas</p> <p Style="margin: 0in 0in 0pt; Mso-pagination: None; Mso-layout-grid-align: None" Class=msonormal>silent Night</p> <p Style="margin: 0in 0in 0pt; Mso-pagination: None; Mso-layout-grid-align: None" Class=msonormal>go, Tell It On The Mountain</p> <p Style="margin: 0in 0in 0pt; Mso-pagination: None; Mso-layout-grid-align: None" Class=msonormal>angels We Have Heard On High</p> <p Style="margin: 0in 0in 0pt; Mso-pagination: None; Mso-layout-grid-align: None" Class=msonormal>we Three Kings</p> <p Style="margin: 0in 0in 0pt; Mso-pagination: None; Mso-layout-grid-align: None" Class=msonormal>o Little Town Of Bethlehem</p> <p Style="margin: 0in 0in 0pt; Mso-pagination: None; Mso-layout-grid-align: None" Class=msonormal>the Holly And The Ivy</p> <p Style="margin: 0in 0in 0pt; Mso-pagination: None; Mso-layout-grid-align: None" Class=msonormal>the Twelve Days Of Christmas</p> <p Style="margin: 0in 0in 0pt; Mso-pagination: None; Mso-layout-grid-align: None" Class=msonormal>hark! The Herald Angels Sing</p> <p Style="margin: 0in 0in 0pt; Mso-pagination: None; Mso-layout-grid-align: None" Class=msonormal>carol Of The Bells</p> <p Style="margin: 0in 0in 0pt; Mso-pagination: None; Mso-layout-grid-align: None" Class=msonormal>it Came Upon A Midnight Clear</p> <p Style="margin: 0in 0in 0pt; Mso-pagination: None; Mso-layout-grid-align: None" Class=msonormal>away In A Manger</p> <p Style="margin: 0in 0in 0pt; Mso-pagination: None; Mso-layout-grid-align: None" Class=msonormal>what Child Is This?</p> <p Style="margin: 0in 0in 0pt; Mso-pagination: None; Mso-layout-grid-align: None" Class=msonormal>the Birthday Of A King</p> <p Style="margin: 0in 0in 0pt; Mso-pagination: None; Mso-layout-grid-align: None" Class=msonormal>once In Royal David&#8217;s City</p> <p Style="margin: 0in 0in 0pt; Mso-pagination: None; Mso-layout-grid-align: None" Class=msonormal>o Come, All Ye Faithful</p> <p Style="margin: 0in 0in 0pt; Mso-pagination: None; Mso-layout-grid-align: None" Class=msonormal>god Rest You Merry, Gentlemen</p> <p Style="margin: 0in 0in 0pt; Mso-pagination: None; Mso-layout-grid-align: None" Class=msonormal>while Shepherds Watched Their Flocks</p> <p Style="margin: 0in 0in 0pt; Mso-pagination: None; Mso-layout-grid-align: None" Class=msonormal>the First Noel</p> <p Style="margin: 0in 0in 0pt; Mso-pagination: None; Mso-layout-grid-align: None" Class=msonormal>o Holy Night</p> <p Style="margin: 0in 0in 0pt; Mso-pagination: None; Mso-layout-grid-align: None" Class=msonormal>joy To The World</p> <p Style="margin: 0in 0in 0pt; Mso-pagination: None; Mso-layout-grid-align: None" Class=msonormal>as With Gladness Men Of Old</p> <p Style="margin: 0in 0in 0pt; Mso-pagination: None; Mso-layout-grid-align: None" Class=msonormal>lo, How A Rose &#8216;ere Blooming</p> <p Style="margin: 0in 0in 0pt; Mso-pagination: None; Mso-layout-grid-align: None" Class=msonormal>lo, He Comes With Clouds Descending</p> <p Style="margin: 0in 0in 0pt; Mso-pagination: None; Mso-layout-grid-align: None" Class=msonormal>i Heard The Bells On Christmas Day</p> <p Style="margin: 0in 0in 0pt; Mso-pagination: None; Mso-layout-grid-align: None" Class=msonormal>for Unto Us A Child Is Born</p></div>
Bestsellers in Inspirational