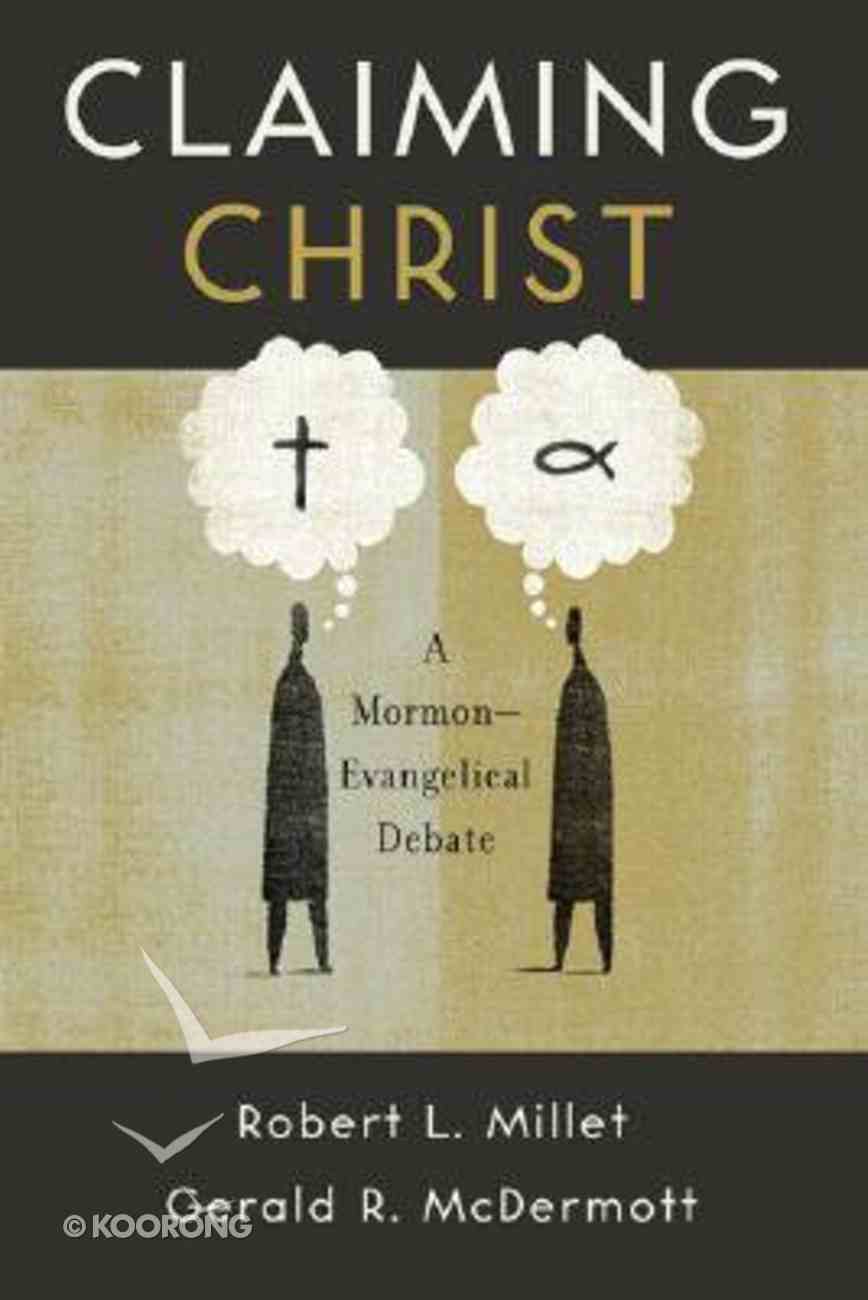 Some have predicted that Mormonism will be the third-largest faith in America by the middle of the twenty-first century, yet confusion abounds regarding what Mormons actually believe, especially about Jesus. Do Mormon beliefs and evangelical Christian beliefs differ significantly, or...
---
Free Shipping
for orders over $99.
Some have predicted that Mormonism will be the third-largest faith in America by the middle of the twenty-first century, yet confusion abounds regarding what Mormons actually believe, especially about Jesus. Do Mormon beliefs and evangelical Christian beliefs differ significantly, or are their views similar enough to be considered the same faith? Can Mormon and evangelical believers learn from one another and even work together?

In Claiming Christ, respected scholars Gerald McDermott, an evangelical, and Robert Millet, a Mormon, engage in a back-and-forth exchange comparing evangelical and Mormon views on one of the most significant issues dividing and uniting the two faiths: the identity of Jesus. Throughout the conversation they exhibit genuine respect for one another, seeking to clear up misconceptions and find common ground even as they dig deeply into each faith's texts and traditions. The result is a fair, thoroughly researched analysis that will be a valuable resource for pastors, students in college and seminary apologetics courses, and lay Mormon and evangelical believers seeking to understand the differences and similarities in how Mormons and evangelicals view Jesus
-Publisher.


Ask an evangelical and a Mormon what the other believes, and you may get many opinions, not all of them accurate. Ask professors Gerald McDermott and Robert Millet to discuss their beliefs, and you get a frank, informative comparison of both. Though sometimes on opposite poles, these scholars and close friends are determined to model love and respect despite serious theological differences.

In a debate format, the authors focus on the person and role of Jesus while exploring such issues as authority for faith and practice, whether Mormons are Christians, the elements of salvation, and the church and its sacraments. Used for a class series, small group resource, or devotional reflection, this volume will give thoughtful readers of all persuasions a greater understanding of two significant outlooks on faith.
-Publisher
?'Theological dialogue between some Mormons and some evangelicals has reached a high and serious point. This frank, informative, and charitable volume enhances that dialogue significantly. It is not the last word on this vitally important subject, but for both Mormons and evangelicals, it is a most helpful (and hopeful) word. - ? ?'Mark Noll, author of "A History of Christianity in the United States and Canada" ?'The challenge of interdenominational dialogue - ?like any genuine dialogue - ?is not to resolve disagreement, but to capture it and represent it accurately and in good faith. McDermott and Millet do just that in a conversation that models for all of us how to move beyond the chimeras and to value the truth more than our cherished - ?and often faulty - ?perceptions. An illuminating work in the best sense. - ? ?'Teryl Givens, professor of English, University of Richmond - ?Even the most well-intentioned, knowledgeable, and careful writers can find it difficult to represent in detail perspectives with which they significantly disagree. When the two spokespersons are friends and write courteously, highlighting agreements as well as disagreements, but without pulling any punches, readers are immeasurably blessed. Millet and McDermott undertake this discussion admirably as mainstream, articulate, compassionate, and informed advocates of twenty-first century Mormonism and evangelicalism, respectively. A must read for anyone interested in the topic! - ? - ?Craig Blomberg, coauthor of "How Wide the Divide? A Mormon & an Evangelical in Conversation" - ?It is difficult to imagine two scholars from the mainstream of Mormonism and the mainstream of orthodox Christianity better suited toengage in such a frank and fair debate over the person of Jesus, the heart of each faith. This book is deeply valuable for the ways in which it will advance the emerging dialogue - ?rather than the traditional mutual recrimination - ?between members of these two groups. It is also significant as a model of constructive and critical dialogue among members of different faiths at a time in our society when such dialogue can be drowned out by simplistic screamers on all sides. - ? - ?John G. Stackhouse Jr., author of "No Other Gods before Me? Evangelicals and the Challenge of World Religions"
-Publisher
PRODUCT DETAIL
Catalogue Code 

263740

Product Code 

9781587432095

ISBN 

1587432099

EAN 

9781587432095

Pages 

224

Department Academic
Category World Religions
Sub-Category Mormons
Publisher Baker Book House
Publication Date 

Nov 2007

Dimensions 

228 x 152 x 15

mm

Weight 

0.395

kg
Robert L. Millet (PhD, Florida State University) is professor of religious education, outreach, and interfaith relations at Brigham Young University. He has written numerous articles and books, including A Different Jesus? The Christ of the Latter-day Saints. and Claiming Christ: A Mormon-Evangelical Dialogue with Gerald L.McDermott.
Gerald R. McDermott (Ph.D., University of Iowa) is professor of religion and philosophy at Roanoke College in Salem, Virginia. His books include Can Evangelicals Learn from World Religions?; God's Rivals, Cancer: A Medical and Spiritual Guide for Patients and Their Loved Ones (with William A. Fintel, M.D.; Baker); One Holy and Happy Society: The Public Theology of Jonathan Edwards (Penn State Press); Jonathan Edwards Confronts the Gods: Christian Theology; Enlightenment Religion and Non-Christian Faiths (Oxford University Press); Seeing God: Twelve Reliable Signs of True Spirituality (republished by Regent in 2000) and Claiming Christ: A Mormon-Evangelical Debate (Brazos). He is also a Teaching Pastor at St. John Lutheran Church.
Bestsellers in World Religions