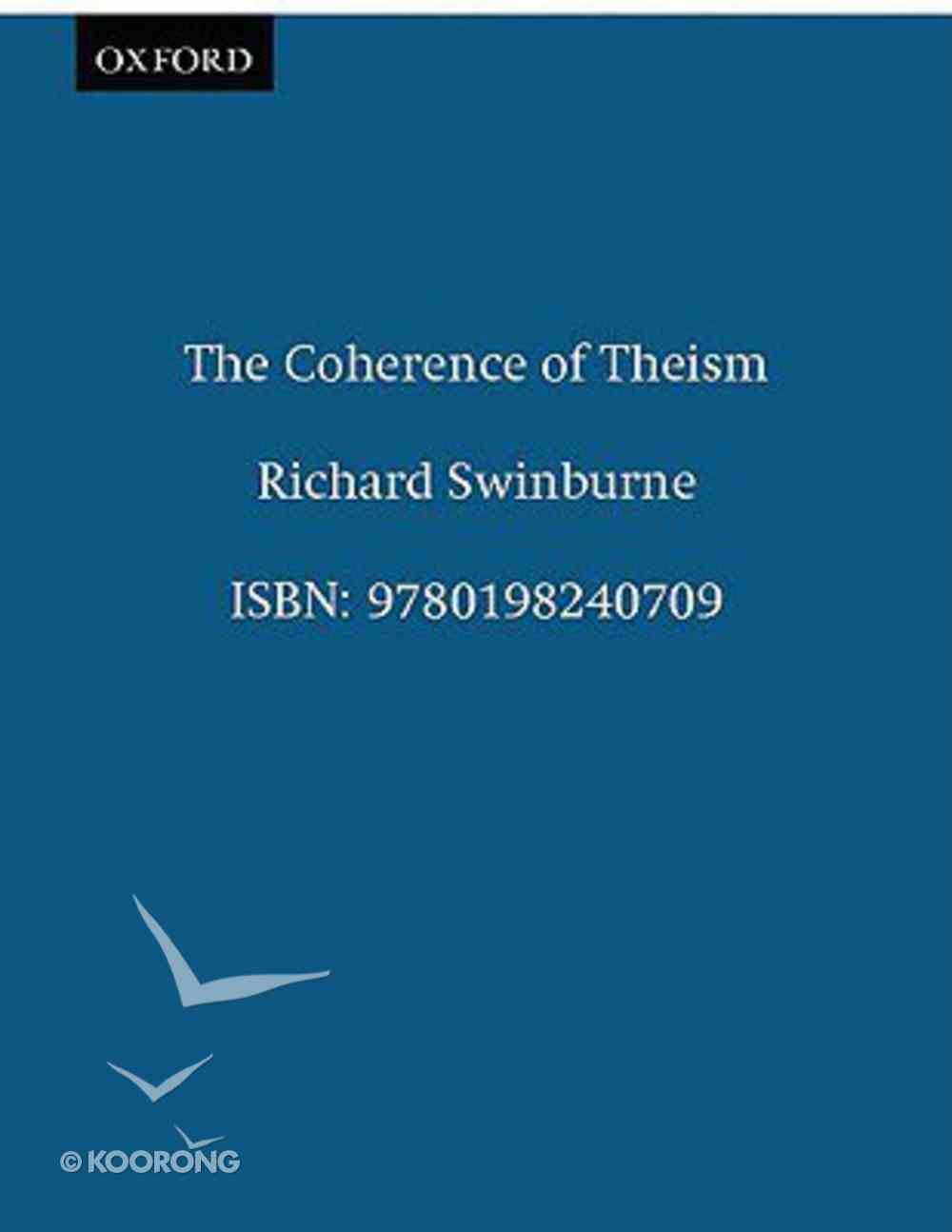 Coherence of Theism (2nd Edition)
"Swinburne's revised edition is indeed a pleasure.... It is also good to see that [the] Clarendon Press have produced a relatively cheap paperback, for which students will certainly be grateful."--Heythrop Journal
---
Free Shipping
for orders over $99.
"Swinburne's revised edition is indeed a pleasure.... It is also good to see that [the] Clarendon Press have produced a relatively cheap paperback, for which students will certainly be grateful."--Heythrop Journal
-Publisher
This book investigates what it means, and whether it is coherent, to say that there is a God. The author concludes that, despite philosophical objections, the claims which religious believers make about God are generally coherent; and that although some important claims are coherent only if the words by which they are expressed are being used in stretched or analogical senses, this is in fact the way in which theologians have usually claimed they are being used. This revised edition includes various minor corrections and clarifications.
-Publisher
Richard Swinburne was Professor of Philosophy at the University of Keele; Nolloth Professor of the Philosophy of the Christian Religion, University of Oxford, and Fellow of the British Academy. He is the author of many books on the nature and justification of religious belief, and on other areas ofýphilosophy including the philosophy of mind and epistemology.

Part 1 Religious Language: Conditions For Coherence (1)
Conditions For Coherence (2)
The Words Of Theology (1)
Words With Old And New Senses
The Words Of Theology (2)
Medieval And Modern Accounts
Attitude Theories. Part 2 A Contingent God: An Omnipresent Spirit
Free And Creator Of The Universe
Omnipotent
Omniscient
Perfectly Good And A Source Of Moral Obligation
Eternal And Immutable. Part 3 A Necessary God: Kinds Of Necessity
A Necessary Being
Holy And Worthy Of Worship.
Bestsellers in Philosophy