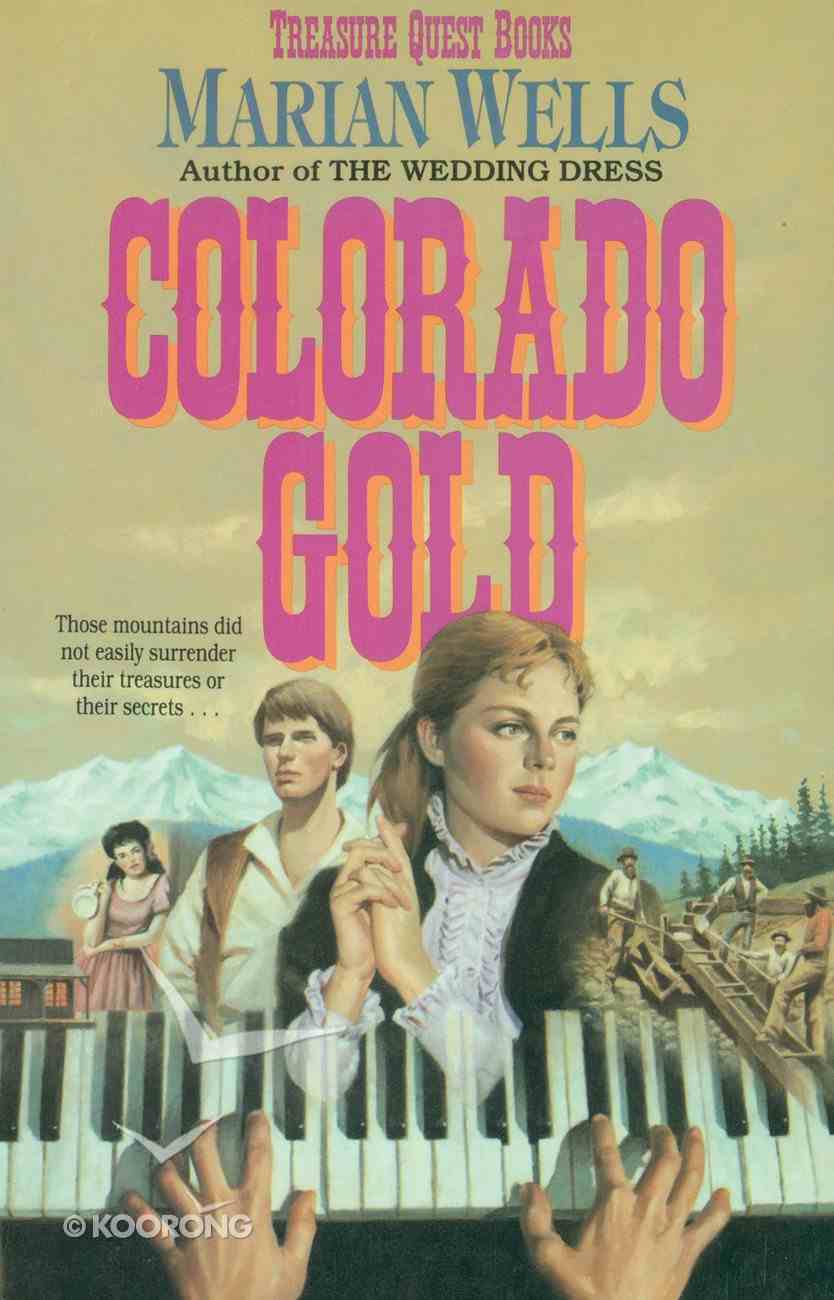 Colorado Gold (#01 in Treasure Quest Series)
A dynamic new fiction series from the author of The Wedding Dress Author Marian Wells has shown remarkable ability to both capture the hearts of readers and challenge them with a strong spiritual message. Colorado Gold begins a...
Available for immediate download.
---
Read using our free app on your tablet or mobile!
---
Free Shipping
for orders over $99.
A dynamic new fiction series from the author of The Wedding Dress

Author Marian Wells has shown remarkable ability to both capture the hearts of readers and challenge them with a strong spiritual message. Colorado Gold begins a new historical fiction series, Treasure Quest, with an intriguing story set in the West when "gold fever" was at its height.

Amy Randolph, a young lady from the east, has moved to a lonely Colorado mining town with her father, an itinerant evangelist. On the threshold of womanhood and having lost her mother as a child, Amy longs for an understanding mother-figure to guide her steps. But she feels more lost than ever being now separated from the familiar comforts of the East.

The Christianity she had grown up with seems unreal in their new surroundings. Her strong desire to play the piano, even if it means learning from a dance hall girl, lures her into a double standard. Her confusion is multiplied when she and her friend Daniel are misjudged and find themselves in a compromised situation.

Set against the rigors of life in the West, this story's message involves forgiveness and restoration of families--a marvelous redemptive theme.
-Publisher
A dynamic new fiction series from the author of The Wedding Dress

Author Marian Wells has shown remarkable ability to both capture the hearts of readers and challenge them with a strong spiritual message. Colorado Gold begins a new historical fiction series, Treasure Quest, with an intriguing story set in the West when "gold fever" was at its height.

Amy Randolph, a young lady from the east, has moved to a lonely Colorado mining town with her father, an itinerant evangelist. On the threshold of womanhood and having lost her mother as a child, Amy longs for an understanding mother-figure to guide her steps. But she feels more lost than ever being now separated from the familiar comforts of the East.

The Christianity she had grown up with seems unreal in their new surroundings. Her strong desire to play the piano, even if it means learning from a dance hall girl, lures her into a double standard. Her confusion is multiplied when she and her friend Daniel are misjudged and find themselves in a compromised situation.

Set against the rigors of life in the West, this story's message involves forgiveness and restoration of families--a marvelous redemptive theme.^^"You can pick it up by the shovelful!" Such were the promises that brought a wide sweep of humanity streaming across the Western trails. But there were other motivations too-escape from the past, the pull of new adventure, or even the call of God to minister. Some would yield their lives, most would reshape their vision, and a few hardy, determined ones would make their dreams come true.^^Set against the rigors of life in the West, bestselling author Marian Wells begins the story of Amy Randolph, the daughter of a frontier preacher. Separated from the familiar comforts of the East and having lost her mother as a child, this sixteen-year-old is amazed, bewildered and mystified by her new surroundings. On the threshold of womanhood, she finds that life in the lonely Colorado mining town holds realities which challenge the strength of her most basic values. Or were they really hers?^^The First Story in a Dynamic New Series From the Author of The Wedding Dress!
-Publisher