 "As a poet and novelist in nineteenth-century Scotland, George MacDonald became an internationally acclaimed author and lecturer whose work has inspired such prominent writers and artists as C. S. Lewis and Maurice Sendak. This extensive collection of MacDonald's personal correspondence...
Unavailable. Out of Print. Only available while stock lasts. eBook is Available.
Out of Print
---
Free Shipping
for orders over $99.
"As a poet and novelist in nineteenth-century Scotland, George MacDonald became an internationally acclaimed author and lecturer whose work has inspired such prominent writers and artists as C. S. Lewis and Maurice Sendak. This extensive collection of MacDonald's personal correspondence offers privileged insights into the inner thoughts and visionary ideas of one of Scotland's greatest storytellers." "An Expression of Character draws from more than 3,000 of MacDonald's letters to friends and family members, many not previously published. Highly regarded as a MacDonald scholar, Glenn Edward Sadler has arranged the most significant of MacDonald's letters chronologically, dividing his life into significant stages: his boyhood in Huntly and student days at Aberdeen University; his marriage and fatherhood; his career as a novelist; his lecture tour in America in 1872; and his later days in Bordighera, Italy. Sadler skillfully introduces each section, summarizing the significant milestones in MacDonald's life. Sixteen pages of photographs, including many of the MacDonald family, also help capture this intriguing literary figure." "Fascinating, at times lyrical, and often moving, these letters provide a window into MacDonald's personal and spiritual life. Most of his letters are earthy and practical, showing his concern for the events of everyday life, his warm attachment to friends, and the importance of his role as husband and father. Other letters reveal MacDonald's spiritual approach to life and the develop ment of his religious views. Especially significant was his firm belief in what C. S. Lewis defined as "good Death" and in the glorious life hereafter." "Readers of MacDonald will find in these letters penetrating glimpses of a deeply religious and sensitive man. To the specialist and general reader alike the letters speak with heartfelt sincerity and warmth. Those familiar with MacDonald's fiction and poetry will find the best portrait yet of the man himself."--BOOK JACKET. Title Summary field provided by Blackwell North America, Inc. All Rights Reserved
-Publisher
Bill McKibben grew up in Lexington, Massachusetts. He was president of the Harvard Crimson newspaper in college. Immediately after college he joined the New Yorker magazine as a staff writer, and wrote much of the "Talk of the Town" column from 1982 to early 1987. After quitting this job, he soon moved to the Adirondack Mountains of upstate New York. His first book, The End of Nature, was published in 1989 by Random House after being serialized in the New Yorker. It is regarded as the first book for a general audience about climate change, and has been printed in more than 20 languages. Several editions have come out in the United States, including an updated version published in 2006. His next book, The Age of Missing Information, was published in 1992. It is an account of an experiment: McKibben collected everything that came across the 100 channels of cable tv on the Fairfax, Virginia system (at the time among the nation's largest) for a single day. He spent a year watching the 2,400 hours of videotape, and then compared it to a day spent on the mountaintop near his home. This book has been widely used in colleges and high schools, and was reissued in 2006. McKibben's latest book is entitled, Eaarth: Making a Life on a Tough New Planet. Bill currently resides with his wife, writer Sue Halpern, and his daughter, Sophie in Ripton, Vermont. He is a scholar in residence at Middlebury College. 030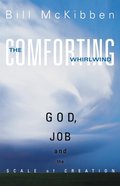 Bestsellers in Christian Worldview