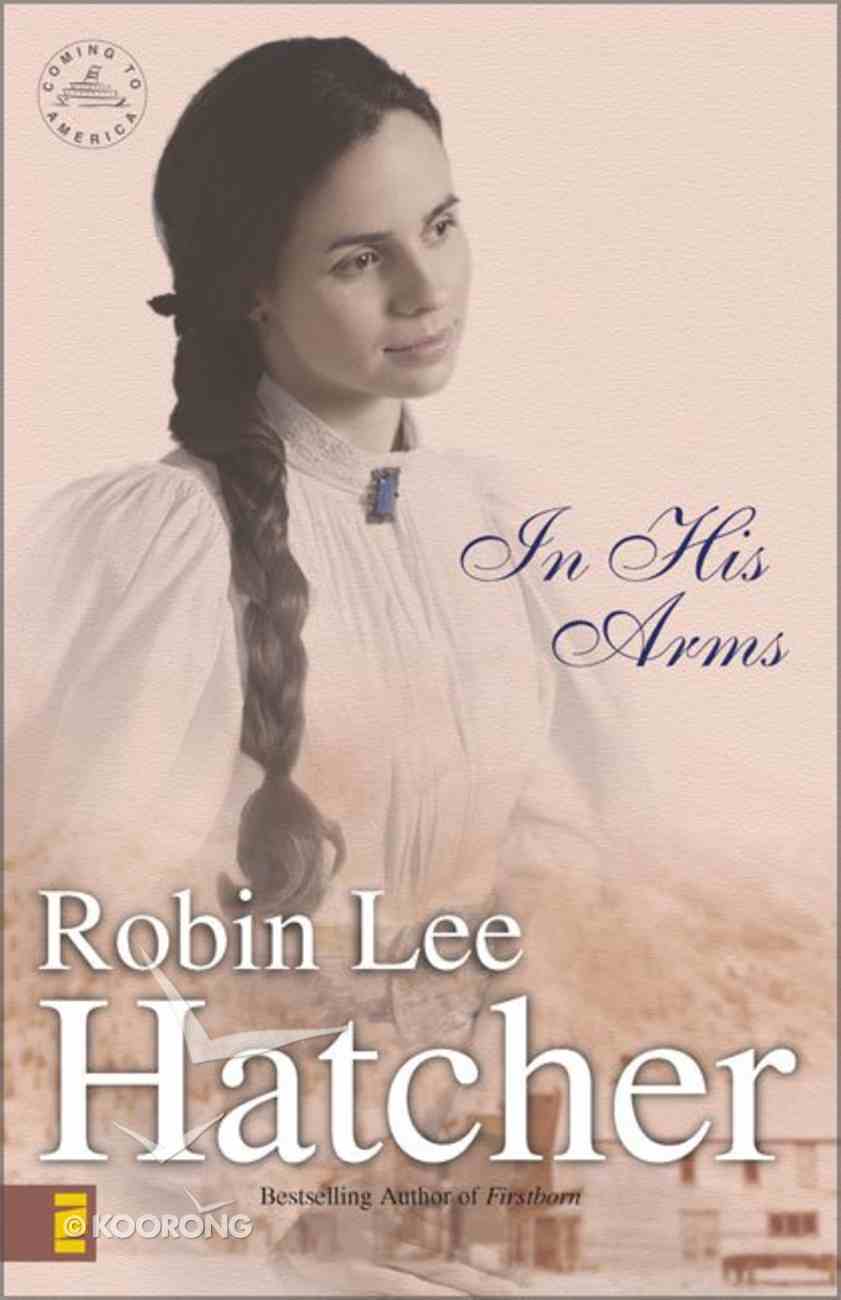 Coming to America #03: In His Arms
Dear Inga, I'm thinking it is not good for my baby and me to stay much longer in Whistle Creek, Idaho. The sheriff is showing altogether too much interest. I suppose I should feel flattered, for Carson Barclay is not...
Out of Stock
Available to Order
---
Expected to ship in 4 to 5 weeks from Australia.
---
Free Shipping
for orders over $99.
Dear Inga, I'm thinking it is not good for my baby and me to stay much longer in Whistle Creek, Idaho. The sheriff is showing altogether too much interest. I suppose I should feel flattered, for Carson Barclay is not only strikingly handsome, but a man of character and faith who has shown Keary and me considerable kindness. But I'm afraid his affections are ones I cannot return. The secret I bear makes a future with him impossible.Yet Inga, when Sheriff Barclay is near, it's everything in my Irish heart that wishes otherwise.Your friend, Mary Emeline MaloneIdaho: mountainous, rugged. Men go there to find their fortunes in the silver mines--and lose their pasts. But as Mary Malone discovers, sometimes the past is not so easily shaken. It will take a good man's strong, persistent love to penetrate the young immigrant's defenses and disarm the secret that makes a hostage of her heart.In His Arms is Book Three in the Coming to America series about women who come to America to start new li
-Publisher
In the latest addition to the "Coming to America" series, Mary Malone flees an apparent murder in New York in 1898. On the train going west, she meets an Idahoan saloon owner who takes Mary under her wing and gives her a job as a bookkeeper. A mining accident, kidnapping, explosion and, finally, love revealed bring this story to the satisfying conclusion that true love can overcome anything from the past.
-Publisher
PRODUCT DETAIL
Catalogue Code 

160814

Product Code 

0310231205

EAN 

9780310231202

UPC 

025986231200

Pages 

304

Department General Books
Category Fiction
Sub-Category Romance
Publisher Zondervan
Publication Date 

May 2001

Dimensions 

213 x 139 x 22

mm

Weight 

0.306

kg
Best-selling author Robin Lee Hatcher was born in 1951 and has written over 45 contemporary and historical novels. She has received numerous awards including the Christy Award for Excellence in Christian Fiction, the RITA Award for Best Inspirational Romance, and RWA's Lifetime Achievement Award. Her novel Catching Katie was named one of the Best Books of 2004 by the Library Journal. She is also the past President of Romance Writers of America, Inc. She currently lives in Boise, Idaho.
New York City, July 1898 The door to the master's study swung shut behind Mary, causing her to gasp in surprise. But it was Winston Kenrick's soft chuckle that made her whirl about and her pulse quicken in dread. 'I wondered how soon you would get to cleaning this room, Mary.' 'If 'tis a bad time, Master Kenrick, I could be coming back later. When you're not so busy and all.' He smiled, but the look was more feral than comforting. 'I wouldn't think of causing you the trouble. Come in and be about your business.' Mary tried to disregard the ominous feeling in her chest. In the months she had worked for the Kenricks, nothing untoward had happened to her. Yet it seemed the master was always watching her. It seemed he was around every corner, in every room, waiting, observing, smiling. The truth be told, she didn't like him much. 'I'll be trying not to disturb you, sir,' she said as she set down her bucket of soapy wash water. She pulled the feather duster from her waistband and walked to the bookcase, where she set to work, ignoring the man behind her. The master chuckled again. 'But don't you know, my dear girl? You always disturb me. You can't help it.' 'I'm thinking I don't know what you mean,' she replied without looking at him. But she was more than sure she did know. Winston moved closer. 'How is that little boy of yours, Mary Malone?' Her heart nearly stopped. Her hand stilled, the feather duster resting on the spine of a book. 'Me boy?' she whispered. She'd never told anyone in the Kenrick household about Keary. How did Master Kenrick know? 'It must be difficult, raising an infant on your own. What is he? Almost a year old now?' She remained stubbornly silent. 'I could make it easier for you, Mary.' 'I'm having no complaints as things are now.' His hands alighted on her shoulders. Slowly, he turned her to face him. Winston Kenrick was a handsome man in his mid-forties. His hair was silver gray, but rather than making him look old, it added to his distinguished appearance. He had enormous power and influence among the wealthy members of New York society. He watched Mary now with eyes that said he knew exactly how to use his power and influence to get what he wanted. 'My dear girl, you have no idea what I'm offering.' Mary's infamous temper flared. 'But I'm thinking I do know, sir, and I'll be having you know I've got no interest in the likes o' you. Not for any amount of your charm or your money.' His eyes narrowed. 'Don't play the innocent with me.' 'Oh, I'll not be pretending innocence, sir. You already know I'm not married and I have me a son, so there'd be no use to it. But I learned me lesson well with Seamus Maguire, I did. I've been betrayed, but I'll not be used. Not by you nor any other man.' She tried to push him away, but his grip on her arms tightened. Winston grinned. 'I think I can change your mind.' He kissed her. For a moment, she didn't fight him, too stunned to move. But then he chuckled low in his throat, pleased with himself and with what he was doing. Her anger flared hotter. She bit his lip. Hard. He howled as he stepped back from her. Mary used the opportunity to slip away, dashing to the opposite side of the master's enormous cherry wood desk. Winston, in turn, positioned himself between her and the door. He touched his lip with his fingertips, then looked at them, as if checking for blood. 'You Irish witch,' he said softly. The words would have seemed less terrifying if he'd shouted them. 'Just let me go, Master Kenrick. I'll collect me pay and be gone from here.' 'Are you aware that the authorities could deport you because you lied to get into the country? You told them you were married. They could send you back to Ireland.' He paused a heartbeat, then added, 'Without your son.' 'They'd never do that.' Fear made her mouth dry, her tongue thick. 'They'd never do that.' 'Do you dare take that chance?' She shook her head, whether in disbelief or in answer to his question, she didn't know. 'I can't betray Mrs. Kenrick nor meself in such a way.' He moved toward the door. 'I have very powerful friends. Police officers. Judges. I can make certain you never see your son again. Never. Is that what you want?' With a click, he turned the key, locking the door. Then he faced her again. 'Be careful what you decide, my dear. Be very careful. Your son's future is entirely up to you.' Keary. Me darlin' Keary. Winston moved to the center of the room, then crooked his finger at her. With heart pounding, she came around from behind the desk. She told herself that no matter what happened, she'd lived through worse and survived. 'That's a good girl.' Winston stepped toward her. Mary stepped backward. He grinned, enjoying the game. She bumped against the desk, stopping her retreat. Winston laughed aloud. 'Playing it coy, Miss Malone?' 'Don't do this, sir. Just let me go, and I'll be no more trouble to you.' 'You're no trouble to me now.' For Keary, she reminded herself. To protect Keary she could bear anything. Winston reached for her. Panic surged, and she instinctively tried to push his hands away. 'No!' she cried. Irritation flashed in his eyes, and with unexpected swiftness, he rent the fabric of her blouse. 'Let's be done with this silliness.' 'Leave me be!' He pressed her against the desk. She tried to brace herself, hoping for enough leverage to shove him away. Then her right hand closed around something large, cool, and hard on the desktop. 'You'll not be doing this to me!' she cried.