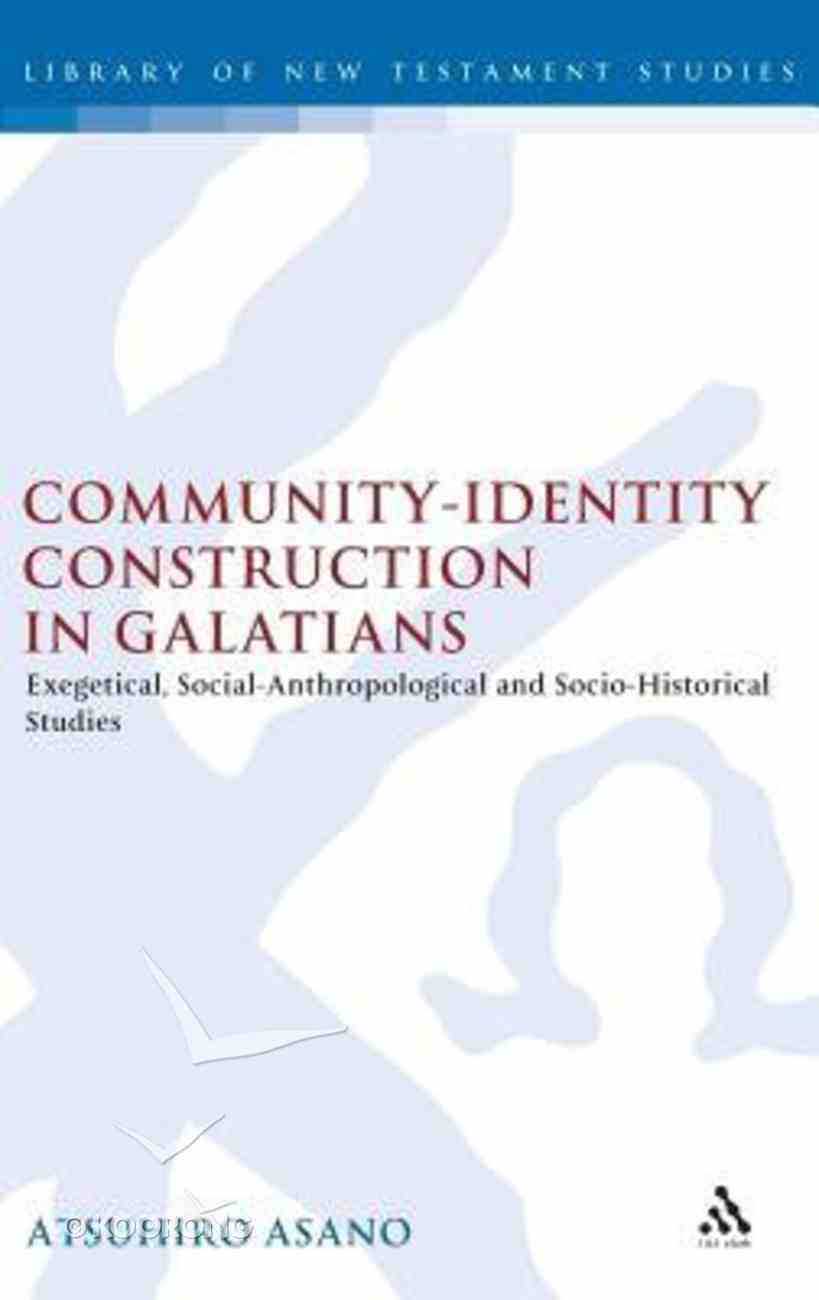 Community-Identity Construction in Galatians (Journal For The Study Of The New Testament Supplement Series)
Atsuhiro Asano seeks to show that the conflict displayed in the letter to the Galatians is based upon the conflicting views of community-identity construction and that various passages can be best understood as practical efforts to construct and maintain the...
Special Order
Payment is by credit card only. Orders for this item cannot be cancelled or returned.
---
Free Shipping
for orders over $99.
Atsuhiro Asano seeks to show that the conflict displayed in the letter to the Galatians is based upon the conflicting views of community-identity construction and that various passages can be best understood as practical efforts to construct and maintain the identity of the emerging and marginalized community.
-Publisher

The issue of community-identity construction in Galatians is considered using two methods: first, by applying anthropological theories to the mechanism and natures of community-identity and its construction, and second, by comparing the Galatian community with another minority religious community.Asano argues that Paul's effort at identity construction is partially conditioned by his self-awareness as an autonomous apostle and by the external pressures of the significant groups elsewhere. Paul's conflict, depicted in Galatians 2 and projected upon the Galatian situation, is understood as a conflict between the ethno-centred and the 'instrumental mode' of community constructions, the latter of which is free from the constraints of core ethnic sentiment. Galatians 4.21-31 is identified as a conceptual framework (or 'recreated worldview') for the community members to be assured of their authentic existence under marginalizing pressure. This recreated worldview is ritually acted out in baptism with the egalitarian motif (Gal 3.28) to help internalize the authentic identity.Finally, Paul's letter is suggested to have functioned as a physical locus of community-identity. Thus the autographic marker (Gal 6.11) directs the attention of the audience not only to the conceptual content but to the presence of the founding apostle that the letter replaces.

-Publisher
Atsuhiro Asano received his PhD from Oxford University and is Assistant Professor at Nihon University as well as adjunct lecturer at Tokyo Christian University. A
Introduction; Part I: Community-identity Construction In Theory And Practice: Theoretical Framework And Analogical Case; Chapter 1: Framework Of Identity Construction; Chapter 2: Kanzo Uchimura And His Mukyokai: Short Historical; Description And Examination Of The Community-identity; Construction Of The Analogical Case, Part Ii: Context Of Identity Construction In The Galatian; Community; Chapter 3: Paul As An Instrumental Mode Of Community-identity; Constructor; Chapter 4: Jewish Ideas Of Gentile Incorporation In The Second; Temple Period; Chapter 5: Conflicts In Jerusalem And In Antioch As The Context Of; Identity Construction In The Galatian Community (galatians 2: 1-14); Part Iii: Patterns Of Identity Construction In The Galatian Community; Chapter 6: Recreation Of Worldview (galatians 4:21-31): Remaking; The Tradition Of Abrahamic Inheritance; Chapter 7: Development And Function Of The Triple-couplets In; Paul's Baptismal Liturgical Saying (galatians 3:27-28); Chapter 8: Communal Possession Of A Religious Writing: Paul's; Letter As A Locus Of Community-identity; Conclusion
Bestsellers in Biblical Studies