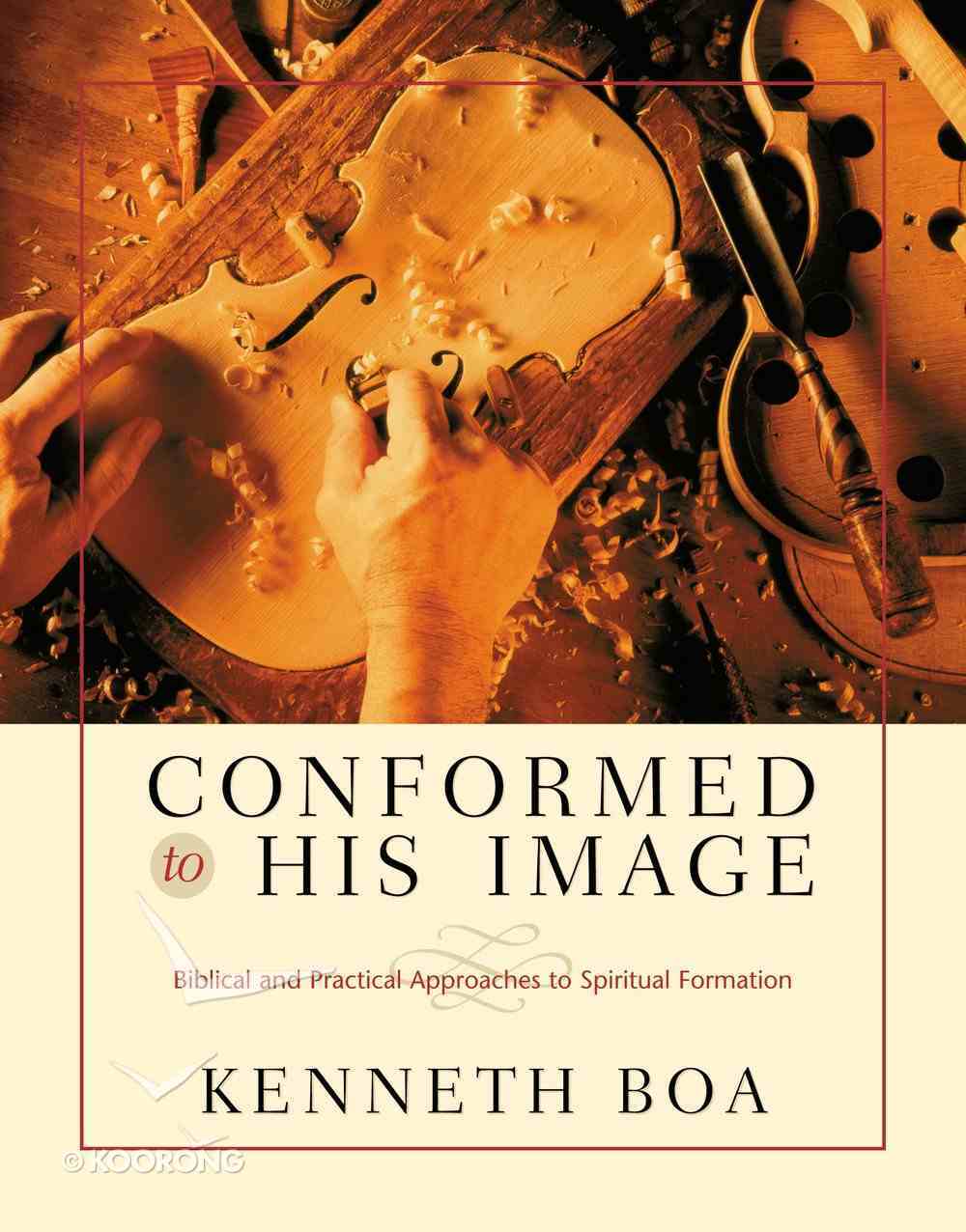 Conformed to His Image: Biblical and Practical Approaches to Spiritual Formation
What does a relationship with God look like and how do we obtain it? It is vital for church leaders to grapple seriously with this question, for pat answers no longer suffice. Lives well-lived, not just words eloquently spoken, must...
Arriving in store soon.
0 Available.
---
Free Shipping
for orders over $99.
What does a relationship with God look like and how do we obtain it? It is vital for church leaders to grapple seriously with this question, for pat answers no longer suffice. Lives well-lived, not just words eloquently spoken, must become our response. The quality of our relationship with God is what will influence the health, potency, and witness of the church in an increasingly complex and hostile world.

Designed for use as a college or seminary course, Conformed to His Image helps us build our lives on a fully biblical perspective. Exploring twelve approaches to Christian spirituality in depth, Dr. Kenneth Boa corrects our tendency to pick and compartmentalize. Pointing the way instead to an integrative, whole-life approach, Dr. Boa shows how each spiritual paradigm discussed is just one important facet in the gem of authentic and powerful New Testament living.

With chapter overviews and objectives, questions for personal application, a glossary, and a list of key terms, Conformed to His Image will prove a defining text for the student, pastor, and church leader of today . . . and tomorrow.

12 Facets of the Complete Christian Life Relational Spirituality: Loving God Completely, Ourselves Correctly, and Others Compassionately Paradigm Spirituality: Cultivating an Eternal versus a Temporal Perspective Disciplined Spirituality: Engaging in the Historical Differences Exchanged Life Spirituality: Grasping Our True Identity in Christ Motivated Spirituality: A Set of Biblical Incentives Devotional Spirituality: Falling in Love with God Holistic Spirituality: Every Component of Life under the Lordship of Christ Process Spirituality: Being versus Doing, Process versus Product Spirit-Filled Spirituality: Walking in the Power of the Spirit Warfare Spirituality: The World, the Flesh, and the Devil Nurturing Spirituality: A Lifestyle of Discipleship and Evangelism Corporate Spirituality: Encouragement, Accountability, and Worship A textbook that offers a comprehensive, balanced, and applicable approach to what it really means to know Christ by presenting a variety of pathways in the spiritual life and showing how each of these pathways can contribute to the dynamic process of spiritual growth.
-Publisher
PRODUCT DETAIL
Catalogue Code 

166099

Product Code 

031023848X

EAN 

9780310238485

UPC 

025986238483

Pages 

544

Department General Books
Category Spiritual Growth
Sub-Category General
Publisher Zondervan
Publication Date 

Aug 2001

Sales Rank 

18302

Dimensions 

241 x 193 x 28

mm

Weight 

1.038

kg
Kenneth D. Boa (Ph.D., New York University; D.Phil., University of Oxford in England) is engaged in a ministry of relational evangelism and discipleship, teaching, writing, and speaking.
Dr. Boa is the President of Reflections Ministries, an organization that seeks to encourage, teach, and equip people to know Christ, follow Him, become progressively conformed to His image, and reproduce His life in others. He is also President of Trinity House Publishers, a publishing company that is dedicated to the creation of tools that will help people manifest eternal values in a temporal arena by drawing them to intimacy with God and a better understanding of the culture in which they live.


Recent publications by Dr. Boa include Conformed to His Image; 20 Compelling Evidences that God Exists; Face to Face; Augustine to Freud; Faith Has its Reasons; and God, I Dont Understand. He is a contributing editor to The Open Bible and the consulting editor of the Zondervan NASB Study Bible.


Chapter One RELATIONAL SPIRITUALITY Loving God Completely CHAPTER OVERVIEW Since God is a relational being, we who are created in his image are also called to right relationships, first with him and then with each other. This chapter considers the causeless, measureless, and ceaseless love of God and the fitting response of loving God completely. We move in this direction by knowing him more clearly, loving him more dearly, and following him more nearly. CHAPTER OBJECTIVES *An enhanced appreciation for the greatness and glory of God *A greater sense of the dilemma of our dignity and depravity *A better grasp of God's causeless, measureless, and ceaseless love *An understanding of what it means to love God with our minds, wills, and emotions WHAT IS MAN, THAT YOU TAKE THOUGHT OF HIM? The God of the Bible is infinite, personal, and triune. Becasue God is a communion of three persons, one of his purposes in creating us is to display the glory of his being and attributes to intelligent moral creatures who are capable of responding to his relational initiatives. In spite of human rebellion and sin against the person and character of the Lord, Christ bore the awesome price of our guilt and inaugurated 'a new and living way' (Hebrews 10:20) by which the barrier to personal relationship with God has been overcome. Because the infinite and personal God loves us, he wants us to grow in an intimate relationship with him; this is the purpose for which we were created to know, love, enjoy, and honor the triune Lord of all creation. Because God is a relational being, the two great commandments of loving him and expressing this love for him by loving others are also intensely relational. We were created for fellowship and intimacy not only with God but also with each other. The relational implications of the Christian doctrine of the Trinity are profound. Since we were created in God's image and likeness, we too are relational beings. The better we know God, the better we know ourselves. Augustine's prayer for this double knowledge ('May we know thee, may we know ourselves') reflects the truth that our union with Christ is overcoming the alienation with God, with ourselves, and with others that occurred at the Fall. Our Greatness and Smallness Human nature is a web of contradictions. We are at once the grandeur and degradation of the created order; we bear the image of God, but we are ensnared in trespasses and sins. We are capable of harnessing the forces of nature but unable to rule our tongue; we are the most wonderful and creative beings on this planet but the most violent, cruel, and contemptible of earth's inhabitants. In his Pensees, Blaise Pascal described the dignity and puniness of humanity: 'Man is but a reed, the most feeble thing in nature; but he is a thinking reed. The entire universe need not arm itself to crush him. A vapour, a drop of water, suffices to kill him. But, if the universe were to crush him, man would still be more noble than that which killed him, because he knows that he dies and the advantage which the universe has over him; the universe knows nothing of this.' The Glory of God Psalm 8 explores these twin themes, sandwiching them between expressions of the majesty of the Creator of all biological and spiritual life: 'O Lord, our Lord, how majestic is Your name in all the earth' (vv. 1a, 9). The living God has displayed his splendor above the heavens, and he has ordained praise from the heavenly host to the mouth of infants and nursing babes (vv. 1b--2). When, after our Lord's triumphal entry into Jerusalem, the children cried out in the temple, 'Hosanna to the Son of David,' the chief priests and the scribes became indignant, and Jesus quoted this passage to them (Matthew 21:15--16). The children's simple confession of trusting love was enough to silence the scorn of his adversaries and 'make the enemy and the revengeful cease' (Psalm 8:2b). In Psalm 8:3--4, David's meditation passes from the testimony of children to the eloquence of the cosmos: 'When I consider Your heavens, the work of Your fingers, the moon and the stars, which You have ordained; what is man that You take thought of him? And the son of man that You care for him?' From the time David wrote those words until the invention of the telescope in the early seventeenth century, only a few thousand stars were visible to the unaided eye, and the universe appeared far less impressive than we now know it to be. Even until the second decade of the twentieth century, it was thought that the Milky Way galaxy was synonymous with the universe. This alone would be awesome in its scope, since our spiral galaxy contains more than 200,000,000,000 stars and extends to a diameter of 100,000 light years (remember that a light second is more than 186,000 miles; the 93,000,000 miles between the sun and the earth is 8 light minutes). But more recent developments in astronomy have revealed that our galaxy is a member of a local cluster of about 20 galaxies and that this local cluster is but one member of a massive supercluster of thousands of galaxies. So many of these superclusters are known to exist that the number of galaxies is estimated at more than 100,000,000,000. What is humanity, indeed! The God who created these stars and calls them all by name (Isaiah 40:26) is unimaginably awesome; his wisdom, beauty, power, and dominion are beyond human comprehension. And yet he has deigned to seek intimacy with the people on this puny planet and has given them great dignity and destiny: 'Yet You have made him a little lower than God, and You crown him with glory and majesty!' (Psalm 8:5). These words are applicable to all people, but they find their ultimate fulfillment in Jesus Christ, as the quotation of this passage in Hebrews 2:6--8 makes clear. We were made to rule over the works of God's hands (Psalm 8:6--8), but we forfeited this dominion in the devastation of the Fall ('but now we do not yet see all things subjected to him' [Hebrews 2:8b]). However, all things will be subjected under the feet of Christ when he returns (1 Corinthians 15:24--28), and we will live and reign with him (Romans 5:17; 2 Timothy 2:12; Revelation 5:10; 20:6). As wonderful as our dominion over nature will be, our true cause of rejoicing should be in the fact that if we have placed our trust in Jesus Christ, our names are recorded in heaven (Luke 10:20). 'What is man that You take thought of him? And the son of man that You care for him?' The infinite Ruler of all creation takes thought of us and cares for us, and he has proved it by the indescribable gift of his Son (2 Corinthians 9:15; 1 John 4:9--10). In the words of C. S. Lewis, glory means 'good report with God, acceptance by God, response, acknowledgment, and welcome into the heart of things. The door on which we have been knocking all our lives will open at last.' Let us exult in hope of the glory of God!
Bestsellers in Spiritual Growth