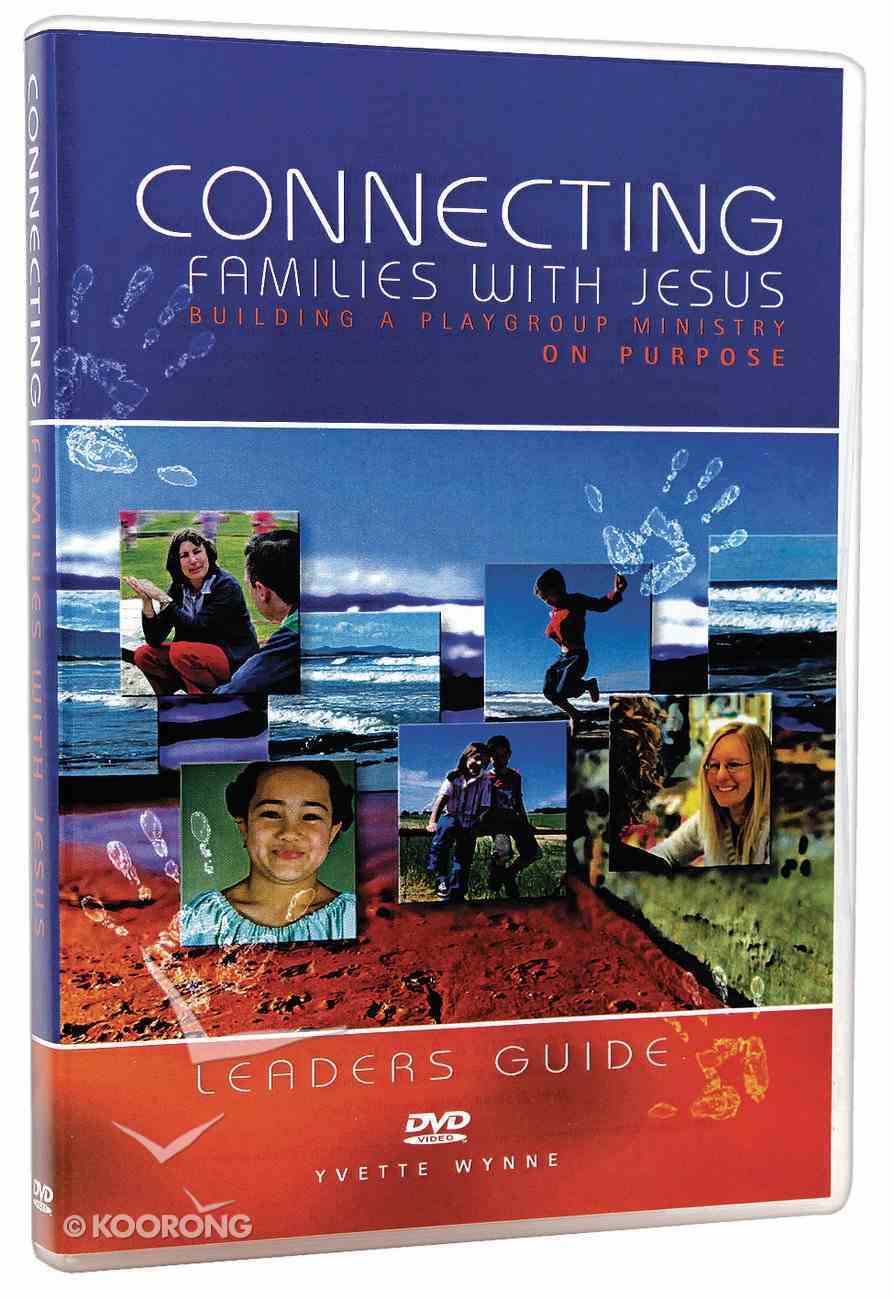 Connecting Families With Jesus (Leader's Dvd)
Connecting Families with Jesus is a 5-week interactive study designed for use with Christians who are either leaders or participants in a Playgroup Ministry or similar community outreach initiative. Each week participants meet together with other people working through...
Unavailable. Out of Print. Only available while stock lasts.
Out of Print
---
Free Shipping
for orders over $99.
Connecting Families with Jesus is a 5-week interactive study designed for use with Christians who are either leaders or participants in a Playgroup Ministry or similar community outreach initiative.

Each week participants meet together with other people working through this resource for small group discussion and reflection led by a facilitator. This will involve watching a short video testimony and then some time of discussion and sharing about what you have learned and how you might be able to make changes within your particular situation. In these small group meetings questions are valued from all participants and should be encouraged. The participant's journal will help you apply biblical truths to life, understand Scriptures and their background, and encourage you to pray. Participants in the group learn from one another in the small group sessions, often bringing additional insights from the daily readings.

Because the small group process in this resource does not depend on someone to research and share information, less advance preparation is needed. The leader is a guide and facilitator.

The study also includes 5 daily readings to be completed individually by participants during each week. These readings should take no more than 20-30 minutes and they begin with a personal story from someone who was asked to share their experience within a Playgroup setting.

Playgroups are a major part of the life of the Church across Australasia. Every week thousands of mums, dads, grandparents and care givers from all walks of life take part in a Playgroup in a local church. Many of these parents or care givers are not Christians and may never have heard the gospel message.

For years, many churches have run such a playgroup ministry with numbers of parents and care givers taking part during any given week. The mission and vision of the Playgroup may be clearly defined as an opportunity to reach into community and share who Jesus is with them. BUT... are we actually achieving, in any measure, the purpose of our playgroup? Sure we may have lots of people attending, we may be building relationships, but how many are even hearing the gospel message let alone accepting Jesus as their Lord and Saviour - the very reason for the existence of our playgroup?

Perhaps you are asking these same questions of your Playgroup Ministry, and the answers aren't all that encouraging. There could be many and varied contributing factors. Has the vision been clearly cast? Do the Playgroup leaders and the Church mums and dads who attend understand WHY you run a playgroup? Are they equipped and trained in building relationships that bring people to a point of decision about Christ? Are they encouraged to be intentional in looking for opportunities to share Christ?

Have you defined a vision or purpose for what you do? You may simply want to offer a service to the community surrounding your church - and that's fine. BUT, if the purpose of your playgroup is to use it as a 'connection point' for this group in your community to ultimately hear the Gospel, accept Jesus, and become a part of the family of your church - then this won't happen by accident. If you are not intentional about being on purpose with your Playgroup ministry, then you too may be experiencing disappointing fruit.

Don't be discouraged! This story is the same for many, many church based Playgroup Ministries. This resource can equip and empower you to build a Playgroup Ministry on Purpose - for the Glory of our Lord Jesus Christ.

- Publisher
Bestsellers in Children's Ministry