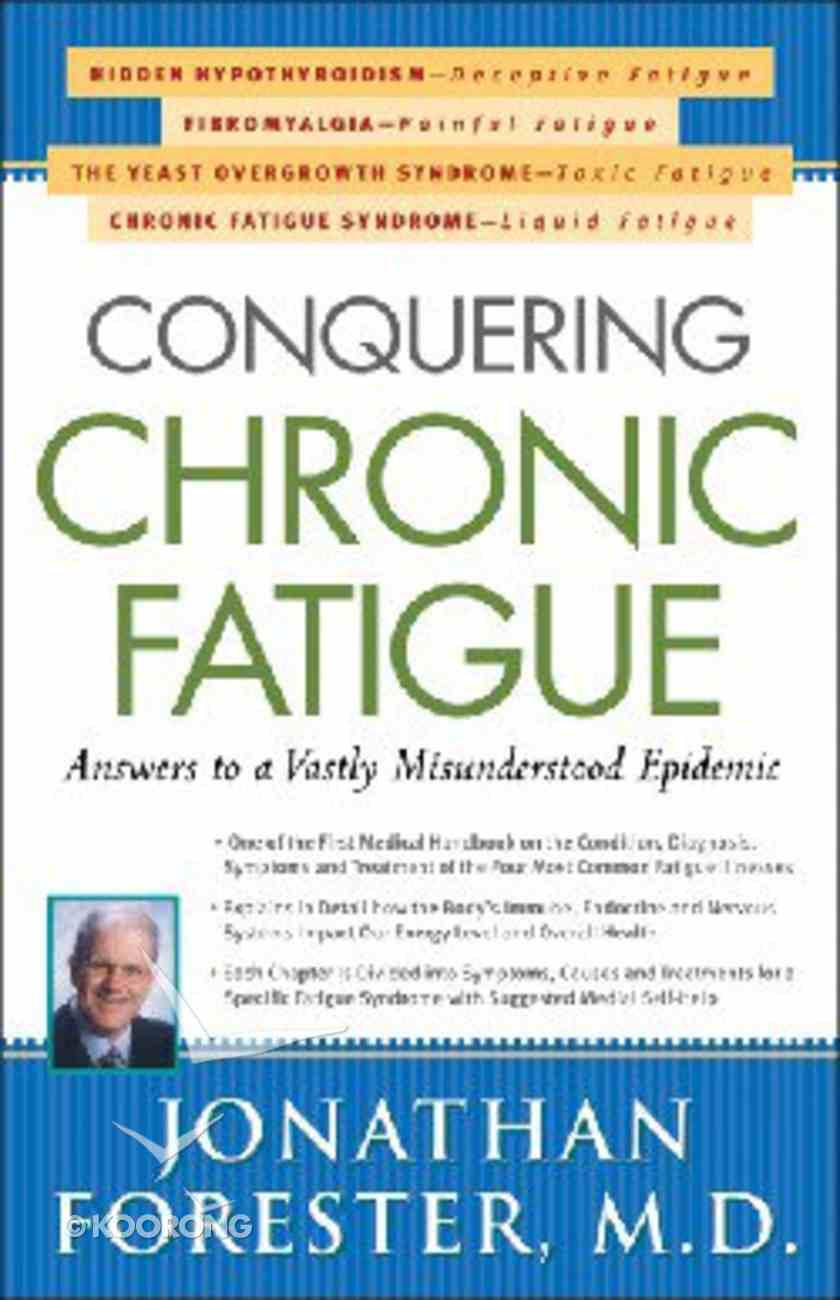 Conquering Chronic Fatigue
Approximately 40 million people in North America and Canada suffer from illnesses whose core symptom is debilitating and chronic fatigue. Their illnesses are commonly misdiagnosed and mistreated. The result is defeat, depression, a sense of hopelessness and fear that they...
---
Free Shipping
for orders over $99.
Approximately 40 million people in North America and Canada suffer from illnesses whose core symptom is debilitating and chronic fatigue. Their illnesses are commonly misdiagnosed and mistreated. The result is defeat, depression, a sense of hopelessness and fear that they will never again experience wellness. Dr. Jonathan Forester, has a successful and proven track record in treating fibromyalgia, chronic fatigue, subthyroidism and chronic yeast overgrowth. His discovery of how to treat these illnesses provides health and hope to those who suffer with fatigue.
-Publisher
1. Three Men In An Old Truck^2. Causes Of Fatigue^3. Chronic Fatigue Syndrome^4. Fibromyalgia^5. Hidden Hypothyroidism^6. Yeast Overgrowth Syndrome^7. Brain Fatigue^8. Immune Fatigue^9. Endocrine Fatigue^10. For Physicians : A Systematic Approach To Diagnosis And Treatment Of Fatigue Syndromes^235 Pages
-Publisher
Possibly the most under treated and misunderstood illness in America, the growing epidemic of chronic fatigue has more than 40 million sufferers. Written by a Christian medical doctor, Conquering Chronic Fatigue is a medical handbook that spells out the condition, diagnosis, symptoms and treatment of the four most common fatigue illnesses; chronic fatigue, hidden hypothyroidism, fibromyalgia and yeast overgrowth. Dr. Forester is quick to acknowledge that much remains to be done to conquer fatigue. However, it is equally true- and even more exciting- to realize that 80 to 90 percent of fatigue patients under Dr. Forester's care either improved or were put in remission of their fatigue! Are you sick and tired of feeling sick and tired? This book will help to get you back on the road to health and vitality!
-Publisher
Bestsellers in Christian Living