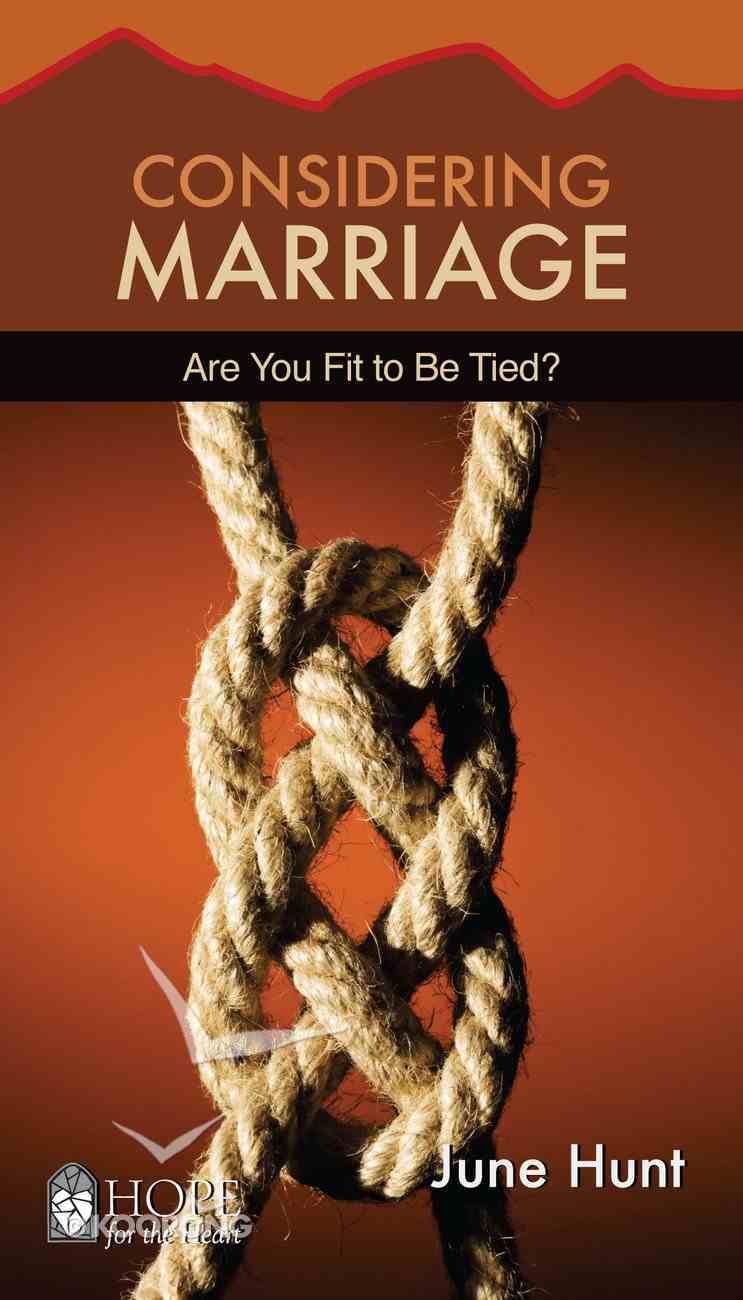 Considering Marriage (Hope For The Heart Series)
Considering Marriage: Are You Fit to be Tied? What does the Bible say about Christian marriage? Should we get married now or wait? Are we really ready? When is the timing right? What if one of us is unsure?...
Instant download
---
Expected to ship tomorrow from Australia.
---
Read using our free app on your tablet or mobile!
---
Free Shipping
for orders over $99.
Considering Marriage: Are You Fit to be Tied?
What does the Bible say about Christian marriage? Should we get married now or wait? Are we really ready? When is the timing right? What if one of us is unsure? This 96-page mini-book, Considering Marriage, provides premarriage counseling that will help you on your journey of making the decision and preparations before you say, I do." Marriage is a beautiful covenant made between a man and a woman, so how do you know when it's right to get married? Includes Christian marriage counseling and premarital counseling questions, such as Will his quirks drive you insane? Will her weird habits become a daily annoyance? Are you becoming more confident in your direction, or less?


Included in this easy-to-read marriage counseling handbook are dozens of exercises that are excellent tools for opening the door to meaningful communication. Learn what each partner's definition of love is, or their concept of the role and responsibilities of a wife and husband. These marriage quizzes will help you and your significant other maneuver through potentially tough and thought-provoking questions with ease.


Get biblical answers from a Christian counselor to questions like:

Is it important to be romantically attracted to the person I want to marry? When does age difference matter? What is the root causes for marrying the wrong person? What if my non-Christian parents disapprove of my Christian fiancé? Will God stop a marriage if it's not His will? And many more.
Knowing why marriage was created and what a Christian marriage is will make life after the wedding so much more fruitful and satisfying.


This christian marriage counseling guide covers the basics: More than just "tying the knot," Christians need to know-

The biblical requirements for faithfulness within marriage Why marrying someone who is an unbeliever is a problem What the Lord says about marriage between a Christian and a non-Christian.
Learn the secrets to a Christian marriage, and the ups and downs to expect as you travel through the reality of marriage after the honeymoon. Includes a checklist of unrealistic expectations about marriage, such as:

Myth: Romance will sustains a marriage forever Myth: Engaging in premarital sex will have no effect on a marriage, or the far other extreme myth: Premarital sex is the unforgiveable sin. Myth: My spouse will always make me feel loved. Myth: We will never have serious disagreements. Myth: Religious differences will be insignificant And many more.
Look for all 25 titles in the Hope For The Heart Biblical Counseling Library. These mini-books are for people who seek freedom from codependency, anger, conflict, verbal and emotional abuse, depression, or other problems.



About the Author
June Hunt, M.A. Criswell College, is a biblical counselor whose award-winning radio program "Hope for the Heart" is heard on 900 radio outlets around the world. For more than 25 years, she has counseled people, offering them hope for today's problems. June has helped many people with emotional, relational, and spiritual problems experience God's love through biblical hope and practical advice.


Early family pain was the catalyst that shaped June's compassionate heart. Later, as a youth director, she became aware of the need for sound biblical counsel. After years of teaching and research, she developed a scripturally based counseling course covering topics such as marriage and parenting, depression and anger, stress and suicide. These topics are now available as the Aspire Press "Hope for the Heart" booklets.


"Hope from the Heart" is a half-hour teaching broadcast on these important topics in more than 60 countries on 6 continents. "Hope in the Night" is June's live two-hour call-in counseling program that helps people untie their tangled problems on air. Through her warmth, wisdom, and gentle candor, June prompts penetrating dialogue with listeners, often with life-changing results.


"Hope for the Heart" minibooks have been published in 27 languages in several formats and are being translated into more. June is a popular guest professor at colleges and seminaries? and a sought-after speaker at conferences and religious broadcasting events. She teaches and speaks around the world on topics such as crisis counseling, child abuse, wife abuse, forgiveness, singleness, and self-worth.



"After decades of counseling men and women from all walks of life, June knows how to lead readers to truth-truth that liberates because it is truth from God. "
Kay Arthur, Co-founder of Precept Ministries International, and author of When the Hurt Runs Deep-Healing and Hope for Life's Desperate Moments.

"Those of us who have had to forgive the unforgiveable will find June's materials to be tremendous- filled with hope and healing. She speaks from the heart with truth, directly to your broken soul.
Stephen Arterburn, Founder of New Life Ministries and author of Healing Is a Choice.

"June Hunt has been addressing the root issue for hurting hearts as long as I have known her. God has given her insightful sensitivity not only to identify human problems, but also to uncover biblical solutions. She has done it for me more than once! All who have hurting hearts-or who minister to wounded spirits-need to read her resources."
Dr. Dorothy Kelley Patterson, Professor of Theology in Women's Studies, Southwestern Baptist Theological Seminary

"June walks you through the step-by-step process to forgive...yes, even the 'unforgiveable.' If you want your days ahead to be better than the days gone by, this is a must read for you."
Dr. Tony Evans, Senior Pastor, Oak Cliff Bible Fellowship, and President of The Urban Alternative.

Message from June Hunt
from on .


-Publisher
June Hunt is a biblical counselllor and the founder of the award-winning Hope for the Heart radio program, heard on more than 900 radio outlets worldwide. For decades, June has counselled people, offering them Bible-based hope and practical help for today's problems - emotional, relational, and spiritual. She is the author of numerous popular resources for people seeking help, including over thirty topical Hope For The Heart books, as well as the 31-day devotional Seeing Yourself Through God's Eyes, which is often used in counselling offices, churches and small group Bible studies.
Bestsellers in Relationships