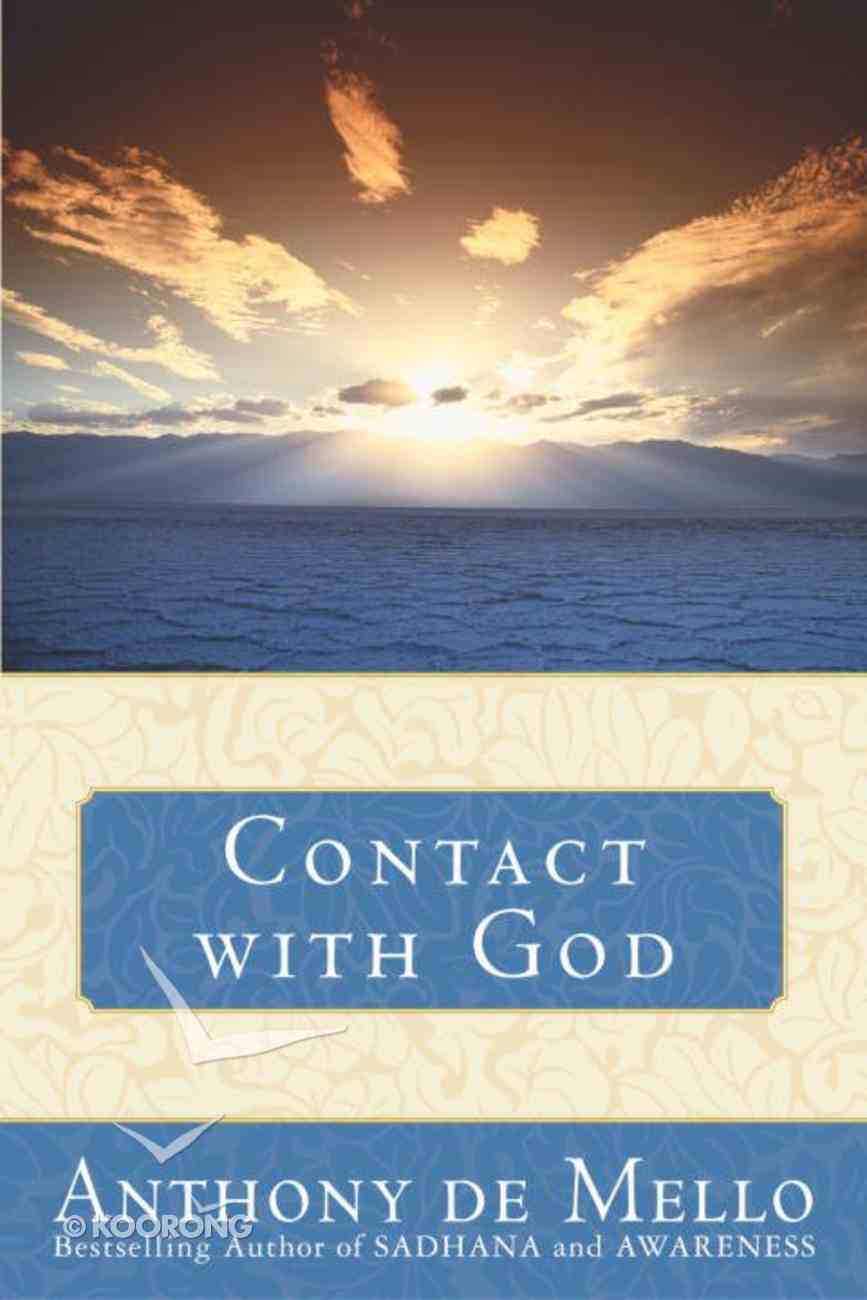 With more than two million copies of his books in print, Anthony de Mello remains one of the world's most popular spiritual guides. In "Contact with God," he draws upon his persuasive lectures and personal parables to guide readers through...
Order now to secure your copy when our stock arrives.
0 Available. Expected to ship in 4 to 5 weeks from Australia.
---
Expected to ship in 4 to 5 weeks from Australia.
---
Free Shipping
for orders over $99.
With more than two million copies of his books in print, Anthony de Mello remains one of the world's most popular spiritual guides. In "Contact with God," he draws upon his persuasive lectures and personal parables to guide readers through their own spiritual retreats.
Nowhere is Anthony de Mello's characteristic warmth and insight more evident than in the series of talks he gave while guiding retreats. Known throughout the world as one of the foremost religious guides, de Mello offers here the transcripts from his beloved lectures, inspiring readers going on retreat and including suggestions for how to get the most out of the retreat experience. In "Contact with God" (reissued and available for the first time from Image), he intersperses his descriptions of various types of prayer with stories from his own life, as well as the thought-provoking parables for which he is best known.
-Publisher
PRODUCT DETAIL
Catalogue Code 

395751

Product Code 

9780385509947

ISBN 

0385509944

EAN 

9780385509947

Pages 

224

Department General Books
Category Spiritual Growth
Sub-Category General
Publisher Image
Publication Date 

Oct 2003

Sales Rank 

51760

Dimensions 

215 x 139 x 12

mm

Weight 

0.275

kg
Anthony de Mello, SJ, is the author of many spiritual bestsellers, including "Sadhana," "Awareness," and "The Way to Love. "A native and lifelong resident of India, de Mello taught throughout the world, and his books have been translated into more than thirty-five languages. He died in 1987.
:1

Receiving the Holy Spirit

I wish to situate this retreat in the context of the Church and the world today. We have assembled here for a period of silence and prayer and withdrawal at a time when the Church is in crisis and the world in desperate need of peace and development and justice. May we not be rightly accused of escapism? Can we afford the luxury of an eight-day withdrawal when the house is on fire and every available hand is needed to put the fire out?

Are We Escapists?

I want to continue with that comparison. The house is indeed on fire. But too many of us, tragically, have no motivation to put it out; we would rather busy ourselves with our little worlds and little lives. Too many of us are too blind even to notice the fire--we notice only what suits us. And even supposing we are gifted with motivation and proper sight, how many of us lack the strength to work perseveringly on this fire; how many of us lack the wisdom and reflection to find the best and quickest means for putting the fire out? And then there is so much selfishness in the way we set about the task--a selfishness that makes us come in one another's way even when we have good intentions.

The retreat, on the face of it, does seem like a luxury and an escape. But it is the kind of luxury taken by a general who withdraws from the direct line of firing to give himself time to reflect and to come up with a more effective plan of battle. It is the kind of escape that will enable us to strengthen our motivation, to widen our hearts, to sharpen our sight, to energize ourselves to plunge more wholeheartedly into the tasks that God has assigned for us in the world. Dag Hammarskjsld, the mystic who became U.N. Secretary General, was so right when he said in his diary, "In our era the path to holiness necessarily passes through the world of action." We contemplate and pray to re-create ourselves and to act more energetically and more effectively for God's glory and the benefit of the world.

The Greatest Need of the Church

The Church is passing through a period of chaos and crisis. This is not necessarily a bad thing. A crisis is a challenge to grow. Chaos precedes creation--provided, and this is a big proviso, the Spirit of God is hovering over it.

The greatest need of the Church today is not new legislation, new theology, new structures, new liturgies--all these without the Holy Spirit are like a dead body without a soul. We desperately need someone to take away our hearts of stone and give us a heart of flesh; we need a fresh infusion of enthusiasm and inspiration and courage and spiritual strength. We need to persevere in our task without discouragement or cynicism, with new faith in the future and in the people we work for. In other words, we need a fresh outpouring of the Holy Spirit.

To put this more concretely, we need people who are charged with the Holy Spirit. The Spirit works through people. Salvation comes through people. "There was a man sent from God whose name was John," we read at the dawn of Christ's coming. A person, not a plan, not a blueprint, not a message. "Unto us a child is born, unto us a son is given"--God saved us, not through a "plan of salvation" but through a human being, Jesus Christ, a man who was mighty in the Spirit. The Holy Spirit does not come down upon buildings but upon people; it is people he anoints, not blueprints; he circulates in the hearts and spirits of human beings, not in the latest machinery.

So to say that the Church's most desperate need is for a fresh infusion of the Holy Spirit is to say that the Church needs a whole army of spirit-filled people. That is why we are making this retreat. We have come here in the hope that we shall become spirit-filled people. We have withdrawn with the attitude and the expectation with which the apostles withdrew to the cenacle before Pentecost.

How to Get the Holy Spirit

There's nothing more certain than this: The Holy Spirit is not produced by any efforts of our own. He cannot be "merited." There is absolutely nothing we can do to get him. He is a pure gift of the Father.

The problem we face is the problem the apostles faced. They, like us, were in need of the Holy Spirit for their apostolate. Jesus gave them instructions on how to receive the Holy Spirit. He said,

You must, wait for the promise made by my Father, about which you have heard me speak: John, as you know, baptized with water, but you will be baptized with the Holy Spirit, and within the next few days. . . . You will receive power when the Holy Spirit comes upon you; and you will bear witness for me in Jerusalem, and all over Judaea and Samaria, and away to the ends of the earth.

Jesus said, "Wait." We can't produce the Spirit. We can only wait for him to come. And this is something our poor human nature finds very hard to do in our modern world. We cannot wait. We cannot sit still. We are too restless, too impatient. We have to be up and about. We'd rather undertake many hours of hard labor than endure the pain of waiting in stillness for something that is beyond our control; something whose time of arrival we do not know. But wait we must; so we wait and wait and wait--but nothing happens (or rather, nothing we can perceive with our unrefined spiritual sight), so we tire of waiting and praying. We are more at home "working for God" and so we drown ourselves in activity again. Yet the Spirit is given only to those who wait; those who expose their hearts day after day to God and his Word in prayer, those who invest hours and hours in what seems a sheer waste of time to our production-oriented minds.

We read in Acts 1:4: "While Jesus was in their company he told them not to leave Jerusalem. 'You must wait,' he said, 'for the promise of my Father.' " Do not leave Jerusalem. Once again, resist the urge to be up and doing before you are freed from the compulsion to act; the urge to communicate to others what you yourself have not yet experienced. Once the Spirit has come, "You will bear witness for me in Jerusalem . . . and to the ends of the earth." But not before, or you will be lying witnesses--or, at best, you will be pushers, not apostles. Pushers are insecure people who have a compulsion to convince others, so that they themselves will be less insecure.

Jesus said, "You will receive power." Receive is an accurate word! Jesus does not expect us to produce power, because this kind of power cannot be produced no matter how hard we try. It can only be received. I am reminded here of a woman who said, "I have attended dozens of seminars at which I have picked up at least a hundred beautiful ideas. What I need now is not more beautiful ideas. I need the power to put at least one of those ideas into action!" This is the reason why a retreat is not like a seminar: there are no lectures, no group discussions; there is a lot of silence and prayer and exposure to God.

What to Do Concretely: An Attitude

For tomorrow morning's prayer and, if you wish, for the whole of tomorrow's prayer, I want to recommend to you an attitude and a practice. The attitude is one of great expectation. St. John of the Cross says that people receive from God as much as they expect from God. If you expect little you will generally receive little. If you expect much, you will receive much. Do you need a miracle of grace in your life? Then you must expect a miracle to happen. How many miracles have you experienced in your personal life? None? That is only because you weren't expecting any. God never lets you down when your expectations of him are high; he may keep you waiting, or he may come at once, or he may come suddenly and unexpectedly like a "thief at night," to use Jesus' expression. But come he surely will if you are expecting him to come.

Someone has rightly said that the sin against the Holy Spirit is to no longer believe that he can change the world, to no longer believe that he can change me. This is a more dangerous kind of atheist than those who say, "God does not exist," for, while telling themselves that they believe in God, they have blinded themselves into a practical atheism of which they are hardly aware. They say, "God can no longer change me. He doesn't have the will and the power to transform me, to raise me from the dead. I know, because I have tried everything. I've made so many retreats, prayed so fervently, had so much good will--but nothing has happened, just nothing." The God of these people is, for all practical purposes, a dead God--not the God who by raising Jesus from the dead has shown us that nothing is impossible to him. Or, to use the lovely expression of St. Paul who speaks of Abraham in Romans 4; he is the God in whom Abraham put his faith,

the God who makes the dead live and summons things that are not yet in existence as if they already were. When hope seemed hopeless, his (Abraham's) faith was such that he became "father of many nations," in agreement with the words which had been spoken to him: "Thus shall your posterity be." Without any weakening of faith he contemplated his own body, as good as dead (for he was about a hundred years old), and the deadness of Sarah's womb, and never doubted God's promise, but strong in faith he gave honour to God, in the firm conviction of his power to do what he had promised.

What to Do Concretely: A Practice

I suggest that you read Luke 11:1-13 sedulously. Read it again and again and ask yourself: What is my response to Jesus' words, "How much more will the heavenly Father give the Holy Spirit to those who ask him!"

Wait till you feel faith enough in Jesus' words to really ask for the Holy Spirit in full confidence. And then, ask! Ask repeatedly, ask earnestly, ask increasingly, even shamelessly, like that man knocking at his friend's door at midnight, refusing to take No for an answer. There are some things we can ask God for only with the proviso, "If it be your will." There's no such proviso here. It is clearly God's will, his clear promise, to give you the Spirit. What is lacking is not his desire to give you the Spirit, but (a) your faith that he means to give the spirit to you and (b) constant asking on your part.

So don't hesitate to invest a lot of time in just asking and asking tirelessly. Say something like "Give us the Spirit of Christ, Lord, for we are your children;" or, "Come, Holy Spirit, Come, Holy Spirit." Any ejaculation will do: say it slowly, with attention, with earnestness. Say it a hundred times, a thousand times, ten thousand times.

Or ask without words. Just look up to heaven or at the tabernacle in silence and in a spirit of supplication. If you are alone in your room, you may want to make this supplication not just with your eyes, but with your whole body--raising your hands to heaven, perhaps, or prostrating yourself repeatedly on the floor.

This may not be "meditation." It may bring you no great insights or "lights." But this is prayer. And the Holy Spirit is given in answer to earnest prayer, not in response to cleverly thought out meditations. Pray, not just for yourself, but for all of us--for the whole group. Don't say just "Give me," say also "Give us."

And, if you wish your prayer to have its maximum power and intensity, do what the apostles did when they waited for the Spirit before Pentecost--pray with Mary. The saints assure us that it was never known that anyone who sought her intercession or fled to her protection was left unaided. You can make this experience of the saints your own by having recourse to Mary in all of your needs. Then you will know this not because of what the saints say but because of what you have personally felt and experienced. Consecrate this retreat to Mary, the Mother of Jesus. Seek her blessing as you embark upon it. You will notice what a difference it makes.

Finally, here are some psalms that may help you to put into words your petitionary prayer for the Spirit tomorrow: Psalm 4:1 Only the light of your face can bring us happiness. Psalm 6: But you, O Lord . . . how long? Each night I weep. Return, Lord . . . how long? Psalm 12: How long will you hide your face? Psalm 15: My happiness lies in you alone. Psalm 23: (second half) Let him enter, the king of glory. Psalm 26: This is one thing I ask of the Lord. For this I long . . . One thing I long for--to live in the house of the Lord. It is your face, O Lord, that I seek. Psalm 32: Our soul is waiting for the Lord. In him do our hearts find joy. Psalm 37: Lord, you know all my longing; my groans are not hidden from you. Psalm 41: My soul is thirsting for God. My tears have become my bread, by day, by night. Psalm 42: Why are you cast down? Hope in God. Psalm 62: My body pines for you like dry, weary land without water. On you I muse all through the night. Psalm 120: My soul is longing for the Lord more than the watchman for daybreak. Psalm 136: By the rivers of Babylon there we sat and wept remembering Zion.

You may want to fasten upon one or other of these lines from the Psalms and pour your heart out to God in the words that God himself has given to us with which to address him. They will have the power to give you faith and obtain for you what you are asking for.
Bestsellers in Spiritual Growth