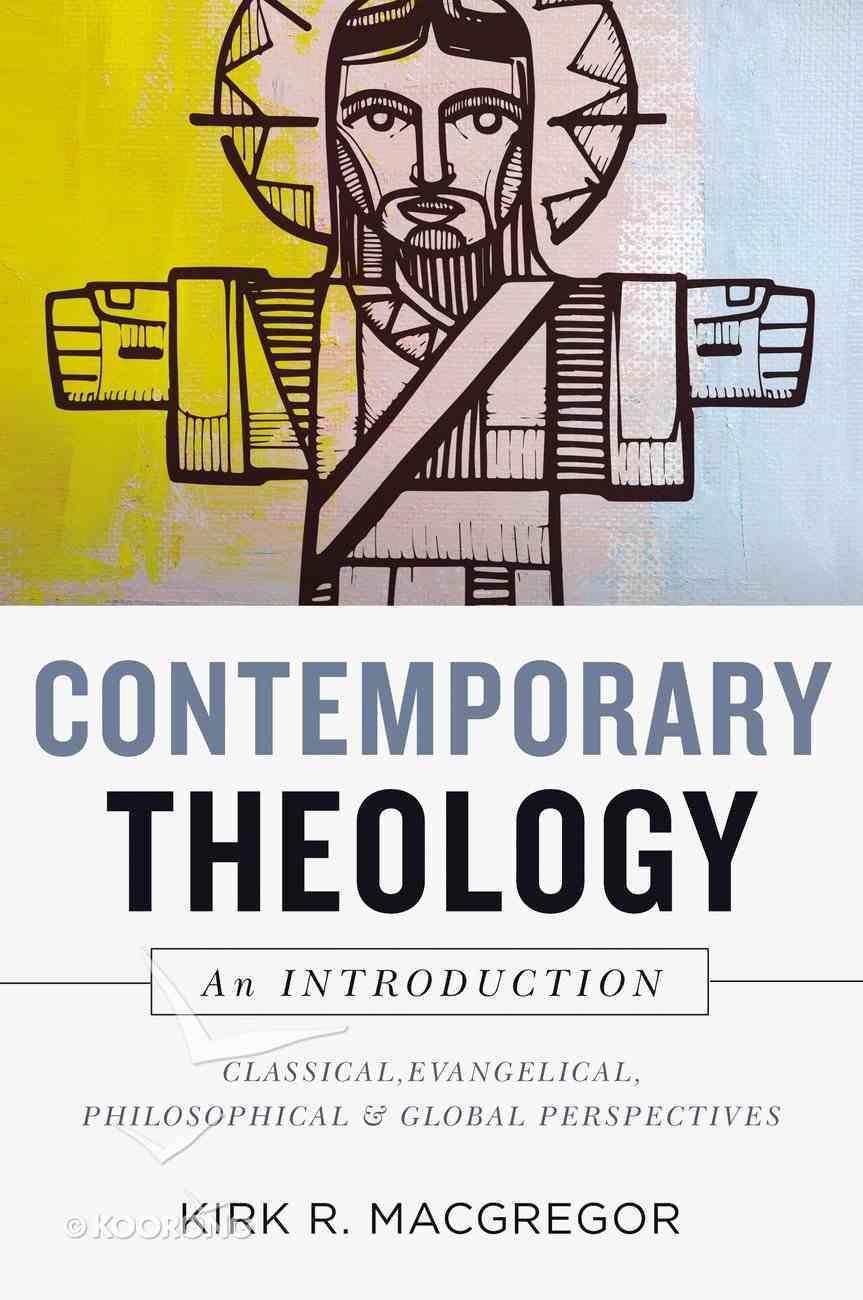 Contemporary Theology: An Introduction: Classical, Evangelical, Philosophical, and Global Perspectives
$55.00
25% OFF
―
save $13.75
: Accessible and comprehensive, Contemporary Theology: An Introduction by professor and author Kirk R. MacGregor provides a chronological survey of the major thinkers and schools of thought in modern theology in a manner that is both approachable and intriguing. ...
---
Expected to ship within 1 hour from Australia.
---
Free Shipping
for orders over $99.
:
Accessible and comprehensive, Contemporary Theology: An Introduction by professor and author Kirk R. MacGregor provides a chronological survey of the major thinkers and schools of thought in modern theology in a manner that is both approachable and intriguing.


Unique among introductions to contemporary theology, MacGregor includes:

Evangelical perspectives alongside mainline and liberal developments The influence of philosophy and the recent Christian philosophical renaissance on theology Global contributions Recent developments in exegetical theology The implications of theological shifts on ethics and church life
Contemporary Theology: An Introduction is noteworthy for making complex thought understandable and for tracing the landscape of modern theology in a well-organized and easy-to-follow manner.


-Publisher
:1.philosophical Backgrounds2.friedrich Schleiermacher: The Founder Of Modern Liberal Theology 3.g. W. F. Hegel: Dialectical Theology4.søren Kierkegaard: Existentialism5.early Dispensationalism6.princeton Theology7.charles Haddon Spurgeon: Practical Biblical Theology8.vatican I And Neo-thomism9.revivalist Theology10.the Social Gospel11.fundamentalism12.karl Barth And Neo-orthodoxy13.christian Realism14.pentecostalism And Latin American Pneumatology15.ludwig Wittgenstein And Language Games16.the Birth Of Contemporary Evangelicalism17.rudolf Bultmann: Demythologization18.paul Tillich: Theology Of Culture19.death Of God Theologies20.vatican Ii: Aggiornamento 21.process Theology22.jürgen Moltmann: Theology Of Hope23.john Howard Yoder: Current Anabaptist Theology24.liberation Theology25.feminist Theology26.evangelical Complementarianism And Egalitarianism27.reformed Epistemology28.african Christology: Healer And Ancestor29.postmodern Theology30.open Theism31.philosophy Of Religion And Analytic Theology32.chinese Eschatology33.postliberal Theology34.theology And The Arts35.a New Perspective On Paul And Justification36.theological Interpretation Of Scripture37.evolutionary Creation38.postconservative Theology