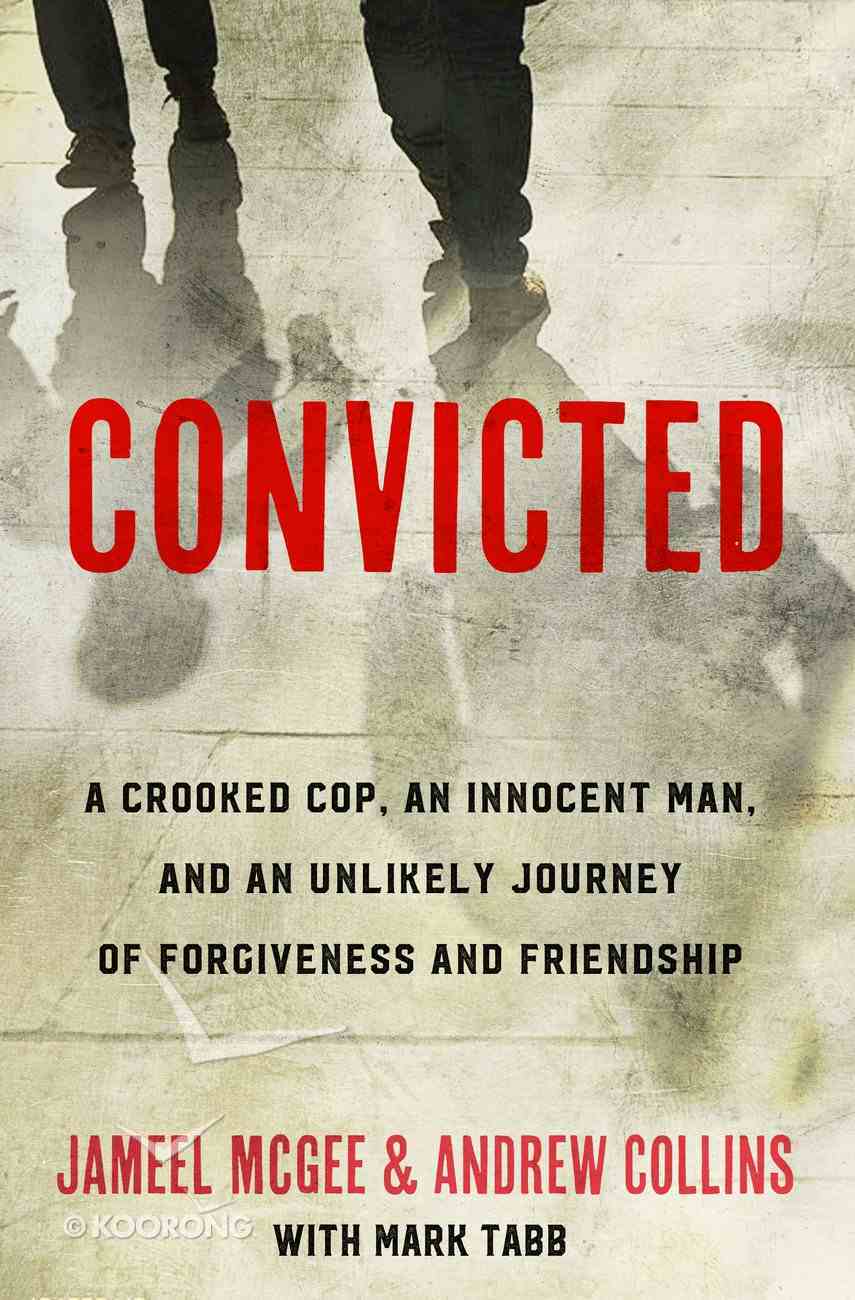 :Speaking directly to recent headlines and cultural tensions, this is the poignant account of a crooked white cop who framed an innocent black man-and how their stories later intersected to show a divided nation a way forward to reconciliation and...
In Stock (1 left)
Out of Print. Limited Availability
---
Expected to ship on Monday from Australia.
---
Free Shipping
for orders over $99.
:Speaking directly to recent headlines and cultural tensions, this is the poignant account of a crooked white cop who framed an innocent black man-and how their stories later intersected to show a divided nation a way forward to reconciliation and healing. This revealing story explores racism in small-city America and ultimately highlights the power of the gospel to heal the relationship of two of the most unlikely candidates for reconciliation.
-Publisher
PRODUCT DETAIL
Catalogue Code 

477842

Product Code 

9780735290723

ISBN 

0735290725

EAN 

9780735290723

Pages 

224

Department General Books
Category Biography
Sub-Category General
Publisher Waterbrook Press
Publication Date 

Oct 2017

Sales Rank 

53521

Dimensions 

243 x 162 x 17

mm

Weight 

0.421

kg
Andrew Collins lives in Michigan and makes joint speaking appearances with homeless services worker Jameel McGee to encourage their message of racial reconciliation. Collins is a licensed pastor ministering to youth as a part of Young Life.

Jameel McGee lives in Michigan and makes speaking appearances to encourage his message of racial reconciliation. He works for Emergency Shelter Services, a program designed to help homeless people find sustainable housing.
Mark Tabb is a New York Times best-selling author who has written and co-written over twenty books, including Mistaken Identity, Not Forgotten, and Running for My Life.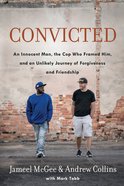 :
Prologue


Andrew


The crowd parted like the Red Sea. At first I could not see what was happening or why the hundreds gathered in Benton Harbor's Broadway Park for our church's Hoops, Hotdogs, and Hip-Hop Festival moved aside so quickly. But then I saw him. I recognized the face but I had trouble putting a name to it. Whoever he was, he was angry, angry enough that the crowd instinctively cleared a path for him. And he was heading straight toward me.


To be honest, I had expected someone like him, in an apparent rage, to come and find me. This was, after all, the first time I'd shown my face in the heart of Benton Harbor since my release from federal prison. A couple of people I'd arrested back when I was a policeman had already found me. I ran into one guy at a mall right before I went to prison. He thanked me for coming clean about what I'd done because it got him out of jail. The rest of these reunions had come after my release. I ran into people at the grocery store and at gas stations and anywhere I went in the area. Some tried to act tough when they first saw me, but they ended up just smiling and laughing because they'd gone free while I went to prison. A couple others had cussed me out for ruining their lives. One guy threatened to get even.


And now this.


I glanced around the park, looking for my five-year-old daughter. Bringing her to the park with me had seemed like a good idea when I left my house.What can go wrong at a block party? I thought. When my daughter asked if she could play on the swings with some other kids, I told her sure, have fun. Who wants to spend a day at the park watching their dad hand out snow cones? Now, as I watched this angry man march through the crowd, a little boy and another man struggling to keep up with him, I wished she were right next to me. Perhaps he might think twice about doing anything in front of a five-year-old girl.


The man walked straight up to me, stopped, and stuck out his hand. I took it. "Remember me?" he asked in a tone that sounded more like a threat than a question.


Somehow a name came to me. "Jameel McGee," I replied. His grip on my hand tightened when I said his name. I tugged back a little, which only made him grip down that much harder, to the point of pain. I half expected to hear my bones crunch.


I looked closely at Jameel to try to get a read on what he was about to do. While I was a cop I was pretty good at reading people. What I read in Jameel made me even more nervous. His jaw was clinched, the muscles pulsating on the side. I glanced over to the man who had come up behind him. He looked terrified, not of me, but of what was about to happen. Then there was the little boy, who seemed more interested in the snow cones than anything else. He was a little older than my daughter.I hope she doesn't come over here right now, I thought.


My mind raced. I had to do something to diffuse the growing tension, so I did what I had planned to do in exactly this situation: I apologized. "Jameel, man, I am so sorry for what I did to you. I, er, I was an addict back then, not to drugs, but to my own ego and making a name for myself. That caused me to do a lot of stuff I'm ashamed of now. I was a real messed-up person back then, and unfortunately, people like you paid the price for that. I am so sorry."


Jameel's expression did not change. His grip stayed tight on my hand. I couldn't feel my fingers.


"But I've got to tell you," I continued, "that I'm a new person today. That guy you're mad at, I'm mad at him too, because, you know, he threw away his career and he left his wife and daughter behind when he went to prison. But that guy's dead now. He was crucified with Christ. Today, I'm a new creation in Christ. I am a different man, one who is very, very sorry for what I did to you back then."


The whole time I'm talking, I'm staring at Jameel, looking for some sort of reaction, either good or bad. But there's nothing. His expression never changes and his grip never loosens.


When I finished my little speech, Jameel huffed a couple of times and sort of shook his head. He bit his lip and looked over toward the little boy, then back at me. Finally, without loosening his grip on my hand even a little bit, he nodded over toward the boy and said, "I need you to tell him why his daddy missed out on three years of his life."


I felt like I'd been kicked in the stomach. What was I supposed to say tothat? I didn't have an answer. I couldn't give him back his time with his son that I had taken away from him. But I also thought perhaps we had made a little progress because he hadn't punched me in the face yet. I decided to build on that. I now knew the little guy was his son. Jameel is a dad and I am a dad, so I decided to connect with him on a dad-to-dad level. I wanted to let him know I understood his pain and frustration because I had felt it myself. So, like an idiot, I opened my mouth again.


"Jameel, man, I'm sorry. I know how you feel. I missed out on eighteen months of my daughter's life when I went to prison," I said.


Immediately, Jameel said, "I don't care what you missed out on."


I shut up. You idiot! I shouted at myself in my mind.Why did you bring up your little eighteen-month slap on the wrist when he served three years because of you?


I wanted to disappear, to grab my daughter, jump in my car, get out of Benton Harbor, and never come back. More than anything, I just wanted this to be over, not just my confrontation with Jameel, but all of it. I'd already quit one job when a customer recognized me as the guy who put him in prison and threatened to come back and shoot up the place. How many more times was I going to find myself face to face with someone who blamed me for ruining his life? And when might one of these meetings turn into something from which I could not walk away?


Jameel's jaw muscles kept flexing. The grip on my hand grew even tighter. He didn't just look angry. I saw a war going on inside this man, a war I believed was about to spill outside as well. The man with Jameel turned away like he didn't want to see what was about to go down. I braced myself. It had been a long time since someone had hit me in the face.


I hope my daughter doesn't see this, I thought.


1


February 8, 2006


Jameel


I knew I was taking a chance driving with a suspended license, which was why I was extra careful. I didn't speed. I didn't float any stop signs. I signaled before every turn. My taillights and brake lights all worked. The police should not have pulled me over, but this was Benton Harbor, and I am a black man, so I got pulled over anyway. The cop was cool, though. When he ran my license and found out it was suspended because of a couple of unpaid speeding tickets, he could have run me in. But he didn't. He handed me a ticket and told me to drive home and park my car until I paid my fines.That's cool. Okay. I can do that. I had no plans for the rest of the day anyway.


Even before the cop pulled me over I had planned on taking care of the tickets soon. A couple of months earlier I made a deal to open a car wash in Michigan City, Indiana, as soon as the weather warmed up in March. Before making the deal, I did a test run. I did more than wash cars. My shop did full-car detailing, both inside and out. I worked twelve hours or more a day, but that was all right with me. Owning my own business and being my own boss had been my dream all my life.


Most of the paperwork was signed, and I had only a few details left to take care of before I opened up the shop for good the next month. The last thing I was going to do was let some unpaid speeding tickets keep me from driving forty minutes each day between Benton Harbor and Michigan City to run my business. I definitely planned to take care of them in time to open my car wash.


After the cop let me leave, I drove over to my grandma's house where I was staying and decided to just chill for the rest of the day. Some of my cousins were there, along with some of their friends, most of whom I didn't know. There is always a crowd at my grandma's house. I've got a ton of cousins, and some of them were always around. That wasn't a big deal for me.


I hooked up my PlayStation 2 and started playing some games. One of my cousins came in and played a couple of games with me. He told me he really liked my game system. "Why don't you sell it to me?" he asked.


I told him, "No man, I don't think so."


"I'll give you a hundred bucks right now," he said.


"All right, sold." I needed the cash to pay off my tickets. Between that and the money I had from a check I'd just cashed from another job, I had about all I needed to pay them off.


After I sold the game to my cousin, we kept on playing. This was pretty much all I had planned for the day until one of my brothers, Buck, called to tell me he'd just talked to my ex.


I'd had a long-term girlfriend, but we had broken up over a year before.


"Yeah, what did she say?" I asked.


"She wants to bring your baby boy over to see you today, this afternoon," Buck said.


"Wow, man, finally," I said, excited. My ex and I had dated and then lived together for quite a while. However, things between us started falling apart when we found out she was pregnant. I started working extra-long hours so I could take care of my new family. At the time I worked a couple of different jobs. This was before the opportunity for the car wash came up. She didn't like my working so much and eventually everything just fell apart. She took off and I had not seen her since. I didn't even know she'd had the baby until long afterward. This was going to be my first time to see my son.


"Yeah, I know it," Buck said. "So she's going to bring him over to see you, and I don't know, she might leave him with you for the day or maybe a couple of days."


"Okay," I said. "I'll be ready."


When I hung up the phone I went to my room and changed my clothes and got ready to meet my son for the first time. I was nervous and excited at the same time. I checked out the kitchen and we didn't have a lot in there. Since I did not know how long I might have my son, I figured I needed to run to the store to pick up a few things. Going to the store presented a real problem. If I drove to the little neighborhood convenience store that was only a half mile from my grandma's house and got pulled over, I'd probably be arrested for driving with a suspended license. If that happened, there was no way I'd see my son. If my ex showed up and I wasn't here, she'd leave and not wait for me. But if my ex brought my son over and the cupboard was bare, I might not see him again for a long time either because she would think I was not able to take care of him.


I had to go to the store, but I could not drive. Not a problem, I thought. I had some cousins and their friends there in the house and they had cars. "Any of y'all want to give me a ride to the store real fast?" I asked.


One of the guys in the house, a guy named Will who knew one of my cousins, said, "Yeah. I'm fixing to go. I'll take you."


"All right, cool," I said. I got up to leave right away, which is what I needed to do, but he kept messing around, doing something, I don't know what. To be honest, I could have walked to the store and back by the time he was finally ready to go. I didn't say anything because I was the one asking for a ride.


Finally, he said, "You ready? Let's go." We drove to the store in his silver Dodge Durango. He drove. I rode in the passenger seat. Will had come over from Detroit, and the back of the car was full of his stuff.


When we pulled up to the store, Will asked me, "Can I borrow your phone?" Actually he asked before we even got to the store.


"Sure, man," I said. I figured that was the least I could do since he had given me a ride. He parked the car. I handed Will my phone and went into the store. This was not going to be a long shopping trip. I wanted to get in and out and back to my grandma's house as quickly as possible. For all I knew my ex was already there with my little boy.Little boy! The thought of that caused a smile to break free on my face. I picked up some milk, chips, pop, and gummy worms and went to pay for them. Gummy worms were my thing back then.Will had better be ready to go as soon as I get out of here, I thought. I didn't have a minute to spare.