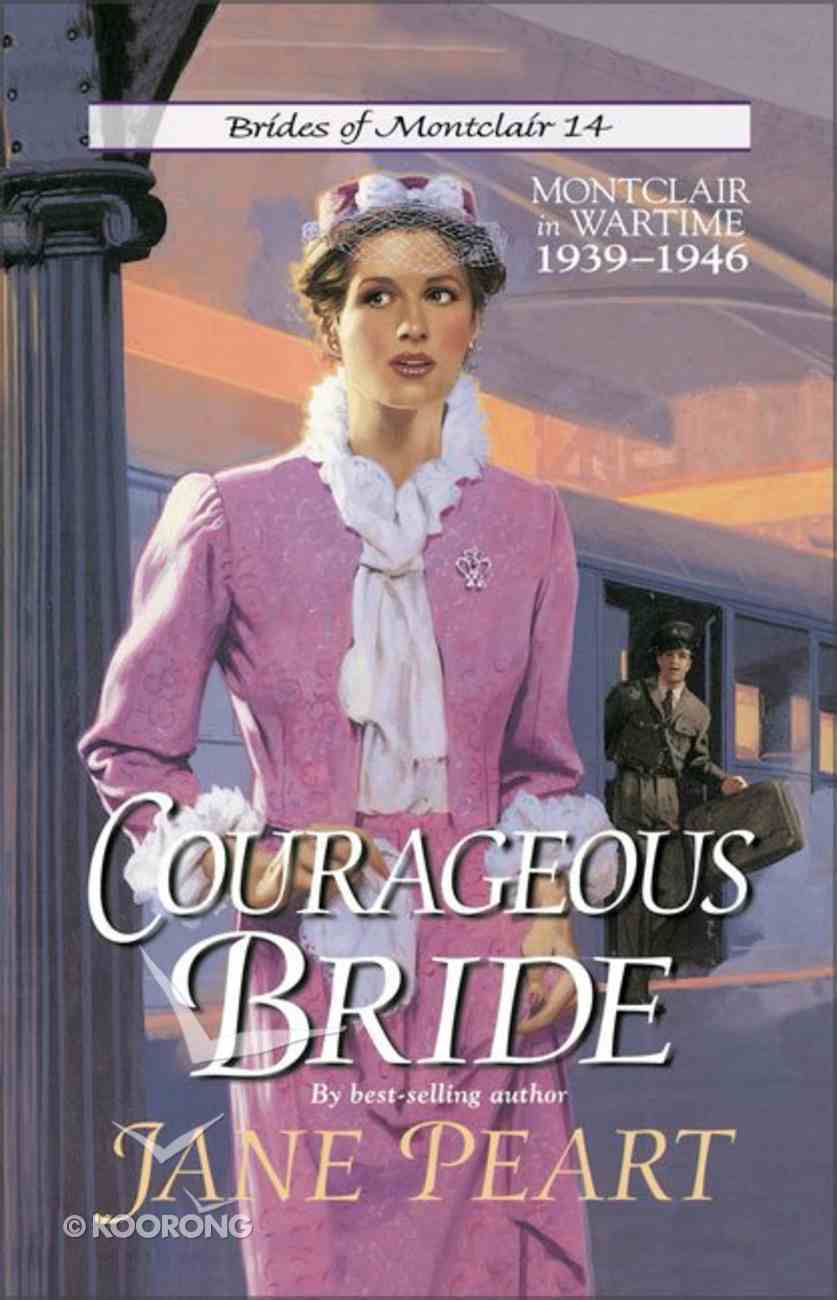 Courageous Bride (#14 in Brides Of Montclair Series)
What begins as a romantic, carefree summer holiday for Niki ends with the outbreak of war, changing her life forever. Caught up in the firestorm of world conflict, this courageous young woman faces an uncertain future with only her newfound...
Order now to secure your copy when our stock arrives. eBook is Available.
0 Available. Expected to ship in 5 to 6 weeks from Australia.
---
Expected to ship in 5 to 6 weeks from Australia.
---
Free Shipping
for orders over $99.
What begins as a romantic, carefree summer holiday for Niki ends with the outbreak of war, changing her life forever. Caught up in the firestorm of world conflict, this courageous young woman faces an uncertain future with only her newfound faith to sustain her. 247 pages, from Zondervan.
The First World War left Niki an orphan in France. Will World War II take away everything she holds dear - including Montclair, the only home she's ever known, and Fraser, the man she's grown to love? In search of her heritage, Niki discovers a new facet of her identity overseas and finds the one thing she never expected - a wartime romance. But Fraser, the man she loves, is sent on a risky, top-secret mission. Her hopes rest on his return; and meanwhile, the war has taken its tragic toll on those Niki left behind, and the family home, Montclair, now sits empty, in need of a new mistress. . . . In Courageous Bride, a young woman with an unknown past and an uncertain future must meet the challenges of the moment, with faith alone to uphold her.
-Publisher
As Mayfield is about to celebrate its Bicentennial, the lives of the Montrose and Cameron families are shattered by a world at war.
-Publisher
PRODUCT DETAIL
Catalogue Code 

106209

Product Code 

0310202108

EAN 

9780310202103

UPC 

025986202101

Pages 

256

Department General Books
Category Fiction
Sub-Category Romance
Publisher Zondervan
Publication Date 

Apr 1998

Dimensions 

215 x 139 x 19

mm

Weight 

0.276

kg
Jane Peart was a best-selling novelist in both the secular and Christian markets. Her beloved Brides of Montclair Series is one of the longest continuous series on the market. She also published the American Quilts Series, and the Orphan Train Trilogy.
Chapter 1 Montclair Spring 1939 Cara Montrose, a tall, slender woman in her early forties, wearing a threadbare riding jacket, tan breeches, and scuffed leather boots, came out of the house and walked purposefully toward the stables. Her dark auburn hair was pulled back into a clubbed knot at the nape of her neck. Today her face, with its aristocratic features, was unusually thoughtful, almost pensive. She moved with a casual grace along a path bordered with golden daffodils. As if becoming suddenly aware of them, she paused briefly, bent to touch a delicate, bonnet-shaped flower with one finger. Straightening, she breathed deeply of the scent of apple blossoms wafting from the orchard. Virginia in early spring was truly paradise. No wonder she had never been really happy anywhere but here. She looked back at the house where she had come as a bride over ten years ago. Seen through a veil of pink-and-white dogwood, it stood as it had for nearly two hundred years, its mellowed brick chimneys rising over the rambling slate roof. Montclair. It had become almost as dear to her as Cameron Hall, where she had grown up. If only she and Kip could keep it up the way it should be. But help being what it was these days, and money in the Montrose bank account being what it usually was, there was no possibility of that. At least not right away. Someday perhaps. In the meantime she had her pony class to teach three days a week, and that brought in a little income. Kip's small income as an army reserve flight instructor helped, as did the income from the occasional chartered flights he piloted. For a short period he had flown for the airmail service. But unpredictable weather often grounded him for days as he waited for clearance to take off. It also meant being away from home too much, and Kip loved his family and missed them terribly when he was gone. Now his main job was giving flying lessons to a few adventurous souls at the local airfield. We're doing the best we can, Cara thought, her jaw tightening as she recalled how Great Aunt Garnet had chastised her for advertising her pony classes. 'Don't you care what people say?' the old lady had demanded. 'No, I don't care what people say,' Cara had replied. 'I never have and I don't intend to start now.' So what if people thought they were broke? So were most of the families they knew. There was a depression on in the country. Thank goodness they had managed to scrape enough together and get a bank loan so Luc could attend the university. Smart boy that he was, Luc had also earned a scholarship. She didn't know what they'd do about Niki when her turn came. The five ponies were kept in the small barn next to the stables. Cara went to each one, fed them sugar cubes from the supply she carried in her jacket pocket. She rubbed their noses and talked to them softly, gently. Like children, the ponies were much more tractable when they were sweet-talked, not scolded. Amused at her own analogy, Cara got down the tack and started getting the animals ready for their little riders, who were due within the next half hour. Cara was tightening the girth strap on one of the ponies when she heard the sound of voices. She turned to see the girl and boy approaching. They did not see her as they went inside the stable. Niki's voice was raised argumentatively. She was probably trying to get Luc's opinion, advice, or approval. He seemed to be listening intently to whatever it was she was saying. Still not aware of Cara's presence, they got their horses out of their stalls and began to saddle them. Cara stood at the entrance of the pony barn, watching them fondly. Luc was becoming an extraordinarily handsome young man. Although not as tall as his father, he had a slim, athletic build and Kip's coloring and features. Corduroy breeches, a blue denim shirt with the sleeves rolled up, and a red scarf tied casually around his neck gave him a dashing look. Of course, Niki was as carelessly outfitted as ever, in a sweater yards too big for her, jodhpurs too short, her curly dark hair as tousled as some ragamuffin boy's. She was still talking as she swung up into her saddle. Luc mounted with effortless grace, and they walked their horses out of the barn and into the sunlit afternoon. 'Have a good ride,' Cara called. Neither seemed to have heard her over the clatter of their horses' hooves on the cobblestone. At the curve of the drive they broke into a trot. Cara remained, looking after them until they rode out of sight. From the day Cara and Kip had brought the little French war-orphan back to Montclair, Luc, although only two years older, had taken on the role of a protective older brother, affectionate and kind. Niki adored him immediately, wanting to tag along with him everywhere. Tolerantly Luc put up with her. However, how long would this close relationship last? Home from his first year at college, Luc was changing, growing up to be a serious, more thoughtful young man. Cara had found books on his bedside table, placed facedown as if he had been reading at night before turning out the light. This was a new side of Luc, one she had not been aware of before. Certainly this wasn't the Kip part of Luc. Cara couldn't remember the last time she had seen Kip reading a book. If ever. Maybe he'd occasionally pick up a Field and Stream magazine or glance through the Hunt Club newsletter . 'Afternoon, Aunt Cara.' The young male voice startled her, and she whirled around to see her nephew Stewart Cameron.