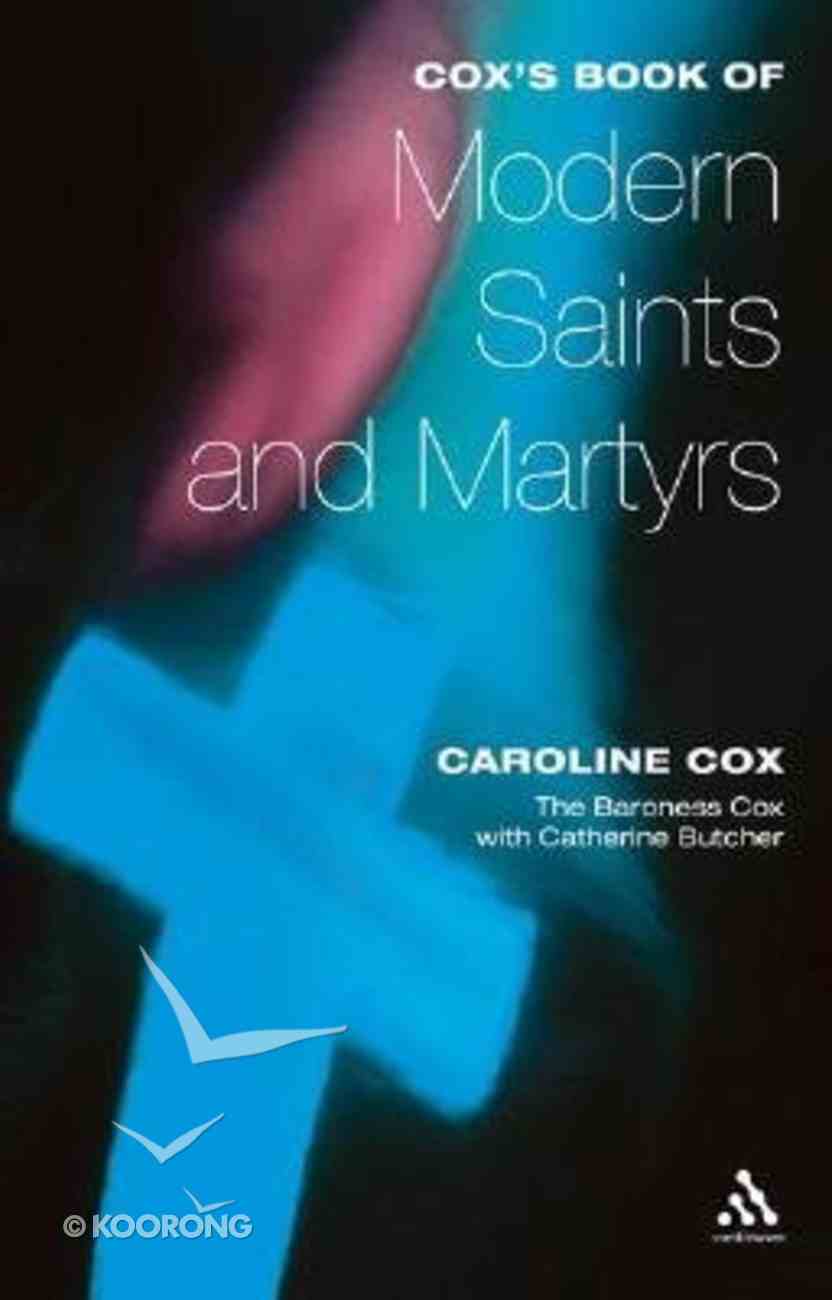 Cox's Book of Modern Saints and Martyrs
Stories from around the world, particularly from areas of Christian persecution or conflict zones. Today over 250 million Christians are suffering persecution, while tens of thousands are martyred every year. >
---
Free Shipping
for orders over $99.
Stories from around the world, particularly from areas of Christian persecution or conflict zones. Today over 250 million Christians are suffering persecution, while tens of thousands are martyred every year. >
-Publisher






The classic 'Fox's Book of Martyrs' has long been regarded as a source of spiritual inspiration with its stories of those prepared to die for their faith. This contemporary version gives an equally inspiring account of living saints, enlightening the dark side of stories of martyrdom as well as celebrating the faith of Christians from around the world.




'During my work with the persecuted church, I have met many people who are suffering for their faith and I always return from my travels humbled and inspired by their courage, faith, dignity and "miracles of grace". Many stories of those living on the frontiers of faith illustrate spiritual blessings such as joy, peace and love in ways which are far from depressing.'



- Caroline Cox




These stories illustrate ways in which men and women experience a transformation of their lives through a dynamic relationship with their living God, whom they love so deeply that they are willing to sacrifice all they have for him and in his service.



>

-Publisher
Baroness Cox was until recently Deputy Speaker of the House of Lords, and a notable advocate of human rights around the world. Her story was told in Voice of the Voiceless, recently she has authored The Immoral Trade highlighting the continuance of slavery and forced prostitution and Islam, Islamism and the West: Is Idiological Islam Compatible with Liberal Democracy? (2005); Baroness Cox has had a career in Academic, Political and Social Justice fields unashamedly as a Christian, and most recently has been appointed Chancellor of Hope University in Liverpool.
Stories From Around The World, Particularly From Areas Of Christian Persecution Or Conflict Zones. Today Over 250 Million Christians Are Suffering Persecution, While Tens Of Thousands Are Martyred Every Year.