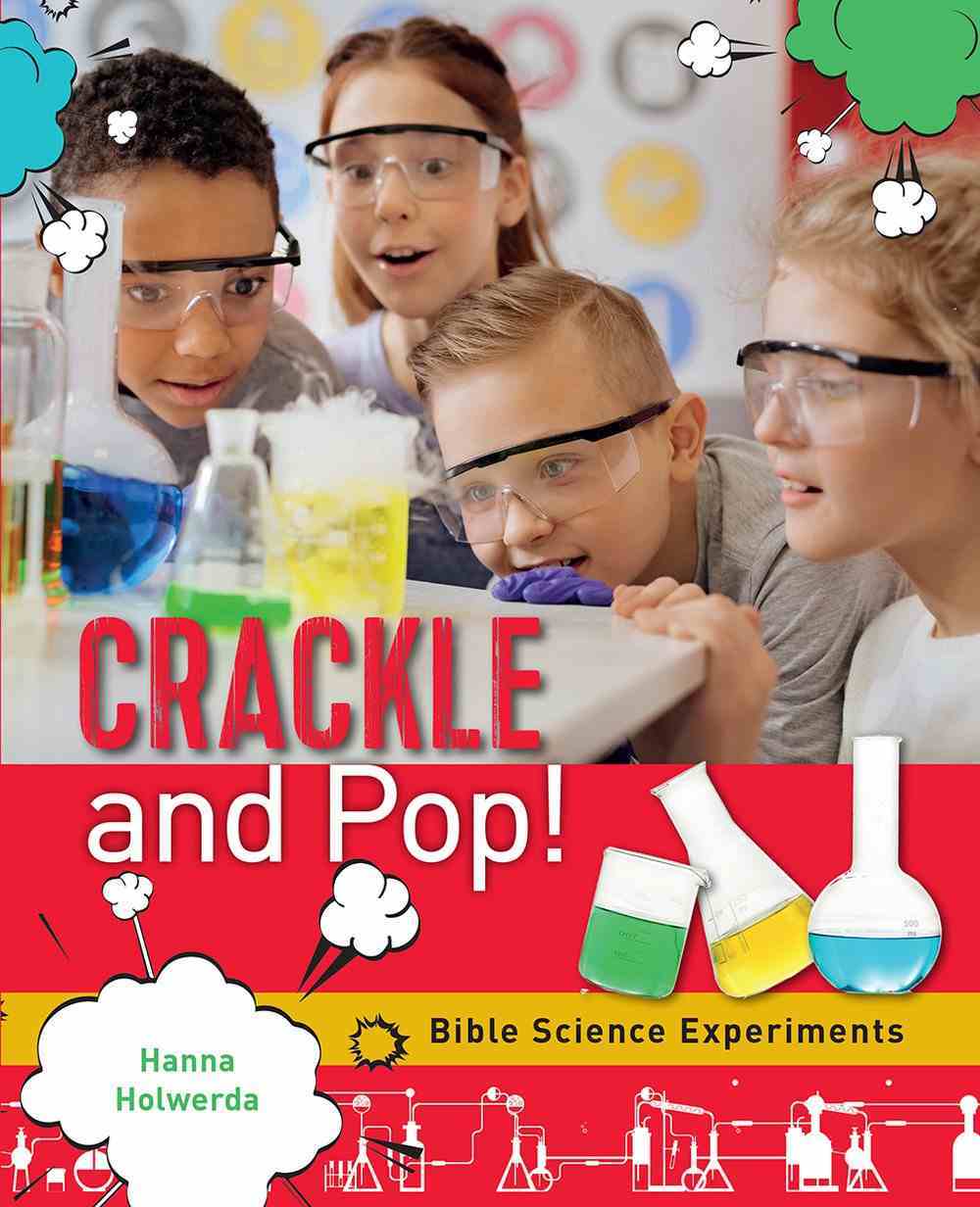 Crackle and Pop: Bible Science Experiments
Create an explosion after reading a Bible story! Discover a fun, practical way to encourage children to engage with the Bible and the good news of Jesus with more than 100 lively science and technology activities. For each experiment there...
---
Expected to ship tomorrow from Australia.
---
Free Shipping
for orders over $99.
Create an explosion after reading a Bible story! Discover a fun, practical way to encourage children to engage with the Bible and the good news of Jesus with more than 100 lively science and technology activities. For each experiment there are clear explanations, questions to think about, extra information as well as details of the related stories from the Bible to make memorable connections. The experiments are suitable to do at home, at school, at a party, or in a church group. Useful tips help to make the activities easy and safe to set up with everyday materials and equipment.
-Publisher
Hanna Holwerda encourages children to combine nature and science with nurturing belief and faith. She has her own Educational Agency Starship, which aims to help people talk about God in a natural, informal way and share their personal faith with children, and to enable children to take the lead. The Educational Agency Starship emphasizes the experience gained by doing things together, and provides material for children's workers and families. She is an editor of Child on Monday, a religious teaching method for primary education. She wants to allow children, together with adults, to discover the Bible stories and apply to the world of today. In addition, she worked for many years at the Biblical Museum in Amsterdam as an educational employee, project leader and member of the policy team. https://educatiefbureausterrenschip.nl/ https://www.kindopmaandag.nl/
Contents
Introduction 4
Tips 5
Old Testament
And There Was Life Creation - Genesis 1 10-11
Breath Of Life The Creation Of People - Genesis 2 12-13
Your Own Building Blocks A Song All About Us - Psalm 139 14-15
Endless Rain Noah's Ark - Genesis 7 And 8 16-17
A Colourful Rainbow Noah's Ark - Genesis 7 And 8 18-19
God's Plan For Abram Abram, Father Of A Large Nation - Genesis 15 20-21
Unique Fingerprint? Jacob Or Esau - Genesis 27 22-23
God Protects You Jacob's Dream In Bethel - Genesis 28 24-25
The Green-eyed Monster Joseph's Brothers - Genesis 37 26-27
Hitting Is No Solution Moses Lashes Out - Exodus 2 28-29
Strange Fire Moses And The Burning Bush - Exodus 3 30-31
In The Light The Exodus From Egypt - Exodus 14 32-33
Toxic Words Balaam Tries To Curse The People Of Israel - Numbers 22 And 23 34-35
The Power Of Sound Jericho's Walls - Joshua 6 36-37
Who Is Going To Win? Gideon Attacks The Midianites - Judges 7 38-39
Growing By Invisible Power David And Goliath - 1 Samuel 17 40-41
Explosion Risk! Saul Is Angry With David - 1 Samuel 18 42-43
Ahijah's Cloak The Land Of Israel Is Being Divided - 1 Kings 11 44-45
A Good King Or A Cruel King? Wise Counsel For Rehoboam - 1 Kings 12 46-47
Like A Burning Fire Elijah Brings A Sacrifice On Mount Carmel - 1 Kings 18 48-49
The Power Of Prayer Elijah Prays For Rain - 1 Kings 18 And James 5 50-51
In A Chariot Of Fire Elijah Goes Up To Heaven - 2 Kings 2 52-53
Washed Clean The Healing Of Naaman - 2 Kings 5 54-55
Does The Earth Rotate Around The Sun Or The Sun Around The Earth?
A Sign For Hezekiah - 2 Kings 20 56-57
Battered And Bruised Job's Adversity - Job 3 58-61
When Is Something Really Empty? Air And Emptiness - Ecclesiastes 1 62-63
Fear Don't Be Afraid - Isaiah 41 64-65
Like Clay In The Hands Of The Potter
Jeremiah At The Potter's - Jeremiah 18 66-67
A Beautiful Future God's Words For Ezekiel - Ezekiel 34 68-69
Water And Salt The Story Of Jonah - Jonah 1-4 70-73
New Testament
Dumbstruck Zechariah In The Temple - Luke 1 74-75
How Mary's Life Changed Announcement Of The Birth Of Jesus - Luke 1 76-77
Dissolved! Joseph's Dream - Matthew 1 78-79
Fantastic News! The Saviour Has Been Born - Luke 2 80-81
Light In The Darkness Jesus Is Coming To The Earth - John 1 82-83
Waiting Patiently Simeon In The Temple - Luke 2 84-85
Astronomy The Visit Of The Wise Men - Matthew 2 86-87
This Is Jesus John Points To Jesus - Luke 3 88-89
Words That Impress Jesus Teaches In The Synagogue - Mark 1 90-91
Complicated... The Conversation Between Jesus And Nicodemus - John 3 92-95
The Secrets Of God's Kingdom
Why Does Jesus Speak In Parables? - Matthew 13 96-97
A Firm Foundation Parable Of The Wise And The Foolish Man - Luke 6 98-99
It Grows All By Itself Jesus Talks About God's Kingdom - Mark 4 100-101
Jesus Turns Everything Upside Down
Parable Of The Workers In The Vineyard - Matthew 20 102-103
In Balance Jesus' Miracles - Matthew 15 104-105
Transforming Water The Wedding In Cana - John 2 106-107
Contagious The Healing Of The Leper - Mark 1 108-109
Storm On The Lake Jesus Calms The Waves And The Storm - Mark 4 110-11
Seeing Clearly Healing Of The Blind Man In Bethsaida - Mark 8 112-13
Walking On Water Jesus And Peter Walk On The Lake - Matthew 14 114-15
A Very Dark Day Jesus Dies At Golgotha - Mark 15 116-17
Sin? Jesus Pays The Price! Jesus Dies For Our Sins - Mark 10 118-19
Love Warms You Up! God's Love For The World - John 3 120-21
New Life Jesus Has Risen! - Matthew 28 122-23
Jesus Ascends Into Heaven Ascension - Acts 1 124-27
On The Move! The Outpouring Of The Holy Spirit - Acts 2 128-29
The Power Of God The Holy Spirit - Romans 5 130-31
Read It In The Bible Philip And The Ethiopian - Acts 8 132-33
Jesus Transforms Fierce Saul Saul's Conversion - Acts 9 134-35
What Can You Feel? Paul Is Bitten By A Snake - Acts 28 136-37
Filled With Immeasurable Love Jesus' Love For You - Ephesians 3 138-39
Dazzling John's Vision - Revelation 4 140-41
Appendices 142-43
Overview Of Bible Quotations 144-47
Index Of People And Things 148-50
Bestsellers in Young Readers (Age 4-7)