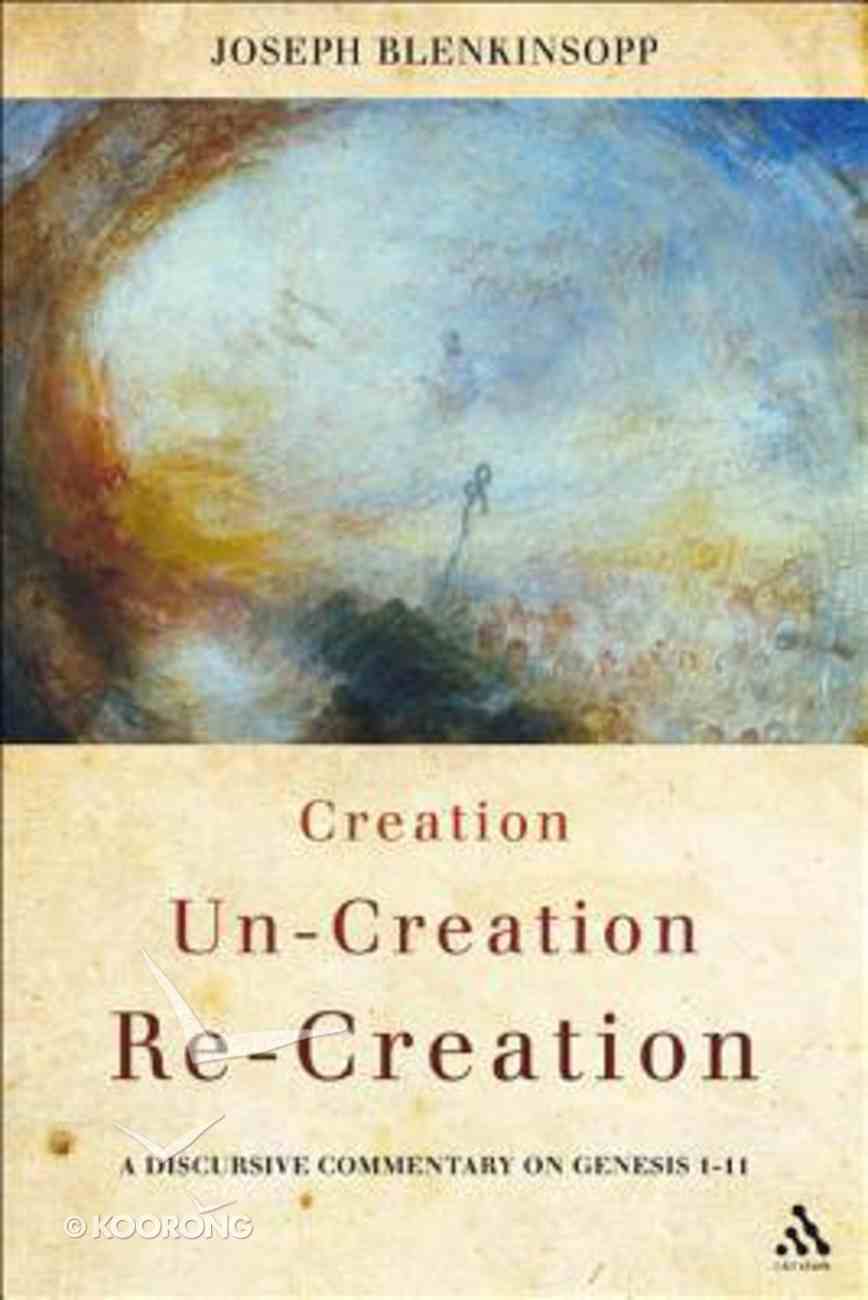 Creation, Un-Creation, Re-Creation
A new commentary volume looking at the theological and literary motivations of Genesis 1-11.
Special Order Item
0 Available.
---
Free Shipping
for orders over $99.
A new commentary volume looking at the theological and literary motivations of Genesis 1-11.
-Publisher

Joseph Blenkinsopp provides a new commentary on Genesis 1-11, the so-called 'Primeval History' in which the account of creation is given.Blenkinsopp works with the conviction that, from a biblical point of view, creation cannot be restricted to a single event, nor to two versions of an event (as depicted in Genesis 1-3) but, rather, must take in the whole period of creation arranged in the sequence: creation - uncreation - recreation (as can be derived from Genesis 1-11).Through the course of the commentary, presented in continuous discussion rather than in a rigid verse-by-verse form, Blenkinsopp takes into account pre-modern interpretations of the texts, especially in the Jewish interpretative tradition, as well as modern, historical-critical interpretations. Blenkinsopp works from the perspective of acknowledging the text's literary integrity as an 'authored' work, rather than focusing simply on the its background in various sources (whilst of course paying due attention to those sources). This enables Blenkinsopp's engaging discussion to focus upon the literary and theological artistry of the material at hand.

-Publisher
Joseph Blenkinsopp is John A. O'Brien Professor Emeritus of Biblical Studies at the University of Notre Dame. His books include The Pentateuch: An Introduction to the First Five Books of the Bible; A History of Prophecy in Israel; Judaism, the First Phase: The Place of Ezra and Nehemiah in the Origins of Judaism; Opening the Sealed Book: Interpretations of the Book of Isaiah in Late Antiquity and the three-volume Anchor Bible commentary on Isaiah.
Chapter One: Humanity: The First Phase (genesis 1-11); Chapter Two: In The Beginning (genesis 1:1-2:4a); Chapter Three: The Story Of The Man, The Woman, And The Snake (genesis 2:4b-3:24); Chapter Four: Cain And Abel: A Murder Mystery (genesis 4:1-26); Chapter Five: Enoch And His Times (genesis 5:1-6:8); Chapter Six: The Cataclysm (genesis 6:9-9:29); Chapter Seven: The New Humanity (genesis 10:1-11:9); Chapter Eight: From Shem To Abraham, From Myth To History (genesis 11:10-26); Epilogue: Towards A Biblical Theology Of Creation.