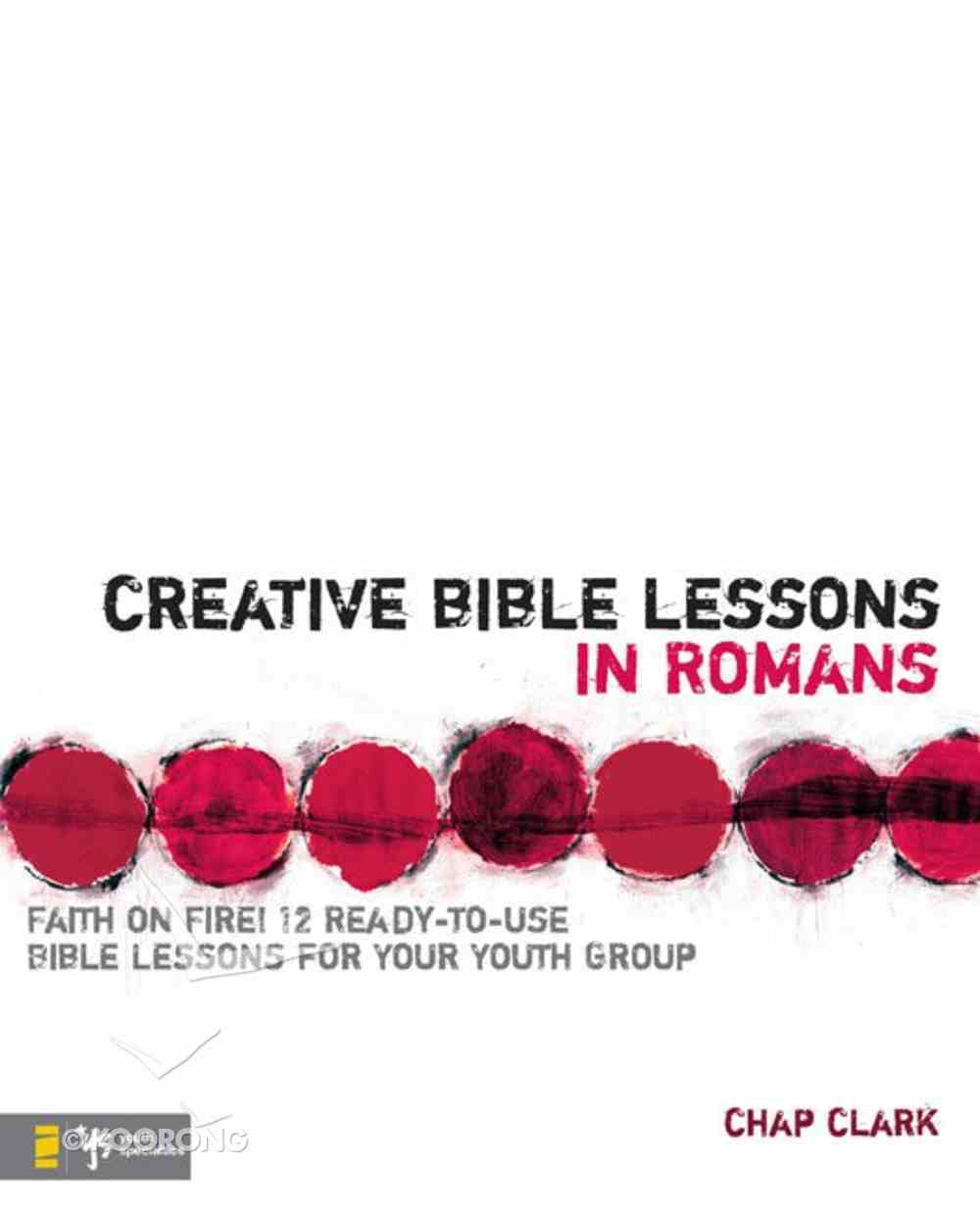 Creative Bible Lessons in Romans
Think of it as a lean, mean Bible doctrine course--without the lecture. But with lots of options, videos, music, and drama. And small group work. And reproducible, interactive worksheets with eye-catching designs and soul-searching content. (Like, what else do you...
Available for immediate download.
---
Read using our free app on your tablet or mobile!
---
Free Shipping
for orders over $99.
Think of it as a lean, mean Bible doctrine course--without the lecture. But with lots of options, videos, music, and drama. And small group work. And reproducible, interactive worksheets with eye-catching designs and soul-searching content. (Like, what else do you expect from St. Paul when he sits down to write the meatiest book of doctrine in the Bible?) in the 12 clear, complete sessions of Creative Bible Lessons in Romans. Author Chap Clark guides kids (and you) through the Big Ideas in this first-century letter to Christians trying their darndest to live godly lives in an ungodly culture. (Sound familiar?) From the not-so-savory picture the apostle paints of humankind in the opening chapters...through his celebration of grace and acceptance in midbook...to his tightly reasoned argument that love should fuel a Christian's decisions and relationships--here are topics made to order for teenagers living at the turn of the 21st century. Teach your way through Romans with these read-to-go sessions. Or scavenge whatever you want of the creative scripts, handouts, and other options to customize lessons of your own. Any way you use it, Creative Bible Lessons in Romans is your no-doze ticket to solid Bible doctrine. 12 lessons.
-Publisher
Think of it as a lean, mean Bible doctrine course--without the lecture. But with lots of options, videos, music, and drama. And small group work. And reproducible, interactive worksheets with eye-catching designs and soul-searching content. (Like, what else do you expect from St. Paul when he sits down to write the meatiest book of doctrine in the Bible?) in the 12 clear, complete sessions of Creative Bible Lessons in Romans. Author Chap Clark guides kids (and you) through the Big Ideas in this first-century letter to Christians trying their darndest to live godly lives in an ungodly culture. (Sound familiar?) From the not-so-savory picture the apostle paints of humankind in the opening chapters...through his celebration of grace and acceptance in midbook...to his tightly reasoned argument that love should fuel a Christian's decisions and relationships--here are topics made to order for teenagers living at the turn of the 21st century. Teach your way through Romans with these read-to-go sessions. Or scavenge whatever you want of the creative scripts, handouts, and other options to customize lessons of your own. Any way you use it, Creative Bible Lessons in Romans is your no-doze ticket to solid Bible doctrine. 12 lessons.^^
-Publisher
Chap Clark (Ph.D., University of Denver) is professor of Youth, Family and Culture at Fuller Theological Seminary and is director of youth ministry programs. Chap is also the executive administrator at Glendale (California) Presbyterian Church, a youth ministry volunteer for Young Life, and a consultant to schools, denominations, and parachurch organizations.
His publishing credits include The Youth Worker's Handbook to Family Ministry; Daughters and Dads: Building a Lasting Relationship (coauthor); Four Views of Youth Ministry and the Church (coauthor); Deep Ministry in a Shallow World (2006, co-authored with Kara Powell), and Hurt: Inside the World of Todays Teenagers (2004, 2011) a CBA finalist for Book of the Year, available in Spanish and Cantonese),


Bestsellers in Youth Ministry