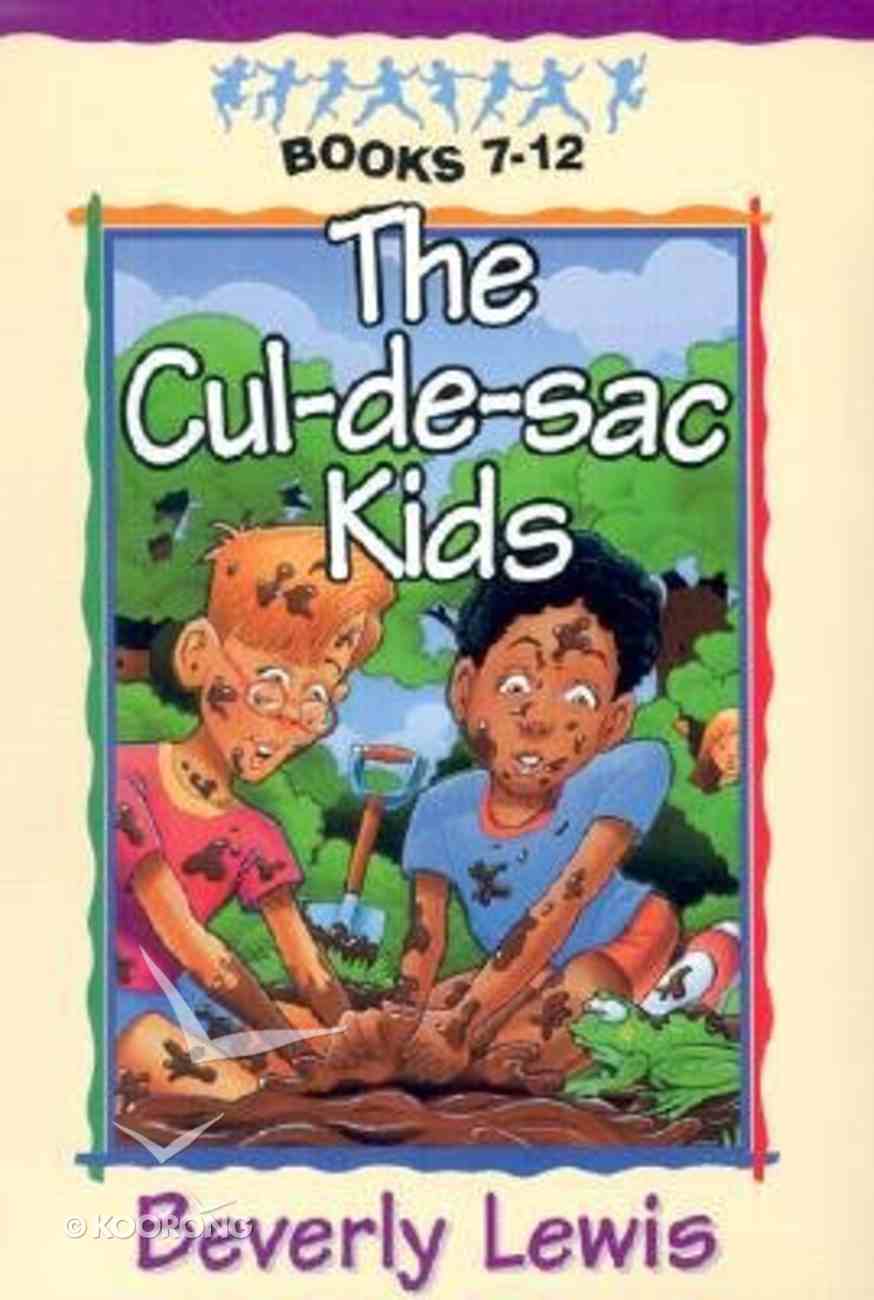 Cul-De-Sac Kids Collection #02 (Books 7-12) (Cul-de-sac Kids Series)
The Stinky Sneakers MysteryPickle PizzaMailbox ManiaThe Mudhole MysteryFiddlesticksThe Crabby Cat Caper
---
Free Shipping
for orders over $99.
The Stinky Sneakers MysteryPickle PizzaMailbox ManiaThe Mudhole MysteryFiddlesticksThe Crabby Cat Caper
-Publisher
The Cul-de-sac Kids are at it again in this boxed collection. In "The Stinky Sneakers Mystery", Jason Birchall hatches a super smelly plan to get back at Eric Hagel who has stolen his science project. And Eric is surprised when no one likes the creation he makes for Father's Day in "Pickle Pizza". In "Mailbox Mania", the kids decorate mailboxes for the Fourth of July. In "Mudhole Mania", Dunkum discovers a time capsule buried in a mudhole. In "Fiddlesticks", Shawn tries to make the soccer team. And in "The Crabby Cat Caper" Mister Whiskers runs away.
-Publisher
This is an exciting and lighthearted chapter book series for young readers that centers on the often humorous escapades of a group of endearing neighborhood friends. Ages 7-10.
-Publisher
Beverly Lewis was born Beverly Marie Jones in 1949, in Lancaster, Pennsylvania, and grew up in the heart of 'Pennsylvania Dutch' country. She played and composed on the piano and wrote avidly from a very young age. Beverly's father was an Assemblies of God pastor, and she was raised in that denomination. However, she became fascinated with her ancestral links to the Old Order Mennonite community into which her maternal grandmother, Ada Buchwalter, had been born. Beverly's deep affinity for her Amish heritage has inspired much of her prodigious literary output - over eighty books for both children and adults.

Beverly graduated from Evangel University with a degree in Music Education, and became a schoolteacher. When her own three children were middle school age, Beverly began submitting stories to children's magazines. Her first book Mountain Bikes and Garbanzo Beans was published in 1993.

Beverly's first adult fiction, published in 1997, was the Heritage of Lancaster County trilogy, about the experiences of a young Amish woman Katie Lapp as she moves from the plain traditions of her upbringing into the modern world. Beverly has followed this award-winning bestseller with a stream of popular titles that have established her as one of our time's most beloved storytellers. Her titles include the Cul-De-Sac Kids, the Girls Only (GO!), and the Holly's Heart series for children, and the Amish based Rose, Seasons of Grace, Abram's Daughter, The Courtship of Nellie Fisher, and Annie's People series. She has received numerous awards including two Silver Angel Awards for her novels The Postcard and Annika's Secret Wish, and a Golden Book Award for The Shunning, the first volume of her Heritage of Lancaster County series.

Beverly is a member of the National League of American Pen Women as well as a Distinguished Alumnus of Evangel University. She says of her leisure:

"When I'm between writing deadlines, I enjoy hiking in the Rocky Mountains with my husband. Cooking from scratch, playing Mozart at the piano, and making family memory albums, as well as traveling to meet my devoted readers during book tours, are some of my very favorite things. I also adore reading biographies and memoirs, as well as classic literature."

She makes her home with her husband David in Colorado. In addition to their three adult children, they have three grandchildren.
Bestsellers in Confident Readers (Age 8-12)