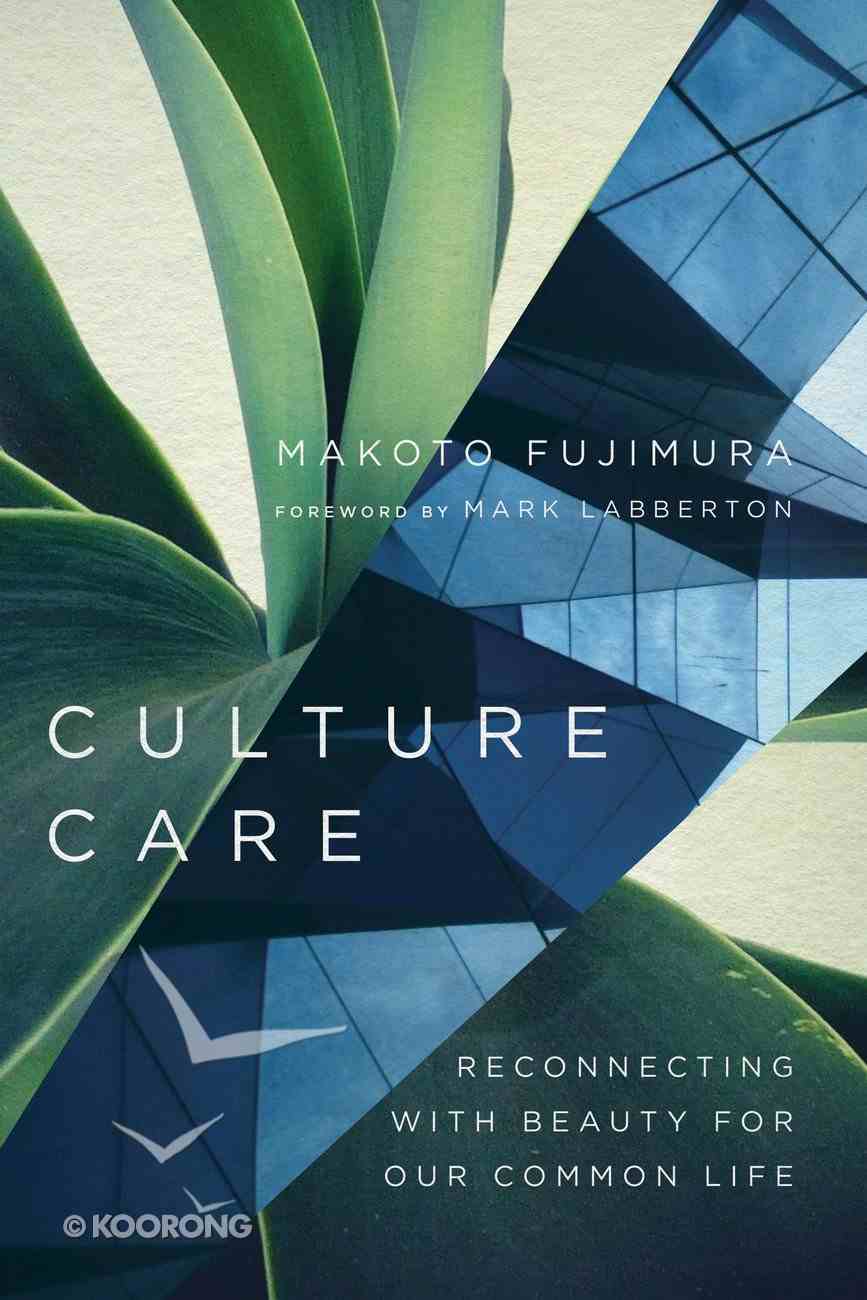 15th Annual Outreach Magazine Resource of the Year - Culture Christianity Today's 2018 Book of the Year Award of Merit - Culture and the Arts "Culture is not a territory to be won or lost...
Instant download
---
Expected to ship within 11 hours from Australia.
---
Read using our free app on your tablet or mobile!
---
Free Shipping
for orders over $99.
15th Annual Outreach Magazine Resource of the Year - Culture Christianity Today's 2018 Book of the Year Award of Merit - Culture and the Arts "Culture is not a territory to be won or lost but a resource we are called to steward with care. Culture is a garden to be cultivated." Many bemoan the decay of culture. But we all have a responsibility to care for culture, to nurture it in ways that help people thrive. In Culture Care artist Makoto Fujimura issues a call to cultural stewardship, in which we become generative and feed our culture's soul with beauty, creativity, and generosity. We serve others as cultural custodians of the future. This is a book for artists, but artists come in many forms. Anyone with a calling to create-from visual artists, musicians, writers, and actors to entrepreneurs, pastors, and business professionals-will resonate with its message. This book is for anyone with a desire or an artistic gift to reach across boundaries with understanding, reconciliation, and healing. It is a book for anyone with a passion for the arts, for supporters of the arts, and for "creative catalysts" who understand how much the culture we all share affects human thriving today and shapes the generations to come. Culture Care includes a study guide for individual reflection or group discussion.
-Publisher
Recognized worldwide as a cultural shaper, Fujimura's work has been exhibited at galleries including Dillon Gallery in New York, Sato Museum in Tokyo, The Contemporary Museum of Tokyo, Tokyo National University of Fine Arts Museum, Bentley Gallery in Arizona, Taikoo Place in Hong Kong and Vienna's Belvedere Museum. In 2011 the Fujimura Institute was established and launched the Qu4rtets, a collaboration between Fujimura, painter Bruce Herman, Duke theologian/pianist Jeremy Begbie and Yale composer Christopher Theofanidis, based on T. S. Eliot'sFour Quartets. A popular speaker, Fujimura has lec
Mark Labberton (Ph.D., University of Cambridge) joined Fuller Theological Seminary faculty in 2009 as Lloyd John Ogilvie Associate Professor of Preaching and Director of the Lloyd John Ogilvie Institute of Preaching after 16 years of service as senior pastor of First Presbyterian Church of Berkeley, California. Dr. Labberton has been involved in ministry for over 30 years and has spoken before a broad range of audiences, including numerous conferences and events for the Presbyterian Church (USA), InterVarsity Christian Fellowship, the National Pastors Convention, and the International Justice Mission. He has also taught courses at New College Berkeley for Advanced Christian Studies.
In 1982 Labberton co-founded the Christian International Scholarship Foundation (CISF) - an organization funding the advanced theological education of Christian leaders from the Majority World, including executives of relief organizations, college and seminary faculty, and denominational presidents - and served on the board of CISF for 17 years. He has also worked closely with John Stott Ministries, the U.S. member of Langham Partners International, which provides books, scholarships, and seminars for Majority World pastors. Labberton served as chair of John Stott Ministries from 2001 to 2004 and co-chair of the John Stott Ministries Global Initiative Fund from 2004 to 2007. Today he continues to contribute to the mission of the global church as a senior fellow of the International Justice Mission.


Labberton recently published The Dangerous Act of Worship: Living God's Call to Justice (2007), and in early 2010, InterVarsity Press will be releasing his next book on worship and the injustices of the heart, which he sees as the bedrock of much public injustice called The Dangerous Act of Loving Your Neighbor: Seeing Others Through the Eyes of Jesus. He has published articles in periodicals such as Christianity Today; Radix, and Leadership Journal, the latter which he also serves as contributing editor.


<ul> <li>15th Annual Outreach Magazine Resource Of The Year - Culture</li> </ul> <ul> <li><em>christianity Today's</em> 2018 Book Of The Year Award Of Merit - Culture And The Arts</li> </ul> <strong>"culture Is Not A Territory To Be Won Or Lost But A Resource We Are Called To Steward With Care. Culture Is A Garden To Be Cultivated."</strong> Many Bemoan The Decay Of Culture. But We All Have A Responsibility To Care For Culture, To Nurture It In Ways That Help People Thrive. In <em>culture Care</em> Artist Makoto Fujimura Issues A Call To Cultural Stewardship, In Which We Become Generative And Feed Our Culture's Soul With Beauty, Creativity, And Generosity. We Serve Others As Cultural Custodians Of The Future. This Is A Book For Artists, But Artists Come In Many Forms. Anyone With A Calling To Create-from Visual Artists, Musicians, Writers, And Actors To Entrepreneurs, Pastors, And Business Professionals-will Resonate With Its Message. This Book Is For Anyone With A Desire Or An Artistic Gift To Reach Across Boundaries With Understanding, Reconciliation, And Healing. It Is A Book For Anyone With A Passion For The Arts, For Supporters Of The Arts, And For "creative Catalysts" Who Understand How Much The Culture We All Share Affects Human Thriving Today And Shapes The Generations To Come. <em>culture Care</em> Includes A Study Guide For Individual Reflection Or Group Discussion.
Bestsellers in Christian Worldview