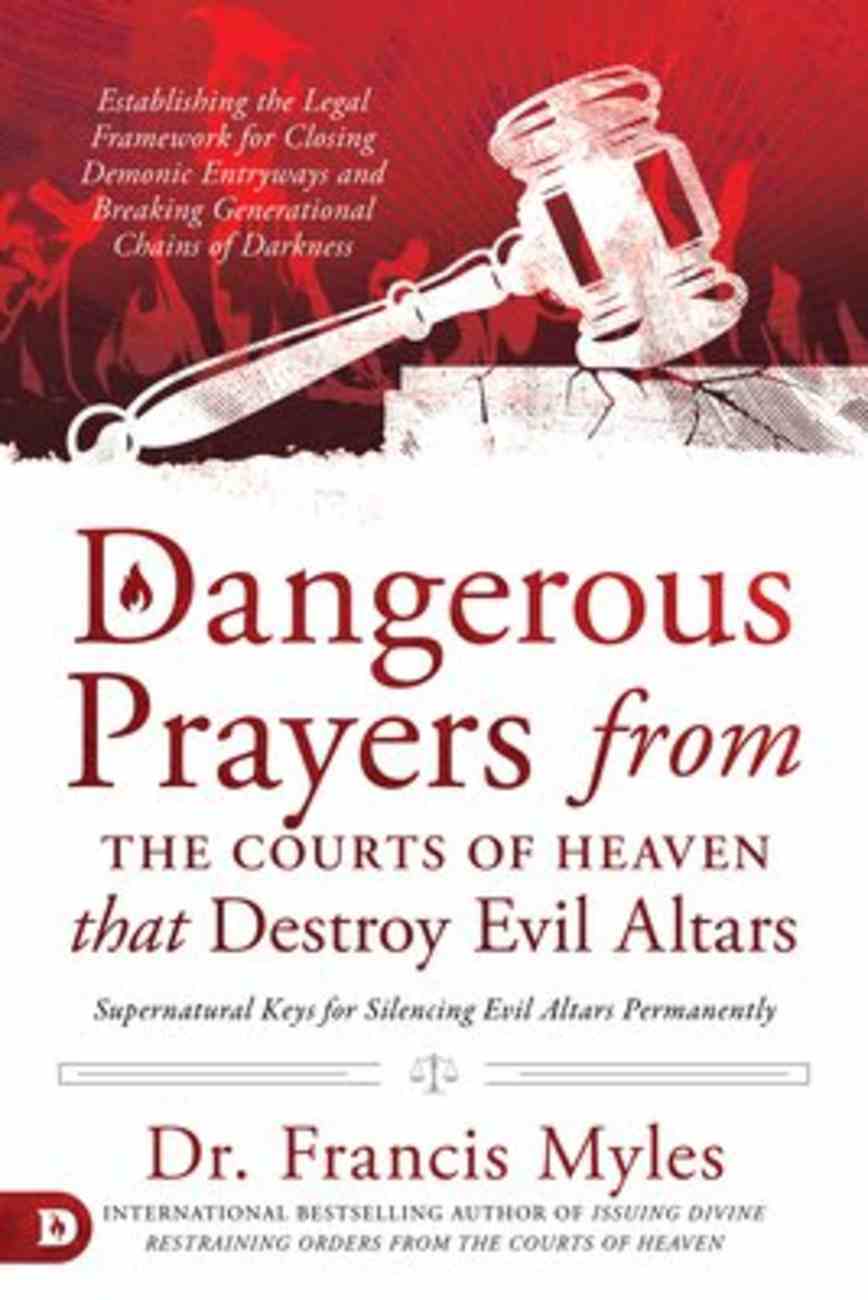 Dangerous Prayers From the Courts of Heaven That Destroy Evil Altars
:Tear down unholy altars and close the enemy's entryways into your life! Do you feel like invisible barriers are keeping you from the life you want? This may be the result of hidden, evil altars in the spirit-realm....
Pre-Order
---
Expected to ship in 1 week from Australia.
---
Free Shipping
for orders over $99.
:Tear down unholy altars and close the enemy's entryways into your life!

Do you feel like invisible barriers are keeping you from the life you want? This may be the result of hidden, evil altars in the spirit-realm. An "altar" is not simply a physical object used for religious or occultic practice; it's an invisible entry point that grants forces of darkness access to your life by partnering with the enemy.

In Dangerous Prayers from the Courts of Heaven that Destroy Evil Altars, Dr. Francis Myles teaches you to tear down these unholy altars, breaking free from many areas of sin and bondage. By praying through a framework of "dangerous prayers," Dr. Myles teaches you to enter the courts of Heaven and claim Jesus as your legal advocate in the spirit realm.

Discover how to: Operate in the Law of Dominion Be victorious in the Battle of Altars Appropriate the mystery of the Seven Drops of Jesus' blood
Additionally, Dr. Myles has crafted more than 35 powerful, interactive Courts of Heaven activation prayers that will close the enemy's gates over your life.

These Dangerous Prayers will help you destroy the altars of: Sexual perversion Infirmity and Sickness Familiar spirits Poverty Witchcraft Depression Premature death Barrenness Fear Trauma Failure Marriage Breakers Delay False Prophecies Freemasonry Demonic Spirits (including Jezebel, Leviathan, and Delilah) …and many others!
You don't have to wait another day for someone else to lay hands on you. Take hold of your own deliverance and walk in freedom today!
-Publisher
Dr. Francis Myles is an Apostle to the nations, Senior Pastor of Breakthrough City Kingdom Embassy, Businessman, and Spiritual Life coach to Movers and Shakers in the Marketplace. He was born in Zambia, before migrating to South Africa in 1994. In 1998 he received an apostolic commission to the United States by the Holy Spirit. He is the founder of Kingdom Marketplace Coalition and The Order of Melchizedek Leadership University. He is also the author of the book, The Return of the Lost Key: Tithing under the Order of Melchizedek. He is happily married to Trina Myles; and they both reside in Mc
Bestsellers in Spirit-filled Living