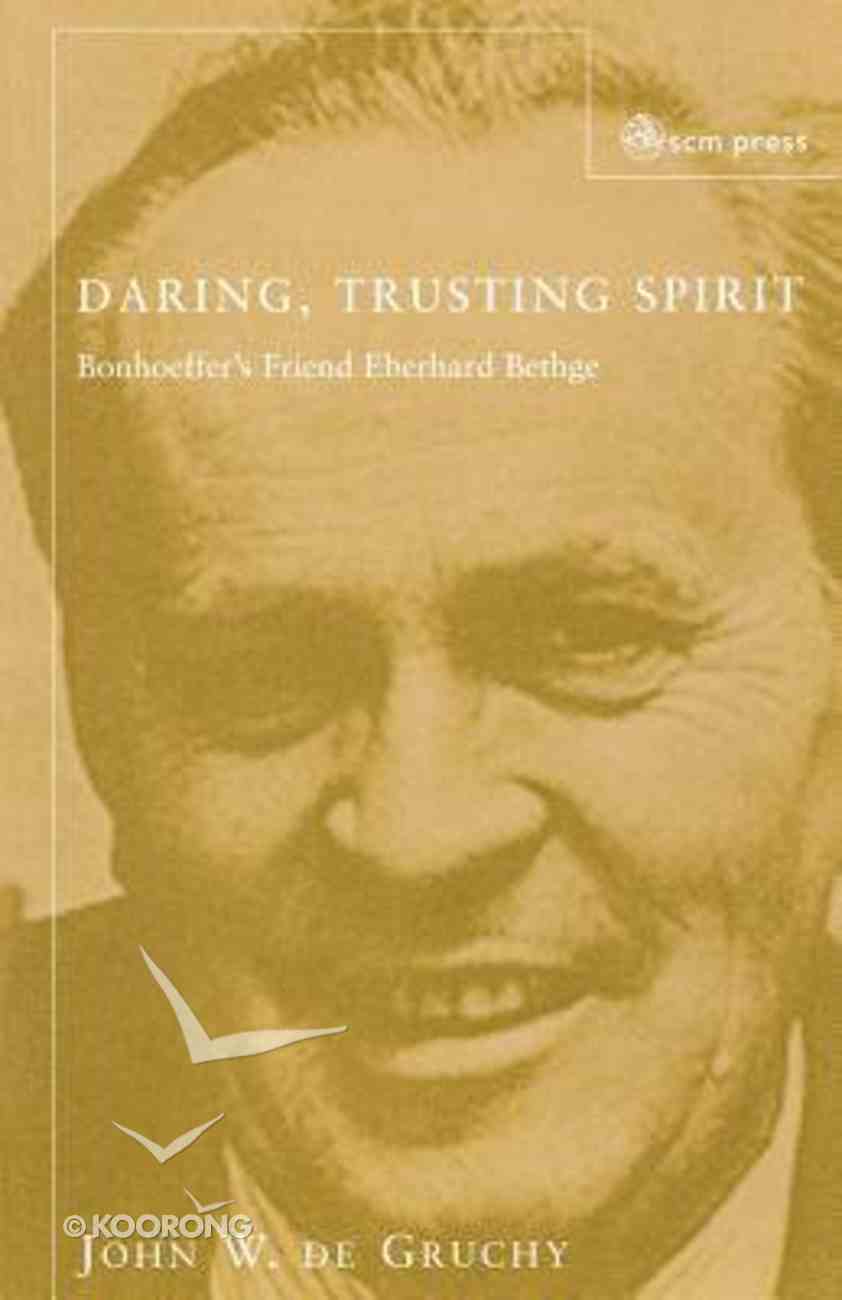 Daring Trusting Spirit: Eberhard Bethge & Dietrich Bonhoeffer
'Daring Trusting Spirit' is a portrait of a remarkable theological friendship and a reflective essay on how history is written. Previously unpublished letters and essays presented in this volume will be key reading for students of Holocaust studies, as well...
Locally Sourced
Available to Order
---
Expected to ship within 10 days from Australia.
---
Free Shipping
for orders over $99.
'Daring Trusting Spirit' is a portrait of a remarkable theological friendship and a reflective essay on how history is written. Previously unpublished letters and essays presented in this volume will be key reading for students of Holocaust studies, as well as interfaith, social historical studies and theology.
-Publisher
Daring, Trusting Spirit - as Bonhoeffer called his friend in a poem written from prison - offers new historical information and insights into Dietrich Bonhoeffer's "Eckermann." Like Goethe's scribe, Eberhard Bethge devoted his life's work to ensuring that Bonhoeffer's contribution to Christian thought would not be forgotten, yet he deliberately chose to remain in the background. This book is a portrait of a remarkable theological friendship and a reflective essay on how history is written. It provides valuable new information about Eberhard Bethge that may, in turn, give readers new insights into the life and legacy of Dietrich Bonhoeffer himself. Drawing upon new archival documentation and previously unpublished essays and letters, Daring, Trusting Spirit explores a theological friendship - in life and death -- between two remarkable thinkers.
-Publisher
Chapter 1: The Shaping Of A Life And Friendship; From Zitz To Finkenwalde; A Friend To A Friend; A Family Affair; Chapter 2: A Self-effacing Witness; Modest Resister; War-time Correspondent; Guest Of The Gestapo; Chapter 3: Post-war Traumas; A Sense Of Loss; Debating The Resistance; Setting The Record Straight; Chapter 4: Interpreting The Legacy; Editing And Publishing; Controversy Amongst Colleagues; No Bethge, No Bonhoeffer; Chapter 5: Biography And Theology; Telling The Story; Life Interpreting Theology; Theology Interpreting Life; Chapter 6: Post-holocaust Theologian; Bonhoeffer And The Jews; Recovering A Trajectory; Bethge Beyond Bonhoeffer; Chapter 7: Bonhoeffer In Global Context; Bonhoeffer Beyond Germany; Bonhoeffer In South Africa; An International Family