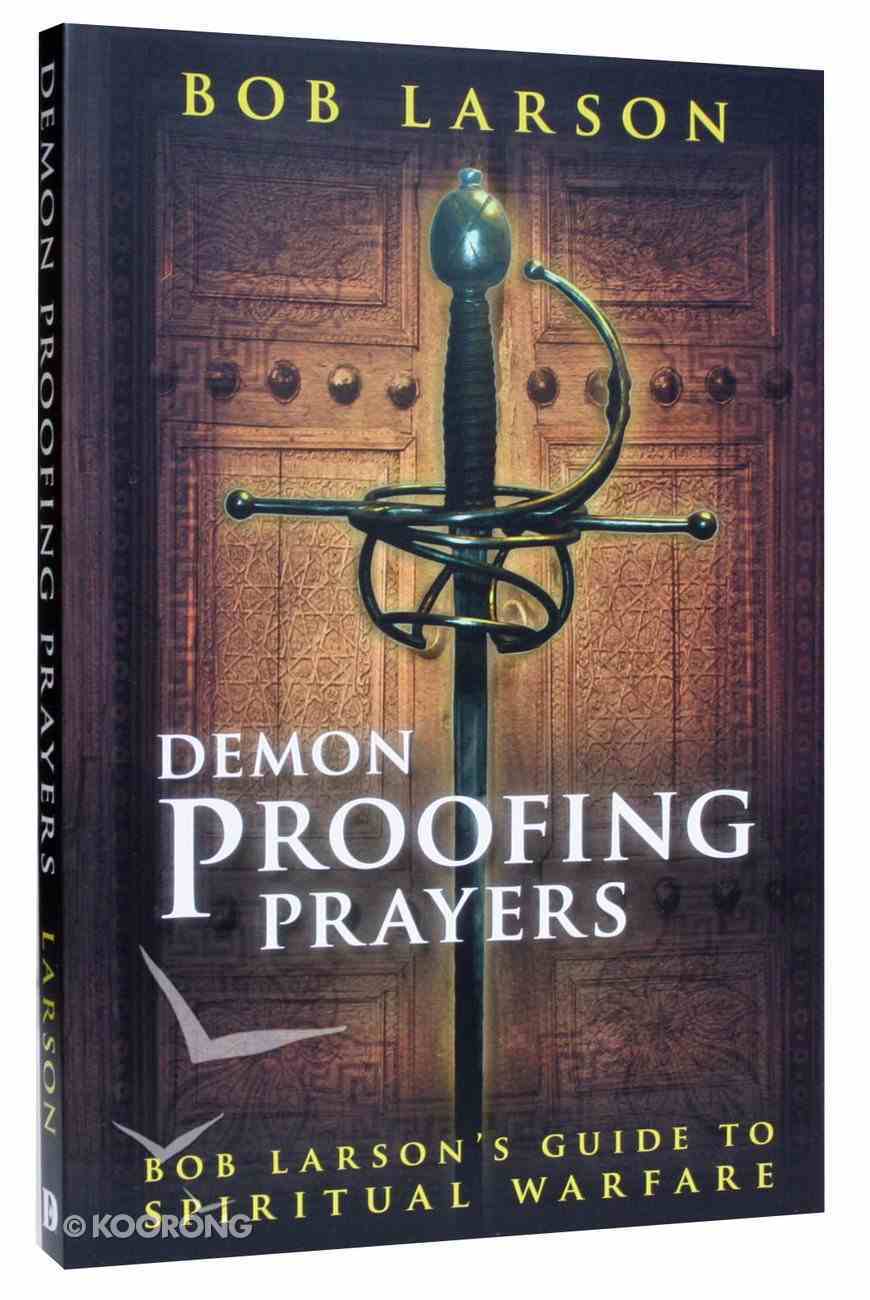 Bob Larson has honed the art of exorcism into astonishing public performance. –Los Angeles Times, front page   Men like Bob Larson are out front, battling Satan, leading the charge against an evil that appears to have...
Out of Stock
Available to Order
---
Expected to ship in 5 to 6 weeks from Australia.
---
Free Shipping
for orders over $99.


Bob Larson has honed the art of exorcism into astonishing public performance. –Los Angeles Times, front page


 


Men like Bob Larson are out front, battling Satan, leading the charge against an evil that appears to have so many souls in torment and looking for deliverance...The Devil meets his match in Bob Larson. –MSNBC Investigates


This powerful spiritual warfare and prayers of deliverance equipping manual examines ten specific lifestyle commitments required of all Christians if they are to be victorious in spiritual battles.


 


Never again will you underestimate the power of demonic forces! Without glorifying them through fear-inspiring tales, you will realize your authority over forces of evil and how you can "demon proof" your life through the ten critical lifestyle choices presented.


 


Demon-Proofing Prayers concludes with ten prayers/declarations that link the ten lifestyle choices as practical steppingstones to help you emerge victoriously from every spiritual battle.



-Publisher
Neil Hayes is a sports columnist for the "Contra Costa Times" newspapers, a 195,000-circulation chain of daily newspapers based in Walnut Creek, California. He is a frequent guest on Bay Area radio stations, and his column is distributed nationally by Knight-Ridder wire services. He has twice been honored by the Associated Press Sports Editors for his enterprise reporting and has won numerous writing awards from the Pro Football Writer's Association of America. ýBob Larson, the award-winning photographer, has been allowed behind the scenes access to De La Salle's program for more than ten y

<div><p></p> <p Class="8-toc"><a Href="#intro">introduction: Understanding Prayer As Warfare Against The Devil And His Demons</a></p> <p Class="8-toc"><a Href="#part1">part I: Life Lessons: Ten Life Lessons For Becoming A Spiritual Warrior</a></p> <p Class="8-toc"><a Href="#ch1">chapter 1 Your Destiny: Seizing The Reason You Are Here</a></p> <p Class="8-toc"><a Href="#ch1">life Lesson #1: Be A Winner, Not A Whiner</a></p> <p Class="8-toc"><a Href="#ch2">chapter 2 Your Calling: Standing Firm Like David</a></p> <p Class="8-toc"><a Href="#ch2">life Lesson #2: Be A Warrior, Not A Wimp</a></p> <p Class="8-toc"><a Href="#ch3">chapter 3 Your Identity: Turning Obstacles Into Opportunities</a></p> <p Class="8-toc"><a Href="#ch3">life Lesson #3: Be An Overcomer, Not A Succumber</a></p> <p Class="8-toc"><a Href="#ch4">chapter 4 Your Character: Leading By Example</a></p> <p Class="8-toc"><a Href="#ch4">life Lesson #4: Be A Leader, Not A Loser</a></p> <p Class="8-toc"><a Href="#ch5">chapter 5 Your Strength: Transforming Weakness</a></p> <p Class="8-toc"><a Href="#ch5">life Lesson #5: Be A Thriver, Not A Survivor</a></p> <p Class="8-toc"><a Href="#ch6">chapter 6 Your Voice: Making A Positive Difference</a></p> <p Class="8-toc"><a Href="#ch6">life Lesson #6: Be A Teacher, Not A Preacher</a></p> <p Class="8-toc"><a Href="#ch7">chapter 7 Your Strategy: Outgiving The Enemy</a></p> <p Class="8-toc"><a Href="#ch7">life Lesson #7: Be A Giver, Not A Taker</a></p> <p Class="8-toc"><a Href="#ch8">chapter 8 Your Exploits: Pursuing Realistic Goals</a></p> <p Class="8-toc"><a Href="#ch8">life Lesson #8: Be An Achiever, Not A Dreamer</a></p> <p Class="8-toc"><a Href="#ch9">chapter 9 Your Heart: Bonding With Others</a></p> <p Class="8-toc"><a Href="#ch9">life Lesson #9: Be A Friend, Not A Phony</a></p> <p Class="8-toc"><a Href="#ch10">chapter 10 Your Triumph: Embracing Integrity</a></p> <p Class="8-toc"><a Href="#ch10">life Lesson #10: Be A Provider, Not A Pretender</a></p> <p Class="8-toc"><a Href="#part2">part Ii: Activations: Ten Prayerful Proclamations To Demon-proof Your Life</a></p> <p Class="8-toc"><a Href="#act1">1 Your Destiny: Seizing The Reason You Are Here</a></p> <p Class="8-toc"><a Href="#act1">declaration Of A Spiritual Warrior</a></p> <p Class="8-toc"><a Href="#act2">2 Your Calling: Standing Firm Like David</a></p> <p Class="8-toc"><a Href="#act2">oath Of A Spiritual Warrior</a></p> <p Class="8-toc"><a Href="#act3">3 Your Identity: Turning Obstacles Into Opportunities</a></p> <p Class="8-toc"><a Href="#act3">pledge Of A Spiritual Warrior</a></p> <p Class="8-toc"><a Href="#act4">4 Your Character: Leading By Example</a></p> <p Class="8-toc"><a Href="#act4">affirmation Of A Spiritual Warrior</a></p> <p Class="8-toc"><a Href="#act5">5 Your Strength: Transforming Weakness</a></p> <p Class="8-toc"><a Href="#act5">armor Of A Spiritual Warrior</a></p> <p Class="8-toc"><a Href="#act6">6 Your Voice: Making A Positive Difference</a></p> <p Class="8-toc"><a Href="#act6">reliability Of A Spiritual Warrior</a></p> <p Class="8-toc"><a Href="#act7">7 Your Strategy: Outgiving The Enemy</a></p> <p Class="8-toc"><a Href="#act7">generosity Of A Spiritual Warrior</a></p> <p Class="8-toc"><a Href="#act8">8 Your Exploits: Pursuing Realistic Goals</a></p> <p Class="8-toc"><a Href="#act8">goals Of A Spiritual Warrior</a></p> <p Class="8-toc"><a Href="#act9">9 Your Heart: Bonding With Others</a></p> <p Class="8-toc"><a Href="#act9">dependability Of A Spiritual Warrior</a></p> <p Class="8-toc"><a Href="#act10">10 Your Triumph: Embracing Integrity</a></p> <a Href="#act10">integrity Of A Spiritual Warrior</a></div>
Bestsellers in Spirit-filled Living