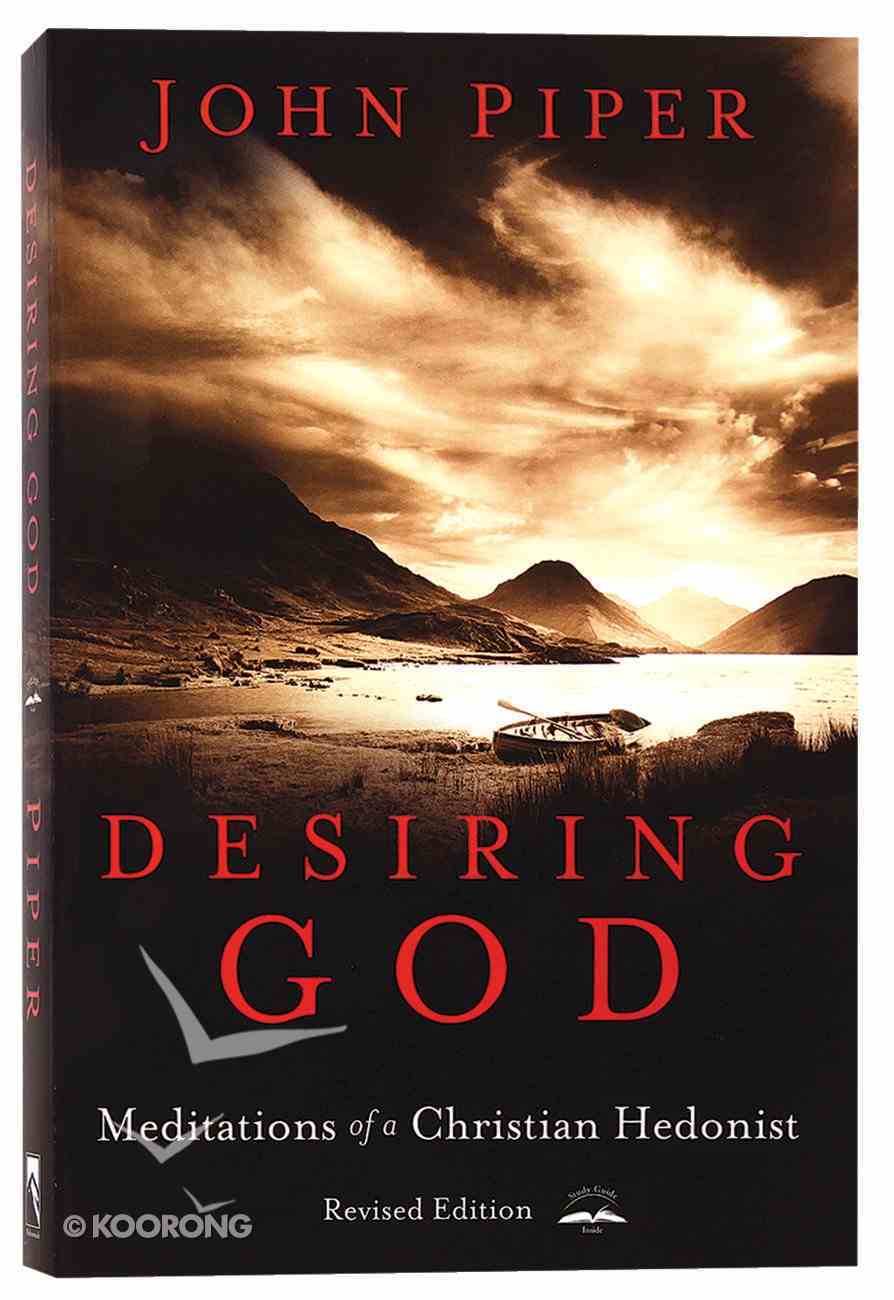 Desiring God: Meditations of a Christian Hedonist
The updated edition of a spiritual classic. The pursuit of pleasure is not optional. It is essential. Scripture reveals that the great business of life is to glorify God by enjoying him forever. In this paradigm-shattering work, John Piper reveals...
---
Expected to ship on Monday from Australia.
---
Free Shipping
for orders over $99.
The updated edition of a spiritual classic. The pursuit of pleasure is not optional. It is essential. Scripture reveals that the great business of life is to glorify God by enjoying him forever. In this paradigm-shattering work, John Piper reveals that the debate between duty and delight doesn't truly exist: delight is our duty. Join him as he stuns you again and again with life-impacting truths you saw in the Bible, but never dared to believe.
- Publisher.
Experience the Lifelong Pleasures of Knowing God!

Satisfaction…Happiness…Joy. According to John Piper, the pursuit of pleasure in God is not only permissible, it's essential.

Desiring God is a paradigm-shattering work that dramatically alters common perspectives on relating to God.  Piper reveals that there really is no need to choose between duty and delight in the Christian life. In fact, for the follower of Jesus, delight is the duty as Christ is most magnified in His people when they are most satisfied in Him.

Constantly drawing on Scripture to build his case, Piper shows why pursuing maximum joy is essential to glorifying God. He discusses the implications of this for conversion, worship, love, Scripture, prayer, money, marriage, missions, and suffering.

Piper beckons us to approach God with the hedonist's abandon. Finally, we are freed to enjoy Jesus—not only as our Lord and Savior, but also as our all-surpassing, soul-satisfying Treasure.

Desiring God may turn your Christian world upside down. And that will be a good thing, for the glory of God, and for your deepest joy.

Includes a study guide for individual and small group use.


-Publisher
John Stephen Piper was born 11 January 1946 in Chattanooga, Tennessee, to Bill and Ruth Piper. The Pipers soon moved to Greenville, South Carolina, where John spent his growing-up years. His father was an itinerant evangelist who also ministered through international radio and Bible courses. John has written a tribute to his mother, who died in 1974, in the booklet, What's the Difference (Crossway Books, 1990) which is also chapter one of the book, Recovering Biblical Manhood and Womanhood (Crossway Books, 1991).

At Wheaton College (1964-68), John majored in Literature and minored in Philosophy. Studying Romantic Literature with Clyde Kilby stimulated the poetic side of his nature and today he regularly writes poems to celebrate special family occasions and rich, biblical truths. At Wheaton John also met Noel Henry whom he married in 1968.

Following college, John completed a Bachelor of Divinity degree at Fuller Theological Seminary in Pasadena, California (1968-71). While at Fuller, John discovered the writings of Jonathan Edwards.

John did his doctoral work in New Testament Studies at the University of Munich, Munich, West Germany (1971-74). His dissertation, Love Your Enemies, was published by Cambridge University Press and Baker Book House (and is now available through Crossway). Upon completion of his doctorate, he went on to teach Biblical Studies at Bethel College in St. Paul, Minnesota for six years (1974-80).

In 1980, sensing an irresistible call to preach, John became the senior pastor of Bethlehem Baptist Church in Minneapolis, Minnesota, where he ministered for 33 years, until 2013. Together with his people, John was dedicated to spreading a passion for the supremacy of God in all things for the joy of all peoples through Jesus Christ - a mission he continues now for the wider church through the ministry of desiringGod.org. John says of his ministry:
"The ministry of preaching is the central labor of my life. My prayer is that through that ministry and everything else I do the great glory of our God and Savior Jesus Christ would be magnified as more and more people come to live out the obedience of faith more and more deeply."

John is the author of over 50 books and now frequently travels to speak, and writes regularly, through Desiring God.

John and Noel have four sons, a daughter, and twelve grandchildren.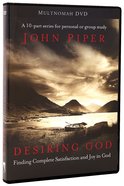 C h a p t e r 1
The Happiness of God
Foundation for Christian Hedonism

The ultimate ground of Christian Hedonism is the fact that God is uppermost in His own affections:

   The chief end of God is to glorify God and enjoy Himself forever.

   The reason this may sound strange is that we are more accustomed to think about our duty than God's design. And when we do ask about God's design, we are too prone to describe it with ourselves at the center of God's affections. We may say, for example, that His design is to redeem the world. Or to save sinners. Or to restore creation. Or the like.
   But God's saving designs are penultimate, not ultimate. Redemption, salvation, and restoration are not God's ultimate goal. These He performs for the sake of something greater: namely, the enjoyment He has in glorifying Himself. The bedrock foundation of Christian Hedonism is not God's allegiance to us, but to Himself.
   If God were not infinitely devoted to the preservation, display, and enjoyment of His own glory, we could have no hope of finding happiness in Him. But if He does in fact employ all His sovereign power and infinite wisdom to maximize the enjoyment of His own glory, then we have a foundation on which to stand and rejoice.
   I know this is perplexing at first glance. So I will try to take it apart a piece at a time, and then put it back together at the end of the chapter.

GOD'S SOVEREIGNTY:
THE FOUNDATION OF HIS HAPPINESS AND OURS

"Our God is in the heavens; he does all that he pleases" (Psalm 115:3). The implication of this text is that God has the right and power to do whatever makes Him happy. That is what it means to say that God is sovereign. Think about it for a moment: If God is sovereign and can do anything He pleases, then none of His purposes can be frustrated.

   The LORD brings the counsel of the nations to nothing; he frustrates
   the plans of the peoples. The counsel of the LORD stands forever, the
   plans of his heart to all generations. (Psalm 33:10–11)

   And if none of His purposes can be frustrated, then He must be the happiest of all beings. This infinite, divine happiness is the fountain from which the Christian Hedonist drinks and longs to drink more deeply.
   Can you imagine what it would be like if the God who ruled the world were not happy? What if God were given to grumbling and pouting and depression, like some Jack-and-the-beanstalk giant in the sky? What if God were frustrated and despondent and gloomy and dismal and discontented and dejected? Could we join David and say, "O God, you are my God; earnestly I seek you; my soul thirsts for you; my flesh faints for you, as in a dry and weary land where there is no water" (Psalm 63:1)?
   I don't think so. We would all relate to God like little children who have a frustrated, gloomy, dismal, discontented father. They can't enjoy him. They can only try not to bother him, or maybe try to work for him to earn some little favor.
   Therefore if God is not a happy God, Christian Hedonism has no foundation. For the aim of the Christian Hedonist is to be happy in God, to delight in God, to cherish and enjoy His fellowship and favor. But children cannot enjoy the fellowship of their Father if He is unhappy. Therefore the foundation of Christian Hedonism is the happiness of God.
   But the foundation of the happiness of God is the sovereignty of God: "Our God is in the heavens; he does all that he pleases" (Psalm 115:3). If God were not sovereign, if the world He made were out of control, frustrating His design again and again, God would not be happy.
   Just as our joy is based on the promise that God is strong enough and wise enough to make all things work together for our good, so God's joy is based on that same sovereign control: He makes all things work together for His glory. If so much hangs on God's sovereignty, we should make sure the biblical basis for it is secure.

THE BIBLICAL BASIS FOR GOD'S SOVEREIGN HAPPINESS 1
The sheer fact that God is God implies that His purposes cannot be thwarted—so says the prophet Isaiah:

   "I am God, and there is no other; I am God, and there is none like me,
   declaring the end from the beginning and from ancient times things
   not yet done, saying, 'My counsel shall stand, and I will accomplish all
   my purpose.'" (Isaiah 46:9–10)

   The purposes of God cannot be frustrated; there is none like God. If a purpose of God came to naught, it would imply that there is a power greater than God's. It would imply that someone could stay His hand when He designs to do a thing. But "none can stay his hand," as the newly awakened Nebuchadnezzar says:

   His dominion is an everlasting dominion, and his kingdom endures
   from generation to generation; all the inhabitants of the earth are
   accounted as nothing, and he does according to his will among the host
   of heaven and among the inhabitants of the earth; and none can stay
   his hand or say to him, "What have you done?" (Daniel 4:34–35)

HIS SOVEREIGNTY COVERS CALAMITIES
This was also Job's final confession after God had spoken to him out of the whirlwind: "I know that you can do all things, and that no purpose of yours can be thwarted" (Job 42:2). "Our God is in the heavens; he does all that he pleases" (Psalm 115:3).
   This raises the question whether the evil and calamitous events in the world are also part of God's sovereign design. Jeremiah looks over the carnage of Jerusalem after its destruction and cries:

   My eyes are spent with weeping; my stomach churns; my bile is poured
   out to the ground because of the destruction of the daughter of my
   people, because infants and babies faint in the streets of the city.
   (Lamentations 2:11)

   But when he looked to God, he could not deny the truth:

   Who has spoken and it came to pass, unless the Lord has commanded
   it? Is it not from the mouth of the Most High that good and bad come?
   (3:37–38)

"SHALL WE RECEIVE GOOD FROM GOD AND NOT EVIL?"
If God reigns as sovereign over the world, then the evil of the world is not outside His design: "Does disaster come to a city, unless the LORD has done it?" (Amos 3:6).
   This was the reverent saying of God's servant Job when he was afflicted with boils: "Shall we receive good from God, and shall we not receive evil?" (Job 2:10). He said this even though the text says plainly that "Satan went out from the presence of the LORD and struck Job with loathsome sores" (Job 2:7). Was Job wrong to attribute to God what  came from Satan? No, because the inspired writer tells us immediately after Job's words: "In all this Job did not sin with his lips" (Job 2:10).
   The evil Satan causes is only by the permission of God. Therefore, Job is not wrong to see it as ultimately from the hand of God. It would be unbiblical and irreverent to attribute to Satan (or to sinful man) the power to frustrate the designs of God.

WHO PLANNED THE MURDER OF CHRIST?
The clearest example that even moral evil fits into the designs of God is the crucifixion of Christ. Who would deny that the betrayal of Jesus by Judas was a morally evil act?
   Yet in Acts 2:23, Peter says, "This Jesus, delivered up according to the definite plan and foreknowledge of God, you crucified and killed by the hands of lawless men." The betrayal was sin, but it was part of God's ordained plan. Sin did not thwart His plan or stay His hand. 
   Or who would say that Herod's contempt (Luke 23:11) or Pilate's spineless expediency (Luke 23:24) or the Jews' "Crucify, crucify him!" (Luke 23:21) or the Gentile soldiers' mockery (Luke 23:36)—who would say that these were not sin? Yet Luke, in Acts 4:27–28, records the prayer of the saints:

   Truly in this city there were gathered together against your holy servant
   Jesus, whom you anointed, both Herod and Pontius Pilate, along with
   the Gentiles and the peoples of Israel, to do whatever your hand and
   your plan had predestined to take place.

People lift their hand to rebel against the Most High only to find that their rebellion is unwitting service in the wonderful designs of God. Even sin cannot frustrate the purposes of the Almighty. He Himself does not commit sin, but He has decreed that there be acts that are sin,2 for the acts of Pilate and Herod were predestined by God's plan.
Bestsellers in Christian Living