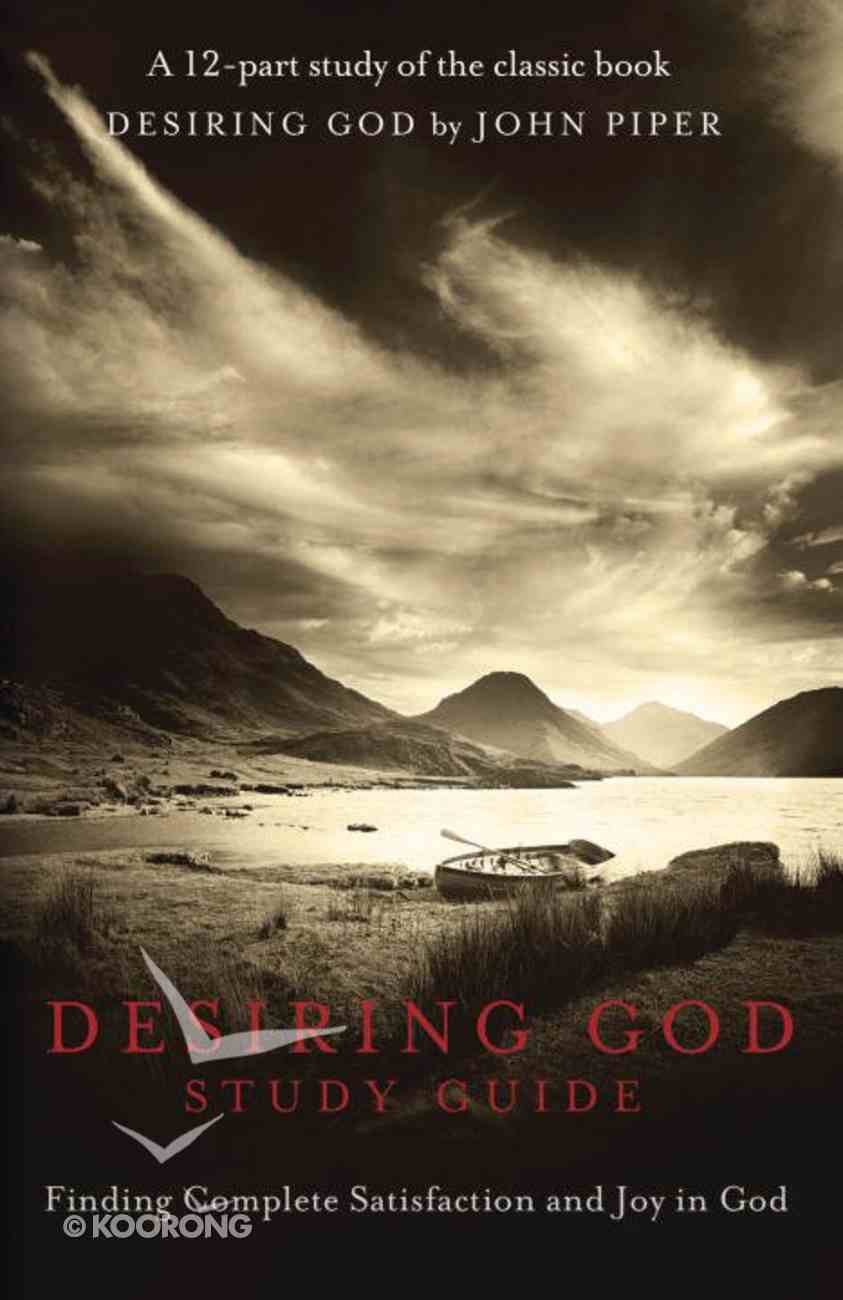 Desiring God (Study Guide)
THE PURSUIT OF PLEASURE IS NOT OPTIONAL. IT IS ESSENTIAL.   This study guide companion to the DVD version of Desiring God —the classic explanation of Christian hedonism by John Piper—will help individuals and groups understand that the supreme calling...
---
Expected to ship within 14 hours from Australia.
---
Free Shipping
for orders over $99.
THE PURSUIT OF PLEASURE IS NOT OPTIONAL. IT IS ESSENTIAL.
 
This study guide companion to the DVD version of Desiring God—the classic explanation of Christian hedonism by John Piper—will help individuals and groups understand that the supreme calling of life is to "glorify God by enjoying Him forever."  

The DVD and this guide create an ideal package for adult and youth Sunday school classes, small groups, retreats, classrooms, families, as well as for individual study.  

Topics for this 12-session guided group study include: One Great Mission and Motivation A Summary of Christian Hedonism The Foundation of Christian Hedonism The Essence of Christian Hedonism The Grand Obligation (Part 1): Commanded to Rejoice The Grand Obligation (Part 2): An Essential Element of Faith and Worship The Grand Obligation (Part 3): Holy Hedonism Is Love The Grand Obligation (Part 4):  The Strength for Sanctification and Service How Then Shall We Fight for Joy? (Part 1): Know Its Sources and Setbacks How Then Shall We Fight for Joy? (Part 2): Make Use of the Means of Grace  
Complete with Scripture, key quotations for reflection, penetrating questions, and five daily assignments per week, this study guide will help you understand why God's pursuit of His glory and your pursuit of joy are not at odds—because God is most glorified in us when we are most satisfied in Him.
 
Also includes a 6-session intensive track option. Leader's Guide Included.
-Publisher
PRODUCT DETAIL
Catalogue Code 

306509

Product Code 

9781601423122

ISBN 

1601423128

EAN 

9781601423122

Pages 

144

Department Ministry
Category Ministry Resources
Sub-Category Courses
Publisher Multnomah Publishers
Publication Date 

Jan 2011

Sales Rank 

25307

Dimensions 

202 x 131 x 10

mm

Weight 

0.136

kg
John Stephen Piper was born 11 January 1946 in Chattanooga, Tennessee, to Bill and Ruth Piper. The Pipers soon moved to Greenville, South Carolina, where John spent his growing-up years. His father was an itinerant evangelist who also ministered through international radio and Bible courses. John has written a tribute to his mother, who died in 1974, in the booklet, What's the Difference (Crossway Books, 1990) which is also chapter one of the book, Recovering Biblical Manhood and Womanhood (Crossway Books, 1991).

At Wheaton College (1964-68), John majored in Literature and minored in Philosophy. Studying Romantic Literature with Clyde Kilby stimulated the poetic side of his nature and today he regularly writes poems to celebrate special family occasions and rich, biblical truths. At Wheaton John also met Noel Henry whom he married in 1968.

Following college, John completed a Bachelor of Divinity degree at Fuller Theological Seminary in Pasadena, California (1968-71). While at Fuller, John discovered the writings of Jonathan Edwards.

John did his doctoral work in New Testament Studies at the University of Munich, Munich, West Germany (1971-74). His dissertation, Love Your Enemies, was published by Cambridge University Press and Baker Book House (and is now available through Crossway). Upon completion of his doctorate, he went on to teach Biblical Studies at Bethel College in St. Paul, Minnesota for six years (1974-80).

In 1980, sensing an irresistible call to preach, John became the senior pastor of Bethlehem Baptist Church in Minneapolis, Minnesota, where he ministered for 33 years, until 2013. Together with his people, John was dedicated to spreading a passion for the supremacy of God in all things for the joy of all peoples through Jesus Christ - a mission he continues now for the wider church through the ministry of desiringGod.org. John says of his ministry:
"The ministry of preaching is the central labor of my life. My prayer is that through that ministry and everything else I do the great glory of our God and Savior Jesus Christ would be magnified as more and more people come to live out the obedience of faith more and more deeply."

John is the author of over 50 books and now frequently travels to speak, and writes regularly, through Desiring God.

John and Noel have four sons, a daughter, and twelve grandchildren.
Introduction to This Study Guide

Living a life of hedonism, in most people's minds, is the furthest thing from Christian obedience. The idea of seeking maximum pleasure in everything you do sounds like the epitome of selfishness and the absence of all self-control. For many, to live like a hedonist means to become an enemy of love and to set yourself in outright opposition to God.
   But could this aversion to hedonism be an overreaction? In other words, could it be that we have allowed the concept of pursuing pleasure to be commandeered by the world and thereby lose any healthy sense of the idea for ourselves? After all, was not pleasure God's intention for man from the very beginning, when he filled Eden with "every tree that is pleasant to the sight and good for food" (Genesis 2:9) and gave Adam and Eve sexuality without shame (see Genesis 2:25)?
   It is true. God did make us to enjoy pleasure, and not only in the garden. Throughout the Bible, God is calling his people to pursue pleasure and to pursue it in him. "Come, everyone who thirsts, come to the waters; and he who has no money, come, buy and eat!" (Isaiah 55:1). "If anyone thirsts, let him come to me and drink" (John 7:37). "Rejoice in the Lord always; again I will say, Rejoice" (Philippians 4:4).
   The tragedy of sin is that it sidetracks and shortchanges us of the real joy of knowing God. Satan offers stolen goods, which are indeed sweet, but the span is short, and the cost far outweighs the benefits. God, on the other hand, extends far sweeter and infinitely longer-lasting pleasures: "In your presence there is fullness of joy; at your right hand are pleasures forevermore" (Psalm 16:11). True hedonism, Christian hedonism, sees God as the source of the best delights and is unashamed to forsake sin and follow hard after him.
   The aim of this study guide and its accompanying DVD is to help you see that God-hungry hedonism is biblically acceptable. On top of that, it argues that such hedonism is not merely one more option for how to follow God but must instead be the fuel and fervor that motivates and empowers all of your obedience. Finally, this study seeks to highlight several of the ways laid out in Scripture for cultivating and increasing such desire and delight in God.

   This study guide is designed to be used in a twelve-session* guided group study that focuses on the Desiring God DVD set. After an introductory lesson, each subsequent lesson examines one thirty-minute session from the Desiring God DVD set. You the learner are encouraged to prepare for the viewing of each session by reading and reflecting upon Scripture, by considering key quotations, and by asking yourself penetrating questions. Your preparatory work for Lessons 2–11 is marked with the heading "Before You Watch the DVD, Study and Prepare."
   The workload is conveniently divided into five daily, manageable assignments. There is also a section suggesting further study. This work is to be completed individually before the group convenes to view the DVD and discuss the material.

Throughout this study guide, paragraphs printed in a shaded box (like this one) are excerpts from a book written by John Piper or excerpts taken from the Desiring God Web site (www.desiringgod.org). They are included to supplement the study questions and to summarize key or provocative points.

   The second section in Lessons 2–11, entitled "Further Up and Further In," is designed for the learner who wants to explore in greater detail the concepts and ideas introduced in the lesson. This section is not required, but it will deepen your understanding of the material. This section requires that you read online sermons or articles from the Desiring God Web site (www.desiringgod.org) and answer relevant questions. These sermons can be found by performing a title search at the Desiring God Web site.
   The third section in Lessons 2–11, entitled "While You Watch the DVD, Take Notes," is to be completed as the DVD is playing. This section includes fill-in-the-blanks and leaves space for note taking. You are encouraged to engage with the DVD by filling in the appropriate blanks and writing down other notes that will aid you during the group discussion.
   The fourth section in each normal lesson is "After You Watch the DVD, Discuss What You've Learned." Three discussion questions are provided to guide and focus the conversation. You may record, in the spaces provided, notes that will help you contribute to the conversation. Or you may use this space to record things from the discussion that you want to remember.
   The fifth and final section is an application section: "After You Discuss, Make Application." You will be challenged to record a takeaway point and to engage in a certain activity that is a fitting response to the content presented in the lesson.
   Group leaders will want to peruse the Leader's Guide, which is included at the conclusion of the study guide.

   Life transformation will only occur by the grace of God. Therefore, we highly encourage you to seek the Lord in prayer throughout the learning process. Pray that God would open your eyes to see wonderful things in his Word. Pray that he would grant you the insight and concentration you need in order to get the most from this resource. Pray that God would cause you to not merely understand the truth, but also to rejoice in it. And pray that the discussion in your group would be mutually encouraging and edifying. We've included objectives at the beginning of each lesson. These objectives won't be realized without the gracious work of God through prayer.

*While this study guide is ideally suited for a twelve-session study, it is possible to complete it in six sessions. For instructions on how to use this study guide for a six-session group study, turn to Appendix A: "Six-Session Intensive Option."


Lesson 1: Introduction to Desiring God

Lesson Objectives
It is our prayer that after you have finished this lesson…
• You will have a better sense of how you and others in your group approach the Christian life.
• Your thoughts on the subject will be stirred, and questions will come to mind.
• You will grow more eager to hear what the Bible says about the essence of following Christ.

About Yourself
1. What is your name?
2. Tell the group something about yourself that they probably don't already know.
3. What are you hoping to learn from this study?

A Preview of Desiring God
1. In one sentence write your personal mission statement that answers the question, "What is my overarching purpose in life?" Share your statement with the group and explain how you arrived at it.
2. List what you think are the top five virtues in the Christian life and rate them from one to five, with one being the most important. Share your list and ratings with the group and explain your reasoning.
Bestsellers in Ministry Resources