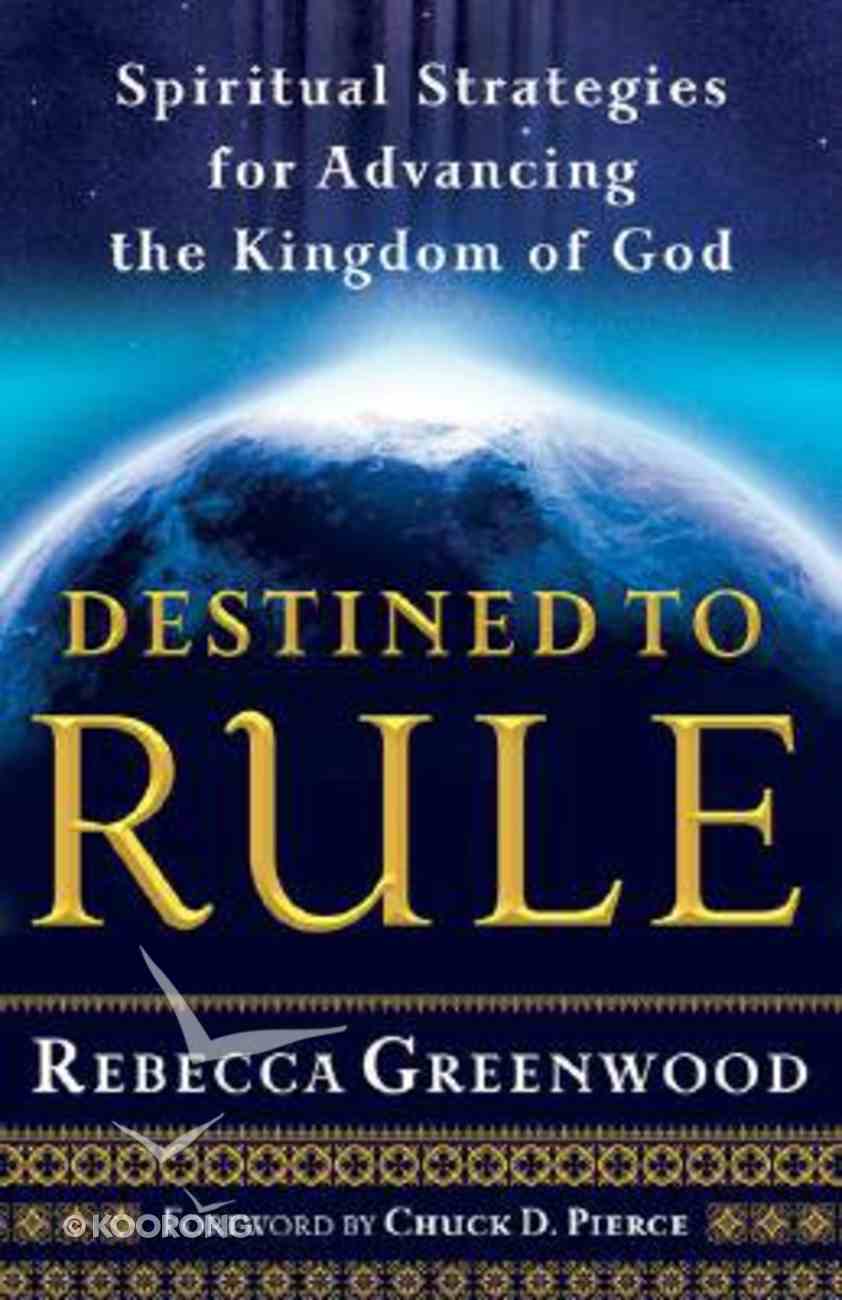 In Genesis 1: 28 God gave Adam and Eve a mandate to subdue the earth and rule over it. But what does the dominion mandate mean to men and women in the twenty-first century? What does it mean for us...
Out of Stock
Available to Order
---
Expected to ship in 5 to 6 weeks from Australia.
---
Free Shipping
for orders over $99.
In Genesis 1: 28 God gave Adam and Eve a mandate to subdue the earth and rule over it. But what does the dominion mandate mean to men and women in the twenty-first century? What does it mean for us to refuse the encroachment of darkness and to strategically advance God??'s kingdom on earth? In Destined to Rule, respected speaker and author Rebecca Greenwood gives readers extraordinary glimpses of what this dominion can look like for sons and daughters of God today. She encourages readers to claim their place in God??'s kingdom and equips them to carry out the dominion mandate that is still in effect. Includes foreword by Chuck D. Pierce.
-Publisher
"With great joy I recommend my friend Becca Greenwood''s new book, Destined to Rule. Becca writes like a master strategist, explaining the original plan for humanity to rule, showing us how to overcome Satan''s intimidation. She skillfully establishes God''s call for us to rule as priests and kings on the earth, and she challenges us to rise up and step into our destinies."You may not be convinced that some authors have experienced what they have written. I assure you that Becca has. She is qualified to write Destined to Rule, because this is more than theory to her. I''ve seen her struggle, then press through and defeat darkness on many levels. My friend has moved from having a vision to lead to becoming a visionary leader! Destined to Rule is a unique opportunity for you to become equipped to move into your Kingdom authority. So go for it!"--Alice Smith, executive director, U.S. Prayer Center"Rebecca Greenwood is among those who keenly hear what the Spirit is saying to the churches about taking dominion. Destined to Rule is an outstanding, pioneering book. Not only does it clearly present the mandate for the Body of Christ to retake dominion of God''s creation, but it shows practical ways that we as individuals can stand up, be counted and do our part in seeing that God''s Kingdom will come."--C. Peter Wagner, convening apostle, International Coalition of Apostles"Countless Christians live in bondage to a victim mindset. They see themselves as victims of the evil schemes of Satan in this world. Rebecca Greenwood challenges this mentality with a powerful and victorious message in her book Destined to Rule."Greenwood masterfully weaves the Scriptures into real-life stories of God''s intended inheritance for His children. You will be challenged to partner with God in a new way to fulfill His destiny for your life. I highly recommend Destined to Rule for anyone seeking to discover God''s promise for a triumphant, overcoming life!"--Barbara Wentroble, president and founder, International Breakthrough Ministries; author, Prophetic Intercession; Praying with Authority; You Are Anointed; and Rise to Your Destiny, Woman of God"Not since Paul Billheimer''s classic Destined for the Throne has a book described more clearly how believers are to pursue their destinies of authority in Christ on earth. Becca Greenwood''s Destined to Rule is sure to become a classic in its own right."--Dr. Dick Eastman, international president, Every Home for Christ"Destined to Rule goes beyond mind and reason and liberates your spirit to rule with the Lord! Read this book and watch the Lord give you incredible revelation that allows you to reason, rule and reign with Him in the place where you have been called to stand."--from the foreword by Chuck D. Pierce, president, Glory of Zion International Ministries, Inc.; harvest watchman, Global Harvest Ministries"Outstanding, informative, instructive and empowering are words that captivate your mind as you read this book. Becca Greenwood has given the Body of Christ a valuable tool to enable every believer to walk in dominion and to reign in life. This is one of those must-read books for everyone''s library." --Naomi Dowdy, president and founder, Naomi Dowdy Ministries; resident apostle, former senior pastor, Trinity Christian Centre, Singapore"All of us desire a sense of worth, a reason for being. If you don''t know who you are, then you don''t know the scope of what you can do. Rebecca Greenwood clearly establishes both, and she shows us as individuals how to fit into our own unique place in God''s vast, eternal plan. Destined to Rule is filled with exciting and life-changing truth!"--Lora Allison, founder and president, Celebration Ministries; author, Skinned Alive: The Importance of Covering"Believers are called to reign in life (see Romans 5:17), but too few of us ever do. It''s time we step out of passivity and make a difference in our personal worlds. Destined to Rule tells us how."--Dr. Joseph Winger, pastor of prayer,
-Publisher
Rebecca is cofounder and president of Christian Harvest International. She is an internationally known speaker who conducts seminars and conferences on prayer, spiritual warfare, deliverance, prophecy, and the kingdom of God. Over the last nineteen years, she has led spiritual warfare prayer journeys to Egypt, Nepal, Italy, Turkey, Russia, Ukraine, Ireland, Germany, Spain, and Korea, as well as throughout the United States. She has contributed to articles on prayer for Charisma, Pray! and SpiritLed Woman, and appeared on TBN and Daystar. Rebecca is now a core faculty member of the Wagner Leade
Chuck D. Pierce is president of Glory of Zion International Ministries and vice president of Global Harvest Ministries. He is the former director of the World Prayer Centre and co-author of the books The Worship Warrior and Restoring Your Shield of Faith. Chuck, his wife, Pam, and their three children live in Denton, Texas. - Publisher.
Bestsellers in Spirit-filled Living