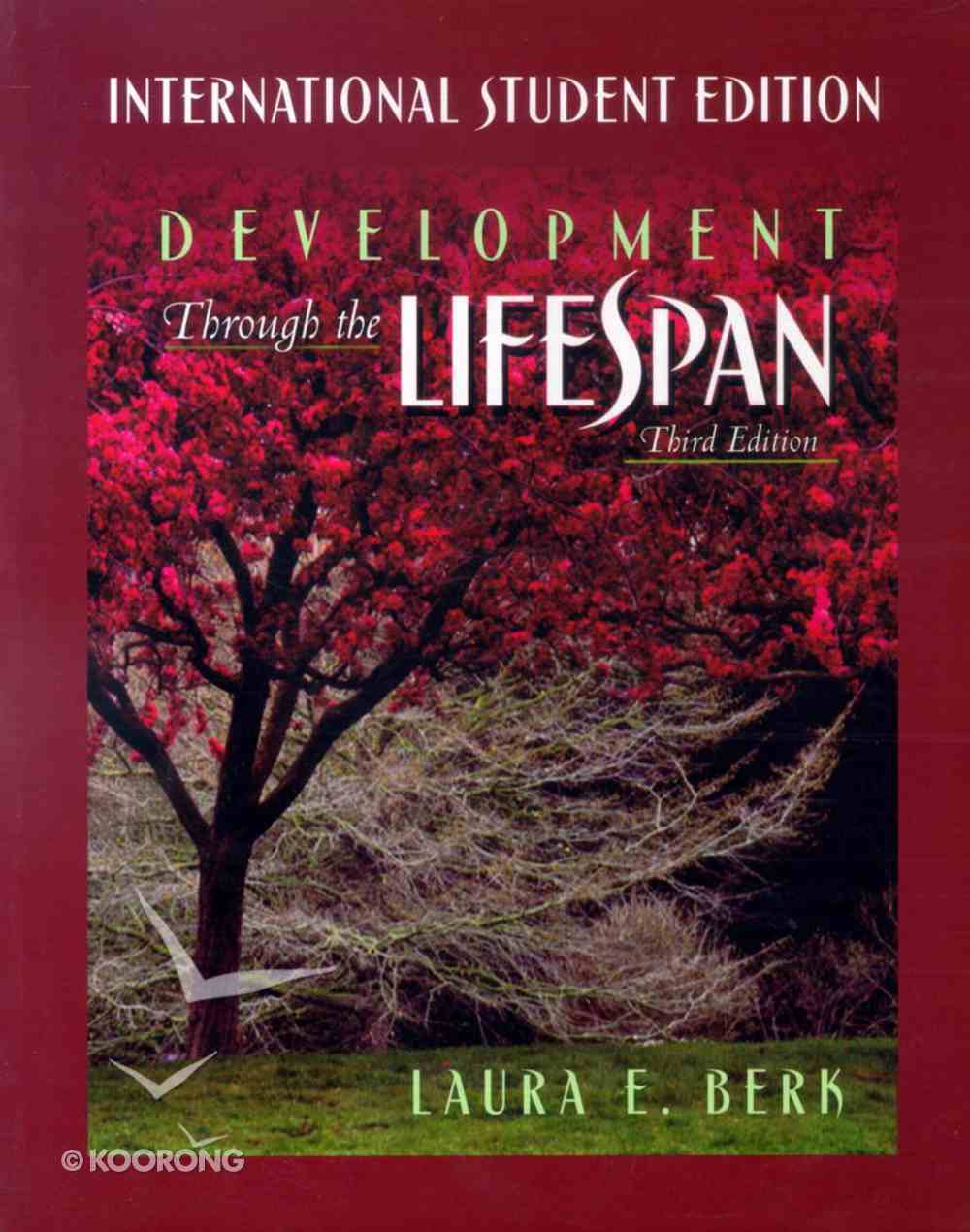 Development Through the Life Span (3rd Edition)
Every season holds the opportunity for new growth...Laura Berk, renowned professor and researcher in the field of human development, has revised this text with new pedagogy, a heightened emphasis on the interplay between biology and environment, and expanded coverage of...
Special Order
Payment is by credit card only. Orders for this item cannot be cancelled or returned.
---
Free Shipping
for orders over $99.
Every season holds the opportunity for new growth...Laura Berk, renowned professor and researcher in the field of human development, has revised this text with new pedagogy, a heightened emphasis on the interplay between biology and environment, and expanded coverage of biology, culture and social issues, while emphasizing the lifespan perspective of development. What readers are saying...Students would love this book-it's a joy to read! While Berk offers salient and up-to-date information rooted in a solid research base, she does not excessively weight discussion with jargon. Rather, she beautifully illustrates concepts through rich examples. -Edythe H. Schwartz, California State University-Sacramento Berk's coverage of topics in this chapter (17) is far superior to what appears in the leading social gerontology textbooks. The material is presented in a much clearer and interesting format by Berk. She has excellent writing skills and relates very well to students. -Dale A. Lund, San Diego State University There is a fluidity in the writing style that is superior to other textbooks I have examined. -Karl Hennig, St.;Francis Xavier University Extremely well-written with a good balance between being readable, accessible, and yet presenting the complexities of studying human behavior. -Laurie Gottlieb, McGill University ...the students like it and actually read it. They enjoy the vignettes, which encourage application to real life situations. -Nancy White, Youngstown State University ...an excellent survey of classic and contemporary work. It is very impressive in its comprehensiveness yet it also benefits from a fluidity of exposition that is remarkable. -Dana Plude, University of Maryland, College Park Berk's style of writing is very clear and easy to understand. My students have, semester after semester, expressed approval for Berk's clear writing style. Using real examples of children's behavior brings the material to life and my students appreciate it. -Deborah M. Chargois, Jacksonville State University
-Publisher
"Students would love this book-it's a joy to read! While Berk offers salient and up-to-date information rooted in a solid research base, she does not excessively weight discussion with jargon. Rather, she beautifully illustrates concepts through rich examples." - Edythe H. Schwartz, California State University, Sacramento"I adopt this book for my Human Development course because it presents a comprehensive and even-handed survey of the theoretical and empirical issues that are central to the study of human development in a way that is accessible and interesting to my students." - Caty von Karolyi, University of Wisconsin, Eau Claire"There is a fluidity in the writing style that is superior to other textbooks I have examined." - Karl Hennig, St. Francis Xavier University"Berk's coverage of topics in this chapter (17) is far superior to what appears in the leading social gerontology textbooks. The material is presented in a much clearer and interesting format by Berk. She has excellent writing skills and relates very well to students." - Dale A Lund, University of Utah"Extremely well-written with a good balance between being readable, accessible, and yet presenting the complexities of studying human behavior." - Laurie Gottlieb, McGill University". . . the students like it and actually read it. They enjoy the vignettes, which encourage application to real-life situations." - Nancy White, Youngstown State University". . . an excellent survey of classic and contemporary work. It is very impressive in its comprehensiveness yet it also benefits from a fluidity of exposition that is remarkable." - Dana Plude, University of Maryland, College Park"Berk's style of writing is very clear and easy to understand. My students have, semester after semester, expressed approval for [Berk's] clear writing style. Using real examples of children's behavior brings the material to life and my students appreciate it." - Deborah M. Chargois, Jacksonville State University"What I like most about Development Through the Lifespan are the real-life stories. They show people's triumphs and accomplishments and how they overcame their struggles. It gives you a better understanding and more descriptive information that make you want to read more and helps you really understand more." - Paulette Gordon, Student, Valencia Community College"Overall it is easy reading that helps you to understand the material without being overloaded by the terminology. It is a very conceptually appealing book." - Sarah Condie, Student, Salt Lake Community College
-Publisher
Each chapter contains in-text glossary, "Chapter Outline," "Summary," "Important Terms and Concepts," and "FYI-For Further Information and Help."1. History, Theory, and Research Strategies.Human Development as an Interdisciplinary, Scientific, Basic and Applied Field Issues.The Lifespan Perspective: A Balanced Point of View.Historical Foundations.Mid-Twentieth-Century Theories.Recent Theoretical Perspectives.Comparing and Evaluating Theories.Studying Development.Ethics in Lifespan Research.2. Biological and Environmental Foundations.Genetic Foundations.Reproductive Choices.Environmental Contexts for Development.Understanding the Relationship between Heredity and Environment.3. Prenatal Development, Birth, and the Newborn Baby.Prenatal Development.Prenatal Environmental Influences.Childbirth.Approaches to Childbirth.Medical Interventions.Preterm and Low-Birth-Weight Infants.Understanding Birth Complications.The Newborn Baby's Capacities.Adjusting to the New Family Unit.4. Physical Development in Infancy and Toddlerhood.Body Growth.Brain Development.Influences on Early Physical Growth.Learning Capacities.Motor Development.Perceptual Development.5. Cognitive Development in Infancy and Toddlerhood.Piaget's Cognitive-Developmental Theory.Information Processing.The Social Context of Early Cognitive Development.Individual Differences in Early Mental Development.Language Development.6. Emotional and Social Development in Infancy and Toddlerhood.Erikson's Theory of Infant and Toddler Personality.Emotional Development.Temperament and Development.Development of Attachment.Self-Development during the First Years.7. Physical and Cognitive Development in Early Childhood.PHYSICAL DEVELOPMENT.Body Growth.Brain Development.Influences on Physical Growth and Health.Motor Development.COGNITIVE DEVELOPMENT.Piaget's Theory: The Preoperational Stage.Vygotsky's Sociocultural Theory.Information Processing.Individual Differences in Mental Development.Language Development.8. Emotional and Social Development in Early Childhood.Erikson's Theory: Initiative versus Guilt.Self-Understanding.Emotional Development.Peer Relations.Foundations of Morality.Gender Typing.Child Rearing and Emotional and Social Development.9. Physical and Cognitive Development in Middle Childhood.PHYSICAL DEVELOPMENT.Body Growth.Common Health Problems.Motor Development and Play.COGNITIVE DEVELOPMENT.Piaget's Theory: The Concrete Operational Stage.Information Processing.Individual Differences in Mental Development.Language Development.Learning in School.10. Emotional and Social Development in Middle Childhood.Erikson's Theory: Industry versus Inferiority.Self-Understanding.Emotional Development.Understanding Others: Perspective Taking.Moral Development.Peer Relations.Gender Typing.Family Influences.Some Common Problems of Development.11. Physical and Cognitive Development in Adolescence.PHYSICAL DEVELOPMENT.Conceptions of Adolescence.Puberty: The Physical Transition to Adulthood.The Psychological Impact of Pubertal Events.Health Issues.COGNITIVE DEVELOPMENT.Piaget's Theory: The Formal Operational Stage.An Information-Processing View of Adolescent Cognitive Development.Consequences of Abstract Thought.Sex Differences in Mental Abilities.Learning in School.12. Emotional and Social Development in Adolescence.Erikson's Theory: Identity versus Identity Diffusion.Self-Understanding.Moral Development.Gender Typing.The Family.Peer Relations.Problems of Development.13. Physical and Cognitive Development in Early Adulthood.PHYSICAL DEVELOPMENT.Biological Aging Begins in Early Adulthood.Physical Changes.Health and Fitness.COGNITIVE DEVELOPMENT.Changes in the Structure of Thought.Information Processing: Expertise and Creativity.Changes in Mental Abilities.The College Experience.Vocational Choice.14. Emotional and Social Development in Early Adulthood.Erikson's Theory: Intimacy versus Isolation.Other
-Publisher
PRODUCT DETAIL
Catalogue Code 

211864

Product Code 

020540376X

EAN 

9780205403769

Pages 

816

Department Academic
Category Reference
Sub-Category Textbook
Publisher Allyn And Bacon
Publication Date 

Jul 2003

Dimensions 

276 x 223 x 25

mm

Weight 

1.682

kg