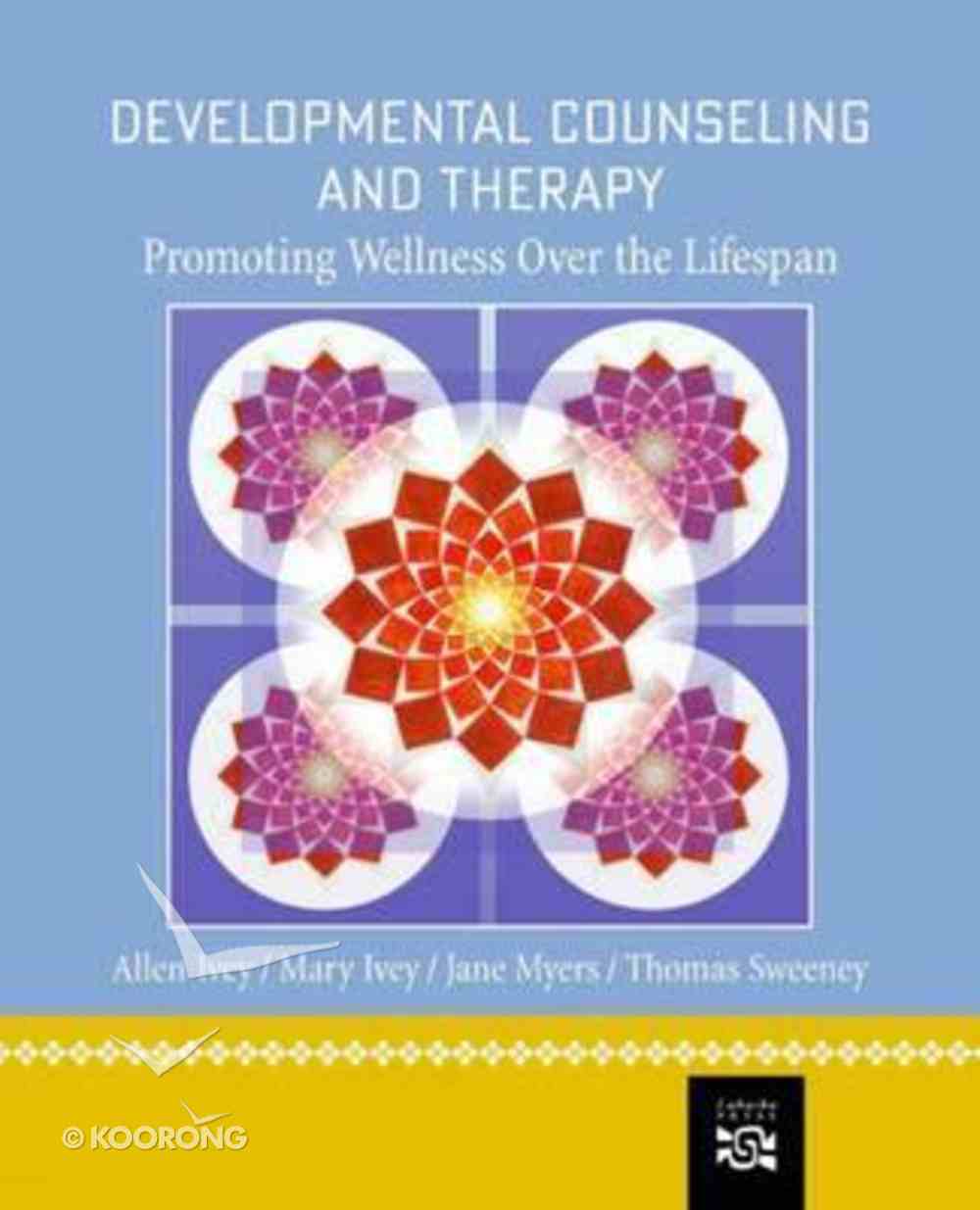 Developmental Counseling and Therapy
Contents Note: Chapters 1--13 conclude with a Summary, Theory into Practice: Developing Your Portfolio of Competence, and References. Before You Start: Lifespan Wellness, Objectives of This Book, and Ethics I. Introduction to Developmental Counseling and Therapy: The Vitality of Lifespan...
Order now to secure your copy when our stock arrives.
0 Available. Expected to ship in 5 to 6 weeks from Australia.
---
Expected to ship in 5 to 6 weeks from Australia.
---
Free Shipping
for orders over $99.
Contents Note: Chapters 1--13 conclude with a Summary, Theory into Practice: Developing Your Portfolio of Competence, and References. Before You Start: Lifespan Wellness, Objectives of This Book, and Ethics I. Introduction to Developmental Counseling and Therapy: The Vitality of Lifespan Wellness 1. Our Developmental Nature Introduction: Development as a Central Goal of Counseling and Therapy Five Approaches to Developmental Theory Introducing Developmental Counseling and Therapy A Case Example 2. Wellness: Optimizing Human Development over the Lifespan Introduction: From Illness and Repair to the Promotion and Enhancement of Wellness Three Key Adlerian Developmental Constructs: Socio-Teleo-Analytic The Wheel of Wellness: A Holistic Model of Human Development The Indivisible Self Model for Wellness (IS-Wel) Promoting Wellness: A Case Illustration 3. Development over the Lifespan: Developmental Counseling as Lifespan Therapy Introduction: Attachment and Separation: Developmental Challenges Across the Lifespan Self and/or Self-in-Relation Lifespan Theory: The Developmental Tasks of Individuals Cognitive Developmental Theories Gender Issues in Development Transitions: What Happens Between Lifespan Stages? Introspective Developmental Counseling: Moving Lifespan Theory to Daily Practice II. Skills and Strategies for a Developmental Practice 4. Assessing Developmental Style Introduction: Developmental Assessment The Skills of Developmental Assessment Expanding Developmental Assessment: Children, Adolescents, and Adults Plato's Allegory of the Cave 5. Developmental Interventions and Strategies: Specific Interventions to Facilitate Client Cognitive and Emotional Development Introduction: Your Interviewing Style and Theory Deeply Affect How Clients Respond Developmental Questions and Strategies for Vertical and Horizontal Development The DCT Questioning Sequence with Families, Children, and Adolescents Facilitating Emotional Development Counseling and Therapy Theories and DCT Moving Clients Through Developmental Styles Using Varying Treatments 6. Assessing Client Change: Creativity, Perturbation, and Confrontation Introduction: Cultural Intentionality Creativity, Intentionality, and the New The Primary Circular Reaction: Chance and Deliberation in Creativity Perturbation: Providing an Environment for Change Perturbation, Interview Confrontation, and the Creation of the New The Confrontation Impact Scale (CIS): Evaluating the Effectiveness of Our Interventions Death and Dying Theory: Parallels with DCT Change Assessment Change: A Loss or an Opportunity? 7. Developing Treatment Plans: DCT and Theories of Counseling and Psychotherapy Introduction: Eclecticism and Integrative Theory DCT and the Four Major Theoretical Forces of Counseling and Therapy A Case of Child Abuse: DCT and Network Therapy Applying the DCT and Network Treatment Models with Adolescents An Adult Case Example Using Style-Shift Counseling III. Multiple Applications of DCT for Counseling and Psychotherapy Practice 8. Multicultural Counseling and Therapy Introduction: Defining Culture and Multiculturalism You as a Multicultural Being Cultural Identity Development and the Evolution of Consciousness DCT: Multiple Narratives of Consciousness The Liberation of Consciousness 9. Reframing the Diagnostic and Statistical Manual of Mental Disorders: Positive Strategies from Developmental Counseling and Therapy Introduction: Disorder or Developmental Issue? The Developmental Meaning of Personality Styles Axis I as the Failure of Axis II Defensive Structures Post-Traumatic Stress as a Central Issue Multicultural Issues Instituting Developmentally Appropriate Treatment Plans 10. Early Recollections: Using DCT with Early Memories to Facilitate Second-Order Change Introduction: The Meaning of Early Memories Early Recollections Early Recollections: Integrating Adlerian Psychology with DCT Example of Early Recollection and Interpretation Using ERs with DCT: A Wellness Case Illustration 11. Using Developmental Counseling and Therapy with Families Introduction: The Family Life Cycle, A Delicate Balance Integrating Lifespan and Family Life-Cycle Theory DCT and Family Perspectives: A Case Study Summary Theory into Practice: Developing Your Portfolio of Competence References 12. Bibliotherapy, Metaphors, and Narratives Introduction: The Creative Process of Bibliotherapy, Metaphors, and Narratives Metaphor Narrative Bibliotherapy Using DCT with Bibliotherapy Integrating Bibliotherapy and DCT: A Case Example 13. Spirituality, Wellness, and Development: Applying DCT to Core Values in Clients' Lives Introduction: Research Findings on Spirituality Definitions and Promise of Spirituality in Counseling and Psychotherapy Culture and Spirituality Discernment: Discovering Our Deepest Meanings Faith Development and Developmental Counseling and Therapy DCT Strategies and Narratives of Faith Three Special Issues in Spirituality and Counseling 14. Epilogue: Your Future Development Assessing Mastery of Central Practice Goals Conclusion: Lifespan Counselor and Therapist Development Appendix 1. Introspective Developmental Counseling Questions Appendix 2. The Standard Cognitive/Emotional Developmental Classification System Appendix 3. The Standard Cognitive/Emotional Developmental Interview Appendix 4. Practice Rating Interview Appendix 5. What Is Your Preferred Style of Helping?
-Publisher
Designed for the life-span course, advanced skills course, or practicum, this text combines developmental counseling and therapy (DCT) theory with wellness theory and positive psychology to provide a foundation for tackling lifespan transitions and developmental issues. Students use case studies, transcripts, and exercises to learn how the major theories relate to actual practice. A web site with test bank and instructor guide is available.
-Publisher
PRODUCT DETAIL
Catalogue Code 

290142

Product Code 

9780618439881

ISBN 

0618439889

EAN 

9780618439881

UPC 

046442439886

Pages 

448

Department Academic
Category Church
Sub-Category Care/counselling
Publisher Houghton Mifflin
Publication Date 

Oct 2006

Dimensions 

241 x 196 x 22

mm

Weight 

0.001

kg
Mary Bradford Ivey is Vice President of Microtraining Associates and Courtesy Professor of Counseling, University of South Florida, Tampa. She is a former school counselor for the Amherst, Massachusetts, schools and has served as visiting professor at the University of Massachusetts, Amherst; University of Hawai'i, Manoa; and Flinders University, South Australia. Mary's undergraduate degree in social work and education is from Gustavus Adolphus College, and she has a master's degree in counseling from the University of Wisconsin. She earned her doctorate in organizational development at the University of Massachusetts, Amherst. Mary is the author or co-author of twelve books, translated into multiple languages, and several articles and chapters. She is a Nationally Certified Counselor (NCC) and a licensed mental health counselor (LMHC), and she has held a certificate in school counseling. She has presented workshops and keynote lectures with Allen throughout the world, including Australia, New Zealand, Japan, China, Israel, Greece, Sweden, Canada, Great Britain, Portugal, and Germany. She is also known for her work in promoting and explaining development guidance and counseling in the United States and abroad. Mary received national recognition when her elementary counseling program at the Fort River School was named one of the ten best in the nation at the Christa McAuliffe Conference. She is one of the first 15 honored Fellows of the American Counseling Association and is also a recipient of the American Counseling Associa¬tion's O'Hana Award for her work in multi¬cultural ¬counseling in the schools.