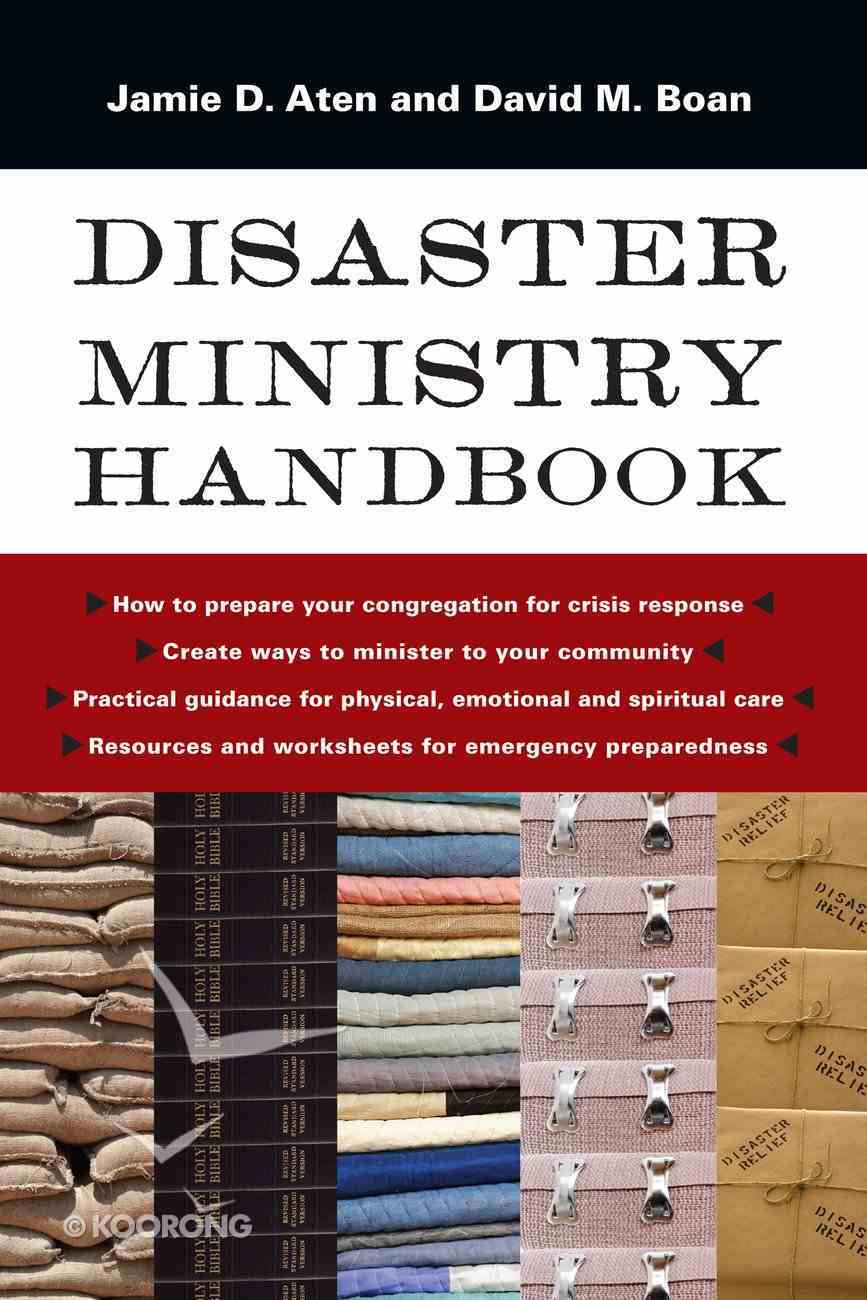 Disaster Ministry Handbook
When disasters happen, people turn to local churches as centers for response and assistance. When floods or tornadoes devastate an area, or when shootings and violence shock a community, knowing what to do can be the difference between calm and...
Available for immediate download.
---
Read using our free app on your tablet or mobile!
---
Free Shipping
for orders over $99.
When disasters happen, people turn to local churches as centers for response and assistance. When floods or tornadoes devastate an area, or when shootings and violence shock a community, knowing what to do can be the difference between calm and chaos, courage and fear, life and death. But few churches plan in advance for what they should do? until the storm hits.Don't get caught unprepared. If a natural disaster or human tragedy strikes your community, your church can minister to the hurting. Jamie Aten and David Boan, codirectors of the Humanitarian Disaster Institute, provide a practical guide for disaster preparedness. Disaster ministry is a critically important work of the church, preparing for the unthinkable, providing relief to survivors, caring for the vulnerable and helping communities recover. Filled with resources for emergency planning and crisis management, this book provides best practices for local congregations. By taking action in advance, your church can help prevent harm and save lives during a disaster.The time to plan is now. Be prepared.
-Publisher
When Disasters Happen, People Turn To Local Churches As Centers For Response And Assistance. When Floods Or Tornadoes Devastate An Area, Or When Shootings And Violence Shock A Community, Knowing What To Do Can Be The Difference Between Calm And Chaos, Courage And Fear, Life And Death. But Few Churches Plan In Advance For What They Should Do? Until The Storm Hits.don't Get Caught Unprepared. If A Natural Disaster Or Human Tragedy Strikes Your Community, Your Church Can Minister To The Hurting. Jamie Aten And David Boan, Codirectors Of The Humanitarian Disaster Institute, Provide A Practical Guide For Disaster Preparedness. Disaster Ministry Is A Critically Important Work Of The Church, Preparing For The Unthinkable, Providing Relief To Survivors, Caring For The Vulnerable And Helping Communities Recover. Filled With Resources For Emergency Planning And Crisis Management, This Book Provides Best Practices For Local Congregations. By Taking Action In Advance, Your Church Can Help Prevent Harm And Save Lives During A Disaster.the Time To Plan Is Now. Be Prepared.
<strong>part I: Foundations</strong>
1. Introduction 2. Disaster Basics3. Disasters, Community, And The Church
<strong>part Ii: Planning, Response &amp; Recovery</strong>
4. Getting Started5. Planning6. Response7. Recovery8. Providing Basic Disaster Spiritual And Emotional Care
<strong>part Iii: Case Studies And Concluding Thoughts </strong>
9: Case Studies In Disaster Ministry 10. Conclusion
<strong>part Iv: Tools For Planning &amp; Implementation </strong>
Introductioncongregation Preparedness Plancongregation Disaster Missioncongregational Goalsbuilding Descriptionbuilding Supplies And Safetydisaster Ministry Coordinatordisaster Ministry Teamchurch Staff And Leadershipvolunteersrisk Assessmentcommunication Plancontinuity Of Ministries And Servicesevacuation Planshelter-in-placechurch Go-kit: Emergency Supplies Kitprocedures For Encouraging Personal/family Preparednessneighborhood/community Planninginjury/incident Reporttraining And Exercisescongregants With Disaster-related Skills/certifications/resources
Plan Implementation Procedures
<strong>part V. Disaster Spiritual &amp; Emotional Care Tip Sheets </strong>
Recognizing Common Disaster Survivor Stress Reactionsdisaster Spiritual And Emotional Care Listening And Attending Skillshow To Provide Psychological First Aidhow Not To Provide Volunteer And Survivor Carehelping Volunteers Talk About Stresshow To Refer Disaster Survivors For Mental Health Carerecognizing And Preventing Burnout In Yourselfstrategies For Self-care
Acknowledgements Author Biosabout The Humanitarian Disaster Institute
Bestsellers in Ministry Resources