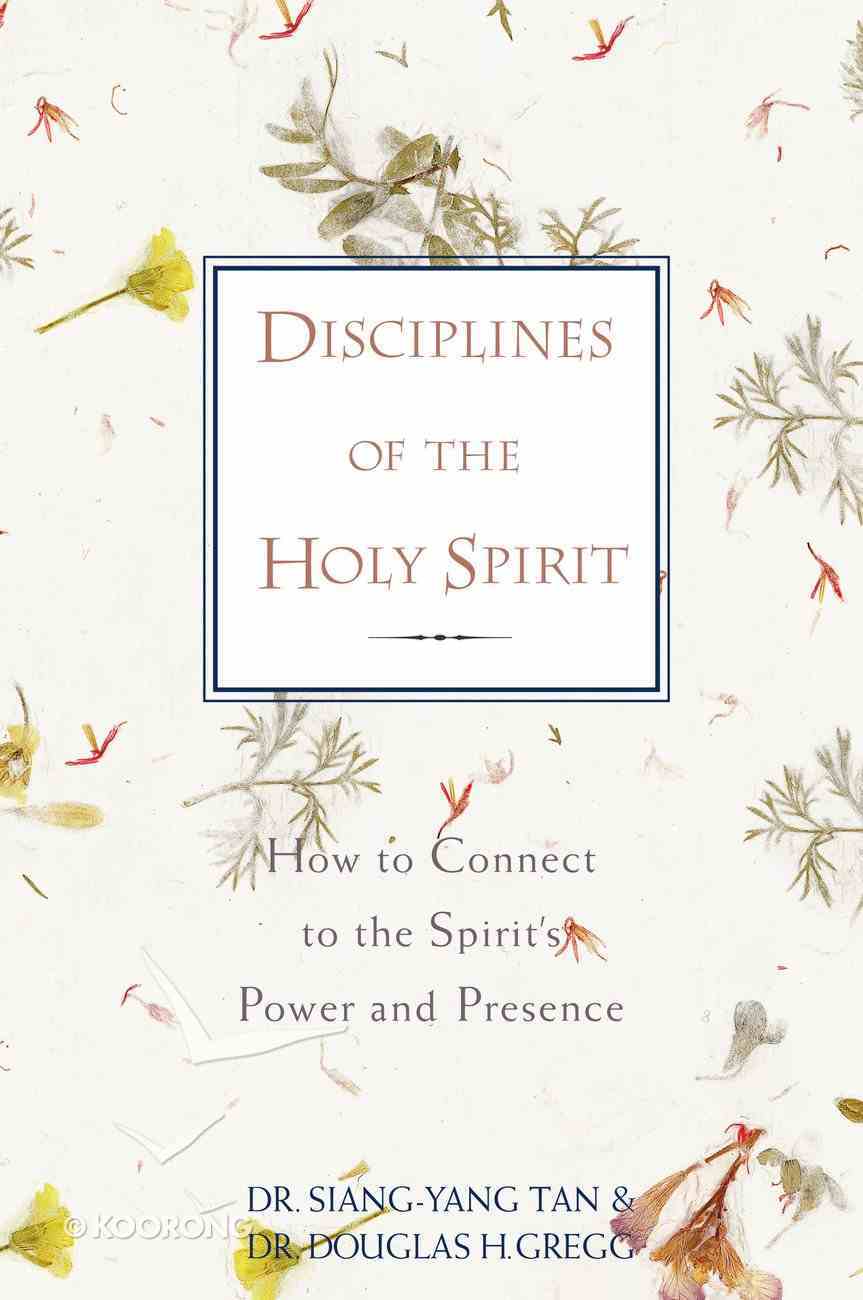 Disciplines of the Holy Spirit
AS THE ENERGIZER OF YOUR FAITH, THE HOLY SPIRIT WANTS TO BRING YOU INTO A TRANSFORMING COMMUNION WITH CHRIST. THIS BOOK SHOWS HOW A DYNAMIC, CLOSE WALK WITH GOD CAN BE YOURS EACH AND EVERY DAY OF YOUR LIFE. 240...
Out of Stock
Available to Order
---
Expected to ship in 5 to 6 weeks from Australia.
---
Free Shipping
for orders over $99.
AS THE ENERGIZER OF YOUR FAITH, THE HOLY SPIRIT WANTS TO BRING YOU INTO A TRANSFORMING COMMUNION WITH CHRIST. THIS BOOK SHOWS HOW A DYNAMIC, CLOSE WALK WITH GOD CAN BE YOURS EACH AND EVERY DAY OF YOUR LIFE. 240 PAGES, FROM ZONDERVAN.
CONNECT WITH THE LIFE-CHANGING MINISTRY OF THE HOLY SPIRITDisciples of the Holy Spirit shows how a dynamic, close walk with God can be yours each day through the ministry of the Holy Spirit. As the energizer of your faith, the Spirit wants to bring you into a transforming communion with Christ. He wants to empower you to love your enemies, live without fear, and give generously out of an inner abundance.Your part? Simply yielding to him through the following spiritual disciplines: Solitude--helping you draw near to God for spiritual growth and vigor.Surrender--helping you surrender to God's will and purpose for your life, preparing you for effective ministry.Service--helping you move into fellowship with others and partnership with God in reaching a broken worldAs you practice the spiritual disciplines, your concept of what it means to be a Christian will acquire a new, life-changing dimension. You'll grow closer to Jesus--and your life will increasingly reflect the power and presence
-Publisher
PRODUCT DETAIL
Catalogue Code 

104618

Product Code 

0310205158

EAN 

9780310205159

UPC 

025986205157

Pages 

240

Department General Books
Category Spirit-filled Living
Sub-Category General
Publisher Zondervan
Publication Date 

Jan 1997

Sales Rank 

28512

Dimensions 

203 x 132 x 17

mm

Weight 

0.208

kg
Siang-Yang Tan (Ph.D., McGill University) is Professor of Psychology, Department of Clinical Psychology at Fuller Theological Seminary. He has previously served as Director of the PsyD program and director of training at Fuller's Psychological Center.
Of Tan's many publications, he is best known for his book Lay Counseling (1991) and more recently for Full Service: Moving from Self-Serve Christianity to Total Servanthood (2006); Coping with Depression (2004, revised and expanded edition), with John Ortberg; Rest (2000); and Disciplines of the Holy Spirit (1997), with D. Gregg. He also co-authored, with W. Brad Johnson, a chapter entitled Spiritually Oriented Cognitive-Behavioral Therapy in Spiritually Oriented Psychotherapy (2005).


He is just completed a new textbook, Counseling and Psychotherapy: A Christian Perspective, published by Baker Academic.


Contents
Preface: Hungry For Spirituality
Acknowledgments
I. Connecting To The Power Of The Holy Spirit
1. The Power Of The Holy Spirit
2. The Disciplines Of The Holy Spirit
Ii. Drawing Near To God: Disciplines Of Solitude
3. Solitude And Silence
4. Listening And Guidance
5. Prayer And Intercession
6. Study And Meditation
Iii. Yielding To God: Disciplines Of Surrender
7. Repentance And Confession
8. Yielding And Submission
9. Fasting
10. Worship
Iv. Reaching Out To Others: Disciplines Of Service
11. Fellowship
12. Simplicity
13. Service
14. Witness
Epilogue: The Transformed Life
Notes
Preface Hungry for Spirituality Americans are on a search for spiritual reality. Local bookstores are overstocked with books, magazines, tapes, and other materials relating to New Age phenomena, mind-control techniques, self-realization strategies, Eastern mysticism, and other varieties of spiritual exploration. 'Seven steps to eternal bliss' and 'nine key insights into personal fulfillment' books promise to give one the secrets to inner peace, spiritual development, and relational success. But while the demand for spiritual food is an established fact, these materials will not satisfy the hunger. This past year, nearly every major magazine has featured an article on God, prayer, angels, the search for the sacred, New Age phenomena, what people want out of church, and so on. Television talk show personality Oprah Winfrey recently featured a series 'Does prayer work?' She sat in rapt attention during one session as Indian physician Deepak Chopra discoursed on Ayurvedic medicine, the spiritual life, life extension through meditation and exercise, and the elimination of toxic emotions. Overnight, sales of his book skyrocketed and within months passed the one million mark. The search for spirituality has even made it to prime-time television. One show features two angels given assignments from God to either bring truth to someone's life or to show them they are on the wrong path, and, during a recent episode of the Emmy Award--winning series Picket Fences, disillusioned baby-boomer parents lack the confidence to teach their children about spiritual matters as their kids ask, 'Is there a God?' and 'How can I talk to him?' In the midst of this search for spirituality, where is the Christian church and how is it doing? By and large the church has become conformed to the surrounding culture and no longer gives evidence in the life of its members to the teaching, lifestyle, ministry, and passion of Jesus. Our churches are filled with cultural Christians driven by materialistic values who are defining success in the world's terms. We have been seduced by media images of beauty, achievement, and power. Christians are no exceptions to the general tendency to seek instant gratification for different needs, including spiritual ones. We therefore have tended to seek shortcuts to achieving spiritual growth and have been left with a veneer of superficial spirituality. Fortunately, more and more Christians, in recent years, seem to be dissatisfied with surface spirituality and are hungering for the depths of true Christian spirituality. More and more Christians are eager for a deep relationship to God that leads to a transformed lifestyle and spiritually empowered ministry. We believe the deepest longing of the human heart can be met only through relationship to God---conformity of our hearts and minds to the life and character of Jesus Christ. This journey into true spirituality requires the transforming power of the Holy Spirit. We connect with the presence and power of the Spirit through the disciplines of the Spirit. As we intentionally engage in the spiritual disciplines, we put ourselves in places and situations where the Holy Spirit can do his transforming work. No one drifts casually into vital spirituality. It is not our control and practice of the disciplines that makes a difference, but our yielding to the power and influence of the Holy Spirit through the practice of the disciplines that gives him space to speak to us and guide us, to fill us and empower us, to turn us around and transform us. We need to be yielding to the Spirit through the disciplines of solitude (solitude and silence, listening and guidance, prayer and intercession, study and meditation), the disciplines of surrender (repentance and confession, yielding and submission, fasting, and worship), and the disciplines of service (fellowship, simplicity, service, witness), in order to receive from the Holy Spirit the power to do what we cannot do on our own: love our enemies, live without unnecessary worry, and give generously of our resources. We have written this book to focus on the Holy Spirit's role in our journey toward true spirituality. We want to help Christians draw near to God in deeper love and intimacy, to know their identity in God through personal submission and surrender, and to be drawn into partnership with God in reaching a broken and lost world. We are writing especially to those of you who are spiritually hungry and want a more vital Christian experience and practice in your lives. We want to reach, touch, and motivate you to pursue the true spiritual adventure of growing into the likeness of Jesus under the power of the Holy Spirit. Let's begin.
Bestsellers in Spirit-filled Living