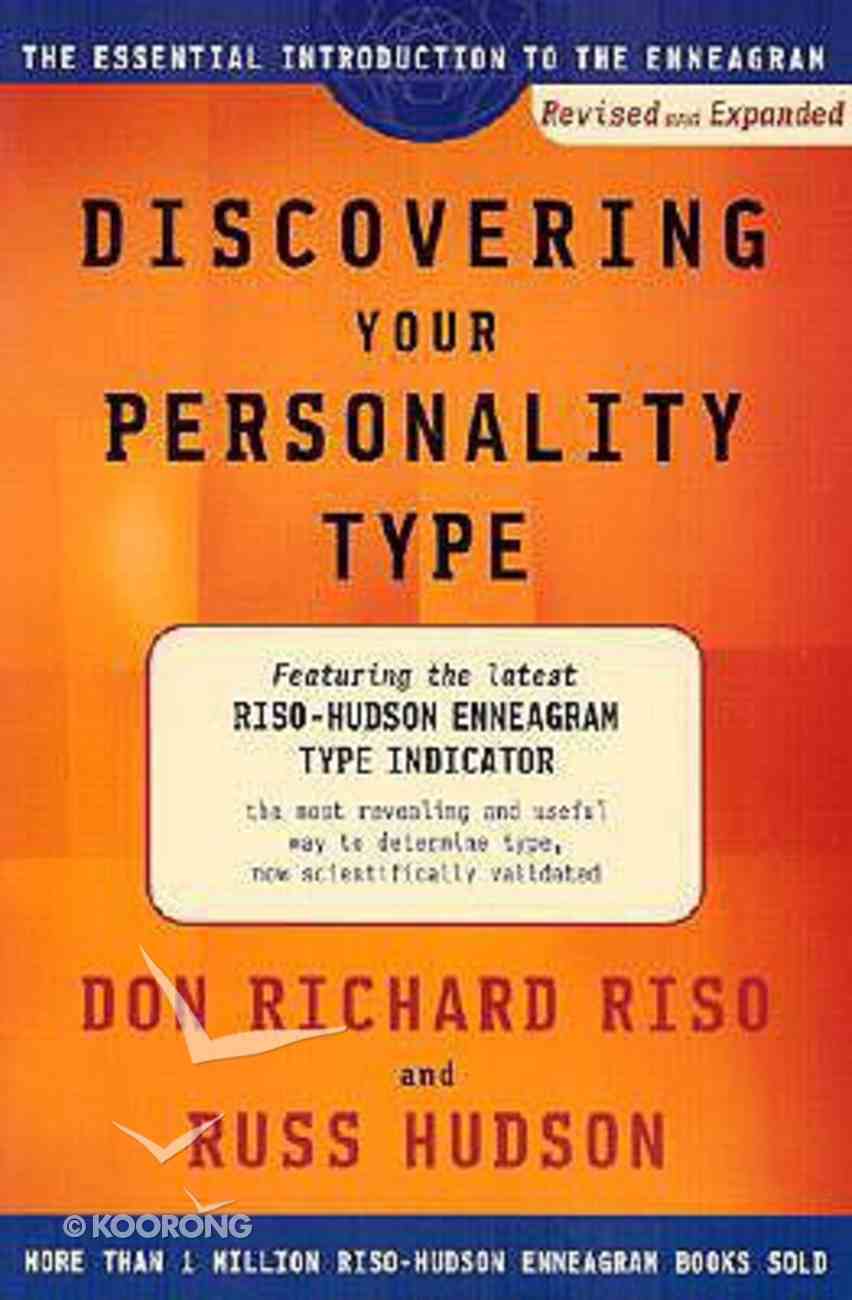 Discovering Your Personality Type
1. The Multi-Dimensional EnneagramUnderstanding Ourselves and OthersThe Enneagram is being used daily by millions of people around the world because it works. It is the clearest, most accurate method available for understanding ourselves and those who are important to us....
---
Free Shipping
for orders over $99.
1. The Multi-Dimensional EnneagramUnderstanding Ourselves and OthersThe Enneagram is being used daily by millions of people around the world because it works. It is the clearest, most accurate method available for understanding ourselves and those who are important to us. It helps us understand why we do not easily get along with certain people while with others we instantly feel that we are old friends. Understanding the Enneagram is like having a pair of special glasses that allows us to see beneath the surface of people with special clarity: we may in fact see them more clearly than they see themselves. The insights the Enneagram gives us can change our lives, and those who have gotten to know it cannot imagine how they once got along without it. It is as if they had been born color blind and were suddenly able to comprehend the world in all its subtle hues for the first time. They are thrilled to uncover what had been "right in front of their noses" all along but was obscure and hidden from view. The Enneagram opens up whole new vistas for us, new depths of comprehension, new levels of meaning. Knowledge such as this, however, is not obtained without paying a price: there can be no going back to our former blindness once we understand the Enneagram. The world, others, and we will be different forever. People from diverse cultures all over the world are responding to the Enneagram because they see their experience accurately reflected in it. They are embracing it as one of the most important discoveries of their lives, something that has helped them make sense of what previously seemed impenetrably ambiguous, or worse, utterly chaotic. Once people grasp the essentials of this extraordinary system, they can participate in the noble work of deepening their understanding of themselves and their fellow humans. Who knows what benefits will accrue as new generations are able to draw on the wisdom of the Enneagram throughout their lives? Moreover, there are as many uses for the Enneagram as there are individuals who use it. Those who are in therapy or in one of the twelve-step programs will find it an invaluable source of insight into their childhood and why they have become the people they are. Spiritual seekers will discover in it a trustworthy guide to the deeper dimensions of human experience. Those of us in intimate relationships will benefit from understanding more about ourselves and our partners. The Enneagram can help us understand what causes our partners to behave in ways that have previously baffled us and can indicate what is needed for more effective communication and conflict resolution. This understanding also helps us bring more acceptance and compassion to our relationships, as well as insight into where and when limits and boundaries need to be set. Learning to understand our partners is the best way to keep a relationship alive and growing. And compassionately understanding ourselves what we need, want, fear, and are afraid of expressing is the best way to keep our own psyches healthy. While the Enneagram is primarily a profound psychological and spiritual tool, it is also highly practical for business applications because its insights are so on target. Many businesses and organizations are using the Enneagram in management to increase their employees" productivity and, ultimately, their profitability. They have discovered that they can save a great deal of time and frustration for management and employees alike by applying the Enneagram as a communication tool. Corporations have been using the Enneagram for hiring the best possible person for a particular job, for teaching executives to manage their employees more effectively, for customer service, for clarifying a corporate image a corporate "personality type," so to speak or for building a more profitable sales force. Team building, executive development, marketing, corporate communication, and conflict resolution among its many app
-Publisher

The leading experts in the field, Don Richard Riso and Russ Hudson have set the standard for determining personality type using the enneagram. Their studies of this ancient symbol and their progress in determining type with increasing accuracy are known, taught, and emulated worldwide. Discovering Your Personality Type is the essential introduction to this system, a psychological framework that can be used practically, in many aspects of daily life. This revised and updated edition features the all-new, scientifically validated Riso-Hudson Type Indicator, and has also been refined and simplified to appeal especially to beginners and anyone interested in unlocking the secrets of personality. The most reliable, most accurate, and most accessible way to identify type, the improved enneagram questionnaire helps identify fundamental character traits, revealing invaluable directions for change and growth. The profile that emerges is useful for a wide variety of purposes: professional development, education, relationships, vocational counseling, and more. Discovering Your Personality Type is the book readers need in order to begin to see the possibilties made available by understanding personality types.

-Publisher
PRODUCT DETAIL
Catalogue Code 

294218

Product Code 

9780618219032

ISBN 

061821903X

EAN 

9780618219032

UPC 

046442219037

Pages 

224

Department General Books
Category Christian Living
Sub-Category General
Publisher Mariner Books
Publication Date 

May 2003

Dimensions 

13 x 139 x 209

mm

Weight 

0.190

kg
Don Richard Riso, M.A. is the foremost writer and developer of the Enneagram in the world today. The most-published and best-selling author in the field, he is an internatioinally recognized authority on the subject. He is the president of Enneagram Personality Types, Inc., and founder of The Enneagram Institute. He has been teaching the Enneagram for more than twenty years, pioneering a revolutionary new approach to ego psychology through his 1977 discovery of the Levels of Development.
Bestsellers in Christian Living