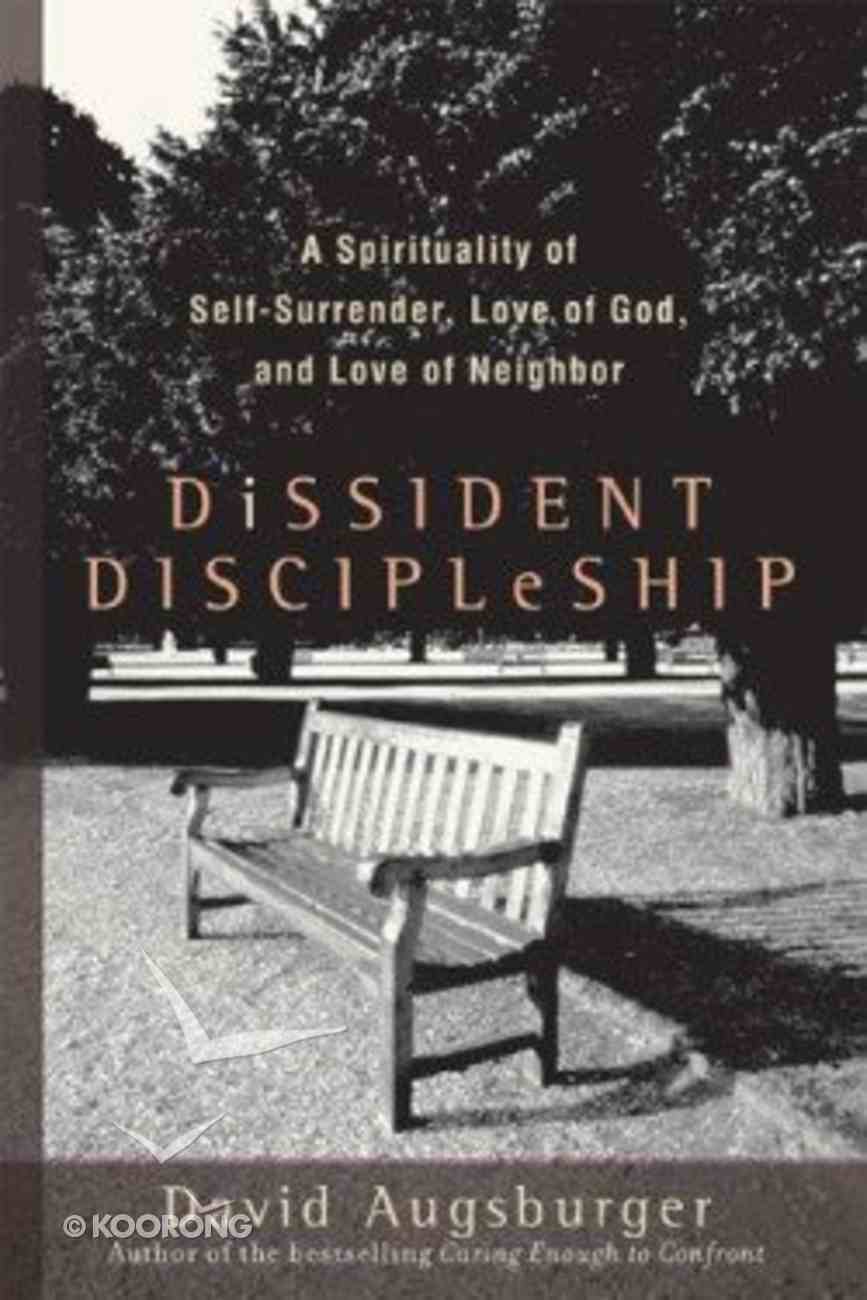 We all want to improve our spiritual lives, but the task often can seem overwhelming. And while there is no shortage of self-help gurus hawking their wares, not enough Christians are making meaningful progress toward a deeper relationship with God....
Out of Stock
Available to Order
---
Expected to ship in 5 to 6 weeks from Australia.
---
Free Shipping
for orders over $99.
We all want to improve our spiritual lives, but the task often can seem overwhelming. And while there is no shortage of self-help gurus hawking their wares, not enough Christians are making meaningful progress toward a deeper relationship with God. Now best-selling author David Augsburger reveals the life-giving nature of surrender and service in Dissident Discipleship. Moving beyond self-centered therapies and "Lone Ranger" spirituality, Augsburger reveals that our spiritual lives will grow when we look outside of ourselves and lay down our lives in service to God and neighbor. Anyone interested in the topic of spiritual growth, from pastors to counselors, will be sure to welcome Augsburger's balanced approach.
-Publisher
"Spirituality, worship, evangelism, service, and discipleship have become shibboleths in our religious vocabulary, but how are they related to each other in our everyday Christian experience? With his unusual ability to flesh out the inner essential meanings of our religious vocabulary, David Augsburger, both a pastoral counselor and theologian, depicts a ''tripolar'' concept of spiritual discipleship that relates to God, our fellow humans, and the world. The great strength of his work is its encompassing definition of discipleship that includes worship, witness, and service; attitude, belief, and behavior; piety, personal values, and ethical response."--C. Norman Kraus, author of Jesus Christ Our Lord: Christology from a Disciple''s Perspective"This ringing call to faithful discipleship forces the contemporary church to make a hard choice: either obedience or apostasy."--Ron Sider, author of The Scandal of the Evangelical Conscience: Why Are Christians Living Just Like the Rest of the World?"If you thought ''spirituality'' was mostly vague fluff and feathers, get this book. Building upon his cruciform Anabaptist tradition, David Augsburger gives us a substantial, faithful look at lives formed by Christ."--William H. Willimon, coauthor of Resident Aliens: Life in the Christian Colony"With Dissident Discipleship, David Augsburger provides a wonderful gift to the twenty-first-century American church: no flabby, empty ''spirituality,'' but a practiced, concrete spirituality that reflects his own deeply personal and communal experience of the gospel. This is a gem."--Lee Camp, author of Mere Discipleship"Augsburger has done a great service to the church by marking out clearly the dimensions of a wholistic spirituality that embraces the desire for personal transformation and couples it with the longing to know God, but then takes the next step by declaring that it must also be radically committed to the other. Dissident Discipleship is theologically astute, rich, and nuanced. I suspect that it will soon become the standard reference on spirituality for those who are committed to the missional church or the emergent church. I hope that it will serve to expand and enrich the understanding of discipleship and spirituality for all of us. Dissident Discipleship is one of those rare books that moves us into new territory by giving us a bigger, richer vision of God''s complex relationship with this world and with us."--Richard V. Peace, Fuller Theological Seminary "In a graceful and creative style, Augsburger takes us to the heart of the gospel. He offers a delightful and compelling call to discipleship in an age of cheap grace."--Donald B. Kraybill, author of The Upside-Down Kingdom"Because David Augsburger teaches and practices pastoral care, he writes of our spiritual growth with intimate knowledge. Because he knows Anabaptist spirituality firsthand, he writes of triple-threat spirituality with at-home comfort. Because he does what he writes, he speaks with true credibility of the holistic spirituality that we need. I find real depth and wisdom in his wonderful stories, humor, and attachment to the way of Jesus. I especially like his chapter on Gelassenheit as surrender with stubbornness, serenity with tenacity, patience with endurance. I love his concluding each chapter with a meditation from the Ausbund."--Glen Harold Stassen, author of Kingdom Ethics: Following Jesus in Contemporary Context"David Augsburger has brought together a rich blend of wisdom from his Christian faith, biblical scholarship, academic acumen, pastoral counseling/psychological expertise, and pastoral/spiritual experiences to empower readers to navigate into a deeper understanding and practice of spirituality. He develops a tripolar spirituality that connects God/Jesus Christ, others, and self in a unifying manner of participatory action that is subversive in terms of transforming common spiritualities into more authentic witness revealed in everyday sharing and serving
-Publisher
David Augsburger (Ph.D., Claremont School of Theology) is professor of pastoral care and counseling at Fuller Theological Seminary. He is the author of Caring Enough to Confront and Hate-work: Working through the Pain and Pleasure of Hate.
Bestsellers in Spiritual Growth