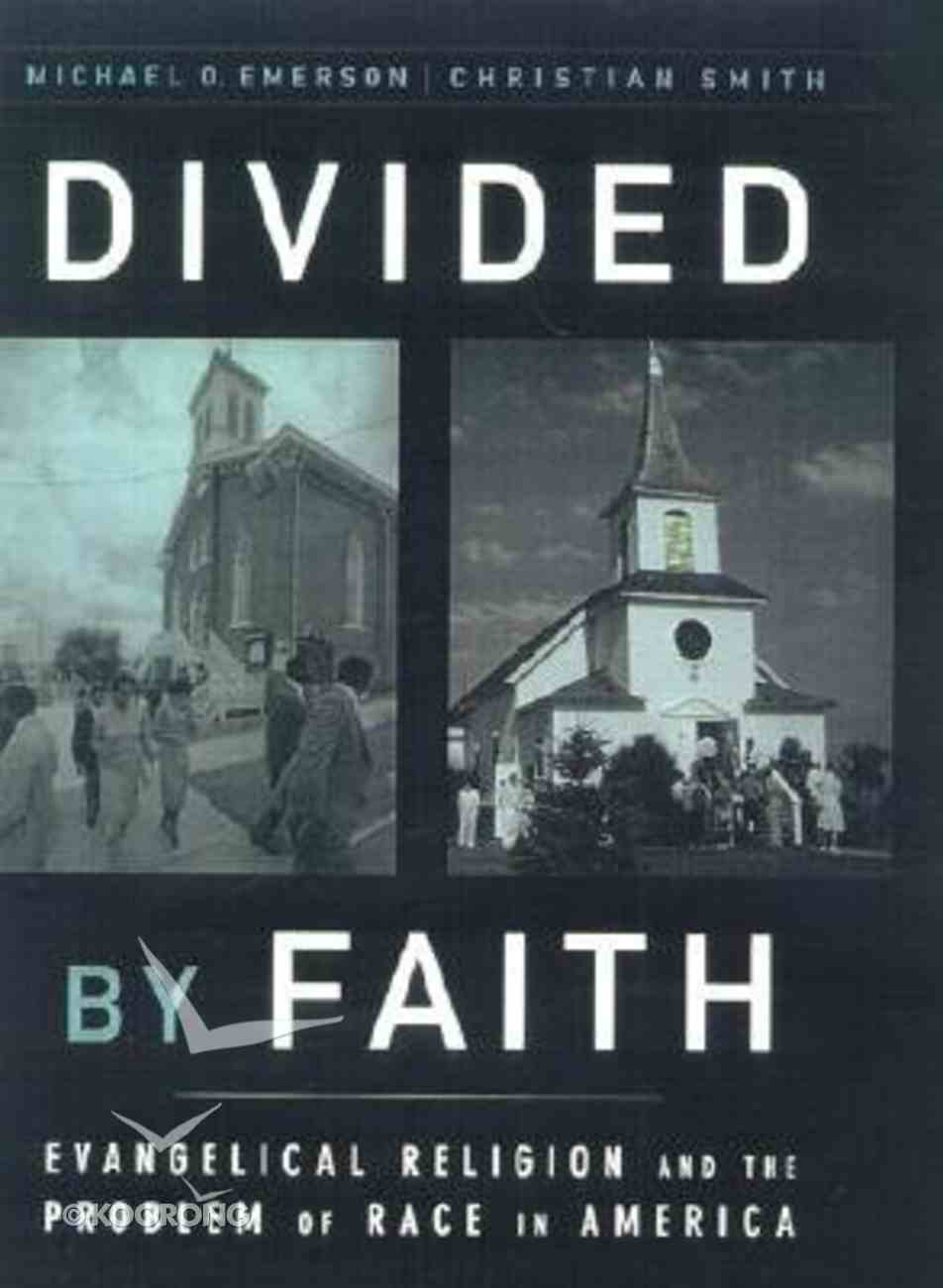 In recent years, the leaders of the American evangelical movement have brought their characteristic passion to the problem of race, notably in the Promise Keepers movement and in reconciliation theology. But the authors of this provocative new study reveal that...
Out of Stock
Available to Order
---
Expected to ship in 7 to 8 weeks from Australia.
---
Free Shipping
for orders over $99.
In recent years, the leaders of the American evangelical movement have brought their characteristic passion to the problem of race, notably in the Promise Keepers movement and in reconciliation theology. But the authors of this provocative new study reveal that despite their good intentions, evangelicals may actually be preserving America's racial chasm. In Divided by Faith, Michael O. Emerson and Christian Smith probe the grassroots of white evangelical America, through a nationwide telephone survey of 2,000 people, along with 200 face-to-face interviews. The results of their research are surprising. Most white evangelicals, they learned, see no systematic discrimination against blacks; indeed, they deny the existence of any ongoing racial problem in the United States. Many of their subjects blamed the continuing talk of racial conflict on the media, unscrupulous black leaders, and the inability of African Americans to forget the past. What lies behind this perception? Evangelicals, Emerson and Smith write, are not so much actively racist as committed to a theological view of the world that makes it difficult for them to see systematic injustice. The evangelical emphasis on individualism, free will, and personal relationships makes invisible the pervasive injustice that perpetuates inequality between the races. Most racial problems, they told the authors, can be solved by the repentance and conversion of the sinful individuals at fault. Combining a substantial body of evidence with sophisticated analysis and interpretation, Emerson and Smith throw sharp light on the oldest American dilemma. Despite the best intentions of evangelical leaders and some positive trends, the authors conclude that real racial reconciliation remains far over the horizon.
-Publisher
"A fascinating account of the influence of white evangelicalism on black-white relations in the United States."-- The Journal of Religion "A fascinating acount of the influence of white evangelicalism on black-white relations in the United States."--The Journal of Religion "This book cogently summarizes the race-related history of evangelicalism and then, based on data from surveys of 2,000 white evangelicals and 200 follow-up interviews, explores various dimensions of contemporary evangelical attitudes and practices related to race.... All academic levels."--Choice "This is an important book. With thoughtful conceptual distinctions and careful analysis of data from a variety of empirical sources, Emerson and Smith provide an interesting account of how white evangelicals perpetuate the very racial divisions they publicly oppose. Divided by Faith breaks new ground in the study of religion and American race relations."--William Julius Wilson, Harvard University, author of The Truly Disadvantaged and The Bridge Over the Racial Divide "This book is a report card for the church leaders and, I hope, the larger society. The authors show how racial valuations are basically built into the structures of society, and so we are, in a sense, failing by design."--Robert Franklin, Christianity Today
-Publisher
Through a nationwide telephone survey of 2,000 people and an additional 200 face-to-face interviews, Michael O. Emerson and Christian Smith probed the grassroots of white evangelical America. They found that despite recent efforts by the movement's leaders to address the problem of racial discrimination, evangelicals themselves seem to be preserving America's racial chasm. In fact, most white evangelicals see no systematic discrimination against blacks. But the authors contend that it is not active racism that prevents evangelicals from recognizing ongoing problems in American society. Instead, it is the evangelical movement's emphasis on individualism, free will, and personal relationships that makes invisible the pervasive injustice that perpetuates racial inequality. Most racial problems, the subjects told the authors, can be solved by the repentance and conversion of the sinful individuals at fault.^ Combining a substantial body of evidence with sophisticated analysis and inter
-Publisher
Emerson is R. A. Tsanoff Professor of Public Affairs and SocEmerson is R. A. Tsanoff Professor of Public Affairs and Sociology at Rice University. iology at Rice University. C
Bestsellers in Christian Worldview