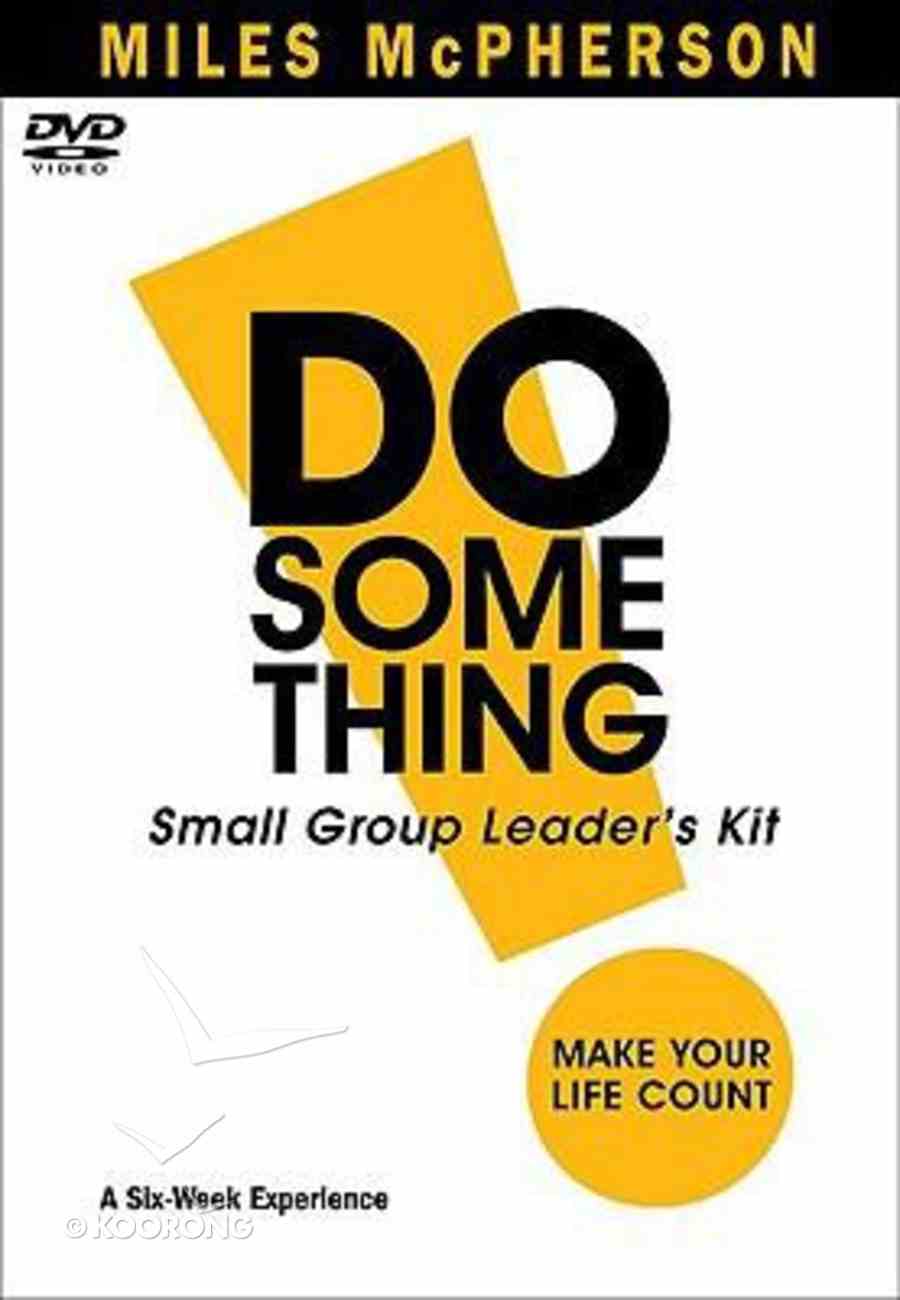 Do Something (Small Group Leader's Kit)
EXCERPT FROM CATALOGThe first thing Jesus did was do something with us: He became a man and subjected Himself to the temptations and struggles of this world. After He identified with our brokenness, He went on to do something for...
Unavailable. Out of Print. Only available while stock lasts.
Out of Print
---
Free Shipping
for orders over $99.
EXCERPT FROM CATALOGThe first thing Jesus did was do something with us: He became a man and subjected Himself to the temptations and struggles of this world. After He identified with our brokenness, He went on to do something for us. He died on the cross. If you want to do something great, keep in mind what Jesus told us to remember.Just before He left, He gave us specific instructions. He said, Celebrate My brokenness. Celebrate My body, broken for you. Celebrate My blood, spilled for you. You see, He could have asked us to remember His resurrection. He could have asked us to honor the miracles He performed, or practice the way He outsmarted the smartest theologians of the time. No. He said, Celebrate My brokenness.Why? Just as He identified with our brokenness before He did something for us, so we must identify with our brokenness before we can do something for others. We do this by acknowledging our own brokenness and sharing the healing that God is bringing to our lives. Let's keep in mind that our "DO Something" is all about allowing Him to do something through us.Do you want to do something significant with your life?Do you want to do what Jesus did? Here is your chance. Just as Jesus did something with eternal impact on our behalf, He has left a model for us to do something with eternal impact for those He would send our way.God's intended ministry in that hospital room that day was not a program, but an intersection of what God was doing with my personal brokenness and the brokenness in Tracy's life.One caution: If you are not willing to be vulnerable with your own brokenness, it will be very difficult, if not impossible, for you to do something of eternal significance for the broken world around you. Don't be like the proud, clueless young minister in that hospital room. Admit that you are broken and humble yourself. Ask God to begin his healing work in you. It is only then that God will be able to work through you to heal others.
-Publisher
Everyone wants their life to count. We all wish we could make a difference in a hurting world. The good news is that we can. Despite our own brokenness (and, in fact, because of it) each of us can be Jesus's hands and feet on Earth, reaching out to others in real and profound ways.
With powerful true stories, illustrations from the life of Christ, and specific activities for readers to engage, "DO Something "is a hopeful and practical book that shows how to live out faith in a way that improves people's lives. With transparency and humility, Miles McPherson shares his own shortcomings as a young pastor trying to connect with people in need. Stressing the importance of hurting with people before you can do something for them, McPherson takes readers through the 5 P's of making their lives count: preparation, purpose, pain, power, and passion. By putting into practice the principles found in this book, readers will experience spiritual fulfillment as they see that they can make a real difference in the lives of those around them.
-Publisher
Miles McPherson is president and founder of Miles Ahead Ministries and speaks to hundreds of thousands of teens and adults each year. A former defensive back with the San Diego Chargers, Miles is a nationally known evangelist and the founder of The Rock Church, which meets at San Diego University. Miles and his wife make their home in San Diego with their three children. ýIn his ministry Miles has talked to young people from all walks of life???one-on-one and in youth rallies of thousands. He knows what makes them tick, especially rebellious teenagers. That's because he was one. As a junior

Bestsellers in Ministry Resources