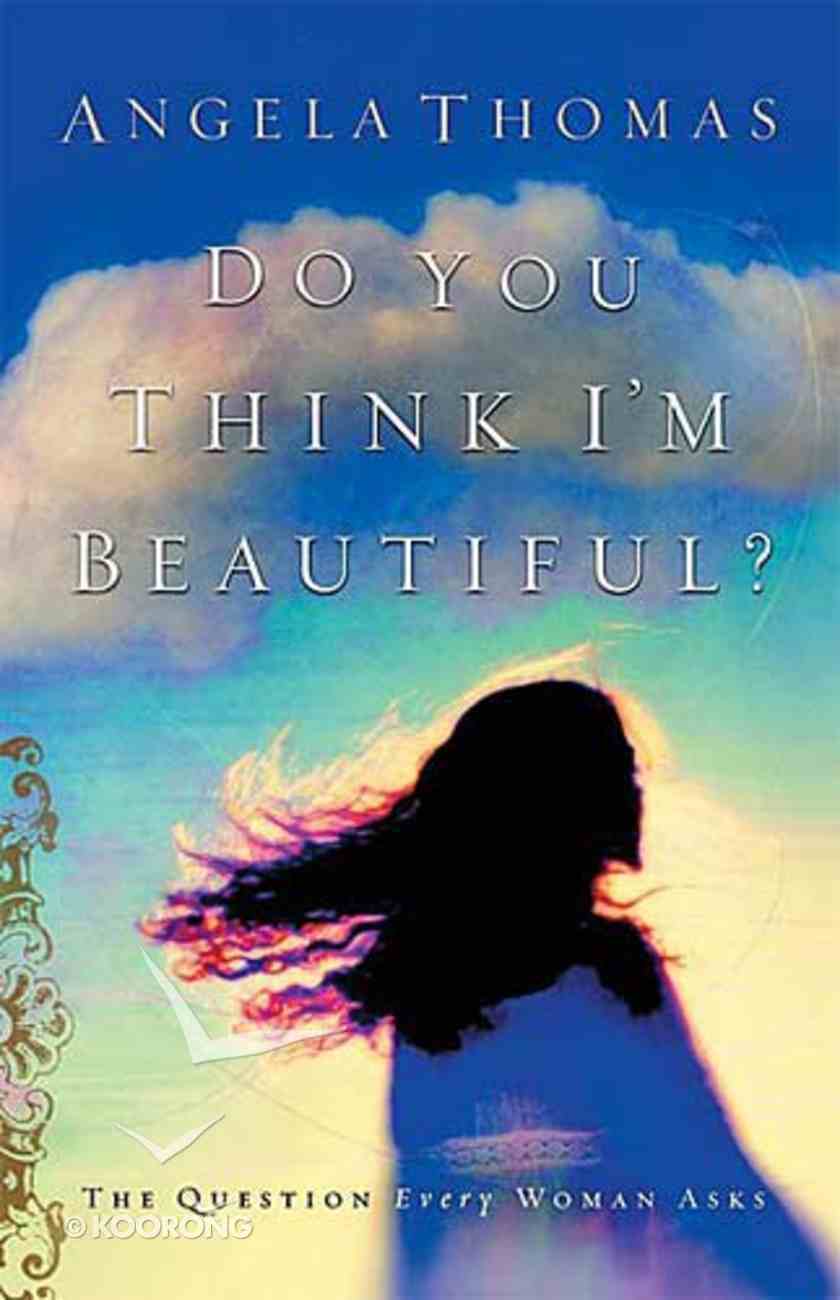 Do You Think I'm Beautiful?
This book teaches women about the distractions that can keep them from the One who finds them beautiful, what it takes to turn to His embrace, and what delights await them there. It will help you bridge the gulf between...
Out of Stock
Available to Order
---
Expected to ship in 5 to 6 weeks from Australia.
---
Free Shipping
for orders over $99.
This book teaches women about the distractions that can keep them from the One who finds them beautiful, what it takes to turn to His embrace, and what delights await them there. It will help you bridge the gulf between the life you long for and the life you have.
Bestselling writer and popular speaker Thomas explores the deep and life-changing implications for women who come to realize that they are uniquely beautiful in God's eyes. Filled with warm, personal anecdotes, practical Bible teaching, and real-world advice, this work help readers bridge the gap between the life a woman longs for, and the life she actually has.
-Publisher
The question is uniquely feminine, and it resides in every woman's heart, in spite of her best efforts to ignore it. Although she aches to be adored and desired, she decides that it is good enough to be loyal, hard-working, strong, or steady. But there is Someone who finds her beautiful, who adores her and seeks to woo her to Himself-and best-selling writer and popular speaker Angela Thomas explores the deep and life-changing implications for women who come to realize that. Practical Bible teaching and real-world advice help readers bridge the gap between the life a woman longs for, and the life she actually has. Filled with warm, personal anecdotes, and written in an intimate, affable style that reaches out to readers, Do You Think I'm Beautiful? invites women to awaken passion, and to meet the embrace of the One who calls them beautiful.
-Publisher

This book is for women who know, perhaps only deep in their heart, that they need an answer to the question, "Do you think I'm beautiful?" Readers will come to understand that the question is uniquely feminine, placed there by the Creator to woo them to Himself. Along the way, women will learn about the distractions that can keep them from the One who calls them beautiful, what it takes to return to His embrace, and what delights await them there. Angela's skillful, moving writing style is peppered with warm and funny stories from her own life that readers will immediately identify with. And the practical Bible teaching Angela offers will help readers bridge the gulf between the life a woman longs for and the life she actually has.


-Publisher
PRODUCT DETAIL
Catalogue Code 

229258

Product Code 

0785273778

EAN 

9780785273776

UPC 

020049075050

Pages 

224

Department General Books
Category Women
Sub-Category General
Publisher Thomas Nelson Publishers
Publication Date 

Apr 2005

Sales Rank 

32198

Dimensions 

215 x 139 x 16

mm

Weight 

0.217

kg
Angela is an ordinary mom, with an extraordinary passion for God. She's been honoured to walk alongside women of all ages and walks of life through her books and speaking engagements. Angela received her Master's degree from Dallas Theological Seminary. She lives in Knoxville.- Publisher.

Chapter 1
Do You Think I'm Beautiful?

I've worn glasses since I was eighteen months old. My first pair had cat-eye frames, and everyone thought I looked so cute in them. "Oh, look at that little baby with glasses. Isn't she the sweetest thing?" Then I began to grow, and for about a year I had to wear a patch over my right eye to make the left one stronger. I guess it was a decent idea, but it didn't work. It caused my weaker eye to become the dominant one. As an adult I could only look through a camera lens or telescope with my left eye, the one that saw 20/4000 uncorrected. And don't you know I was a stunner in the Captain Hook patch with cat-eye glasses on top?


Eventually, in elementary school, classmates and neighborhood kids tagged me "four eyes." I was special - one of maybe three "four eyes" in the entire school. Me and my wire-rim, stop-sign-shaped glasses. How cool can a girl be with traffic signs in front of her eyes? Not very. And a few years later, for the full effect, we added three and a half years of braces. Railroad tracks. Tinsel teeth. That was me…think bottle caps before my eyes, tin on my teeth, and - to make things as awful as possible - I was smart. In case you've forgotten, girls don't want to be smart in junior high - they want to be pretty.


By those tender junior high years, I knew for sure that beauty had eluded me. Now my best friend, Carla, was beautiful. Some senior guys even asked her to the prom when we were in the eighth grade. The eighth grade! Can you imagine that? Carla was at the high school prom, and I was probably at home writing a paper. Yep, there were many beautiful girls at my school, but I was not among them. I could do algebra and remember the answers for history tests. I actually did all of my homework and turned it in on time. The other day, Carla reminded me that I used to make up practice tests, take the tests, and then grade them - all to prepare for the actual thing. What a dweeb!


All I really wanted was to look like everyone else, but my circumstances wouldn't cooperate. Long, thick, straight hair that I styled with two barrettes every day of my young life. Braces that seemed destined to be a permanent part of my smile. And the doom of four eyes forever. Don't get the wrong impression no one ever called me ugly, and no one ever laughed in my face. It's just that no one ever noticed.


The Plain One


I have fumbled along with this beauty thing ever since those elementary days. I eventually realized that if I couldn't appeal to their visual senses, I could make people laugh and be fun enough to appeal to their hearts. I became a cheerleader and a good citizen and an all-around great friend. Steady. That's what most people called me. You could count on me to show up on time, make good decisions, and always, always try to do the right thing. I was the one you could snub one day and embrace the next without so much as an apology. There were no boyfriends to distract me from my friends or academics, and, besides, who doesn't need a girlfriend as faithful as a golden retriever? As long as they'd pat me on the head every once in a while, I'd run and fetch and do just about anything to please.


Every Sunday on the way to church, my daddy would say that he had the prettiest daughter in the whole wide world. I know; it was sweet. But that's what dads are supposed to say. I heard him and have held on to his words even to this day, but deep down, back then, I didn't believe him. If I were really pretty, I reasoned, then someone besides my father would notice. But no one ever did.


When compliments were handed out, I was an afterthought. People would tell one of my friends how gorgeous she looked and then add, "Angela, you look nice too." I felt like saying, "Please, don't bother. You're only highlighting the obvious. I am the plain one." When the entire school began dating, I continued to blend into the background. I remember the high school quarterback calling my name, saying he wanted to talk to me, and then asking if I thought my friend would go out with him. Sound familiar? Happened more times than I can count. It makes me smile now, but I can also still feel the emptiness in my stomach as I reminisce.


It was simply a predetermined fact that I could not control: I was not beautiful. Unless you asked my grandmother, who'd tell you, "Pretty is as pretty does." Of course, that's Southern for, "Well, you are kind of homely, but try not to think about it." God bless my grandmother for always keeping my feet firmly anchored on the ground. I remember coming home one day in junior high with that year's school pictures. I complained to her that they were awful and told her with embarrassment that no one could look at them. But she persisted, and I finally relented. She looked at the pictures and then back at me and said with her ever-present Ma-Ma clarity, "Well, Angela, I think they look just like you." Truth. Life-shaping truth. My school pictures were awful, and they looked just like me. I knew then that if "pretty is as pretty does," I had better get to doing. So I did. Only, somehow, all of my doing never made me feel very pretty.


I realize that I have painted a fairly depressing picture here. Homely, brainy nerd compensates by going out for the cheerleading squad, Velcro-ing herself to some friends, and trying always to do the right thing but still gets lost in the crowd. Depressing, but accurate. Almost.


You see, the summer before my senior year in high school, I discovered contact lenses, got my braces off, and tried a Farrah Fawcett haircut -all within a week or so. My best friend sat beside me at a baseball game and literally didn't recognize me. I'd wave to friends at the mall, and they wouldn't wave back. Completely changed on the outside. Maybe even pretty if you tilted your head and squinted. But the die had already been cast on the inside. I knew that I would never be beautiful.


Standing and Smiling And Groovin' From the Edge


I know that you remember the story of Cinderella. If you have little girls, you probably have the same books, dolls, and videos that we have. Every time I read this fairy tale to one of my children, my heart skips ahead, anticipating the ball at the palace. Do you recall that evening? The evil stepsisters and their mother are there along with all the other available bachelorettes in the kingdom. Prince Charming is becoming discouraged because he has met every bride wanna-be but no one has capture his heart. Thankfully, there is a fairy godmother, a little bibbity-bobbity-boo, and then Cinderella finally arrives. She is breathtaking, and the entire room is captivated by her beauty. Prince Charming is eternally smitten. There is a night of dancing, a quick good-bye, a shoe that fits, and a happily ever after.


Now tell me, when you think of yourself in this story, which character do you allow yourself to become? Where are you standing at the ball? I would love it if you thought of yourself as Cinderella. I have tried on those slippers but have never been able to bring myself to believe that I should be dancing in her shoes. I have never thought of myself as a stepsister or the evil stepmother either. Somehow, I have always seen myself as one of the faceless in the crowd. One of the girls from the kingdom who gave it her best shot, spent days optimistically preparing for the ball, splurged on the dress and the hair, and anxiously arrived with butterflies in her stomach, only to stand around with the other hopefuls, make small talk, smile politely, groove to the music, and remain unnoticed.


I have a friend who said to me, "Angela, I think that's a bunch of bull. I can't believe you really feel like that." Actually, it would be bull to tell you differently. Oh, I want to be Cinderella. I want to be the most beautiful woman at the ball, but I've never been bold enough to think of myself as her. Maybe the lessons of junior high linger. Maybe I've been conditioned by my environment. Maybe I'm just a coward. Whichever it is, when you grow up longing to be beautiful but knowing that you are not, it feels like there could never be a glass slipper that would fit.


Most of us took different paths but arrived at the same conclusion: Cinderella is always someone else. There is a little girl inside me who secretly aches for a fairy godmother to magically bumble her way into my life, wave her wand, and make me into the princess I have always longed to be. Make me beautiful. Make me captivating. Make someone notice.


But life is not a fairy tale. Magic wands are only for pretending. Cinderella shoes are mass-produced by the millions for the tiny feet of little girls who still believe Prince Charming will ask then to dance. Grown-up women wear sensible shoes, put their ball gowns in storage, and teach themselves to believe that being asked to dance isn't all that important anyway.


Sensible women like you and me survey life and figure out how to make the journey with the least possible heartache. We insulate ourselves for maximum protection in the event of a fall. We isolate ourselves from risk to guard against failure. And above everything, we bind up the precious gifts of longing and desire and banish them to a faraway land. We've stopped dressing up or anticipating the ball, deciding it's better to stay home than to hope again and be disappointed.


Maybe it's because I'm now staring at forty years. Maybe it's because my life with a bow on it came undone. Maybe it's because wisdom leaned in and yelled, "Would you listen to your heart? Stop pretending and ask the questions." I don't know exactly. I just know that somehow the Spirit of God has awakened the spirit in me.


I am realizing that at least half of my life has passed, and I've spent most of it trying to deny the way God made me. Afraid to be strong for fear of being prideful. Afraid not to please for fear of being rejected. Afraid to ask the questions from my soul for fear they'd never find answers. So afraid that one wrong step would ruin everything. Afraid to say out loud what my heart longs for…afraid that longings are sin and God wouldn't understand. Afraid to admit that I am a woman who longs to be desired, longs to be rescued, and longs to be called beautiful.


And so I have spent way too many years standing around the edge of my life trying to convince myself that I do not want to be Cinderella. Pretending that I really didn't come to dance. I have concocted a few lines to make life hurt less and then forced myself to live them. Besides, glass slippers probably pinch your toes.


When No One Notices


I don't think this is just my story. I truly believe that the longing to be known as beautiful is part of our design as women. God put us together this way on purpose. We are wired to long for beauty and to be known as beautiful. From my childhood and life experiences, I realized that over time that I could not have anything in life that required me to be beautiful. I understood almost instinctively that I should keep my head down, study hard, try to do the right thing, and maybe, life would turn out to be okay in the end.


Now hear me on this one. At this point in my life, I am thankful for how this struggle has shaped my character. I can see God's hand and His sovereignty in what I am becoming in my soul. But the emotional journey I'm describing is always difficult, sometimes devastating.


The journey, of course, can play out in many ways. Your experience may be quite different from mine. My friends who have been beautiful on the outside all of their lives have struggles that are foreign to me. Because they have been noticed for their physical beauty, they fear that no one will ever see their heart or their true self. Or they fear that they will be accepted only because of their beauty and will be rejected if anyone ever looks below the surface. I have a beautiful friend who has anxiety attacks in church because she is afraid that everyone is looking at her. Although it is painfully real for her, it is no exaggeration to say I cannot imagine her struggle. You see, I have always assumed that no one is looking.


A few years ago I met a friend at a fast-food place that had an indoor playground for the children. We had finished lunch and were watching the kids play when she leaned over and asked, "Do you mind if we move? Those men are staring at me, and it's making me uncomfortable." I'm not making light of her predicament. But I remember thinking to myself as I picked up our trays, I have never in my whole life thought that anyone was staring at me. Maybe someone has stared at me at some point, but if so, I was oblivious, always operating out of the assumption that no one noticed.


And so, when no one notices, a lot of us wander through life blending in, always trying to figure out the balance of being just right, like milk toast and boiled eggs - bland and easy to swallow. Other women act out, doing anything to get someone to notice. But either way, after lost hope, the ache of disappointment, and the repetitive pain of rejection, the longing to be beautiful is buried and the insecurities grow. The desire to be known as beautiful is eventually stuffed away into an untouchable place in our hearts.


We cannot deny that the desire is there - whether you are like my friends or like me. It has been there for every woman I've ever known. We long for romance. We long to be rescued. We long for a hero to steal us away. We long to be beautiful. Only now that we're grown, and hope has faded, the years keep proving that it's not going to happen.


Do you hear me saying that I long to be weak and brainless? Then you have not heard me. I want to be incredibly intelligent, creative, and significant. It's just that when I let myself search for the truth of my heart, underneath all the learned behaviors and coping techniques is a woman - make that a little girl inside the body of a woman - who wants to grow up and be beautiful one day too. It fells a little goofy to be a busy mother of four and wrestling with these truths. But better now, in the middle of this craziness, than never at all.


Maybe there is a design flaw. Maybe I shouldn't have been made with these longings that cannot be realized. When I think about beauty, I picture Cinder Crawford and immediately tell myself to shut up. When I listen to my heart's ache to be known, it only makes me insecure and afraid. To think about beauty and then think of my flabby everything gives me pain. It just seems better not to go there. Avoid this one. Smile a lot and act happy.


And so I have learned to pretend. (Besides, most of the women I know are pretending too.) Pretend that I have a handle on body image. Pretend that I am strong and sure. Pretend that I don't long to be held and protected in the deepest place of my soul. Pretend that I don't long for more than the world says I can have or more than marriage has to offer. Pretend that it doesn't really matter if I am known or if I am beautiful.


I am not alone in pretending or in my longing. All you have to do is walk into a room of women and look into their eyes, each one desiring to be known as beautiful. Some almost ask, Do you think I'm beautiful? out loud and some have learned never to ask it again.


When you've learned never to ask, longing is banished. Living becomes more comfortable when it's shallow; that way we can avoid the questions. It is easier to keep rules than to grab hold of the grace that sets our hearts free to feel.


When no one notices, we learn to pretend that it doesn't matter. But, Lord knows, it matters. It matters in your soul and it matters in the way you wake up every morning and step into life.


Maybe no one has ever really noticed you either. And you've learned to pretend that it's okay. It's not okay. You were made to be seen and known and loved deeply. And it's okay to want what you were made for.


No More Pretending


We all pretend for a while or for a lifetime. But pretending is not living. It's a subcategory of living. It's like wearing a designer snow parka and sitting in the lodge but never really skiing down the mountain. When we pretend, we are alive and present, maybe sipping hot chocolate by the fire, but missing the breadth and depth that God intended for our lives.


We miss the quiet ride up in the ski life, the beauty of the vista, the thrill of fresh powder, the wind in our hair, and that Yeah, I just conquered a mountain! Rush at the bottom of the run. In pretending, there is safety, a middle-of-the-road, stick-with-the-flavor-you-know kind of living. But I believe that God meant for life to take our breath away, sometimes because of the sheer joy of it all and sometimes because of the sheer pain. To choose living over pretending means that we will know both.


A season came for me when the pretending had to end. Life pressed in long and hard. My soul was broken apart and the truth cam pouring out. Almost more truth than I could process. So much truth that I ached from the experience of holding up each part and claiming it as my own. Remember, I am the steady one. But the anguish of laying down my false heart and finding the real one left me raw with emotion.


Frustrated. Confused. Searching. So completely put out with God for the canyon that existed between the life I wanted and the life I really lived. Mad that I wanted to be beautiful but had to live as if the desire were not mine. Frustrated by the pretending, the complacency, and the winds of life that had blown me about. Angry that I didn't know better sooner. Just so disappointed in where I was, the longings that would not be stilled, and God's sovereignty in it all.


Eventually, there was a day when it was just me before the Lord - my pain, my insecurity, my deep disappointment about the way life had turned out. I was crying; actually, I was sobbing like a baby. My heart was racing and my chest felt like it was going to explode. And finally, through a blur of tears, these words made their way into my journal:


Oh, God, do You think I'm beautiful?


No one else has been able…so is it You? Are You the One who longs for me - the One who can fill this desire to be known? There is so much more inside of me, a great well of passion and dreams. A place I never let myself go. Is it safe to trust You with the rest of my heart? What will You do with me if I show You everything? Every desire? Every longing? Every doubt? Every weakness? If I am exposed before You, will You still love me? Is Your forgiveness truly irreversible? Is Your grace really free? Will You hold me and care for me in the dark?


Oh, God, hold me, please hold me and tell me that You love me.


Tell me that I am desirable.


Tell me that You'll fight for me.


Tell me that I am beautiful.


I cried and waited. Empty. I lay on the floor completely spent. The question took up the whole room and there was nothing else to say, except to pray:


It's just me.


You see it all. You know it's just me. You know how You've made me, and You know how to speak so that I can hear.


I cannot move until I hear from You.


In the wilderness of that room, as alone as I have ever been, the Lord met me. The words He formed in my mind began to answer the question. In my imagination I could sense the Lord patiently smiling over me, and I heard Him speak into my heart:


Yes, Angela, I think that you are beautiful.


Your desire has served its purpose; you have finally brought your true heart to Me. Are you tired of the weight of pretending? Are you tired of hoping that someone else could fill the place that was meant for Me? I see you, all of you, and you do not have to hide anymore. I see your sin and I see your flaws and I still desire you as My own. I am crazy about you. I am the answer for your longing. The "more" that your heart waits for is Me.


Yes, dear one, yes, you are incredibly beautiful to Me.


The Power of the Question


I once thought that my struggle was intensely personal, but now I know that it's intensely feminine. Every woman longs to know from the deepest places of her heart, "Oh, God, do You think I'm beautiful?"


I am realizing that the feminine design, my design, is both mysterious and complex. And yet, the design is completely God's idea. Why do seemingly strong, articulate, intellectual women huddle in the night with a romance novel? Why is romantic "Christian fiction" flying of the shelves? Why is the allure of romance in the movies and television so intense for a woman? Why does the wife choose romantic comedy while the husband chooses the action film? It's more than Venus versus Mars or speaking a different love language. It's by design. Even if I don't read romance novels, I could. I completely understand the attraction. I am supposed to have a passionate heart that does not have to be squelched. I am supposed to yearn for beauty and long to be known deeply. I came wired like this. Every woman I know came with very similar questions and desires.


I have been discussing this idea with women, and what continues to amaze me is the power of the longing. I have been in meetings with some of the most brilliant women I've ever known. Women who run companies, dress like someone out of Vogue magazine, have engaging relational skills, organize the heck out of life, and just plain intimidate every other woman they meet. I have sat with these women and asked them, "Do you long to be known as beautiful, truly?" Time and time again, I have watched as the power of this question peels away the mask that keeps women safe. The whole atmosphere of the room changes; it becomes eerily quiet. I look over and usually the strongest woman in the room is the first one dabbing her eyes, choking back the knot that has commandeered her throat.


I know an amazing woman who serves the military at a very high level of national security. She is a powerful combination of intellect, discipline, and emotional strength. I had never seen her cry or heard her voice crack before our "beautiful" conversation. She spoke with reserve in front of the other women, but she tugged at my arm as we were leaving.


"Can I talk to you?" she whispered. And then, as if she had finally been given permission, she began to weep. Half embarrassed, she said, "The question is real. It's very real. You've got to talk about it. I've never let myself ask it. I've always been afraid of the answer."


I know that fear. It has taken almost half my life to let the question finally come spilling out. Possibly because I have disowned it and possibly because I have squandered it by asking all the wrong people in all the wrong places.


While I lived in Texas I was visiting a girlfriend in the next city for a few days. The weather turned bitterly cold, and I was without a coat. As I was leaving the house, my friend came around the corner with a fabulous mink. I squealed and sashayed all over the house for the full "can you believe me in this?" effect. Then she said, "Wear this home and bring it back in a few days." I tried to argue, a little. What fun to be snuggled up in that coat! I guess I wore it everywhere I went the next week. In Dallas it really is okay to wear a mink to the produce section. But I remember feeling that at any moment, someone was going to yell, "Hey, stop that girl! That can't possibly be her coat. Take that thing away from her - it must belong to someone else."


I've been the same about the beautiful question. Afraid that one look into my insecure eyes and everyone will know it's not really my question to ask. It must belong to someone else.


John Eldredge wrote a book called Wild at Heart. It's a book for men, but in it he speaks profoundly to women. What Eldredge does, in part, is catch a glimpse of the feminine soul and then passionately affirm our unique design:


Not every woman wants a battle to fight, but every woman yearns to be fought for…She wants to be more than noticed - she wants to be wanted. She wants to be pursued.


Every woman also wants an adventure to share…A woman doesn't want to be the adventure; she wants to be caught up into something greater than herself…


Every woman wants to have a beauty to unveil. Not to conjure, but to unveil. Most women feel the pressure to be beautiful from very young, but that is not what I speak of. There is also a deep desire to simply and truly be the beauty, and be delighted in.


Wow, he gets it. This guy has listened past the surface of women and heard them ask the questions:


Who will fight for me?


Who will be my hero?


Who will call me beautiful?


I cried over these words because Eldredge doesn't seem to hold the questions against us. He can see that they are legitimately woven into the core of every woman's soul. He reminds us that we cannot get to the answers that heal and restore until we have asked the questions that penetrate our hidden desires.


When life comes undone, when pretending is not an option anymore, when everything has fallen apart and fallen away, amazingly, it all becomes very simple. When no one can do anything to help and there isn't a straw left to grasp or a mask left to hide behind, God gets to move center stage. He has our undivided attention. The questions that we've held out to everyone remain, but there is no one to answer except Him.


In that place, I finally came to see that the questions are rightfully mine, but the answers that truly fill and give strength will come only from God. It is okay for my soul and yours to scream, "Do You think I'm beautiful?" And there is a transformation happening in my life as I listen to God tell me, resoundingly, "Yes."


The beauty that I desire is not really about body image. (Well, okay, it's a little about body image. Shoot, some days it feels like my quest for beauty is all about body image.) But the deeper beauty I long for is about complete acceptance.


God, do You see me flawed and sinful and still call me beautiful? Do You see the loneliness? Do You see me struggle? Do You see the unmet desires of my heart? Do You see me trying to manipulate and control? Do You see me yearn for the things I can't have? Do You see me cry for time that is lost and the life I will not know? God, do You see me in all this mess and still think I'm beautiful?


God, will You fight for me?


Will You come for me?


Will You say I'm beautiful?


I believe that a woman will struggle with trust, hope, and desire until she allows herself to ask these questions and receive the answers from God. You and I both know that we've tried everything else. We've practically begged everyone who loves us to answer all the questions attached to our souls. Have they? God knows they've tried. And we've tried to help them try harder. We've read magazine articles, watched Oprah, attended seminars, and paid good money for makeovers hoping one day we'd get to the bottom of this thing…this longing to be seen and completely known…and still called beautiful.


I may have tasted peace, but to believe that the God of heaven and earth calls me beautiful - well, I think I could take a deep breath, square my shoulders, and go out to face the world with confidence.


If He really meant what He said, I could be secure enough to stand in the dark and wait for Him to come to my rescue. He would be the perfect place for my hope. His answer would make me strong enough to face personal disappointment, conflict, and discouragement. If I knew that God called me beautiful, I could pursue my passions and live and love with abandon. I would not have to be guarded anymore. The desperate search would be over. I would be noticed. Desired. Known.


As I have said, when a women walks into a room she is either screaming, "Do you think I'm beautiful?" or she has been taught never to ask that question again. But every once in a while, a woman walks into a room and you know that she knows that God calls her beautiful. There is a peace and strength and energy that come from belonging to Him. There is a confidence that is captivating. I want to be that woman. Everything inside me wants to be a woman who moves in this kind of grace and assurance!


If the question "Do you think I'm beautiful?" came attached to my soul, then maybe the answer wasn't ever meant to fully come from this world. Maybe the purpose of the question is to take me by the hand and walk me into the presence of the Creator. My soul cries out and asks the questions meant to lead me to God. Maybe all that really matters is what He thinks of me.


Have you ever heard your heart cry, "Do you think I'm beautiful?" Then let these words embrace you with their truth:


The king is enthralled by your beauty.(Psalm 45:11)


The God who slung the stars across the heavens…the same One who shaped the mountains and valleys with the palm of His hand…the God whose very breath gives life…that God, the King, has always been taken with you.


You have been noticed,


He thinks you're beautiful,


The glass slipper fits,


The music is playing,


And He's asking you to dance.