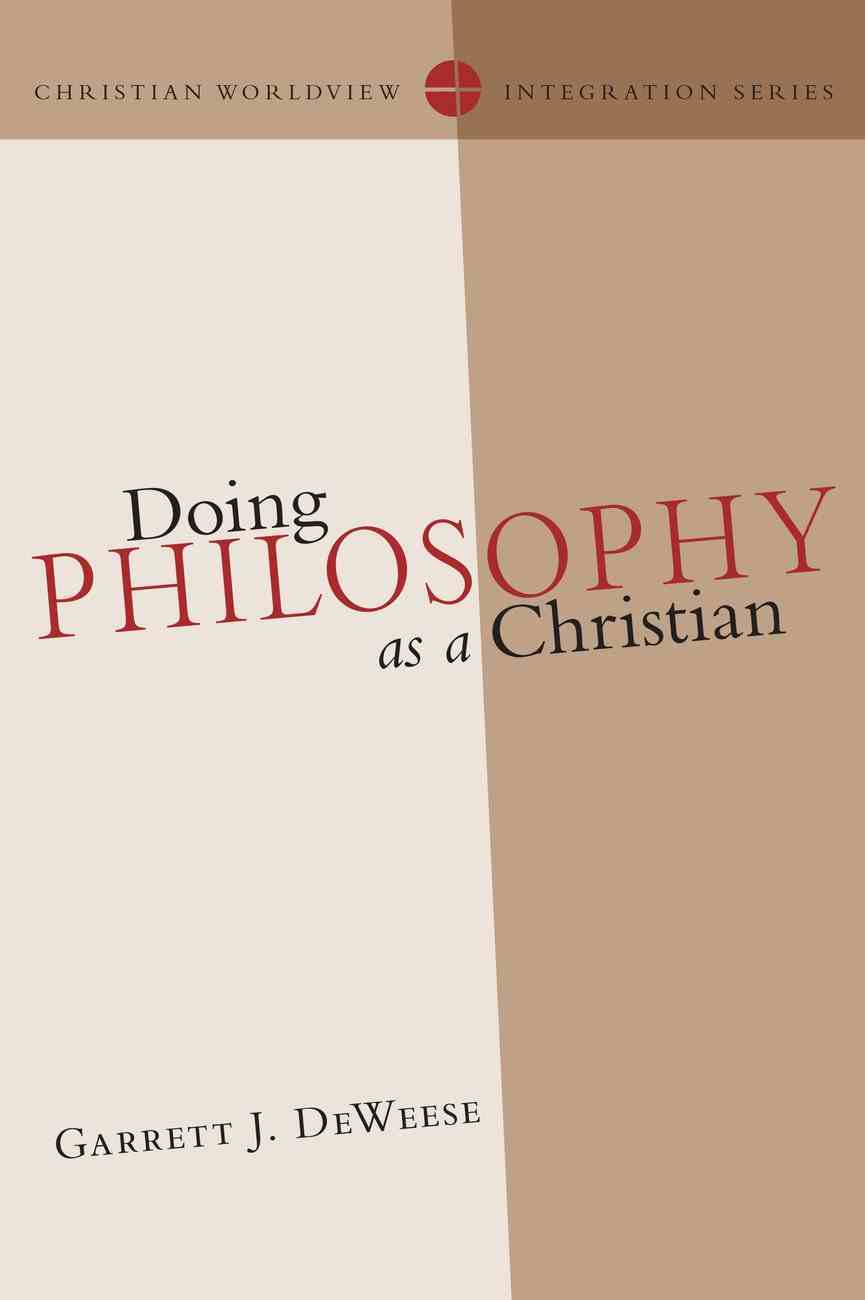 Doing Philosophy as a Christian (Christian Worldview Integration Series)
What does it mean to be called to the profession of philosophy? What does it mean for the Christian in particular? And how should those called to the profession engage their tasks? Noting that philosophy literally is "the love of...
Instant download
---
Free Shipping
for orders over $99.
What does it mean to be called to the profession of philosophy? What does it mean for the Christian in particular? And how should those called to the profession engage their tasks? Noting that philosophy literally is "the love of wisdom," Garrett J. DeWeese begins with a discussion of wisdom from the Old and New Testaments before addressing the often misunderstood relation between faith and reason. DeWeese then elucidates the fundamental questions of metaphysics, epistemology, ethics and aesthetics, philosophy of mind and philosophy of science, finally making a case for the integration of philosophy and Christian spiritual formation.
-Publisher
Garrett J. DeWeese (Ph.D., University of Colorado) is associate professor of philosophy and director of the Th.M. emphasis in philosophical and moral theology at Talbot School of Theology, Biola University, in La Mirada, California.


He has also taught at Dayspring Center for Christian Studies, University of Colorado, Denver Seminary and Institut Biblique Europen (France). His work has been published in academic journals such as Philosophia Christi and in popular magazines such as Discipleship Journal. He has contributed chapters to Reclaiming the Center (Crossway) and God and Time: Essays on the Nature of God (Oxford).


In addition, he is the author of God and the Nature of Time (Ashgate) and Philosophy Made Slightly Less Difficult (IVP). He is a popular conference and retreat speaker and a frequent guest preacher. Most recently he has authored Doing Philosophy as a Christian (Christian Worldview Integration Series, Intervarsity Press, 2011)


What Does It Mean To Be Called To The Profession Of Philosophy? What Does It Mean For The Christian In Particular? And How Should Those Called To The Profession Engage Their Tasks? Noting That <em>philosophy</em> Literally Is "the Love Of Wisdom," Garrett J. Deweese Begins With A Discussion Of <em>wisdom</em> From The Old And New Testaments Before Addressing The Often Misunderstood Relation Between Faith And Reason. Deweese Then Elucidates The Fundamental Questions Of Metaphysics, Epistemology, Ethics And Aesthetics, Philosophy Of Mind And Philosophy Of Science, Finally Making A Case For The Integration Of Philosophy And Christian Spiritual Formation.
Acknowledgments
1 Why Should You Read This Book?
Part I: Introductory Matters
2 Philosophers And Sages: <em>hokhmah</em> And <em>sophia</em>
3 Philosophy Within The Limits Of Religion Alone? Faith And Reason
4 Jesus And Philosophy
Part Ii: The Inescapable Questions
5 What Is Real? Metaphysics
6 What Do I Know? Epistemology
7 What Should I Value? Ethics And Aesthetics
Part Iii: Second-order Questions
8 Who And What Am I? Philosophy Of Mind
9 Understanding Nature: Philosophy Of Science
Part Iv: The End Of The Matter
10 Transforming The Soul: Philosophy And Spiritual Formation
Select Bibliography
Author And Subject Index
Scripture Index
Bestsellers in Philosophy