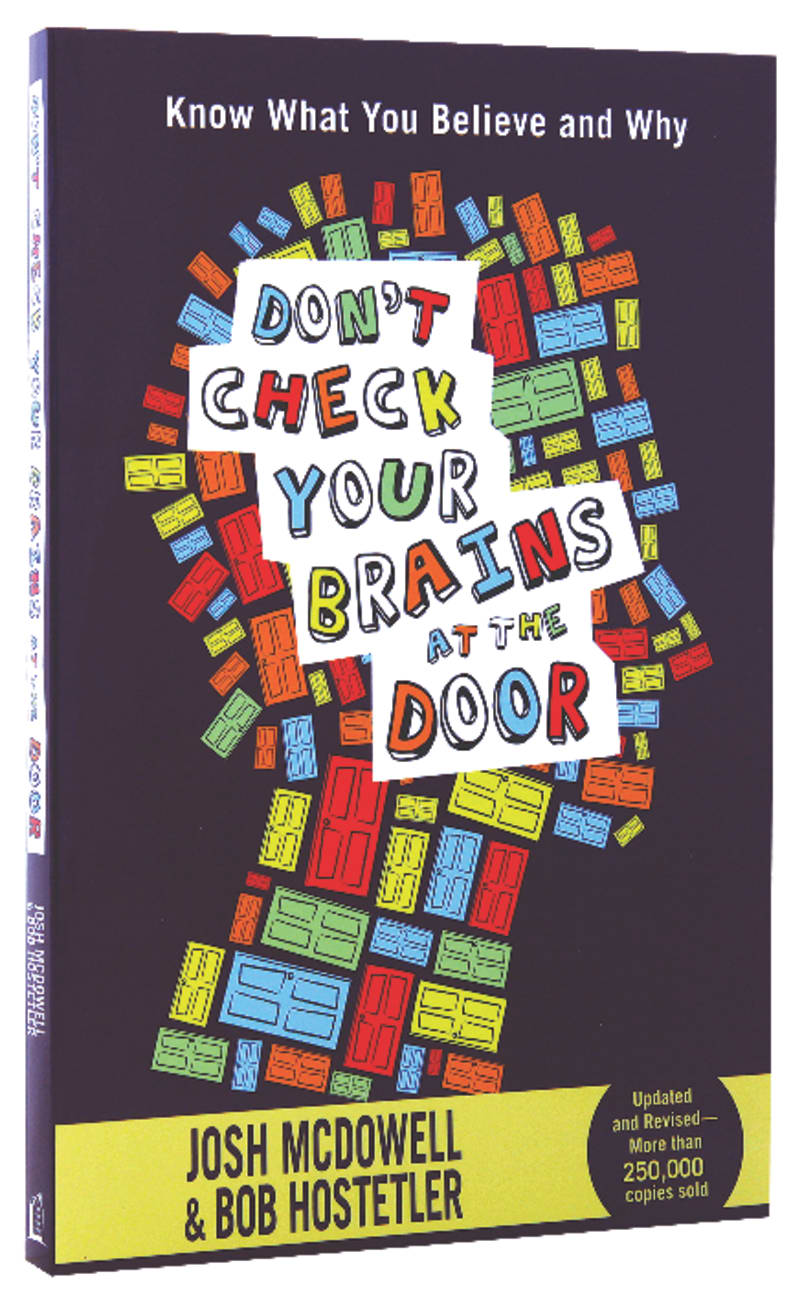 Don't Check Your Brains At the Door
Christian teens can often feel their faith is 'under siege' from experts, science, and the tough questions of their sceptical peers. This apologetics resource for teens exposes common myths about God, the Bible, and life, and shows how Christianity stands
...
Out of Stock
Available to Order
---
Expected to ship in 5 to 6 weeks from Australia.
---
Free Shipping
for orders over $99.

Christian teens can often feel their faith is 'under siege' from experts, science, and the tough questions of their sceptical peers. This apologetics resource for teens exposes common myths about God, the Bible, and life, and shows how Christianity stands up to the tests of fact and reason.


Publisher Description


?Seven in 10 Protestants ages 18 to 30?both evangelical and mainline?who went to church regularly in high school said they quit attending by age 23, according to the survey by LifeWay Research.? (USA Today)**


Don?t Check Your Brains at the Door gives teens answers that make sense, even for the toughest of questions. Internationally known defender of the faith Josh McDowell and co-author Bob Hostetler offer clarity laced with humor to expose common myths about God, the Bible, religion, and life to show how Christianity stands up to the test of fact and reason. Teens will be better equipped to stick with their faith as they begin to understand why they believe and why it's important to make a lifetime commitment to Christ and the church.


Josh McDowell is an internationally known speaker, author, and champion of the 'Beyond Belief' Campaign. He is a travelling representative of Campus Crusade for Christ speaking to more than ten million people in at least 84 countries, including 700 university and college campuses.


Josh has authored or co-authored more than 90 books, including the classic A Ready Defense, Evidence that Demands a Verdict and Answers to Tough Questions


Bob Hostetler is a writer, editor, pastor, and speaker from southwestern -->-->Ohio-->-->. His twenty-one books, which include the award-winning"Don?t Check Your Brains at the Door "(co-authored with Josh McDowell)""and" American Idols, "have sold over 2 million copies. He has won two Gold Medallion Awards, three Ohio Associated Press awards, and an Amy Foundation Award. He is a co-founder and Pastor of Leadership and Teaching at -->Cobblestone-->-->Community-->-->Church--> in -->-->Oxford-->, -->Ohio-->-->. He and his wife Robin have two grown children, Aubrey and Aaron.