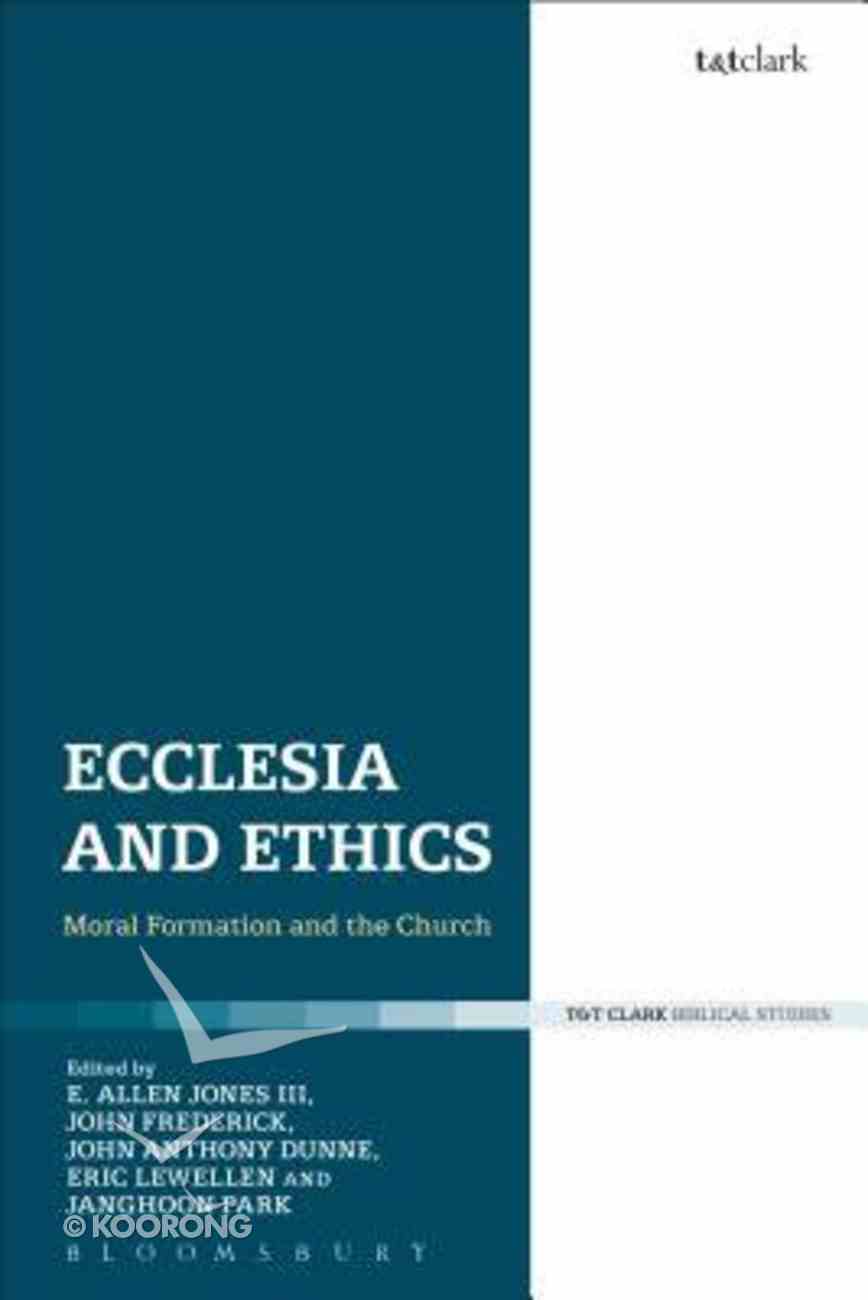 Ecclesia and Ethics: Moral Formation and the Church
:Ecclesia and Ethics considers the subject of Ecclesial Ethics within its theological, theoretical and exegetical contexts. Part one presents the biblical-theological foundations of an ecclesial ethic - examining issues such as creation, and Paul's theology of the Cross. Part...
Special Order Item
0 Available.
---
Free Shipping
for orders over $99.
:Ecclesia and Ethics considers the subject of Ecclesial Ethics within its theological, theoretical and exegetical contexts. Part one presents the biblical-theological foundations of an ecclesial ethic - examining issues such as creation, and Paul's theology of the Cross. Part two moves on to examine issues of character formation and community. Finally, part three presents a range of exegetical applications, which examine scripture and ethics in praxis. These essays look at hot-button issues such as the 'virtual self' in the digital age, economics, and attitudes to war. The collection includes luminaries such as N.T. Wright, Michael J. Gorman, Stanley Hauerwas and Dennis Hollinger, as well as giving space to new theological and exegetical voices. As such Ecclesia and Ethics provides a challenging and contemporary examination of modern ethical debates in the light of up-to-date theology and exegesis.
-Publisher
:preface Acknowledgementsintroduction<b>the Biblical-theological Foundations Of An Ecclesial Ethic </b>1. Creation: The Starting Point Of An Ecclesial Ethic - <i>dennis P. Hollinger, Gordon Conwell Theological Seminary, Usa</i>2. The Cross In Paul: Christophany, Theophany, Ecclesiophany - <i>michael J. Gorman, St. Mary's Seminary &amp; University, Usa</i>3. The Church As Temple And Moral Exhortation In 1 Corinthians - <i>brian Rosner, Ridley College Of Mission &amp; Ministry, Australia</i>4. Learning From Paul: Centered Ethics That Avoid Legalistic Judgmentalism And Moral Relativism - <i>mark D. Baker, Fresno Pacific Biblical Seminary, Usa</i><b>virtue Ethics, Character Formation, And Ecclesial Ethics</b>5. Habit Matters: The Bodily Character Of The Virtues - <i>stanley Hauerwas, Duke Divinity School, Usa</i>6. Paul's Eschatological Ethics - <i>n.t. Wright, University Of St Andrews, Uk</i><b>exegesis And Application - Holy Scripture And The Praxis Of Ecclesial Ethics</b>7. Did Saint Paul Take Up The Great Commission?: Discipleship Transposed Into A Pauline Key - <i>nijay Gupta, Northeastern Seminary At Roberts Wesleyan College, Usa</i>8. A Theological-ethical Reading Of The Gideon-abimelech Story - <i>s. Min Chun, Vancouver Institute For Evangelical Worldview, Canada And Nehemiah Institute For Christian Studies, Korea</i>9. Pride And Prejudice: Community Ethics In James 4:1-12 - <i>mariam J. Kamell, Regent College Vancouver, Canada</i>10. Discerning, Disarming, And Redeeming The Digital Powers - Gospel Community, The Virtual Self, And The Html Of Cruciform Love -<i> John Frederick, Grand Canyon University, Usa</i>11. "'de Manibus Gladius Corporalis Ablatus Est': Absolute Pacifism In The Early Church And Its Relevance In The Twenty-first Century" - <i>aaron C. Manby, University Of Otago, New Zealand</i>12. "follow Us As We Follow Moses:" Learning Biblical Economics From The New Testament's Appropriation Of Old Testament Narratives, Practices, And Liturgies" - <i>michael Rhodes, Gordon-conwell Theological Seminary, Usa</i>13. "you Will Fill Me With Joy In Your Countenance:" Engaging The North American Ecclesial Context With A Narrative Ethical Reading Of Acts 2:41-47 And 4:32-35 - <i>doug Hume, Pfeiffer University, Usa</i>bibliographyindex