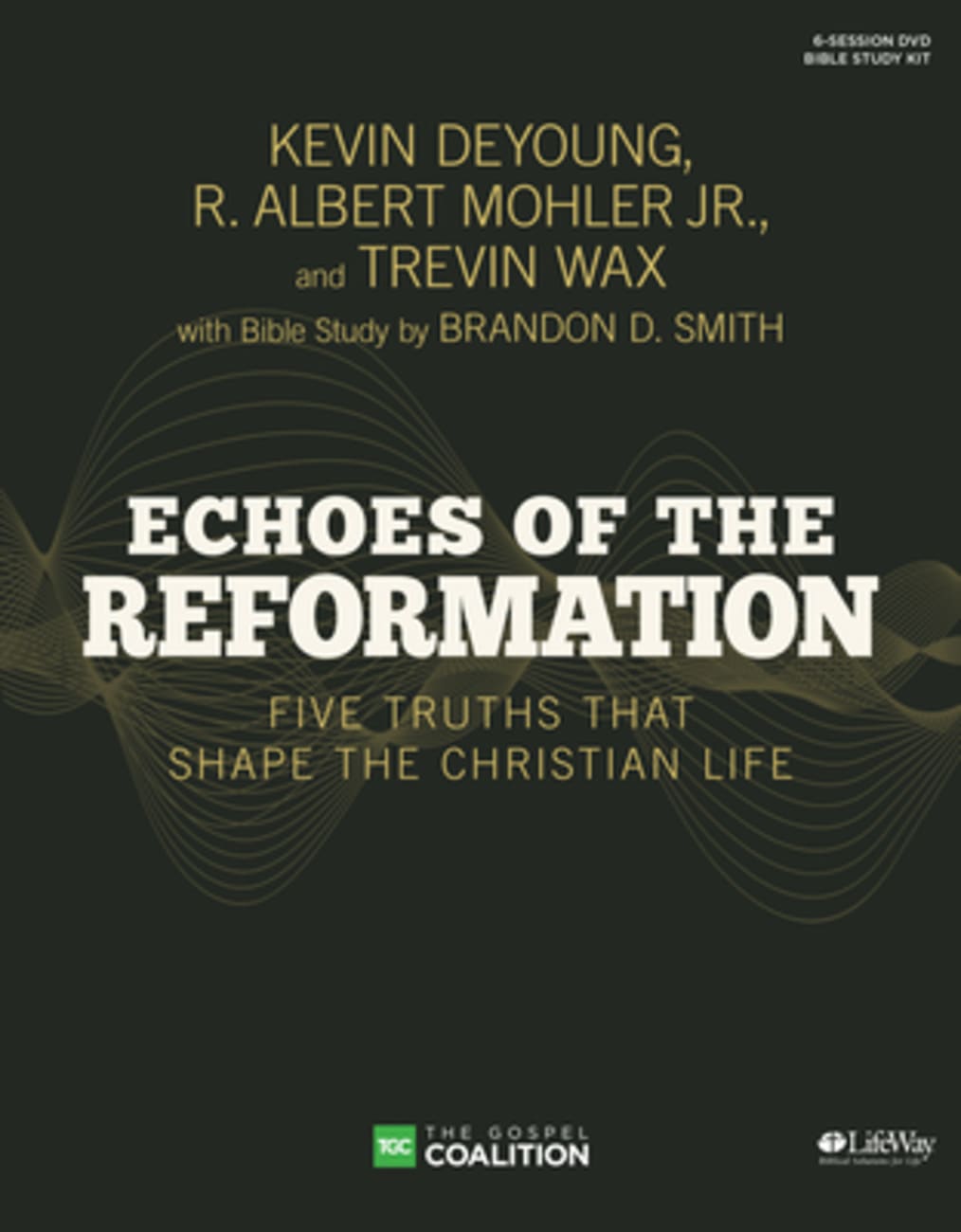 Echoes of the Reformation: Five Truths That Shape the Christian Life (Leader Kit)
It has been five hundred years since Martin Luther nailed his 95 Theses to the door of the All Saints' Church in Wittenberg, Germany. Luther's theses called for the reform of the church and served as the catalyst for
...
---
Free Shipping
for orders over $99.

Publisher Description


It has been five hundred years since Martin Luther nailed his 95 Theses to the door of the All Saints' Church in Wittenberg, Germany. Luther's theses called for the reform of the church and served as the catalyst for the Protestant Reformation. Its impact is still felt today. This Bible study examines the five core truths that came from the Reformation, now referred to as the solas. Group members will explore these essential convictions of the faith and emerge more immersed in the gospel of Jesus Christ. The solas include: Sola Scriptura (by Scripture alone) Sola gratia (by grace alone) Sola fide (through faith alone) Solus Christus (through Christ alone) Soli Deo gloria (glory to God alone) How is the Reformation still relevant today? As political pressure mounts, morality drifts with today's culture, and evangelicalism becomes more and more refined in a post-Christian world, it's even more important to hold the convictions of the great Reformation closer than ever. In short, the solas point us to vibrant Christian community as well as personal identity in Christ. As you'll see in this study, the solas are more than cold Latin terms that academics throw around in church-history books. The five solas, like the Reformation itself, are intensely practical. They were the DNA of the Reformation and are still the DNA of the church today. They are grounded in a real-life, everyday following of Jesus. They're the most important, basic scriptural truths you can ever believe. We stand on the shoulders of Christians in the past, and knowing where we came from will help us keep moving forward with passion and biblical clarity. Echoes of the Reformation Leader Kit contains a Bible Study Book and 1 DVD with a promotional video and six 15- to 20-minute video sessions featuring authors Kevin DeYoung, Al Mohler, and Trevin Wax. These panel discussions introduce the topic, overview historical significance, explore the theological meanings of the solas, and include illustrations for applying these key transformative truths. Features: - Videos featuring authors Kevin DeYoung, Al Mohler, and Trevin Wax - Biblically rooted and gospel-centered content - Six small-group sessions that include an introductory session and application of the five solas - Individual study opportunities for ongoing spiritual growth - Six-session Bible Study Book with group and personal components - Promotional content, including video - Social-media assets for the group leader Benefits: - Give group members a better understanding of the Reformation's impact on today's church. - Understand the weighty importance of the inspired Word of God. - Help group members discern the theological nuances of grace and its role in the life of a disciple. - Enhance a believer's understanding of the biblical and historical depth of the Christian faith. - Realize that Christ alone provides all life's answers. - Show group members how to live life for the glory of God and renew their commitment to this biblical mandate.



Kevin DeYoung is the senior pastor at University Reformed Church in East Lansing, Michigan, across the street from Michigan State University. A graduate of Hope College and Gordon Conwell Theological Seminary, he serves on the executive team of RCA Integrity, a renewal group within the Reformed Church of America. DeYoung is coauthor of Why We're Not Emergent and Why We Love the Church: In Praise of Institutions and Organized Religion. He has also written Just Do Something: A Liberating Approach to Finding God's Will.




TREVIN WAX is the editor of TGM - Theology, Gospel, Mission, a gospel-centered small group curriculum developed by LifeWay Christian Resources. He blogs at www.trevinwax.com and is also the author of "Holy Subversion: Allegiance to Christ in an Age of Rivals". He has served in pastoral roles in churches in the United States and in Romania. His wife is Corina and they have two children.




R. Albert Mohler Jr (Ph.D., Southern Baptist Theological Seminary) is the Joseph Emerson Brown Professor of Christian Theology and President of The Southern Baptist Theological Seminary, one of the largest seminaries in the world. Dr. Mohler has been recognized by influential publications such as Time and Christianity Today as a leader among American evangelicals. In fact, Time.com called him the reigning intellectual of the evangelical movement in the U.S. Dr. Mohler hosts a daily live nationwide radio program on the Salem Radio Network. He also writes a popular blog and a regular commentary on moral, cultural and theological issues. He is a frequent guest on national and international news outlets and is a popular preacher, teacher and lecturer. He is also the author of Cultural Shift: Engaging Current Issues with Eternal Truths; Preaching: The Centrality of Scripture and most recently The Disappearance Of God.

Koorong-Editorial Review.



Bestsellers in Ministry Resources