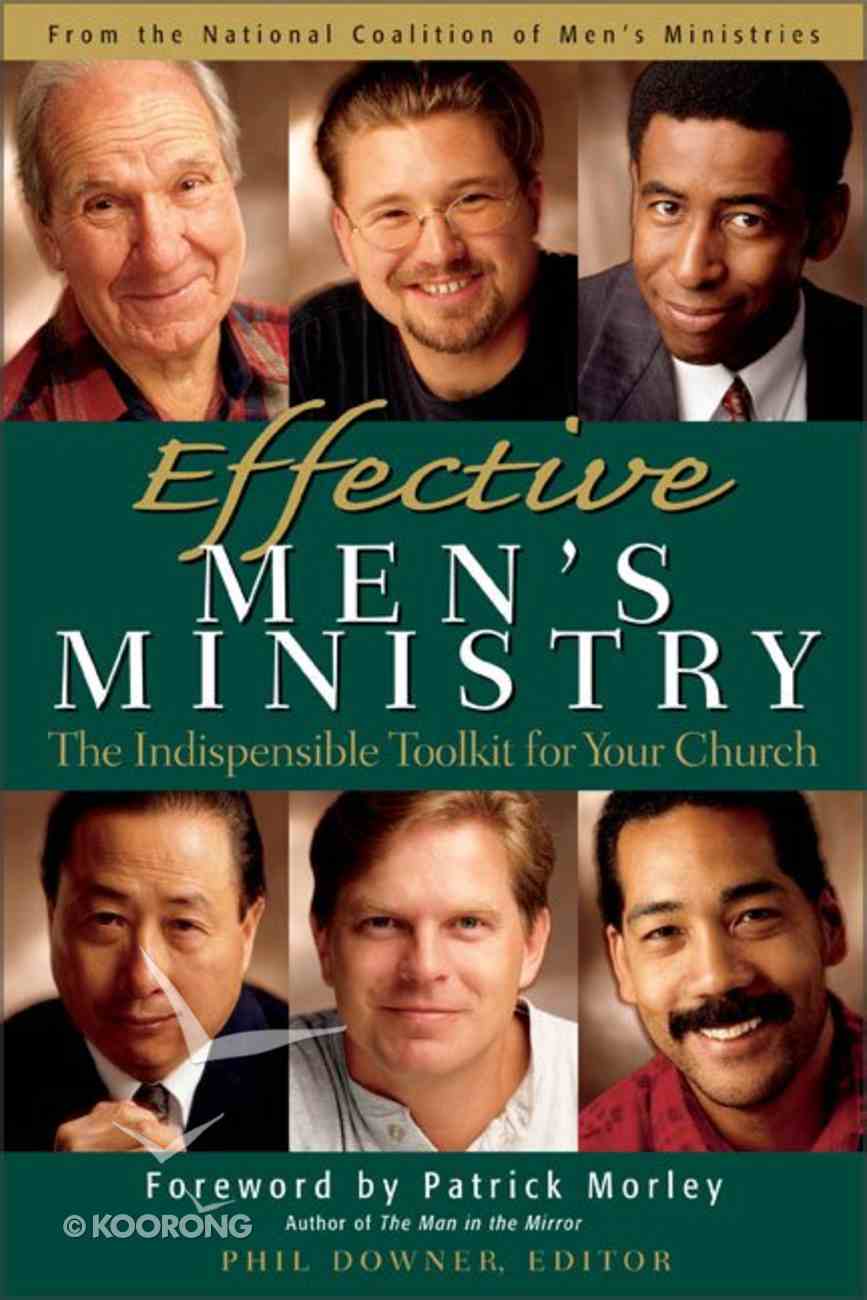 Developing and fine-tuning a thriving men's ministry takes perseverance, but it will pay huge dividends in the health of your church and its families. Effective Men's Ministry gives you the tools you need to start smart and stay strong.Here is...
---
Expected to ship tomorrow from Australia.
---
Free Shipping
for orders over $99.
Developing and fine-tuning a thriving men's ministry takes perseverance, but it will pay huge dividends in the health of your church and its families. Effective Men's Ministry gives you the tools you need to start smart and stay strong.Here is information you can really use--right away and in years to come. Created by the National Coalition of Men's Ministries, this comprehensive handbook takes you through the five stages of building a powerful, life-changing men's ministry in your church. Prominent pastors and men's leaders such as Pat Morley, Ed Cole, Haman Cross, Phil Downer, Steven Farrar, Jack Hayford, and Willie Richardson share their knowledge and experience. Here is your indispensable toolkit for bringing men together and helping them bond in purpose, heart, and spirit. Includes worksheets, exercises, and sidebars.Some of the twenty-six topics covered are: Getting Things Right--the First TimeThe Pastor's RoleBuilding a Leadership TeamUpside-Down LeadershipGetting Men to JesusT
-Publisher
Members of the National Coalition of Men's Ministries have written this hands-on resource guide to assist local churches and denominations as they seek to both initiate and implement healthy ministries for men.
-Publisher
PRODUCT DETAIL
Catalogue Code 

166017

Product Code 

0310236363

EAN 

9780310236368

UPC 

025986236366

Pages 

255

Department Ministry
Category Ministry Resources
Sub-Category General
Publisher Zondervan
Publication Date 

Aug 2001

Sales Rank 

31161

Dimensions 

226 x 149 x 17

mm

Weight 

0.317

kg
Phil Downer (J.D. Emory University School of Law) is the president of Discipleship Network of America (DNA), former president of Christian Business Men's Committee of USA (CBMC), and author or coauthor of several books, serves as editor for Effective Men's Ministry.
C O N T E N T S
Acknowledgments 7
Building The Lives Of Men 9
Pat Morley
Part One Developing The Plan
1. Modern Man In Contemporary Culture 15 Dan Erickson And Dan Schaffer
2. What Is Men's Ministry? 25 Steve Sonderman
3. Vision That Drives Ministry 36 Vince D'acchioli
4. Getting Things Right---the First Time 46 Gary G. Bateman
5. The Pastor's Role 56 Jack Hayford
Part Two Preparing The Ground
6. Building A Leadership Team 69 Chip Macgregor
7. Organizing Your Men's Ministry 78 Steve Sonderman
8. Purposeful Planning, Effective Implementation 89 Steve Sonderman
9. Upside-down Leadership 98 Stacy T. Rinehart
10. Foundations Of Christian Leadership 107 Chuck Stecker
11. The Mark Of Leadership 116 Dan Schaffer
Part Three Laying The Foundation
12. Getting Men To Jesus 125 Gordon England
13. Teaching Men To Pray 133 Dale Schlafer
14. Learning To Worship 142 Rick Kingham
15. Encouraging Vital Relationships 149 Geoff Gorsuch
16. Overcoming Prejudice 157 Robert Sena
Part Four Building The Framework
17. Transforming Your Men's Ministry 165 Rod Cooper
18. Becoming A Spiritual Parent 175 Phil Downer
19. Working With Men Who Fail 182 Steve Farrar
20. Men Of All Colors: Unity In Diversity 190 Haman Cross And Thomas Fritz
21. From Success To Significance 199 Phil Downer With Chip Macgregor
Part Five Creating The Structure
22. Training Men For Significance 209 Chuck Brewster
23. Becoming Irresistible Husbands 215 Ed Cole
24. Fathers And Sons 221 Steve Farrar
25. Life-changing Short-term Missions 227 Warren Hardig
26. Successful Men's Retreats 236 Larry Kreider
Doing Together What We Can't Do Apart 245 Willie Richardson
Contributors 248
Chapter One Modern Man in Contemporary Culture Dan Erickson and Dan Schaffer As the family goes, so goes the nation.' This simple statement reflects the truth that the family is the essential building block of all human society. The question is not, Will we have families? but, What will our families be like? For better or worse, the family is the primary means by which values are taught, morality is established, and sense of identity is formed. Our government invests billions of dollars each year in the future of our nation through programs that primarily affect children outside the home; meanwhile, the family unit is under attack and is, in many cases, fragmented and without purpose. Studies have shown that one of the main reasons for the breakdown of our families is a lack of proper leadership in the home, especially by husbands and fathers. We might well amend our initial statement to read, 'As the father goes, so goes the family, and so goes the nation.' If the church is to be an effective witness and influence in our nation, we must focus our attention on the condition of the family and its leadership. In other words, we must turn our efforts to the development of effective husbands and fathers. This is the greatest opportunity and challenge facing the church in the twenty-first century, because government social programs will never be able to capture men's hearts and mentor them into becoming responsible leaders of their homes. Unfortunately, most local churches do not know how to train men to be productive leaders. In many congregations, the normal process is for a man to get saved and then be rushed into a ministry position before he is ready. To be effective, however, he must first be trained to lead himself and his family before he can successfully lead the church. The church has a responsibility to teach men how to be spiritual leaders. The State of Our Nation's Men Men in our society---including Christian men and pastors---are caught in a web of deception about their masculinity. As counselor Alexander Mitserlisch postulates, 'Society has torn the soul of the male, and into this tear the demons have fled---the demons of insecurity, selfishness and despair. Consequently, men do not know who they are as men. Rather, they define themselves by what they do, who they know, or by what they own.' Many men today feel isolated. Studies have shown that most men over thirty do not have close friends. They have colleagues and work associates, golf partners, and maybe a 'couples' friend or two, with whom the bond is really between the wives. If they say that they do have a best friend, often it turns out to be a childhood buddy they talk to occasionally or visit every few years. In a 1993 survey, Dr. Gary Rossberg identified the following influences on men in our society:1 Regrettably, for most men in our culture, male friendship is a relic of the past. One man spoke for many when he said, 'I haven't made a new friend in twenty-five years.' This estrangement of men in our culture results in part from a societal standard that discourages true friendships between men. We've been taught to protect ourselves by keeping our adult relationships within certain 'safe' parameters. A close companionship between two males who are not relatives is often seen as suspicious or unhealthy. Society has convinced us that a relationship like that of Jonathan and David in the Old Testament is impossible. Current Beliefs among Nonchurchgoers According to George Barna, most men who are not involved with a church believe that the church does not offer any lasting value to their lives. The typical adult male in our society is more likely to spend his Sundays watching sports on TV than attending a church service. A majority of unchurched men believe that participating in church life cannot be justified because the return on their investment of time, attention, and energy is too slim. Despite the negative feedback, Barna also identified seven key factors that unchurched men said would draw them to the church. These factors define the window of opportunity that lies open to the church and sets the parameters for effective men's ministry.2 1.Men are looking for meaning and purpose in life. 2.Men are seeking understanding of who they are and what they are thinking. 3.Men want solutions to their everyday problems and difficulties. 4.Men want to know God---who he is and what he means to them. 5.Men want effective men's ministry that touches them where they are. 6.Men want friendships that are built on trust and that will last. 7.Men want help with family issues, especially training for their children. If our ministry to men is going to be successful, we must develop a system that will help men to form significant and lasting friendships. Without vital relationships between our men, too many men will continue to feel lonely, isolated, and without hope. When building our ministry, we must focus primarily on establishing relationships, not on developing programs. A successful ministry to men will encompass the following key components of a man's life: identity, friendship, God's calling, discipline, marriage and family skills, and stewardship. Identity. God has placed into each man a longing to be significant, a need to feel that his life counts. Countless men feel inadequate and insecure, no matter how much talent they possess. A man needs to learn how to find his identity in Christ. And every man needs a sense of purpose. Without a godly purpose in life, a man is left to measure his significance and his success by what he owns, what he achieves, and what he controls. The problem with finding his self-worth in his position, possessions, or power is that if he loses his job, his house, or his influence, a man also loses his self-respect. Friendship. Most men know a lot of people by name or by acquaintance. Conversations with these individuals are light, brief, and nonthreatening. Even in the church, very few men have close friends. For the most part, men are spiritually fed but relationally bankrupt. Ask a group of men to identify their greatest needs, and most of them would respond with the need for close male friendships. The need for intimate, trusting relationships with other men proves to be a compelling need, regardless of race or culture.
Bestsellers in Ministry Resources