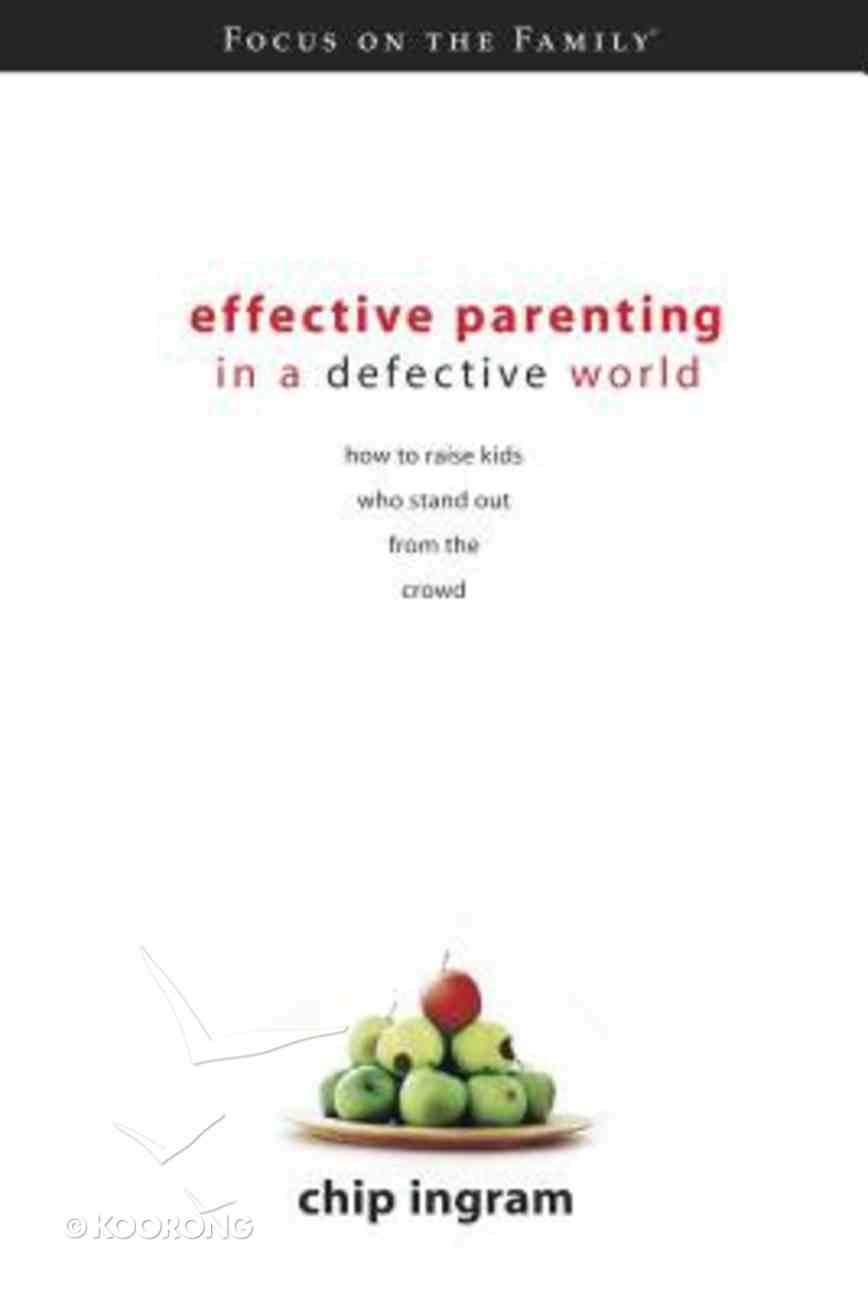 Effective Parenting in a Defective World
A parent's greatest desire is to raise a child who can face anything with wisdom and confidence. But in a world of over-extended schedules, amoral messages, and incessant peer-pressure, how can you raise a confident child that follows God's will,...
Unavailable. Out of Print. Only available while stock lasts.
Out of Print
---
Free Shipping
for orders over $99.
A parent's greatest desire is to raise a child who can face anything with wisdom and confidence. But in a world of over-extended schedules, amoral messages, and incessant peer-pressure, how can you raise a confident child that follows God's will, not the world's? Chip Ingram's practical tips for modeling right living, building strong bonds, and disciplining effectively will help parents bringing up Christ-centered kids who feel secure and significant no matter what comes their way. The book features practical, age-appropriate parenting tips, charts/diagrams, and action steps.
-Publisher
"I just want my kids to be happy and successful." Our kids are growing up in a culture that promises them fulfillment in a dizzying number of ways. There are so many opportunities?and so many dangers?that confront our kids every day. Some may look pretty good to you?school, sports, music lessons. Others, like the latest dangerous thrill-seeking fad, may keep you up at night. So what are you to do? Sign your kids up for every activity and hope something sticks? Anxiously guard them from the dangers outside your door? How can a parent make the right choice? How do you raise effective kids in a defective world? As a pastor and father of four, Chip Ingram delivers a much more positive solution. Without shying away from tough topics like discipline and teen rebellion, Chip offers thought-provoking principles and specific exercises to help you understand how to develop your child?'s full potential. This ?hands on? approach to parenting gives special hope to blended families and those in crisis. You?ll learn how you can draw closer to your kids even as the world tries to pull you apart. You?ll also learn proven methods to teach your kids critical values like responsibility and perseverance that will help them rise above the norm. Along the way, you?ll discover biblical principles and practical advice that can help you raise kids who stand out from the crowd.
-Publisher
Chip Ingram is the President and Teaching Pastor for Living on the Edge, an international teaching and discipleship ministry. His passion is to help everyday Christians actually "live like Christians" by raising the bar of discipleship. A pastor for over twenty years, Chip has a unique ability to communicate truth and winsomely challenge people to live out their faith. Chip is author of nine books, including God: As He Longs for You to See Him; The Invisible War; Love, Sex, and Lasting Relationships; Good to Great in God's Eyes: 10 Practices Great Christians Have in Common and most recently Overcoming Emotions That Destroy: Practical Help for Those Angry Feelings That Ruin Relationships