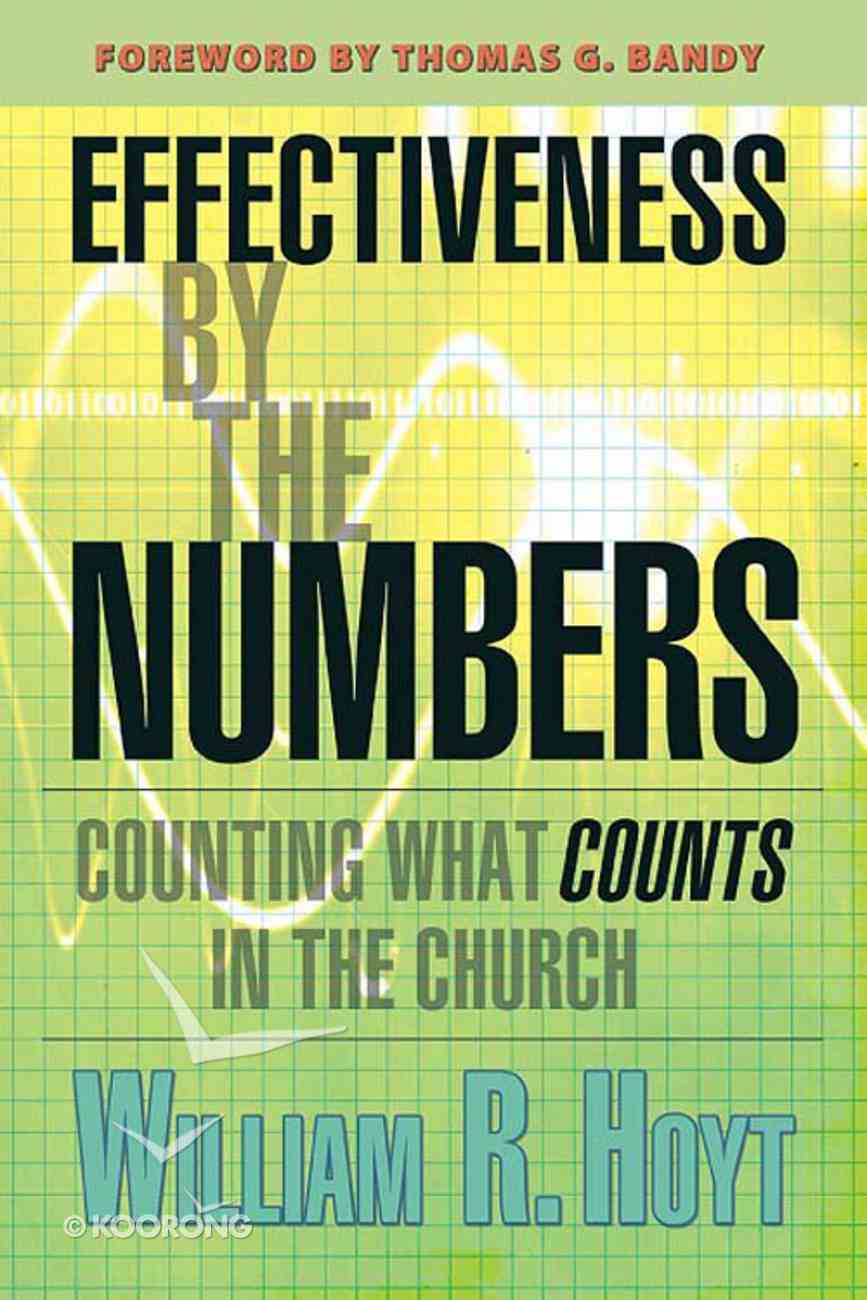 Effectiveness By the Numbers
Accurately counting the right things can profoundly impact ministry effectiveness. Knowing "the story in the stats" can inform decisions and lead to the things that produce the results most pleasing to God. Gathering and studying the right numbers can help...
Instant download
---
Expected to ship tomorrow from Australia.
---
Read using our free app on your tablet or mobile!
---
Free Shipping
for orders over $99.

Accurately counting the right things can profoundly impact ministry effectiveness. Knowing "the story in the stats" can inform decisions and lead to the things that produce the results most pleasing to God. Gathering and studying the right numbers can help a church wisely invest its resources of time, effort, people, money, and facilities. Effectiveness by the Numbers will help ensure that your church is measuring the right things for the right reasons. Counting what counts enables a church to fulfill its mission--making mature followers of Jesus Christ.


Jesus and his disciples counted. They knew how many he fed with the five loaves and fishes. When a crowd gathered they often knew and recorded the number of men, women and children present for the event. The early church counted. They knew that on the day of Pentecost about 3,000 were added to their number. The book of Acts reports that "many believed," "people were added," and "many of the Corinthians who heard him believed and were baptized." If Jesus counted and the early church kept track of numbers, it is not unreasonable to expect churches today to use metrics to increase their effectiveness in doing God's work on earth.


Chapter One: The Fear of Numbers
Chapter Two: If You Could Count Only One Thing
Chapter Three: How Many and How Often
Chapter Four: How Many Stick?
Chapter Five: How Many Serve?
Chapter Six: Who's New?
Chapter Seven: Growing by Staying Small
Chapter Eight: What's More Important than Dollars?
Chapter Nine: What Product Are You Producing Anyway?

About the author: William R. Hoyt
During his 38 years of ministry, Dr. Bill Hoyt has served as Pastor, Seminary Professor, Executive Minister of the Southwest Baptist Conference and a consultant to churches, denominations and other not-for-profit corporations. By virtue of his varied background, Dr. Hoyt has been privileged to observe countless churches from many different vantage points.




Dr. Hoyt is the President of NexStep Coaching and Consulting, an organization committed to enhancing the effectiveness of Christian leaders and organizations through executive coaching and consulting for organizational development. Dr. Hoyt is also President of UniReach International, a non-profit organization that engages in humanitarian work in Vietnam.




Dr. Hoyt and his wife Gwyn have been married for 40 years. They have two sons and daughters-in-law, a granddaughter and three grandsons.

^
Jesus and his disciples counted. They knew how many he fed with the five loaves and fishes. When a crowd gathered they often knew and recorded the number of men, women and children present for the event. The early church counted. They knew that on the day of Pentecost about 3,000 were added to their number. The book of Acts reports that ???many believed,??? ???people were added,??? and ???many of the Corinthians who heard him believed and were baptized.?????If Jesus counted and the early church kept track of numbers,??it is not unreasonable to expect churches today to use metrics to increase??their effectiveness in doing God???s work on earth.

^
Chapter One: The Fear of Numbers
^Chapter Two:??If You Could Count Only One Thing
^Chapter Three:??How Many and How Often
^Chapter Four:??How Many Stick?
^Chapter Five: How Many Serve?
^Chapter Six:??Who's New?
^Chapter Seven:??Growing by Staying Small
^Chapter Eight:??What's More Important than Dollars?
^Chapter Nine:??What Product Are You Producing Anyway?
^
^About the author:????William R. Hoyt
^During his 38 years of ministry, Dr. Bill Hoyt has served as Pastor, Seminary Professor, Executive Minister of the Southwest Baptist Conference and a consultant to churches, denominations and other not-for-profit corporations. By virtue of his varied background, Dr. Hoyt has been privileged to observe countless churches from many different vantage points.

^
??

^
Dr.??Hoyt is the President of NexStep Coaching and Consulting, an organization committed to enhancing the??effectiveness of Christian leaders and organizations through executive coaching and consulting for organizational development. Dr. Hoyt is also President of UniReach International, a non-profit organization that engages in humanitarian work in Vietnam.

^
??

^
Dr. Hoyt??and his wife Gwyn have been married for 40 years. They have two sons and daughters-in-law, a granddaughter and three grandsons.??

Accurately counting the right things enables a church to fulfill its mission--making mature followers of Jesus Christ.
Accurately counting the right things can profoundly impact ministry effectiveness. Knowing ???the story in the stats??? can inform decisions and lead to the things that produce the results most pleasing to God. Gathering and studying the right numbers can help a church wisely invest its resources of time, effort, people, money, and facilities. Effectiveness by the Numbers will help ensure that your church is measuring the right things for the right reasons. Counting what counts enables a church to fulfill its mission--making mature followers of Jesus Christ.??

^
Jesus and his disciples counted. They knew how many he fed with the five loaves and fishes. When a crowd gathered they often knew and recorded the number of men, women and children present for the event. The early church counted. They knew that on the day of Pentecost about 3,000 were added to their number. The book of Acts reports that ???many believed,??? ???people were added,??? and ???many of the Corinthians who heard him believed and were baptized.?????If Jesus counted and the early church kept track of numbers,??it is not unreasonable to expect churches today to use metrics to increase??their effectiveness in doing God???s work on earth.

^
Chapter One: The Fear of Numbers
^Chapter Two:??If You Could Count Only One Thing
^Chapter Three:??How Many and How Often
^Chapter Four:??How Many Stick?
^Chapter Five: How Many Serve?
^Chapter Six:??Who's New?
^Chapter Seven:??Growing by Staying Small
^Chapter Eight:??What's More Important than Dollars?
^Chapter Nine:??What Product Are You Producing Anyway?
^
^About the author:????William R. Hoyt
^During his 38 years of ministry, Dr. Bill Hoyt has served as Pastor, Seminary Professor, Executive Minister of the Southwest Baptist Conference and a consultant to churches, denominations and other not-for-profit corporations. By virtue of his varied background, Dr. Hoyt has been privileged to observe countless churches from many different vantage points.

^
??

^
Dr.??Hoyt is the President of NexStep Coaching and Consulting, an organization committed to enhancing the??effectiveness of Christian leaders and organizations through executive coaching and consulting for organizational development. Dr. Hoyt is also President of UniReach International, a non-profit organization that engages in humanitarian work in Vietnam.

^
??

^
Dr. Hoyt??and his wife Gwyn have been married for 40 years. They have two sons and daughters-in-law, a granddaughter and three grandsons.??


-Publisher

Accurately counting the right things can profoundly impact ministry effectiveness. Knowing "the story in the stats" can inform decisions and lead to the things that produce the results most pleasing to God. Gathering and studying the right numbers can help a church wisely invest its resources of time, effort, people, money, and facilities. Effectiveness by the Numbers will help ensure that your church is measuring the right things for the right reasons. Counting what counts enables a church to fulfill its mission--making mature followers of Jesus Christ.


Jesus and his disciples counted. They knew how many he fed with the five loaves and fishes. When a crowd gathered they often knew and recorded the number of men, women and children present for the event. The early church counted. They knew that on the day of Pentecost about 3,000 were added to their number. The book of Acts reports that "many believed," "people were added," and "many of the Corinthians who heard him believed and were baptized." If Jesus counted and the early church kept track of numbers, it is not unreasonable to expect churches today to use metrics to increase their effectiveness in doing God's work on earth.


Chapter One: The Fear of Numbers
Chapter Two: If You Could Count Only One Thing
Chapter Three: How Many and How Often
Chapter Four: How Many Stick?
Chapter Five: How Many Serve?
Chapter Six: Who's New?
Chapter Seven: Growing by Staying Small
Chapter Eight: What's More Important than Dollars?
Chapter Nine: What Product Are You Producing Anyway?

About the author: William R. Hoyt
During his 38 years of ministry, Dr. Bill Hoyt has served as Pastor, Seminary Professor, Executive Minister of the Southwest Baptist Conference and a consultant to churches, denominations and other not-for-profit corporations. By virtue of his varied background, Dr. Hoyt has been privileged to observe countless churches from many different vantage points.




Dr. Hoyt is the President of NexStep Coaching and Consulting, an organization committed to enhancing the effectiveness of Christian leaders and organizations through executive coaching and consulting for organizational development. Dr. Hoyt is also President of UniReach International, a non-profit organization that engages in humanitarian work in Vietnam.




Dr. Hoyt and his wife Gwyn have been married for 40 years. They have two sons and daughters-in-law, a granddaughter and three grandsons.


-Publisher
PRODUCT DETAIL
Catalogue Code 

359356

Product Code 

9781426722462

ISBN 

142672246X

EAN 

9781426722462

Department Academic
Category Church
Sub-Category Church Growth
Publisher Abingdon Press
Publication Date 

Jul 2011

Sales Rank 

69836

Size 

0.47 MB (EPUB)