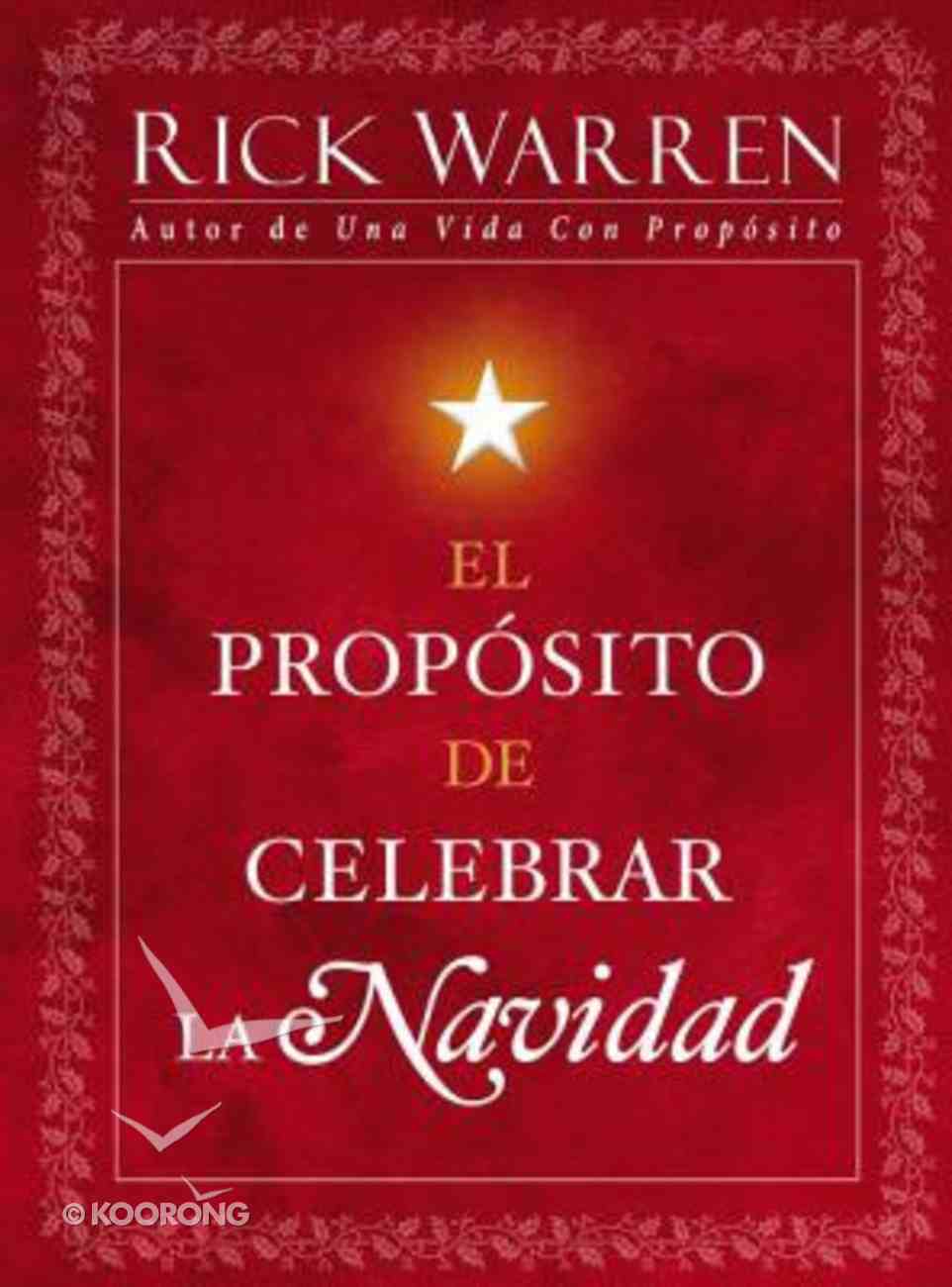 El Proposito De Celebrar La Navidad (Purpose Of Christmas, The)
Por que es tan importante la Navidad?Es la mayor festividad anual en todo el mundo. Otras celebraciones duran un solo dia, pero el clima de celebracion de la Navidad se extiende durante todo un mes, es decir, la duodecima parte...
---
Free Shipping
for orders over $99.
Por que es tan importante la Navidad?Es la mayor festividad anual en todo el mundo. Otras celebraciones duran un solo dia, pero el clima de celebracion de la Navidad se extiende durante todo un mes, es decir, la duodecima parte de un ano. Durante la temporada de Navidad miles de millones de personas abandonan sus quehaceres rutinarios para adornar sus casas, enviar tarjetas con mensajes navidenos, comprar regalos, ir a fiestas de Navidad, asistir a servicios religiosos, cantar villancicos, ver programas especiales de la television dedicados a la Navidad y hacer largos viajes para reunirse con sus familias. Los espectaculos y los sonidos de la Navidad inundan el ambiente. Hay establecimientos, e incluso profesiones que se dedican exclusivamente a la preparacion y celebracion de esta fiesta. Cuando llega la Navidad, uno no puede ignorarla. Esta por todas partes.Si uno se pone a pensarlo bien, es increible que el nacimiento simple y sin pretensiones de un bebe campesino, ocurrido hace dos mil anos en el Medio Oriente, haya causado tal conmocion: aun hoy, su cumpleanos causa congestiones de transito en lugares como Nueva York, Tokio y Rio de Janeiro.Quizas nunca te hayas dado cuenta de que cada vez que revisas tu calendario, mencionas una fecha o la escribes, estas usando a Jesucristo como punto de referencia. La historia se basa en Cristo para dividir los tiempos en AC (antes de Cristo) y DC (despues de Cristo). Cualquier otro acontecimiento en la historia y cualquier fecha actual en tu agenda, se cuentan a partir de los dias y anos que han transcurrido desde que Jesucristo vino a la Tierra.Hasta tu cumpleanos esta fechado por el de Cristo!La noche en que Jesucristo nacio en Belen, un grupito de pastores humildes cuidaba tranquilamente sus rebanos de ovejas en un campo cercano. Mirando las estrellas, nada parecia ser diferente de tantas otras noches. Pero lo que estaba a punto de ocurrir transformaria no solo las vidas de los pastores, sino tambien millones y millones de otras vidas. El mundo no volveria a ser igual. De repente, un resplandor brillante ilumino el cielo, y un angel de Dios aparecio sobre ellos y comenzo a hablarles. A los pastores les parecio increible y sintieron un miedo mortal.La Biblia nos presenta el relato de la primera Navidad:En esa misma region habia unos pastores que pasaban la noche en el campo, turnandose para cuidar sus rebanos. Sucedio que un angel del Senor se les aparecio. La gloria del Senor los envolvio en su luz, y se llenaron de temor. Pero el angel les dijo: No tengan miedo. Miren que les traigo buenas noticias que seran motivo de mucha alegria para todo el pueblo. Hoy les ha nacido en la ciudad de David un Salvador, que es Cristo el Senor. Esto les servira de senal: Encontraran a un nino envuelto en panales y acostado en un pesebre. De repente aparecio una multitud de angeles del cielo, que alababan a Dios y decian: Gloria a Dios en las alturas, y en la tierra paz a los que gozan de su buena voluntad. Lucas 2:8-14 nviEl angel dijo que la Navidad traeria mucha alegria...para todo el pueblo! Realmente es asi? Para muchas personas, prepararse para la Navidad parece mas un fastidio que un motivo de alegria.
-Publisher
Autor del libro n 1 superventas delNew York Times, una vida con proposito Por que tiene tanta importancia la Navidad?Si uno se pone a pensarlo bien, es increible que el nacimiento simple y sin pretensiones de un bebe campesino, hace mas de dos mil anos en el Medio Oriente, pueda causar embotellamientos cada mes de diciembre en sitios como la ciudad de Nueva York, Tokio, y Rio de Janeiro.La noche en que nacio Jesucristo en Belen, un pequeno grupo de pastorcillos pobres cuidaban tranquilamente a sus rebanos de ovejas mientras contemplaban las estrellas. Era una noche identica al de las otras mil noches, pero lo que estaba a punto de suceder transformaria no solo sus vidas sino a las de millones de otras personas. El mundo nunca seria igual.No importa que religion practicas, necesitas saber como los tres propositos que tiene la Navidad resolveran tus tres necesidades mas grandes.Cuando entiendas y recibas los regalos de Navidad que Dios te ofrece, veras como se transformara tu propia vida...para siempre!
-Publisher
Richard Duane Warren was born in San Jose, California 28 January 1954, the son of a Baptist minister, James Warren. Rick earned a Bachelor of Arts from California Baptist University, a Master of Divinity from Southwestern Theological Seminary, and a Doctor of Ministry from Fuller Theological Seminary.



Rick felt called to full-time ministry when he was still an undergraduate, and was actively involved in student Christian groups. He and his wife Kay; married since 1975; founded Saddleback Church in 1980 when he was just 26 years old, with a congregation of 200 attenders. In the decades since, Saddleback has grown phenomenally; it now has an average attendance of 20,000 a week, and the influence of its ministry style and resources has extended worldwide. Rick is still the senior pastor at Saddleback, where he is known as 'Papa Rick' a voice of wisdom, hope, encouragement, and vision. Since 2005, he and his wife have given away 90% of their income, due to the extraordinary success of his publications.



Pastor Rick took the lessons he learned building up Saddleback and distilled them into a fivefold ministry approach called 'Purpose Driven'. Zondervan's 1995 publication of Rick's The Purpose Driven Church was a huge bestseller, and Saddleback became a model for churches everywhere. This was followed in 2002 by The Purpose Driven Life - a 40-day devotional that would sell over 30 million copies in five years. In 2004, Pastor Rick was invited to Rwanda by its president Paul Kagame, who had read The Purpose Driven Life and wanted to make his country a 'purpose driven nation'. This trip changed the trajectory of Pastor Rick's life and mission. God gave him a vision for The PEACE Plan, a mission to fight the five giants of spiritual emptiness, self-serving leadership, poverty, pandemic disease, and illiteracy that devastate the lives of men, women, and children around the world. Rick and Kay consider it their life's work to empower local churches and local leaders to create sustainable change that gives a voice to the voiceless and help to the helpless. To date, PEACE teams have participated in missions outreach in every nation of the world. Rick and Kay have used the PEACE platform to advocate for HIV/AIDS sufferers globally, mobilizing local churches to help prevent the spread of the disease and to care for those already affected.



In the decades since founding Saddleback Church, Pastor Rick has become one of the most respected and influential pastors in the US. He mentors young leaders, and many of today's leading pastors credit him and The Purpose Driven Church for inspiring them to pursue their own callings to ministry. As pastor to pastors, Rick has built the Purpose Driven Network, a global alliance of pastors from more than 160 countries and hundreds of denominations and has also founded Pastors.com, an online interactive community that provides sermons, forums, and other practice resources for pastors.



Rick and Kay have three adult children and four grandchildren. Their youngest son Matthew took his own life in 2013 after a long struggle with mental illness. Rick has been active in recent years seeking to build awareness in the church with regard to mental illness.
Bestsellers in Global Language