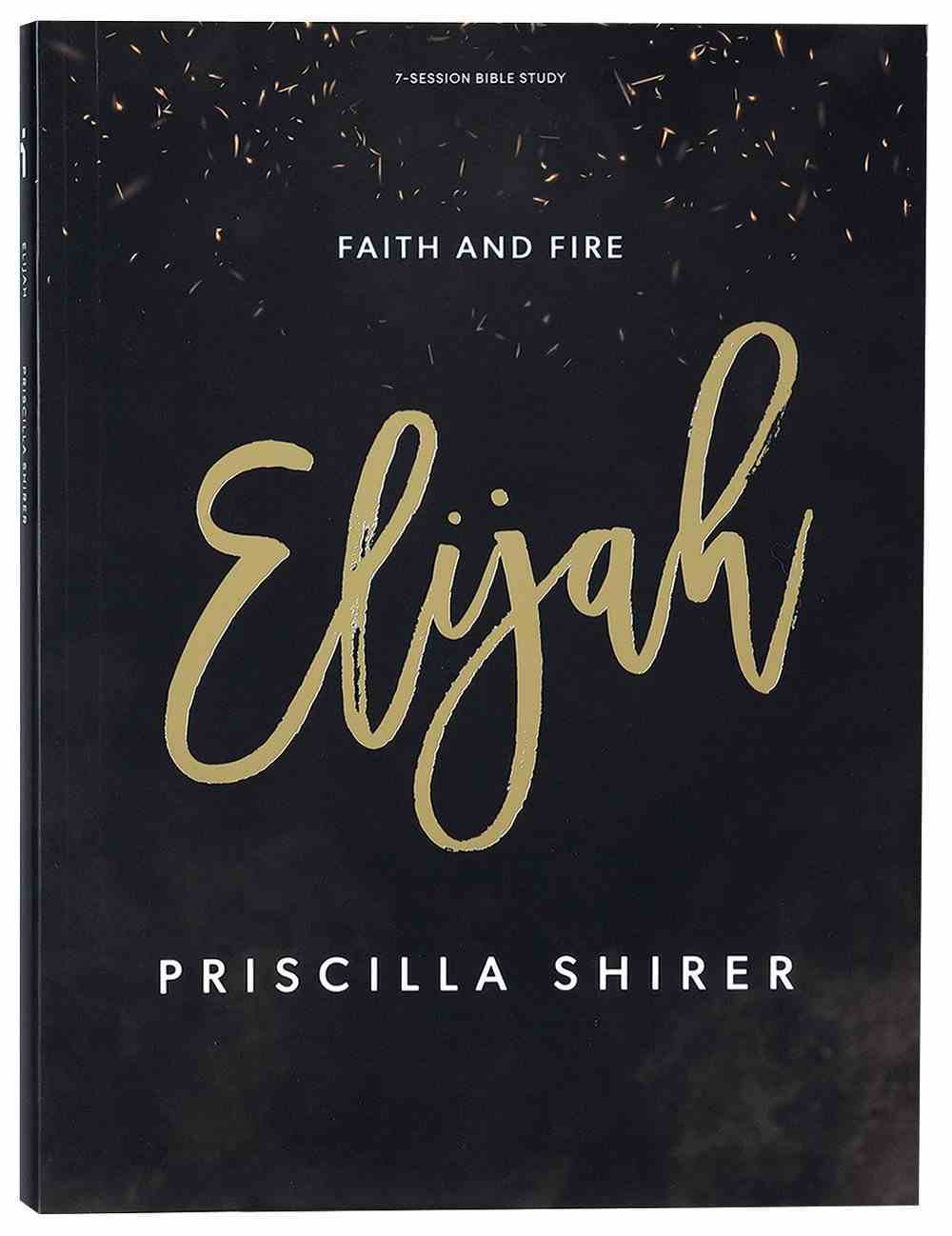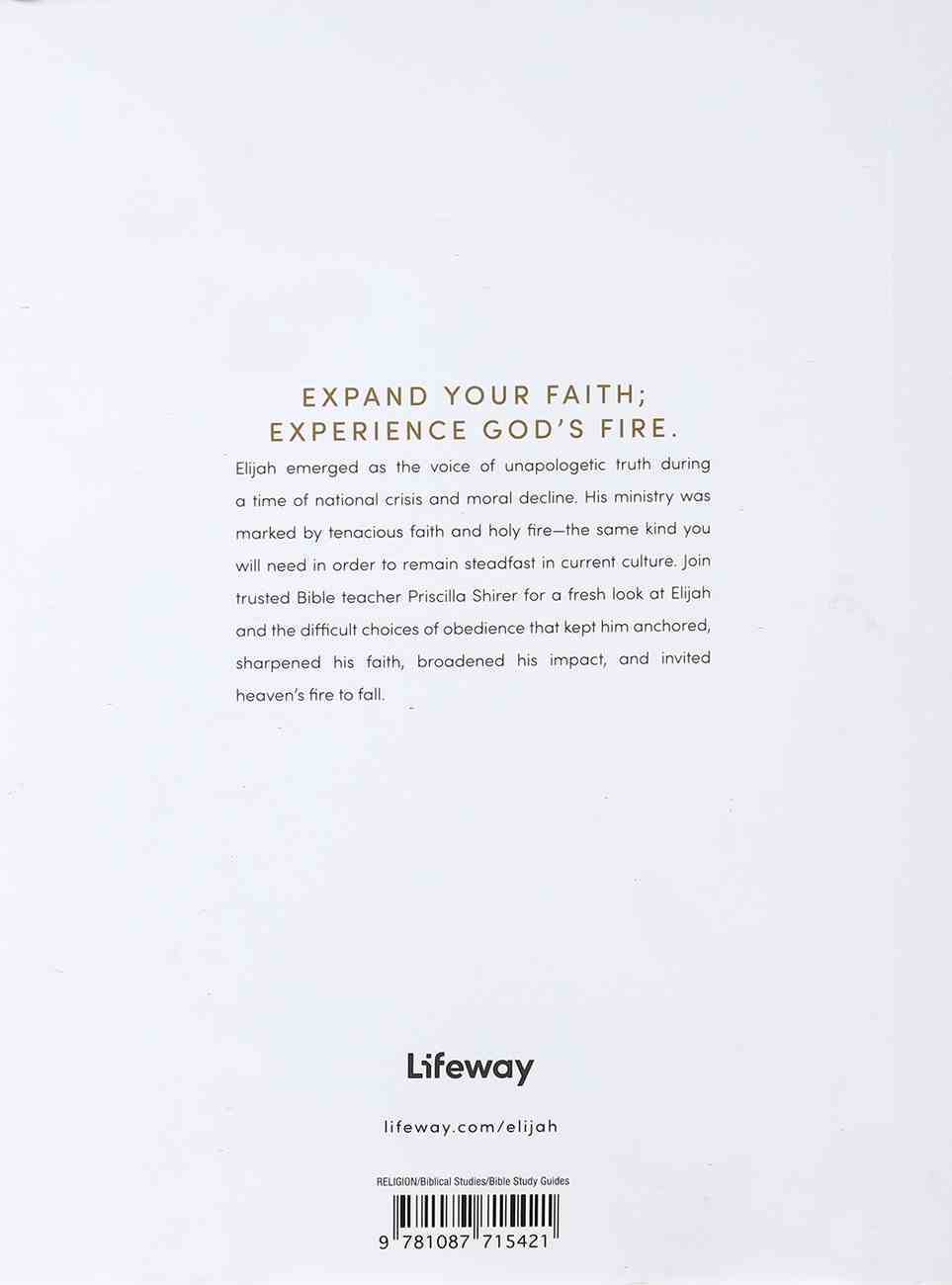 Elijah: Faith and Fire (7 Sessions) (Bible Study Book)
Old Testament heroes are best known for their most celebrated moments: Moses dividing the Red Sea; David slaying Goliath; Gideon routing an insurmountable army; Joshua marching around the defiant walls of Jericho. And Elijah - calling down fire on...
---
Expected to ship tomorrow from Australia.
---
Free Shipping
for orders over $99.
Old Testament heroes are best known for their most celebrated moments: Moses dividing the Red Sea; David slaying Goliath; Gideon routing an insurmountable army; Joshua marching around the defiant walls of Jericho.

And Elijah - calling down fire on Mount Carmel.

Blinded by the remarkable narratives of our biblical heroes, we can forget they each had a backstory - months and years of development, even difficulty, which fortified their spiritual muscle and prepared them for the tasks that made their lives unforgettable.

Every serious believer longs to summon up the kind of boldness and faith that can stand firm on Mount Carmel and pray down heaven into impossible situations. Yet few are willing to go through the process required to get them there. Strength of faith, character, and boldness can only be shaped in the hidden fires of silence, sameness, solitude, and adversity. Those who patiently wait on God in the darkness emerge with their holy loyalty cemented, their courage emblazoned, and their confident belief in Him set afire.

Join Priscilla Shirer on this 7-session journey through the life and times of the prophet Elijah to discover how the fire on Mount Carmel was forged in the valley of famine. And how the emboldened, fiery faith you desire is being fashioned by God in your life right now.

Features:

Leader guide to help with questions and discussions within small groups

Personal study segments to complete between 7 weeks of group sessions

Seven enriching teaching videos, approximately 30 - 40 minutes per session, are available for purchase or rent from Lifeway

Articles to enhance your study and application of the content

Benefits:
Understand the value of seasons of growth and testing in your spiritual maturity.

Be encouraged to wait on God's good work in your heart and mind, even in seasons when you feel like no one sees.

Learn to trust in the goodness and faithfulness of God and His purposes for your life.

-Publisher.
Priscilla Shirer is a wife and a mother first. But put a Bible in her hand and a message in her heart and you'll see why thousands flock to her conferences and dive into her Bible study series each year.

Priscilla Evans was born 31 December 1974 in Dallas, Texas, the daughter of Dr Tony Evans, senior pastor of the thriving 9,500-member Oak Cliff Bible Fellowship. A graduate of Dallas Theological Seminary, Priscilla holds a Master's degree in Biblical Studies and loves nothing more than to serve her sisters in Christ through the teaching of God's Word. She considers it a privilege to serve believers from every denomination and culture by helping them to know the truths of Scripture intellectually and by encouraging them to experience these truths practically by the power of the Holy Spirit.

Priscilla's ministry work began while she was still a college freshman. Her spots on Christian radio proved to be popular, and she was invited to lead the weekly Bible study at Zig Ziglar's corporation. In 1999, Priscilla married executive Jerry Shirer, and together they founded Going Beyond Ministries. In addition to Priscilla's participation in many church and para-church conferences across the globe each year, Going Beyond Ministries hosts AWAKEN - an outreach event in their hometown designed to encourage and mobilise women locally. This free gathering brings together thousands of women from different denominations and backgrounds several times a year for an opportunity to not only hear the Word but to live it out in practical ways.

The ministry also equips believers with Bible study resources by partnering with LifeWay Christian resources. Priscilla has authored many video-based studies on biblical characters and topics including Jonah, Gideon, the Exodus, discerning God's voice and the Armor of God.

Priscilla has published numerous books including Discerning the Voice of God, God is Able, the New York Times Bestseller The Resolution for Women, and Fervent: A Woman's Battle Plan for Serious, Specific and Strategic Prayer. In 2015, she made her debut as a screen actress, starring in the role of Elizabeth Jordan in the hit faith-based film War Room.

Between studying and writing, Priscilla spends most of her time cleaning up after (and trying to satisfy the appetites of) her and Jerry's three growing sons - Jackson, Jerry Jr., and Jude. They make their home in Dallas.
Bestsellers in Ministry Resources