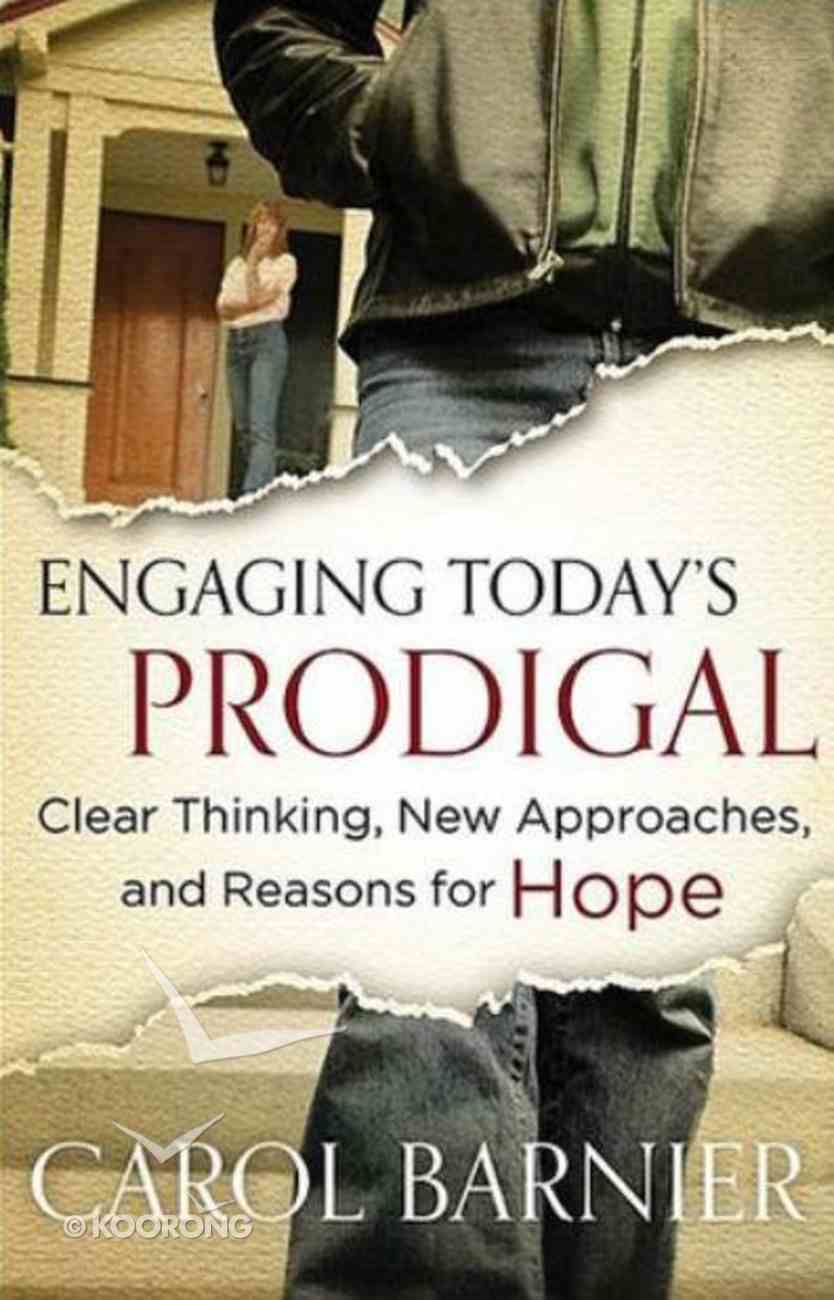 Engaging Today's Prodigal
Many families today experience the profound guilt and shame filled pain of seeing a child walk away from their faith and values. Churches and parents feel powerless to change the relationship and engage the prodigal in positive ways. Carol...
Out of Stock
Available to Order
---
Expected to ship February 2021.
---
Free Shipping
for orders over $99.


Many families today experience the profound guilt and shame filled pain of seeing a child walk away from their faith and values. Churches and parents feel powerless to change the relationship and engage the prodigal in positive ways. Carol Barnier has the insight to help. She left the faith of her pastor father, became an active atheist, debated Christians, and explored a variety of worldviews before she found the truth in a relationship with Jesus.


But far more than her personal story, Engaging Today's Prodigal equips readers with a better understanding of a prodigal's motivation, useful responses that won't prevent reconciliation, clear boundaries to protect themselves and other children, actions to take when you know you have contributed to the problem, and the value of realistic expectations. With effective wit and humor, Carol provides material relevant for churches, parents and even the prodigals themselves.


Can your family or church interact with a prodigal in ways that build a relationship bridge that can provide a way back home when they are ready? Let Engaging Today's Prodigal equip you with clear, specific actions that can overcome the shame, hurt, and loss to bring real hope for the future.



-Publisher
CAROL BARNIER is a humorist and speaker, frequent radio guest and author, Pastor's kid, Christian. . .and former atheist. These days she admits she takes her God, her faith and her theology very seriously, but herself. . .not so much. To every task she brings along her slightly irreverent humor, whether tackling the issues of being very ADHD, the discomfort at being asked to be the older woman in a Titus program (after all, Titus rhymes with phlebitis--proceed with caution), or how to love today's "woman at the well." But in her latest project--bringing tools and hope to the parents of prodiga
<div><p><b>table Of Contents:</b></p><p>(sample Only - Not Final)</p><p>part One: Myths Debunked</p><ul><li>myth #1 - Perfect Parenting Makes For Perfect Children <li>myth #2 - It's My Fault --says So In Proverbs <li>myth #3 - I Can Rescue Him <li>myth #4 - This Child Just Wants To Push My Buttons <li>myth #5 - If I Can Say The Perfect Thing, My Child Will Finally "get It!" <li>myth #6 - If I Can Let Her Know How Badly She's Hurting Us, She'll Stop <li>myth #7 - My Mistakes Will Scar Her Forever</li></ul><p>part Two: Do's &amp; Don'ts For Parents</p><ul><li>do Advise, Don't Badger <li>do Focus On Boundaries, Not On Behavior <li>do Create A Safety Zone <li>don't Start A Sentence With <i>the Bible Says...</i> <li>do Listen In A Whole New Way <li>don't Miss The Courage In Your Prodigal <li>do Love When Your Prodigal Is Most Unlovable <li>do Create A Support Group <li>do Reach Out To Prodigals Who Aren't Your Own <li>don't Pull Out List Of Expectations When Prodigal Returns <li>do Seek God's Plans For You In All This</li></ul><p>&#160;</p></div>