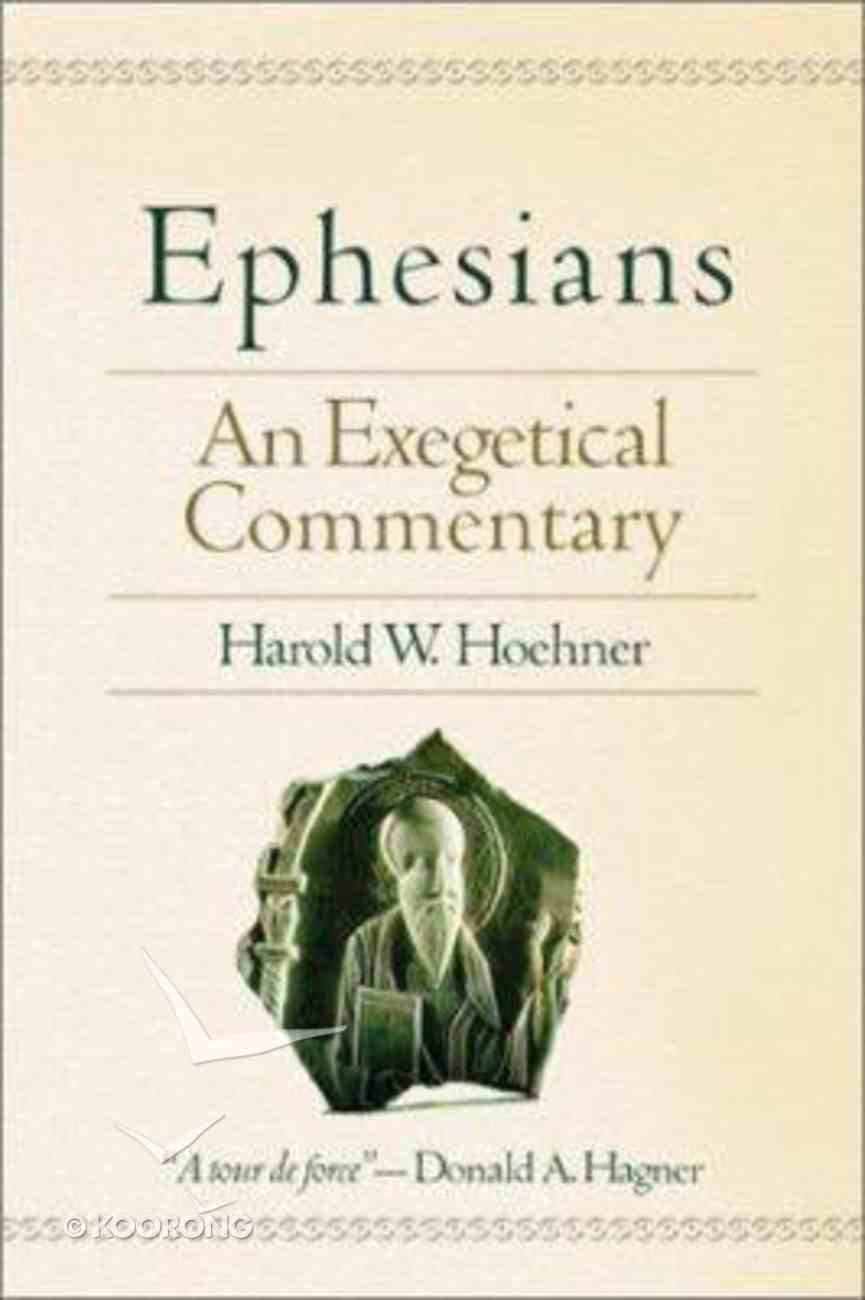 Ephesians: An Exegetical Commentary
For the past thirty years, Harold Hoehner has trained thousands of seminarians in the art of New Testament exegesis. He now brings his skill and experience to this commentary on Ephesians - a commentary that no serious student can afford...
---
Expected to ship within 11 hours from Australia.
---
Free Shipping
for orders over $99.
For the past thirty years, Harold Hoehner has trained thousands of seminarians in the art of New Testament exegesis. He now brings his skill and experience to this commentary on Ephesians - a commentary that no serious student can afford to ignore. 960 pages, from Baker.
-Publisher
Harold Hoehner has taught biblical exegesis to thousands of students over the years. He now brings that experience to bear on this important work.He begins with a helpful introduction to the letter of Ephesians in which he addresses issues of authorship, structure and genre, historical setting, purpose, and theology. At the end of the introduction, the author includes a detailed bibliography for further reading. Hoehner then delves into the text of Ephesians verse by verse, offering the Greek text, English translation, and detailed commentary. He interacts extensively with the latest scholarship and provides a fair and thorough discussion of every disputed point in the book.Pastors, students, and scholars looking for a comprehensive treatment on Ephesians will be interested in this commentary. Hoehner's interaction with the latest scholarship combined with his detailed exegesis will make this new commentary the only resource they will need to consult.
-Publisher
"Hoehner has placed all students of Ephesians in his debt with this meticulous, exhaustive, and seasoned commentary on one of Paul''s richest letters. Hoehner''s interaction with the secondary literature on Ephesians is encyclopedic, yet he keeps his exegetical discussion focused and clear. The result is a commentary that no pastor or scholar can afford to be without."-Frank Thielman, Beeson Divinity School, Samford University"This thorough, thoughtful, and comprehensive commentary, the product of a lifetime of research and teaching, is marked by clarity, insight, and interaction with a broad array of scholarship. It is a ''best buy'' that will fully repay the attention of all students of the New Testament."-E. Earle Ellis, Southwestern Baptist Theological Seminary"Hoehner''s Ephesians not only cites the best advice and information in standard works on this letter but also carefully sifts the evidence and offers judicious conclusions. All other commentaries can be put in storage for retrieval as needed."-Frederick William Danker, Lutheran School of Theology"I have anxiously anticipated this commentary since the early 1980s, and it is no disappointment. Hoehner has now produced the most detailed and comprehensive treatment of Ephesians ever written. The volume is well organized, clearly written, and very useful for in-depth study of the letter. It is now the indispensable standard for courses on Ephesians."-Clinton E. Arnold, Talbot School of Theology"This is quite simply the most massive and meticulously detailed commentary on Ephesians to date-with the strongest defense of the case that the author was truly Paul and that the letter was indeed written to Ephesus. Virtually every textual, lexical, grammatical-semantic, and historical issue has been scrutinized and is informed by a comprehensive coverage of the vast relevant primary and secondary literature."-Max Turner, London Bible College"Exegetical commentaries on the books of the Bible come in all shapes and sizes. Harold Hoehner''s new volume on Ephesians has both a distinctive shape and a monumental size. Its value lies in its attention to detail and its full discussion of all relevant and disputed points. The volume will be an invaluable resource for scholars and students. Not all Hoehner''s conclusions will command consent, but he has produced a stout and readable volume that all will turn to for guidance and help."-Ralph P. Martin, Fuller Theological Seminary/Azusa Pacific University"Harold Hoehner''s long- and eagerly-awaited commentary on Ephesians has at last found its way into print, and it has been worth waiting for! This is exegesis the old-fashioned way: the quest for the author''s meaning earned through the careful use of primary tools while at the same time informed by, and in dialogue with, the latest and best scholarship. From its stout defense of the Pauline authorship of Ephesians to the detailed, verse-by-verse exegesis of the Greek text, Hoehner''s commentary is a tour de force. It is a mine of information and a theological feast all at once! This masterful commentary sets a new standard for exegetical detail, and no serious student of Ephesians will want to be without it."-Donald A. Hagner, Fuller Theological Seminary"One of the best commentaries on Ephesians in English. Hoehner''s breadth of research, detail on critical issues, and solid exegetical treatment are impressive."-Douglas J. Moo, Wheaton College"This new commentary on Ephesians brings the reader many new, theologically relevant insights. It will be useful for preaching and for scholarly exegetical work. The author has a clear, consciously conservative position combined with broad learning."-Martin Hengel, University of Tubingen"In his introduction to this wholly admirable and comprehensive commentary, Hoehner enters a vigorous defense of Paul as author of Ephesians. He centers his attention on the meaning of the words and their relationship to one another and on the grammar and structure of each sente
-Publisher
Harold W. Hoehner received his Th.M. and Th.D. at Dallas Theological Seminary and his Ph.D. at Cambridge University. He is Chairman of the Department of New Testament Literature and Exegesis at Dallas Theological Seminary.
Bestsellers in New Testament Commentaries