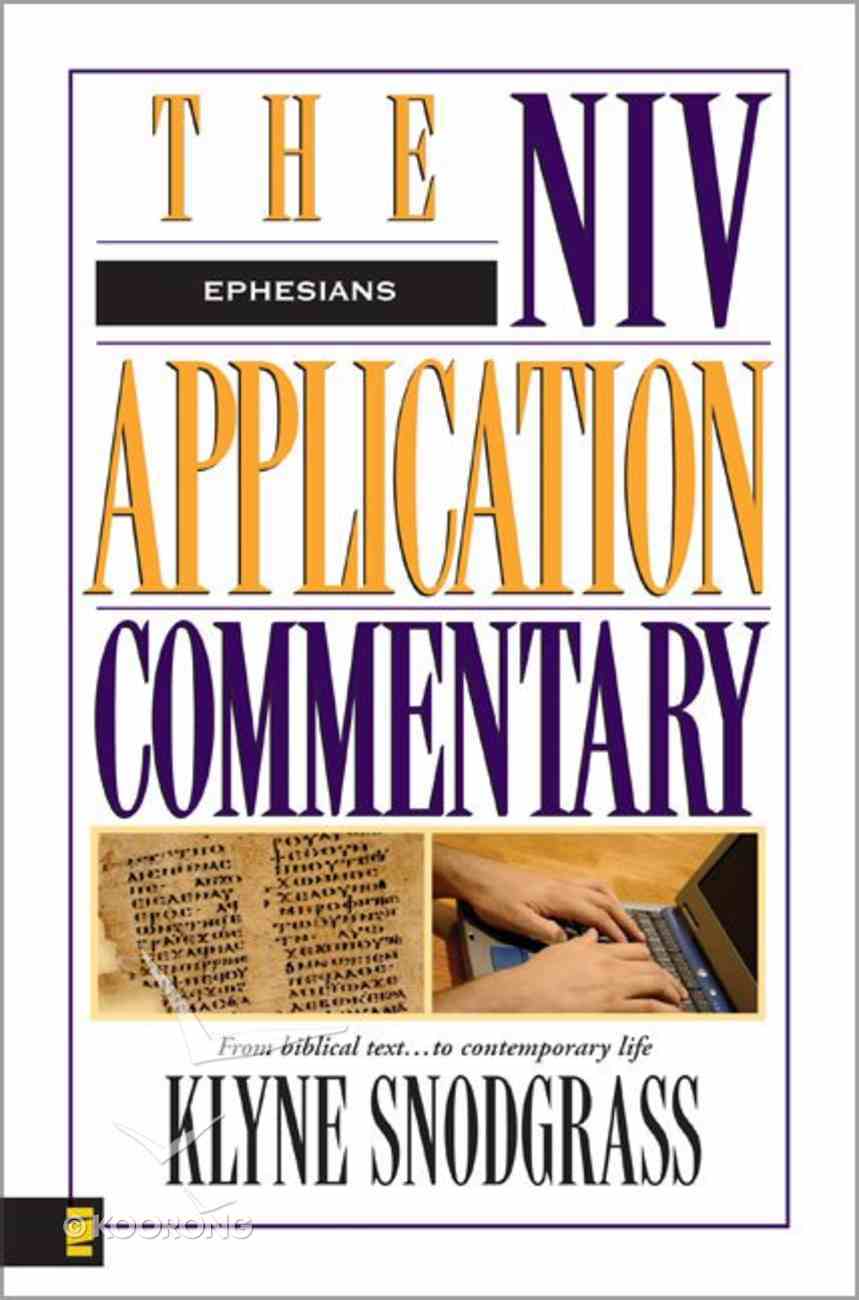 Ephesians (Niv Application Commentary Series)
Klyne SnodgrassThis unique commentary explains not only what the apostle Paulsletter to the Ephesians meant to the church at Ephesus, but alsohow what he taught can be applied today. Down-to-earth, readableand insightful, it is ideal for devotional reading, as well...
---
Expected to ship on Monday from Australia.
---
Free Shipping
for orders over $99.
Klyne SnodgrassThis unique commentary explains not only what the apostle Paulsletter to the Ephesians meant to the church at Ephesus, but alsohow what he taught can be applied today. Down-to-earth, readableand insightful, it is ideal for devotional reading, as well as sermonand study preparation.295 pages, from Zondervan.
Discover not only the original meaning of Ephesians, but also how it can speak powerfully today.
-Publisher
What was Paul's real message to the Ephesians in the first century? And what significance does that message have nearly 20 centuries later? This unique commentary will help you not only understand the message of Ephesians but also bring it to the modern world with relevance and power.
-Publisher
This Item Is In The Following Kit
New Testament Set Complete (20 Volumes) (Niv Application Commentary Series)
PRODUCT DETAIL
Catalogue Code 

86268

Product Code 

0310493404

EAN 

9780310493402

UPC 

025986493400

Pages 

384

Department Academic
Category New Testament Commentaries
Sub-Category Ephesians
Publisher Zondervan
Publication Date 

Jun 1996

Sales Rank 

18343

Dimensions 

241 x 158 x 30

mm

Weight 

0.666

kg
Klyne Snodgrass (PhD, University of St. Andrews) is professor of biblical literature and holder of the Paul W. Brandel Chair of New Testament Studies at North Park Theological Seminary. ý Klyne Snodgrass es profesor de Nuevo Testamento en North Park Theological Seminary, Chicago, Illinlois.

Contents
Dedication
Series Introduction
General Editor's Preface
Author's Preface
Abbreviations
Introduction
Annotated Bibliography
Text And Commentary On Ephesians
Scripture Index
Subject Index
Ephesians 1:1-2 Paul, an apostle of Christ Jesus by the will of God, to the saints in Ephesus, the faithful in Christ Jesus: 2Grace and peace to you from God our Father and the Lord Jesus Christ. Letters in the ancient world followed a set form. They began by identifying the writer and the readers or addressees. This was usually followed by a greeting and a prayer or wish for health (even in secular letters), then the body of the letter, and finally the closing, which contained any details about the sending of the letter and another greeting. An example of this form appears in Acts 15:23-29 (without the prayer). Christian writers adapted this set form to their purposes, 'christianizing' it by changing or expanding the traditional elements. The author and recipients are not merely identified; they are also described by their relation to Christ. The greeting was also made specifically Christian. Instead of merely 'Paul to the Ephesians, greetings,' Paul described himself as 'an apostle of Christ Jesus by the will of God' and his readers as holy (NIV, 'saints') and 'faithful in Christ Jesus.' And instead of using the standard word 'greeting' [chairein], through a play on words Paul changed his greeting to read 'grace [charis] and peace to you from God our Father and the Lord Jesus Christ.' An apostle of Christ. Paul's identification of himself as an apostle appointed by God is his customary way of beginning his letters. (Cf. the exact parallels in 2 Cor. 1:1; Col. 1:1; 2 Tim. 1:1.) Often Paul had to defend his legitimacy as an apostle, but here the tone is merely descriptive. The term apostle carried several connotations in the early church, all of which were true of Paul. It referred to someone who had seen the risen Christ (1 Cor. 9:1), to those sent out by the church with a missionary task, or more broadly to anyone who functioned as an agent or representative. This self-description emphasizes the authority with which Paul wrote. If he was an apostle because of the will of God, what he wrote must be seen as communication from God. The will of God is an important theme in Ephesians, appearing more frequently here than in any other letter. The concern is not about Christians finding the will of God; rather, the emphasis is on God's purpose with his actions for humanity. The point here is that Paul was an apostle because God wanted him to be. In Paul's letters, 'Christ' (meaning 'the Anointed One') is often no longer a title as it was in a Jewish context. Particularly among Gentile Christians it became a name, linked with the name 'Jesus.' But of the forty-six occurrences of the word 'Christ' in Ephesians, twenty-three have the article in Greek, some of which may still point to the role of the Jewish Messiah in the salvation of the Gentiles (see 1:10; 2:13; 4:20). The Holy Ones. The identification of the recipients as 'saints' (lit., 'the holy ones') is Paul's usual description of Christians. 'Saints' is not a helpful translation, for this English word usually refers to extraordinarily pious people. Paul's first intent was not that these people lived especially holy lives-he described the Corinthian Christians the same way (1 Cor. 1:2), and yet he had no illusions about the sanctity of their lives. Rather, his primary concern was to emphasize that just as he had been appointed by God to be an apostle, they too had been separated to God (separation is the key idea in the word 'holy'). Paul's addressees were holy because God had set them apart to be his people. The focus is entirely on God's action and the reference is to God's saving work.1 The recipients2 of this letter are also described as 'faithful in Christ Jesus' (cf. Col. 1:2). 'Faithful' can refer either to someone who has proven to be faithful or to someone who is a believer, someone who has faith. The latter seems the better choice here (cf. John 20:27; Acts 10:45; 16:1, 15; 2 Cor. 6:15). With the expression 'in Christ Jesus' we encounter one of the most significant and difficult points in Paul's writings. Paul is not merely saying these people believed in Christ; rather, they were in Christ positionally. This concept of being in Christ is one of if not the most important parts of Paul's theology, for this is the center from which he understood and explained salvation. The thirteen Pauline letters use 'in Christ,' 'in the Lord,' 'in him,' or some similar expression 164 times to express a variety of ideas. 'Christ' is usually used in contexts talking about salvation and its benefits, whereas 'Lord' is usually used to talk about Christian behavior and life. Sometimes these terms are used to convey what believers obtain in Christ (as 1:7: 'in him we have redemption'), at other times 'in Christ' describes what a person does (4:17: 'So I tell you this, and insist on it in the Lord'), and at still other times the focus is directly on the fact that a Christian is a person who is in Christ. This language expresses the oneness and the identity that a believer shares with Christ. Paul's gospel is a gospel about union with Christ, and this is the meaning in 1:1. Ephesians focuses more on union with Christ and on being in Christ than any other letter (36 times).3 The greeting. The wording in this verse is paralleled exactly in seven other Pauline letters. 'Grace and peace' are important themes throughout Ephesians: Both are key words that describe God's initial salvation, and both describe God's continuing work among his people. As we will see in 1:3-14, 'grace' is one of the most important words in Paul's theology. Even though other writers use this greeting (1 Peter 1:2; 2 Peter 1:2; Rev. 1:4), no other writer comes close to placing as much emphasis on grace as Paul. Not by accident, he begins and ends every letter with 'grace,' as if to emphasize that all of life is lived in the parameters of grace. Though not used as frequently, 'peace' too has a foundational role in Paul's theology. God alone is the one who conveys grace and peace, and Paul wants his readers to experience this.
Bestsellers in New Testament Commentaries