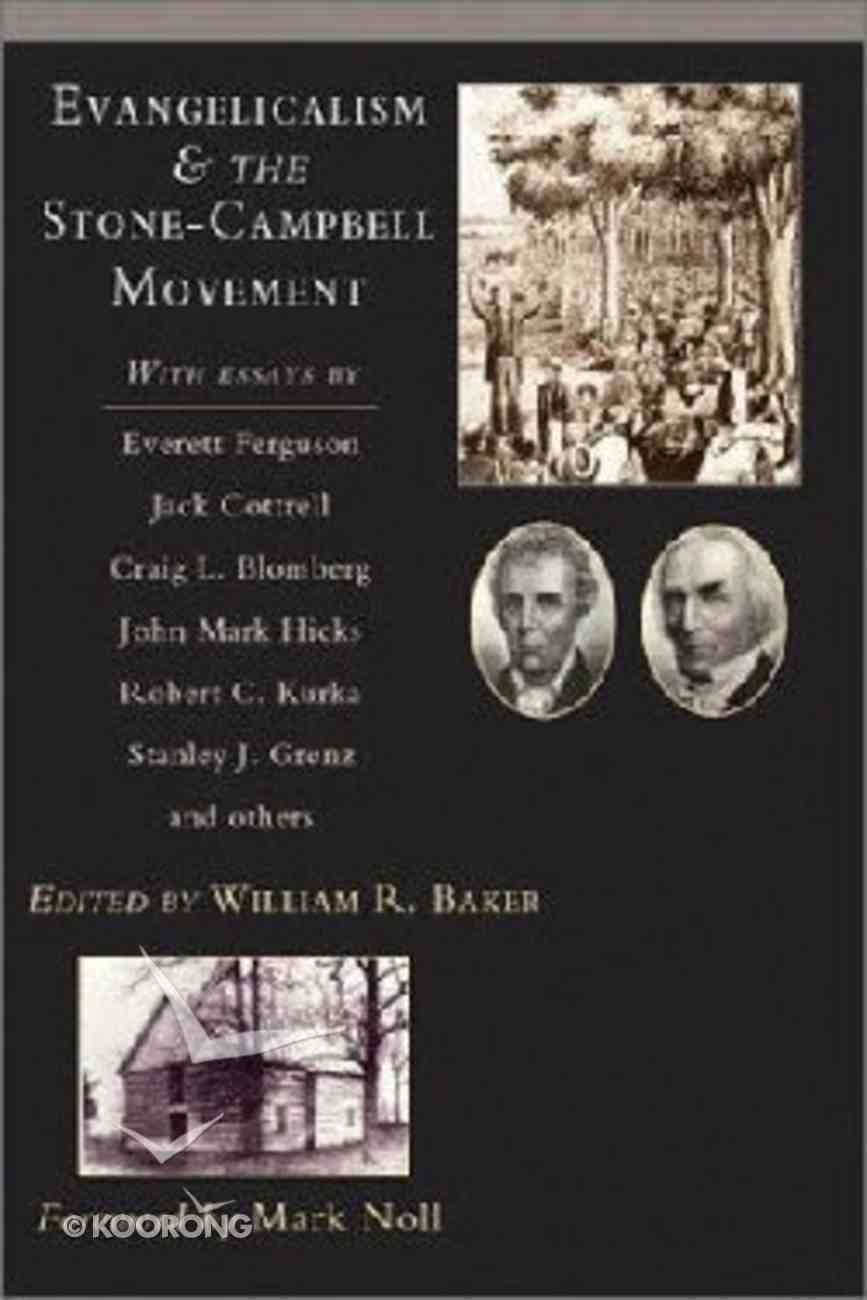 Evangelicalism & the Stone-Campbell Movement
William R. Baker brings together noted Restorationist (Stone-Campbell) and evangelical scholars for dialogue on their agreements and disagreements.
---
Free Shipping
for orders over $99.
William R. Baker brings together noted Restorationist (Stone-Campbell) and evangelical scholars for dialogue on their agreements and disagreements.
-Publisher
The Stone-Campbell Movement, also known as the Restoration Movement, arose on the frontiers of early nineteenth-century America. Like-minded Methodists, Baptists and Presbyterians abandoned denominational labels in order to be "Christians only." They called followers to join in Christian unity and restore the ideals of the New Testament church, holding authoritative no book but the Bible and believing no creed but Christ.Modern-day inheritors of this movement, including the Churches of Christ (a cappella) and the Christian Churches (independent), find much in common with wider evangelical Christianity as a whole. Both groups are committed to the authority of Scripture and the importance of personal conversion. Yet Restorationists and evangelicals, separated by sociological history as well as points of doctrinal emphasis, have been wary of each other. Evangelicals have often misunderstood Restorationists as exclusivist separatists and baptismal regenerationists. On the other hand, Stone-Campbell adherents have been suspicious of mainstream denominational evangelicals as having compromised key aspects of the Christian faith.In recent years Restoration Movement leaders and churches have moved more freely within evangelical circles. As a result, Stone-Campbell scholars have reconsidered their relationship to evangelicalism, pondering to what extent Restorationists can identify themselves as evangelicals. Gathered here are essays by leading Stone-Campbell thinkers, drawing from their Restoration heritage and offering significant contributions to evangelical discussions of the theology of conversion and ecclesiology. Also included are responses from noted evangelicals, who assess how Stone-Campbell thought both corresponds with and diverges from evangelical perspectives.Along with William R. Baker (editor) and Mark Noll (who wrote the Foreword), contributors include Tom Alexander, Jim Baird, Craig L. Blomberg, Jack Cottrell, Everett Ferguson, Stanley J. Grenz, John Mark Hicks, Gary Holloway, H. Wayne House, Robert C. Kurka, Robert Lowery, Edward P. Myers and Jon A. Weatherly.For all concerned with Christian unity and the restoration of the church,Evangelicalism & the Stone-Campbell Movementoffers a substantive starting point for dialogue and discussion.
-Publisher
William R Baker (PhD University of Aberdeen) is professor of New Testament at Cincinnati Bible Seminary and is the founder and general editor of the Stone-Campbell Journal. He is the author of 2 Corinthians in the College Press NIV Commentary Series and Sticks and Stones: The Biblical Ethics of Talk, and Evangelicalism and The Stone-Campbell Movement (IVP). His doctoral thesis was published in the distinguished WUNT series Speech Ethics in the Letter of James, he has also written a commentary Preaching James, and is preparing the Cornerstone Biblical Commentary on 1 Corinthians and the Letter of James in the Two Horizons New Testament Commentary.
Foreword--<em>mark A. Noll</em>
Introduction--<em>william R. Baker</em>
<strong>part 1: Historical Perspective</strong>
1. Christian Churches (independent): Are We Evangelical?--<em>william R. Baker</em>
2. Churches Of Christ (a Cappella): Are We Evangelical?--<em>edward P. Myers</em>
<strong>part 2: Conversion Theology</strong>
<em>faith</em>
3. The Role Of Faith In Conversion--<em>jack Cottrell</em>
4. The Role Of Faith In Conversion: Balancing Faith, Christian Experience &amp; Baptism--<em>john Mark Hicks</em>
<em>the Holy Spirit</em>
5. The Role Of The Holy Spirit In Conversion: An Examination Of The New Testament--<em>tom Alexander</em>
6. The Role Of The Holy Spirit In Conversion: Why Restorationists Appear To Be Out Of The Evangelical Mainstream--<em>robert C. Kurka</em>
7. An Evangelical Reponse To Alexander &amp; Kurka--<em>craig L. Blomberg</em>
<em>baptism</em>
8. The Role Of Baptism In Conversion: Israel's Promises Fulfilled For The Believer In Jesus--<em>jon A. Weatherly</em>
9. The Role Of Baptism In Conversion: Baptism &amp; Its Substitutes As Rituals Of Initation In American Protestantism--<em>james Baird</em>
10. An Evangelical Reponse To Baird &amp; Weatherly--<em>h. Wayne House</em>
<strong>part 3: The Church</strong>
11. The Biblical Doctrine Of The Church--<em>everett Ferguson</em>
12. Restoring God's House: Ecclesiology In Churches Of Christ (a Cappella)--<em>gary Holloway</em>
13. Biblical Models Of The Church: Contributions Of The Stone-campbell Movement To The Church Of The Twenty-first Century--<em>robert Lowery</em>
14. An Evangelical Reponse To Ferguson, Holloway And Lowery: Restoring A Trinitarian Understanding Of The Church In Practice--<em>stanley J. Grenz</em>
Conclusion--<em>william R. Baker</em>
Study Questions
Contributors