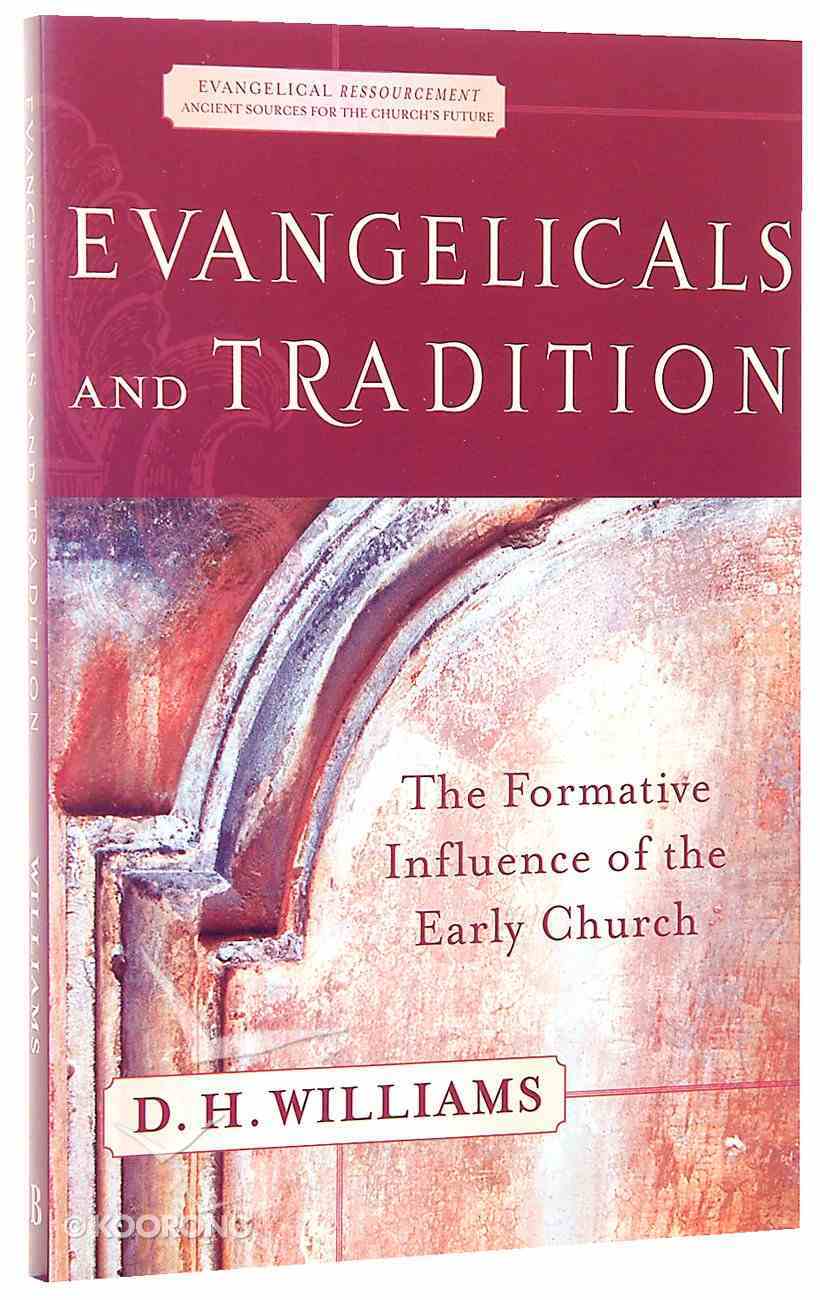 Evangelicals and Tradition (Evangelical Ressourcement: Ancient Sources For The Church's Future Series)
The Formative Influence of the Early Church EVANGELICALS AND TRADITION is the first in a new series of monographs on the church fathers entitled Evangelical Ressourcement: Ancient Sources for the Church's Future. The series is grounded in the belief...
Order now to secure your copy when our stock arrives.
0 Available. Expected to ship in 5 to 6 weeks from Australia.
---
Expected to ship in 5 to 6 weeks from Australia.
---
Free Shipping
for orders over $99.
The Formative Influence of the Early Church

EVANGELICALS AND TRADITION is the first in a new series of monographs on the church fathers entitled Evangelical Ressourcement: Ancient Sources for the Church's Future. The series is grounded in the belief that there is a wealth of theological, exegetical, and spiritual resources from the patristic era that is relevant for the Christian Church today and into the future. Amid the current resurgence in interest in the early church, this series aims to help church thinkers and leaders reappropriate these ancient understandings of Christian belief and practice and apply them to ministry in the twenty-first century.

This volume lays the groundwork for the series by examining the concept of tradition - its definition, origin, and components. Williams addresses the issue of tradition and authority in the early church and discusses the relationship between tradition and the Protestant "traditions" of sola scriptura and sola fide. Finally, he examines numerous examples of how tradition was used in the early church, including confessions of faith, catecheses, rules of faith, commentaries, homilies, theological hymnody, and theological works. 192 pages, from Baker.

-Publisher
The past few years have seen a growing interest among evangelical leaders in the thought and life of the early Christian church. There is a desire to rediscover historical roots in the face of today's postmodern and increasingly post-denominational world. Evangelicals and Tradition is the first in a valuable new series of books edited by D. H. Williams. The series seeks to help today's church leaders recover the early church fathers' ancient understandings of Christian belief and practice for application to ministry in the twenty-first century. This first book traces the development and role of tradition in the early church, what kind of authority should be ascribed to tradition, and tradition's interaction with the Protestant hallmarks of "Scripture alone" and "by faith alone."
-Publisher
"Williams has brought a new sense of engagement to the ancient task of relating Scripture, tradition, and spiritual experience. Evangelicals need to be reminded that there is a truly catholic tradition that goes back to the apostles that belongs to them as much as it does to other Christians. This book roots us in the living faith of every age and should be welcomed by everyone who wants to grow in the knowledge and love of Christ."--Gerald Bray, Anglican professor of divinity, Beeson Divinity School, Samford University"There is a great need today to get behind the Reformers and rediscover the sources of their theology and piety. The substance of the great fathers of the church will propel evangelicals into a deeper level of theological thought and ecumenical dialogue. Evangelicals and Tradition will initiate that discussion and lead the way."--Robert Webber, Myers Professor of Ministry, Northern Seminary"In this book, Williams expands an argument he has made before--that discerning appropriation of the early church is not just a proper but a necessary task for evangelical Protestants. Williams''s careful recommendation of catholic tradition should promote the right kind of theological and practical reflection among his intended audience. His unusually balanced and well-grounded presentation should make the book helpful for Roman Catholics and the Orthodox as well."--Mark A. Noll, McAnaney Professor of History, University of Notre Dame"This is a brief and accessible primer by a major evangelical historian on the indispensability of tradition for the church''s life and worship. Written especially for free church Christians, Evangelicals and Tradition is a manifesto urging evangelicals to embrace the church''s most ancient tradition, the age of councils and creeds. Williams shows that tradition is a form of communal memory and that, without its steadying presence, Christian congregations--even if they flourish in the springtime of their lives--will in time languish and wither."--Robert Louis Wilken, William R. Kenan Jr. Professor of the History of Christianity, University of Virginia"Here is a classic introduction to theology. Focused on evangelicals, its deep vision and sharp statement make it invaluable for all Christians. In nearly thirty-five years of teaching introductory courses, I have never seen such a beneficial book about the nature of theology: small, packed, and clear. We are all in Williams''s debt for this project."--Frederick W. Norris, professor of world mission/evangelism and Dean E. Walker Professor of Church History, Emmanuel School of Religion"In response to the pressures of modern culture, the church has dulled its message. But that message can regain its edge if evangelicals will listen to the demands of the gospel through the ears of the church fathers. Tradition used to be a ''fightin'' word'' for Protestants, but Williams argues that, with the proper approach, tradition can be evangelicals'' ally instead of their enemy."--David Neff, editor and vice president, Christianity Today"This is a very rare thing: a necessary book. It undertakes to reconnect evangelical Protestants with the early church fathers and to acquaint them with the fundamental ways in which these remarkable thinkers shaped Christianity. Williams skillfully exposes the unfortunate myth that Luther, Calvin, and the other Protestant founders discarded the entire Catholic tradition and built anew from biblical foundations. In truth, these great Protestants acknowledged their immense debts to the fathers of the early church. If one is to grasp Christianity fully, one must grasp the contributions made by the patristic fathers."--Rodney Stark, author of The Rise of Christianity"Evangelicalism is best defined as a renewal movement within historic Christian orthodoxy. This volume explores a major wellspring of that renewal--the evangelical appropriation of Christian tradition. It is an important contribution to theological ressourcement."--Timothy George
-Publisher
PRODUCT DETAIL
Catalogue Code 

227272

Product Code 

0801027136

EAN 

9780801027130

Pages 

192

Department Academic
Category History
Sub-Category General
Publisher Baker Academic
Publication Date 

Jun 2005

Sales Rank 

33494

Dimensions 

228 x 152 x 12

mm

Weight 

0.317

kg
D. H. Williams (PhD, University of Toronto) is professor of religion in patristics and historical theology at Baylor University. He is the author of Evangelicals and Tradition and Retrieving the Tradition and Renewing Evangelicalism and editor of The Free Church and the Early Church.